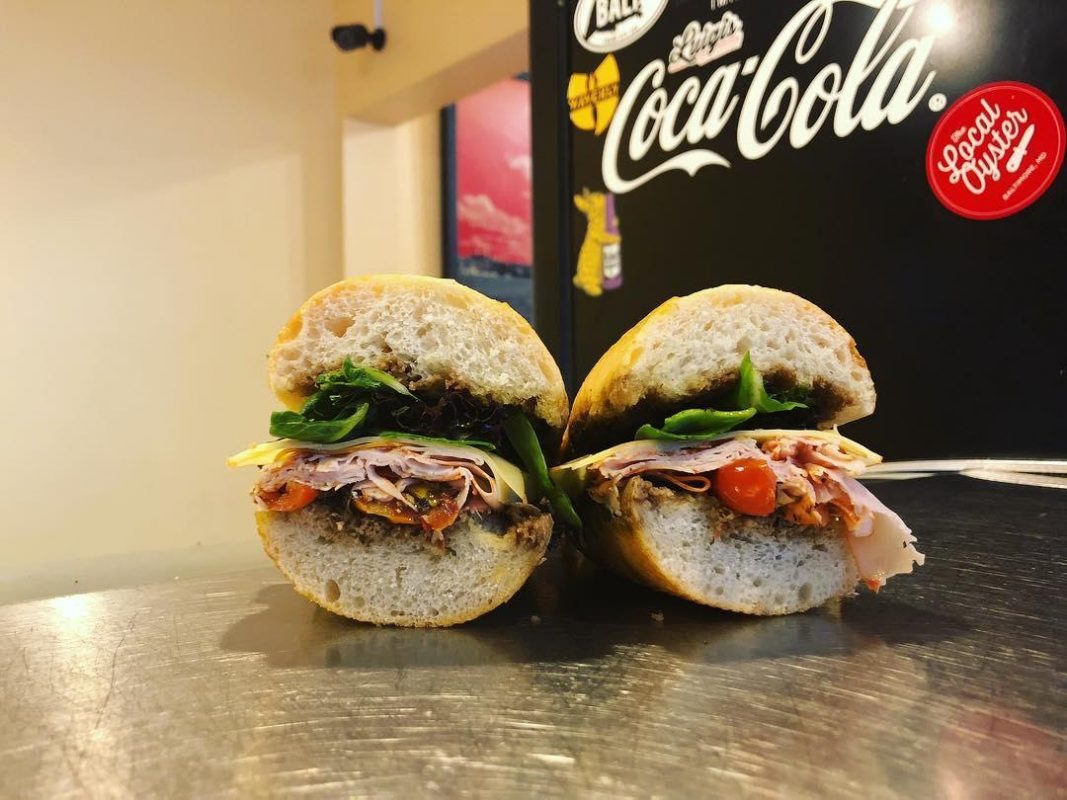 Luigi's Italian Deli
OPEN
The Bun Shop: It only took two years, but the Towson location of this beloved coffee and pastry palace is finally open for business. The Mt. Vernon-based shop brings its signature gold-and-teal aesthetic, comfy furniture, loose-leaf teas, and delectable pastries to its new Baltimore County outpost just off of the Towson Circle. The worldly drink menu highlights a Vietnamese iced coffee, dos leches latte, honey macchiato, spicy mocha with chili and cinnamon, and even a vanilla-infused Paris tea latte. As its name suggests, the pastries, stuffed with everything from apple and gruyere to spinach and feta, are also not to be missed. Plus, Towson University students will be happy to hear that the new location continues the shop's reputation as a late-night study spot, staying open until 3 a.m. daily. 40 W. Chesapeake Ave., Towson. 443-991-5901
Flying Dog Taphouse: Happy Opening Day, Baltimore! If you're spending the city's unofficial holiday at Camden Yards, swing by the new hoppin' headquarters on the lower concourse near Gate C. Flying Dog Taphouse—a smaller version of the Frederick brewery's gastropub inside BWI—will pour four draft beers including The Truth imperial IPA, Bloodline blood orange ale, Thunderpeel hazy IPA, and Under Dog gold lager. There will also be ice-cold cans of Bleacher Beer, Raging Bitch, Snake Dog IPA, Numero Uno Mexican lager, Dead Rise Old Bay summer ale, and Dogtoberfest Marzen. (Backing the birds from a neighborhood bar? Be sure to check out our list of food and drink specials.)
COMING SOON
Steak 'N Shake: Midwestern transplants are beaming about the news that Baltimore County will be getting its first Steak 'N Shake this summer. The Illinois-based chain has one location in Anne Arundel County and previously operated a spot at BWI, which closed after a short-but-sweet run in 2016. Locals will be able to get their hands on the eatery's signature steakburgers—a blend of brisket and Chuck beef—when it opens in the Greenleigh at Crossroads development in White Marsh. Joining Thai Rainbow, Crossroads Wine and Spirits, and the newly minted Michael's Cafe, Steak N' Shake will take up 2,100-square-feet and have its own drive-through window. Aside from the hearty burgers, the chain is a go-to for shoestring fries, hand-dipped milkshakes, and the famous Frisco melt—a play on a classic patty melt with Thousand Island dressing and Worcestershire sauce. MD Rt. 43 at Crossroads Circle, White Marsh.
NEWS
Chef Andrew Weinzirl Joins The Choptank: As this new Fells Point crab house readies for an early summer opening inside Broadway Market, owners have brought on former Brewer's Art chef Andrew Weinzirl to head up the kitchen. A collaboration Atlas Restaurant Group and Billy Tserkis of Captain James Landing, The Choptank will be a neighborhood seafood spot that emphasizes takes on Maryland specialties. (Think crab cakes, fried chicken, and, of course, hard-shell crabs.) The partners thought Weinzirl would be a perfect fit for the gig given his 15 years of industry experience, which includes opening Maggie's Farm. Weinzirl says he jumped at the opportunity to settle in Fells Point. "My first memories of Baltimore, aside from Orioles games at Memorial Stadium, are of times spent in Fells Point," he says. "You can't think of Fells Point without envisioning the neighborhood's familiar centerpiece, Broadway Market. It's an iconic landmark that deserves to properly honor and showcase Baltimore cuisine." 1640 Aliceanna St.
Local Dining Week: There's still time to get in on this dining promotion running through April 7. Presented by local organizations like Strong City Baltimore and Community Wealth Builders, this third-annual event offers discounts at more than 50 restaurants throughout the city. Unlike Baltimore Restaurant Week, where each eatery offers a prix-fixe menu, Dining Week offers a number of different specials that encourage diners to support the local restaurant economy. Plus, in partnership with the Orioles, 100 patrons at each participating eatery will receive vouchers for free tickets to any game in April. Noteworthy deals include three sliders for $6 during happy hour at Abbey Burger, weekend brunch specials at Frazier's, and 20 percent-off of your bill at BrickNFire Pizza Co.
Luigi's Italian Deli: It's a big week for Luigi's on the Avenue in Hampden. In conjunction with launching a new breakfast new menu, which will be offered Wednesday to Sunday from 9-11 a.m., the go-to sandwich spot announced that it will be opening its BYO-patio for the season on Saturday, April 6. Sample the new Breakfast BLT, veggie sandwich, or "Specky Breaky" (speck, roasted bell peppers, and basil) while soaking up some sun. Free koozies will be given out to the first 50 people who stop by. 846 W. 36th St. 443-438-4195
EPICUREAN EVENTS
4/4-7: Green Street Academy Pops Up at R. House
The students of sustainability-focused Green Street Academy in West Baltimore are setting up shop inside R. House's rotating pop-up stall this week. Throughout the weekend, Green Street will operate directly next to Molina Pizza from the founders of Urban Pastoral—which donated a climate-controlled greenhouse to the charter school's campus. All proceeds from the menu of grilled sandwiches will benefit GSA Farms, the school's agri-tech education program that teaches students about urban farming and healthy eating. 301 W. 29th St.
4/5: Hampden West Fest
Gypsy's Truckstaurant is honoring its food truck roots by hosting this mini-rally in its parking lot off of Clipper Mill Road. Head to Hampden to enjoy live music, cocktails, beer, wine, and plenty of eats from some of the greats. Dig in to a classic Gypsy Queen crab cone, an order of feta-topped fries from Greek on the Street, a barbecue plate from Kommie Pig, or a scrumptious scoop of Honey Graham from Taharka Bros. The free event is dog- and kid-friendly. 3515 Clipper Mill Rd. 5-10 p.m. 443-869-5602
4/5: Cholita's Tacos Turns Two
Spend your Friday celebrating Cholita's second birthday with tacos, tortas, and lots of margaritas. In addition to all-day happy hour specials, the Mount Vernon Marketplace stall is ringing in year two with giveaways, a live DJ spinning all night, and a special nacho challenge kicking off at 5 p.m. 520 Park Ave. 5-10 p.m. 443-796-7393
SHUT

Ceriello Fine Foods: The days are numbered for this stalwart Italian grocery store inside Belvedere Square Market. The New York-based chain has anchored the market for more than a decade, but recently decided not to renew its lease. Owner Andy Ceriello recently told The Sun that the store will close in mid-April, mentioning that it "got old" and it was time for the brand to move on. Known as a one-stop-shop for the makings of an Italian feast, the shop was best known for its house-made sauces, cheeses, and prepared foods. Its Brewers Hill location on the bottom floor of the The Porter apartment building also recently closed due to maintenance issues. There's no word yet on whether that location will get back up and running. 529 E. Belvedere Ave.