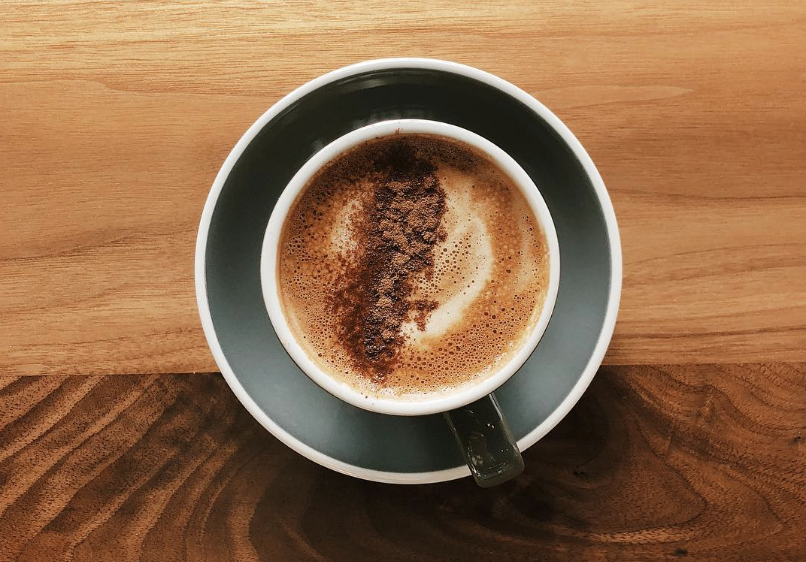 Courtesy of @ceremonycoffee via Instagram
OPEN
The Walters Cafe: If hunger pangs strike while perusing the collections at the Walters Art Museum, this recently renovated café on the first floor has got you covered. The eatery has been updated with contemporary décor and a brand-new menu offering beer and wine, as well as salads, sandwiches, sweets, and snacks sourced from local purveyors. Be on the lookout for hometown favorites including Scotty Cakes baked goods, Mouth Party Caramels, Ceremony Coffee, and other sustainable fare from the socially conscious chefs at City Seeds. Aside from regular breakfast and lunch service, the café will be open until 8:30 p.m. on Thursday evenings for visitors hoping to grab bite to eat before touring the galleries or attending performances in the museum's famed Sculpture Court. 600 N. Charles St., 410-547-9000
Baltimore Soup Company: South Baltimore locals are already raving about the newest restaurant tenant to open on the first floor of the 2 E. Wells apartment complex in Riverside. Earlier this week, the second location of Baltimore Soup Company—whose flagship is in Towson—opened its doors offering a variety of sandwiches, salads, and, of course, its namesake soups. Daily specials vary, but frequent options include steamy bowls of Maryland crab, hearty vegetable, chicken corn chowder, and tomato-basil bisque. 2 E. Wells St.
Culinary Architecture Cafe: In other South Baltimore news, this spinoff of Culinary Architecture Market in Pigtown debuted inside the historic Lion Brothers Building in Hollins Market earlier this month. The building, which was recently restored by Cross Street Partners, is also home to The Grid—a modern co-working space from University of Maryland BioPark. The spot specializes in coffees paired with fresh-baked pastries, biscuits, sandwiches, soups, and flatbreads. 875 Hollins St.  
COMING SOON
Darker Than Blue: Waverly locals probably remember Darker Than Blue—chef Casey Jenkins' sophisticated soul food spot that closed its doors in 2013. Now, Jenkins has plans to revive the concept in the Northwood Plaza Shopping Center near Morgan State University. He's currently in the final phases of raising capital for the project, and hopes to open during the second quarter of 2019. Although the location will be different, Jenkins says that the restaurant's classics (think fried catfish, citrus-glazed salmon, chicken and waffles, and Louisiana tilapia) will make a comeback on the menu. 1534 Havenwood Rd.
NEWS
Michelle Obama Celebrates Birthday with Spike Gjerde: Spike Gjerde's new restaurant A Rake's Progress, situated inside the trendy Line Hotel in the Adams-Morgan neighborhood of Washington, D.C., might not be open to the public yet—but its team got in some good practice serving a special meal to former First Lady Michelle Obama and former President Barack Obama in honor of Michelle's birthday. Although D.C. boasts plenty of culinary options, we're not surprised that the former FLOTUS chose one of Gjerde's spots to celebrate the big 5-4. She's been known to frequent Woodberry Kitchen whenever she is in town. A Rake's Progress is expected to officially debut later this month. 770 Euclid St NW, Washington, D.C., 202-588-0525
EPICUREAN EVENTS 

1/24: Calasag Filipino x Soul Food Pop-Up at Ida B's Table
At this special culinary collaboration next week, Dylan Ubaldo of the local Calasag Pop-Up will fuse his Filipino flavors with the modern soul food at Ida B's Table. Dishes on the evening's menu will include grilled octopus marinated in a banana ketchup, catfish with sweet potato fritters and collard greens, smoked pork cheek, and Louisiana-style beignets made from purple yams and coconut sugar. Both Ubaldo and Ida B's owner/executive chef David Thomas will be sharing their thoughts on the inspiration behind the dishes throughout the evening. Ida B's Table, 235 Holliday St., $65, 6:30-9:30 p.m.

SHUT
Dimitri's Tavern: Another dive bar bit the dust last week. After nearly 45 years in business, Dimitri's Tavern on Falls Road in Hampden has closed its doors as owner James Dimitri prepares for retirement. According to reports by The Sun, the building—now owned by local developer CityWide Properties—will soon be transformed into a Mexican restaurant offering scratch-made dishes and happy hour specials. Aside from its affordable drinks, Dimitri's was best known for its packaged goods and no-holds-barred karaoke nights. 3820 Falls Rd.