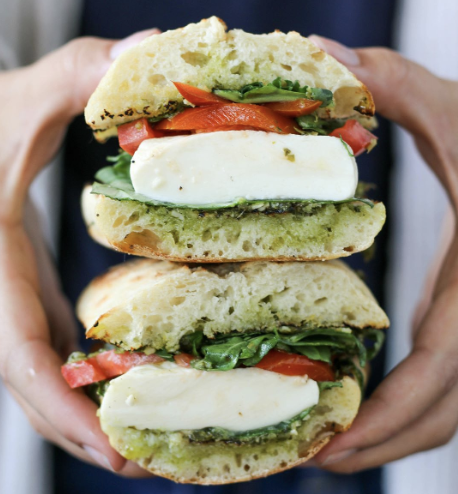 @urbanplates via Instagram
OPEN
Urban Plates: After a successful debut at Tysons Corner earlier this summer, California chain Urban Plates is opening its second East Coast location at the Mall in Columbia on Monday, August 27. The restaurant's rustic-meets-modern vibe features interior greenery, hanging lights, and dark woods throughout. And although the eatery focuses on cafeteria-style service, don't expect the same options that were served at your college dining hall. Chefs stand behind the counter to prepare scratch-made meals ranging from a Nicoise salad with grilled ahi to a plate of barbecue ribs in a habanero-mango sauce. Diners can mix-and-match entrees with sides (think roasted Old Bay potatoes and beet salad with walnuts) and desserts including chocolate pudding and a mango tart. 10300 Little Patuxent Parkway, Columbia, 443-741-8787.
Baltimore Built Bistro: For many local barflies, there's still a wave of nostalgia that hits when walking past the old Bad Decisions space on Fleet Street in Fells Point. But now, a new dining concept is breathing life into the vacant space. Baltimore Built Bistro (B3) will officially cut the ribbon on Friday, August 24 at 3 p.m. Featuring a menu of specialty cocktails, soups, sandwiches, appetizers, and other lite fare, the bistro will be open for lunch and dinner on weekdays and serve brunch on Saturdays and Sundays. Stop by during opening weekend to sample dishes such as a poached pear salad, grilled chicken sandwich with cranberry pesto, or house burger topped with raw onion on a toasted bun. 1928 Fleet St. 443-438-9564
Charles Village Pub: The wait is finally over, Charles Village. Since the community's beloved watering hole suffered a grease fire and was forced to shut down back in May, locals have been waiting (some more patiently than others) to return for burgers, wings, discounted drinks, and some quality time with friends and neighbors. And now, the reopening has officially been set for Thursday, August 23. Belly up to the bar this weekend to toast CVP's return and long future ahead. 3107 St. Paul St. 410-243-1611
COMING SOON
Atlas Restaurant Group Expands to Washington, D.C.: The homegrown restaurant group that birthed Harbor East hotspots Ouzo Bay, Azumi, Loch Bar, Tagliata, The Elk Room, and Italian Disco is expanding its footprint even further in 2019. Aside from opening additional spinoffs in Boca Raton, Florida and Houston, Texas later this year, Atlas recently announced plans to debut two new restaurants at the Moxy Hotel in downtown Washington, D.C. Slated to open in spring 2019, the first of the to-be-determined concepts will take over two floors of the historic Victorian building adjacent to the hotel, which dates back to 1875. The second will be a rooftop restaurant on the top floor of the Moxy. 1011 K. St NW, Washington, D.C.
Avenue Kitchen Launching Late-Night Taco Spot: Riding on the success of Garden Party, the freestanding wine-and-charcuterie shop stationed at the center of the Rotunda shopping center in Hampden, the owners of Avenue Kitchen & Bar are opening yet another kiosk on the property—this time focusing on tacos. Partners Patrick Dahlgren and Bill Irvin have taken to Facebook to poll patrons on the name of the late-night taco spot, which will either be called The Red Eye (a nod to the late flight from the West to the East Coast) or LIT, which stands for "little interesting tacos." Night owls will be happy to hear that the shop, expected to open in late September, plans to serve its tacos, burritos, and other Mexican staples from lunchtime until 3 a.m. 711 W. 40th St.
Himalayan Yak: The Canton dining scene will soon welcome this Nepalese spot from Mohan Thapa, the owner of Masala Kitchen in Charles Village and Kumari Restaurant and Bar in Mt. Vernon. Taking over the former home of Cask & Grain—which shuttered its doors back in June—on O'Donnell Square, the spot will highlight authentic Nepalese and Indian dishes such as paneer chili, chicken vindaloo, lamb kabobs, and vegetable samosas. Himalayan Yak will open with dine-in and carry-out service, and plans to start delivery in the area in the coming weeks. 2823 O'Donnell St. 410-522-7678
Streets Market & Cafe: Earlier this week, Streets Market & Cafe—the independent grocery chain that has a store downtown on North Charles Street—announced plans to open a second Baltimore location at Yard 56, the forthcoming office-and-retail development in Greektown. Expected to open next year, the 23,000-square-foot market will offer its fresh produce, meat, seafood, baked goods, and organic household products to the Southeast Baltimore community. "Streets Markets adds an important shopping element to this development," said David Bramble of property manager MCB Real Estate, in a press release. "Our intent is to create a project that becomes a regular part of the lives and routines of the local community." 5601 Eastern Avenue.
EPICUREAN EVENTS
8/23: Scalawags Pit Meat Pop-Up at Gnocco
Scalawags Pit Meat, the smokin' side project spearheaded by Gnocco general manager Sam White, is hosting a pop-up at the Highlandtown hangout tonight from 6-9 p.m. White will be mixing up whiskey cocktails—made with spirits from Republic Restoratives Distillery in Washington, D.C.—with guest bartender Alex Higdon. Aside from taking advantage of the all-night happy hour deals, be sure to sample all of the mouthwatering beef, turkey, and ribs that Scalawags pit master Kevin James will be serving up from his beloved barrel smoker. 3734 Fleet St. 6 p.m. Free. 443-449-6540.
8/30: Summer in Provence Dinner
If you haven't had the chance to check out Ludlow Market, the new concept in the former Wine Market Bistro space in Locust Point, Chef Christopher Audia is flexing his skills with a special wine pairings dinner highlighting the Provence region of France. The three-course menu features dishes such as roasted tomato soup, mussels, and rockfish in a saffron broth; braised short rib in a red wine jus; and cream-stuffed brioche in orange blossom water. 921 E. Fort Ave. 6:30 p.m. $69. 410-244-6166