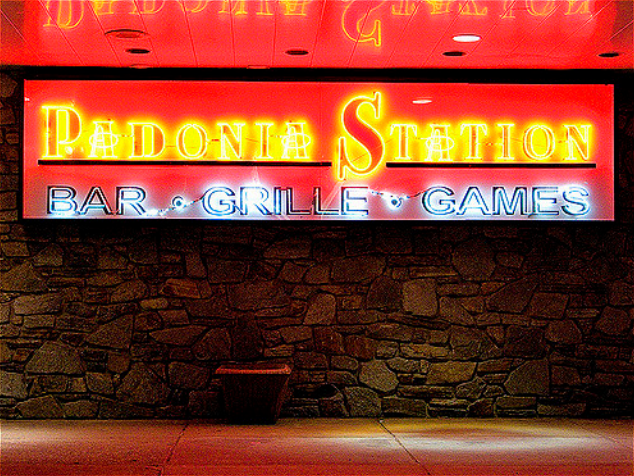 Courtesy of Pat Gavin via Flickr
Despite having operated under a handful of different monikers throughout the years—locals might remember it more fondly as Graffiti's or Padonia Station—Padonia Ale House has remained a fixture in the Timonium community for decades.
Now after more than 30 years, the stalwart sports bar has shuttered its doors in the Padonia Village shopping center. Its last day in business was April 3.
Longtime owner Marc Loundas notes the area's changing music scene as the primary reason for the closure.
"It was profitable, but it was at a crossroads where it needed to put in a major capital improvement," says Loundas, who acquired the 13,500 square-foot property in 1980. "It's been a live music venue for a long time, and the live music crowd is basically only Fridays and Saturdays now. The place was just too big for today's market."
Loundas first bought the bar from former Baltimore Colts defensive end Ordell Braase, and transformed it into a nightclub called Christopher's soon after. He says that some of his best memories of the '80s haunt involved hanging out with football hall of famer Art Donovan and legendary Orioles like Rick Dempsey and Eddie Murray.
"A lot of the guys lived in the Timonium-Lutherville area around that time. In fact, after the Orioles won the World Series in Philadelphia in 1983, they all came back to hang out," he recalls. "It wasn't uncommon to see 10 or 15 of the single guys in there during any given time because it was a good place to pick up girls. Cal was in there a lot until he fell in love."
After the Christopher's concept had run its course, Loundas altered the decor and renamed the bar Graffiti's in an effort to appeal to a younger clientele. The space later became known as Padonia Station, and was rebranded as Padonia Ale House to accommodate the craft beer crowd in 2014. The Ale House was best known for its wings, crabby fries, and local beer lineup that included varieties from the likes of Flying Dog and Dogfish Head.
Loundas says that, although the spot saw plenty of changes throughout the decades, his long-term staff remained the backbone of the business.
More than 250 people, some hailing from as far as Texas and New England, attended an employee alumni party last week to commemorate the bar's history. The Heat and The Cold Sweat Horns, a local band that frequently jammed at Christopher's during its heyday, reunited after 20 years to play the send-off soiree.
"It was very nostalgic," Loundas says. "These guys are superb musicians. They came in and rehearsed for two hours and sounded like they never missed a beat."
Continental Realty Corporation, which owns the entire Padonia Village shopping center, is currently seeking new tenants. Loundas, who is also a longtime partner in the Bill Bateman's Bistro chain, says that expanding that brand will be his sole focus moving forward.
"It's really amazing how many people I've seen over the years that say 'I met my wife' or 'I met my husband' there," Loundas says. "In that last week, so many people that I never knew came up to me and thanked us for all of the great times."