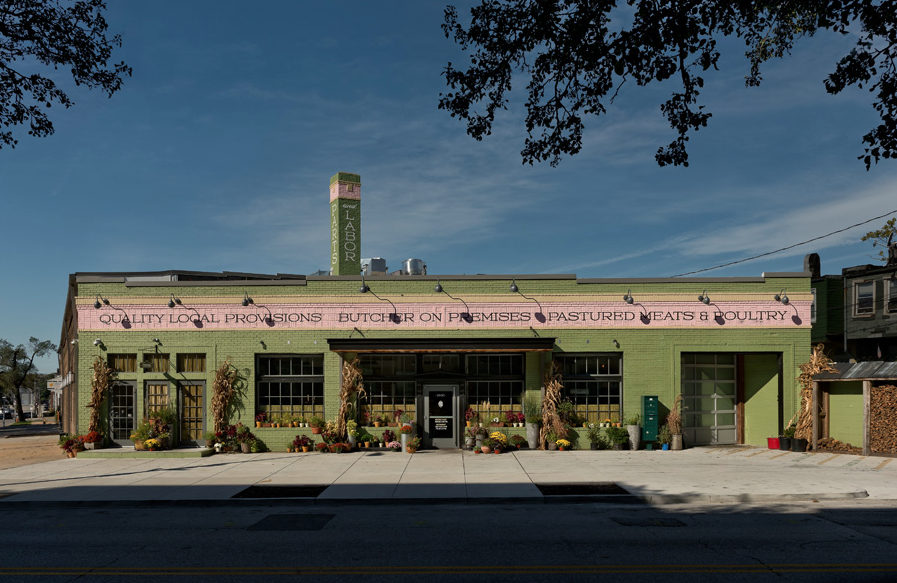 Courtesy of Parts & Labor
Parts & Labor, Spike and Amy Gjerde's meat-focused restaurant/butchery in Remington will sell its last locally sourced lamb chop this week.
The five-year-old restaurant will officially close after dinner service on August 5.
While the space opened to critical acclaim, the unique practice of purchasing whole animals from local farmers presented challenges in profitability. The staff learned of the news late last week.
While plans are still unfolding, there will be events and celebrations up to the last dinner service this Sunday.
"We might continue to keep the bar open a few days a week through the closing of the restaurant," says managing partner Corey Polyoka.
As he weighs why the concept didn't work, sitting in a booth at one of the restaurant's final lunch shifts on a Saturday afternoon, Gjerde is in a deeply reflective mood.
The restaurant's closing, "was a long time coming" Gjerde says. "Of course restaurants come and go and open and close and that's part of life, but at its heart, Parts & Labor was a deep dive into the economics of local meat."
While Woodberry Kitchen—which relies almost entirely on locally sourced ingredients—raised awareness of local sourcing and helped educate consumers, Parts & Labor presented new challenges and took the concept to another level.
It was the first restaurant in the state to practice whole animal seam butchery, attempting to use every part of the animal product in production.
"We took what we understood about local beef and lamb and goat and poultry and scaled it so that we could continue upon the work that we were doing at Woodberry," explains Gjerde. "I knew that if we were going to do anything else in the city and serve meat, we needed to do it on our terms with thoughtful local producers."
While Gjerde knew that there would be hurdles, the goal turned out to be a little too lofty, with many factors working against a local outfit. Food costs were higher and the public was exposed to cuts or types of meat—like coulotte steak (cut from the sirloin cap) or organ meats—that they might not otherwise know.
"Our collective understanding and expectation of what meat costs and how it gets to us has been formed by industrial meat production in this country," says Gjerde. "That means that we have everything from dollar burgers at fast-food joints to beef and pork in supermarkets, and everything in between. When you take out the efficiencies of mass industrial processing operations and bring that back to the local level, you are at a tremendous disadvantage based on what people expect."
Polyoka says that not pursuing USDA approval was also a factor that contributed to their demise. "We developed butcher's cuts that were out of pure need to get as much value out of the whole carcass as possible," he says. "[Because we lacked USDA approval], we could only sell meat in our own retail shop or to restaurants that we are connected with—we couldn't push it into different channels."
Gjerde cites statistics he has written in his phone, saying he is proud of the fact that value was returned to growers. "We put almost $4,000,000 back into the economy, and $2.5 million was beef, pork, lamb, goat, chicken, and duck—almost all of it from Maryland."
As the restaurant changed menus and concepts in an effort to be more profitable, six or so months ago, Gjerde, Polyoka, and butcher George Marsh had to face the inevitable reality that it was likely time to close.
"We probably held on a lot longer than most people would have," says Gjerde, who still owns six other spots, including A Rake's Progress in D.C., as well as a successful canning operation. "We realized we were having trouble paying the growers—and that's not why we are here. We were in major arrears, but at this point it's a break-even scenario."
While the news saddened staff, Gjerde and Polyoka wanted to be thoughtful about the closing.
"For me, in a few of the restaurants I worked in as a young cook or pastry chef, I found out that they were closing because when I got there, the doors were padlocked shut—and that was all the notice that I ever got that the restaurant was closing," says Gjerde, who won the James Beard Award for Best Chef: Mid Atlantic in 2015.
"I didn't want that for this place or for these people or for our guests. Some of the families who come to this shop are my favorite people. They know that they could have paid less elsewhere but they wouldn't get the quality of the meat that we're doing anywhere else—connecting with these people has made it worth it."
But Gjerde remains resolute. "We are not done with this," he says. "But when we do it again—it's not if but when—it will be with all of the knowledge and a much deeper understanding of how this actually works. We wouldn't make the mistake of not having USDA again. And my biggest mistake is that I confused processing space with restaurant space—and those are two very different things."
With the closing of the space, Gjerde is still sounding the alarm that, as consumers, we should consider the sourcing of everything we eat, especially meat.
"The reasons we thought it was important to do Parts & Labor are still out there—if anything they are more urgent," he says. "Commodity meat production in this culture and all the environmental and social impacts and even the health issues that come from having this unending supply of cheap meat is a problem. Parts & Labor was what I thought was a rational response to what was wrong about the way we eat meat in this country."
And while the restaurant enters its final week, the duo is far from giving up on the concept.
"I had high hopes for what Parts & Labor could do immediately for the local food systems," says Gjerde. "But we're not done."