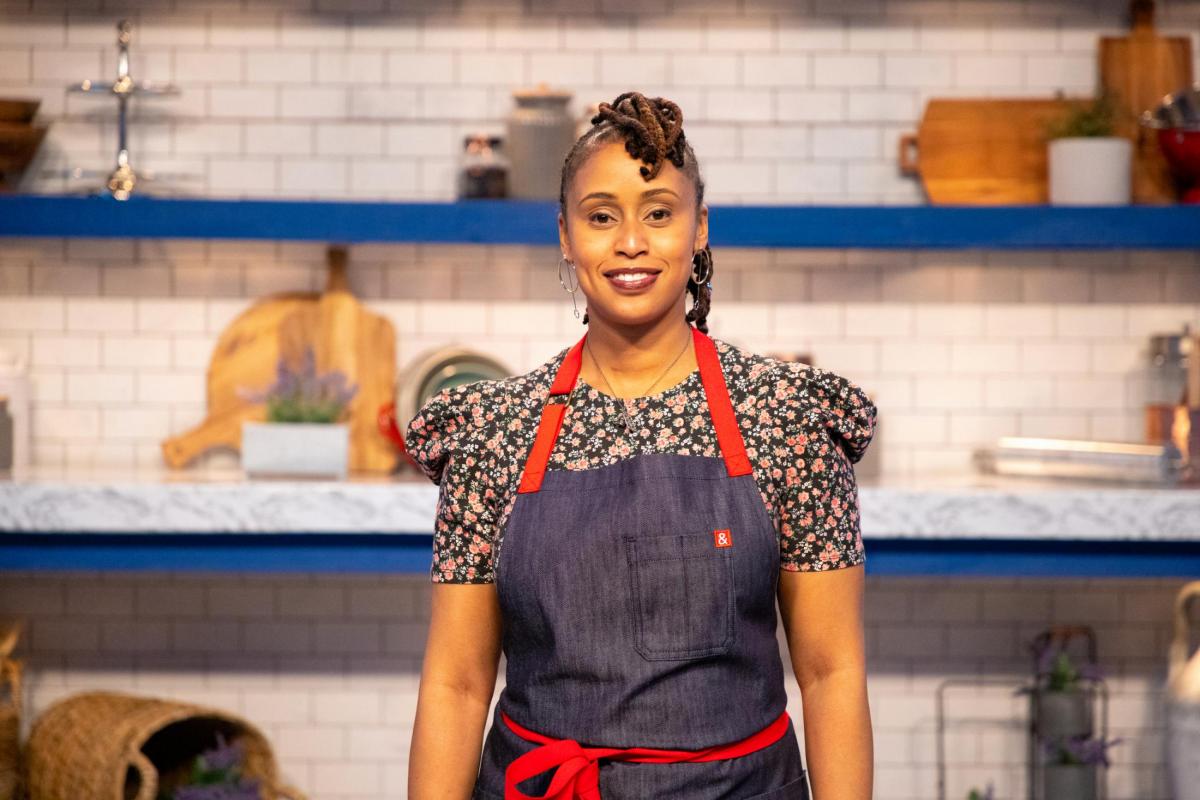 —Courtesy of Food Network
"Sugar, flour, and eggs have taken me places," Yassmeen Haskins Jackson says. 
It's true. Before Jackson launched her online boutique pastry shop, Cocoa & Nuts, three years ago, the staple ingredients led the Baltimore born-and-raised baker into local kitchens at the Royal Sonesta Harbor Court hotel and Sacré Sucré in Fells Point. More recently, they helped the seasoned pastry chef score her very first TV gig.
This Monday, May 3 at 9 p.m., Jackson will face off alongside nine other pastry chefs in the season four premiere of Food Network's Best Baker in America, hosted by Carla Hall of Top Chef and The Chew fame. We recently caught up with Jackson to learn more about her love of baking and her first big TV break.
How did you get started in the local baking scene?
I decided to go to Johnson & Wales University for culinary school and came out a baker. I've worked at multiple places all over Baltimore City—from hotels to catering companies to smaller businesses—and now I have my own online pastry shop.
As the owner and executive pastry chef of Cocoa & Nuts, you specialize in cakes, cookies, and other treats. What inspired your love of baking?
It started really, really young. On Saturdays, Maryland Public Television would have all the cooking shows, and I would just be up watching them all day when everyone else was playing outside. When it came down to deciding what I wanted to do with my life, I found out that my local high school, Edmondson-Westside High School, offered a baking and culinary program. I went with baking, and I'm so glad I did.
Your pastries are known for being customized for any occasion, from baby showers to retirement parties. How does it feel to be able to add a personalized twist for your clients?
In a nutshell, it's joy. You might become my client for a wedding, right? And then it might turn into your bachelorette party. Then, it turns into your bridal shower. Then, it turns into your gender reveal party, and that turns into the actual baby shower. And then we have the first birthday party. So I've been with people for years, and that's fantastic. 
I have the privilege of touching people and their lives in so many facets. I had clients who lost their loved ones during COVID, and, since there were no more homegoing services, they were having [gatherings] at their homes. So I started making bread pudding for my clients. They would call and say, "It's been a tough day, but you put a smile on everyone's faces." When I do stuff like that, I know I'm doing what I'm supposed to be doing.
Is there a particular favorite custom cake that you've made for a client?
I made a cake in the shape of an avocado for a young lady whose name was Ava, so they called her "Ava-cado." That was just hilarious to me! And then I did the Maryland Preakness cake. That was an achievement. I'm from Baltimore, and all my life, I had never been to the Pimlico Race Course. But when I finally stepped onto that property, I was bringing my work, you know? I was showing up for me. But I'd probably say any dessert that makes my mother, or my family, smile is my favorite. Sometimes it's not a cake. It might be a pie, because I love pie. I'm a pie girl.
What was it like to find out you'd be competing on Best Baker in America?
I got the phone call and I was like, "Of course—I mean, wait…me?" I was super excited. This just happens to be in my wheelhouse given everything that I've done. I've always worked for hotels and catering companies, and usually when you work with those types of establishments, you're doing a little bit of everything. You have vegan clients, you have gluten free clients—you really never know who could walk in the door. I knew Best Baker in America would give me the opportunity to showcase my talents. 
Carla Hall hosts the show alongside judges including Food Network personality Jason Smith and cookbook author Gesine Prado. What was it like to bake for them?
Can we just talk about Carla Hall? All of the beautiful goddess and queen chefdom that she is bringing to this kitchen. I mean, this Brown girl right here was like, "Wait, Carla Hall is a judge? Oh my god, how's my hair?" Just to meet all three of the judges in itself was kitchen gold, you know? But to meet Carla Hall? I felt like I found the prize in the bottom of a Cracker Jack box.  
As a Baltimore native, what does it mean to be able to represent for local viewers?
Everything. It means everything to me. I'm so proud of where I'm from, and I'm so proud of the community in which I live. When people turn their television on Monday night and tune in to Best Baker in America, they're not only going to see Carla Hall. They're going to see Yassmeen Haskins Jackson, and they're going to see my other competitor, Felicia [Mayden of Chicago.] The cast is diverse. I'm hoping someone from my city or from my state can watch and say, "You know what? Someone from where I'm from did that. She's trying. And if she can try, why can't I?"