Philosophy Winery Brings New Vintages to Baltimore
Meet the founders of Maryland's first Black-owned, all-female vino operation, which sources grapes from several local vineyards.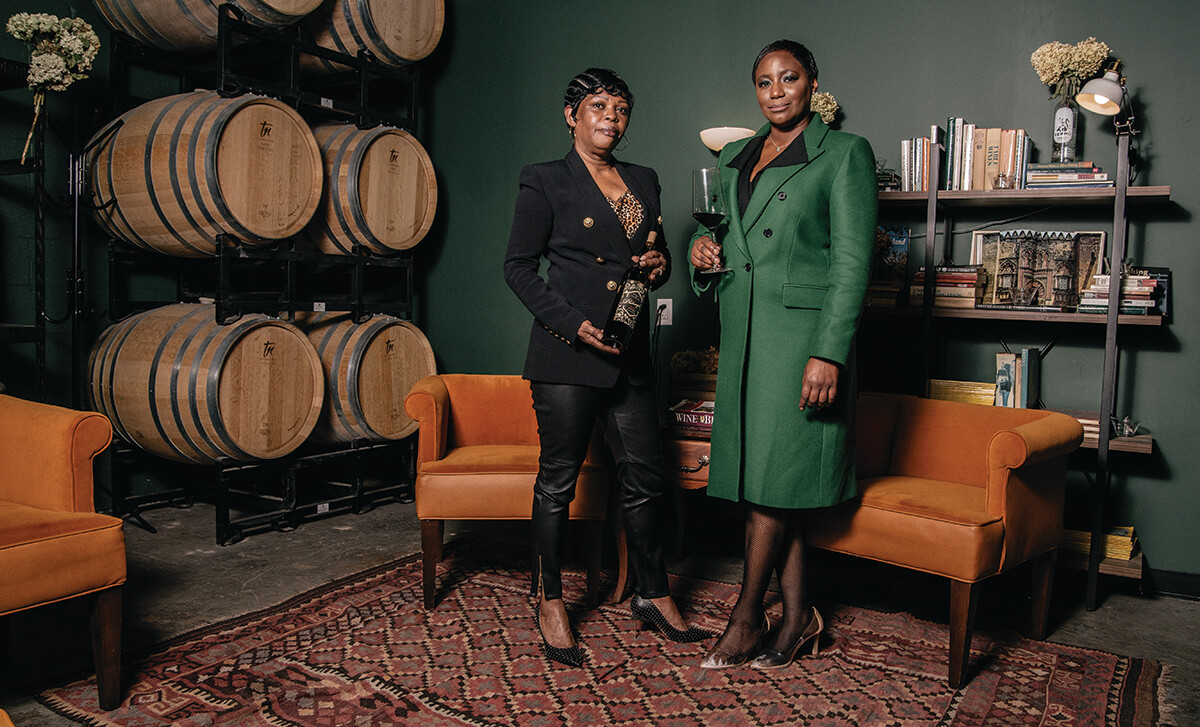 It was over four years ago that Kimberly T. Johnson decided it was time to step out as a winemaker, but in many ways, this was the culmination of a journey that began over a decade ago.
Interested in wine for years, the Baltimore native started to volunteer with the Maryland Wineries Association. "That just fueled my curiosity," says Johnson, pictured right, who eventually got a job at Old Westminster Winery in Carroll County, where the owners taught her the nuts and bolts of winemaking.
"[The Baker family] let me have a hand in everything and it taught me a lot."
So in 2018, she floated the idea of starting a winery with her friend Denise Roles Matthews, who signed on to be her business partner without hesitation. Today, the pair runs Philosophy Winery, Maryland's first Black-owned, all-female operation, with products made using grapes sourced from several Maryland vineyards.
"At the time, I worked in finance for Johns Hopkins," says Matthews, pictured left, also a Baltimore native. "I had the experience with money, with raising capital, and wine was already a deep passion of mine."
To get off the ground, they organized the Visionaries Club, a group of supporters who each contributed $300 to Philosophy's founding in exchange for early access to wine releases, exclusive tastings, and the chance to be a part of Maryland wine history. It was at this time that The Wine Collective, a co-op winemaking facility, opened in Hampden.
"Wine Collective wasn't just a gamechanger for us—it was a dream-maker!" says Johnson. "It just wouldn't be possible for us to acquire all that equipment on our own. [It] put us in business."
Philosophy currently offers three dry wines: a 2020 Viognier, a 2021 Rosé made with Chambourcin, and a non-vintage Bordeaux-style blend dubbed "Femme Noire." With nearly five years now under their belts, both women are looking ahead with excitement and anticipation. A stand-alone winery, vineyard ownership, and tasting room are all goals for the next stage in Philosophy's evolution.
"Being a Black-owned, all-female winery means the consumer will support you once, but they come back to us for the wine," says Matthews, "and we want to have a place of our own to welcome them." Adds Johnson, "Being African American and being women has gotten us a lot of attention, but in the end, I don't want to be known for anything but making great wine."
Based on the success of the award-winning Viognier and the sold-out Cabernet Franc, their future looks very bright indeed.