The Wine Collective is on a Mission to Push Vermouth into the Spotlight
Hampden wine bar brings a Spanish way of life to Baltimore.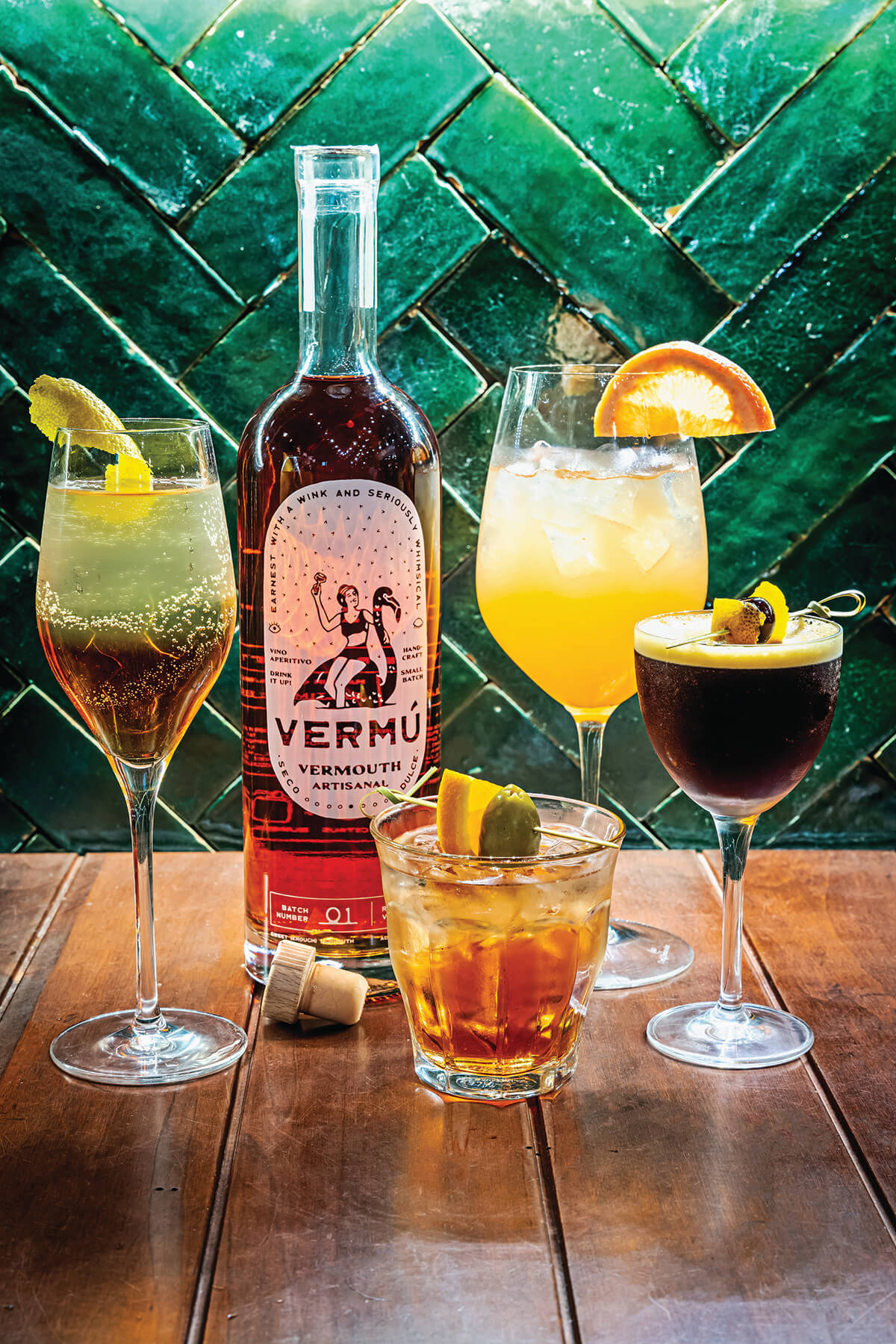 For most of us, vermouth is an ingredient. Swirled around a martini glass or splashed into a Manhattan, it is quickly placed back on the bar cart as the stars of the show (gin, vodka, bourbon, pick your poison) make their entrance.
But at Hampden's The Wine Collective, co-founder Enrique Pallares and his team are on a mission to push vermouth into the spotlight, a placement it already enjoys in Spain, where the daily "hora del Vermut"—vermouth hour—brings young people out in spades to sip the fortified wine on its own, with olives and orange slices, or fizzed up with a bit of seltzer. 
Sitting in the cozy Barrel Room at The Wine Collective as Pallares pours from the first batch of his Vermú Rosé, it takes very little convincing to consider borrowing a tradition from the Spanish. The pinkish-orange concoction of the collective's 2019 rosé aromatized with cinchona bark, Spanish oranges, chamomile, wormwood, gentian root, juniper berries, clove, and star anise is spicy and bittersweet on its own, and refreshing and mellow served "vermuteria style" with soda water, an orange slice, and an olive. There are also several vermú cocktails on offer, including a light, botanical spritz and the warm, sugary "Burnt Flamingo."
"It's one of the most versatile drinks out there," says Vallares. "You can really drink it on a Sunday morning spritzed up with bubbly water, or you can mix it with sparkling wine and it's a perfect anytime drink like the Aperol Spritz. At the same time you can have it in the afternoon, or you can serve it in like a little Nick and Nora after dinner and it's the perfect cocktail or digestif. It's very, very simple, and that's why I think it's so popular among young people in Spain."
With trends pushing drinkers more and more toward options with less sugar and lower alcohol content, Vermú Rosé has arrived at the perfect moment, ticking boxes in flavor and versatility and clocking in at just 16.5% ABV in the bottle.
"It's the meeting point between the distiller, the winemaker, the chef, and the witch doctor. All those [botanicals] have components that are good for you, and then you blend that with the wine," says Vallares. "[The American palate] is learning to let go of the sugar a little bit, and it's learning to love bitterness a little bit more. [Vermouth] has this wave of people ready for that palate, but it's also tied to the interest in the lower-ABV stuff. There's all these interesting forces in the booze and culinary movement in America that are perfect for vermouth."
They may not quite be doctor's orders, but Vallares recommends pairing the spirit with salty pintxos such as tinned fish and olives. (The Wine Collective's smoked fish dip, served with crackers and chili crisp, is a stunner.) And look for a new red vermouth —"More vanilla forward, more herbal, more of the traditional style," according to Vallares — launching this month. With the rosé variety already lauded by Wine & Spirits, Condé Nast Traveler, and Forbes, we look forward to adding a second style to our vermouth hour supplies soon.