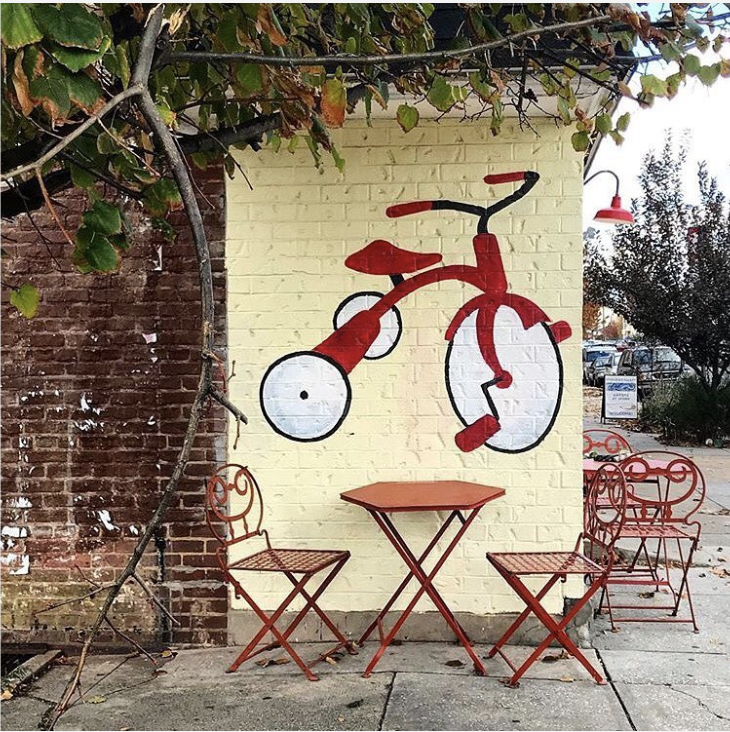 @alliemarietravels via Instagram
Though she spent years building her career in the tech world, living in big startup cities like San Francisco and Brooklyn, New York, Tess Russell always knew in the back of her mind that she wanted to open a neighborhood corner store.
"It's funny that it's so far from what I did before, but it still sparks the same curiosity in me," says Russell, a Roland Park native who now lives in Hampden. "I've always had this interest in corner stores and talking to the people who run them about what's in stock and what people need. It's totally based on interactions."
Now, Russell is making that longtime goal a reality with Prime Corner Baltimore—a grocery store and lunch counter in the former home of Play Cafe at 3400 Chestnut Avenue. Expected to open by the end of the summer, the renovated spot will offer grocery items and deli fare, as well as candies, flowers, coffee, vegan options, and old-school Baltimore snacks like lemon-peppermint sticks.
"I want to honor the neighborhood and have this be a grocery store that people can use in that way," she says. "But I'm also very interested in food and beverage, and have tastes for odd items. The fun balance will be making it so that you can get milk and eggs, but also so you can discover new things like wild drinks, snacks, and other local products."
Similar to many of the bodegas that she frequented in New York, Russell will offer shelves stacked with artisan goods that locals might not be able to find elsewhere in the neighborhood. When it comes to the prepared food, the menu will feature everything from a basic ham-and-cheese sandwich to fancier toasts inspired by places like The Mill in San Francisco—which makes a killer cinnamon-sugar toast, according to Russell.
"That was the place everyone would go and say, 'I don't get it, it's just toast,'" she recalls. "But then you try it and you're like, 'No that's the best toast I've ever had.' So my goal there is to do something simple but very delicious and made with care."
Russell has been putting just as much thought into the redesign of the space, which will boast a long, eight-seat lunch counter, table seating up front, and aisles loaded with pantry products near the back. She is also planning to offer al fresco seating, and commission a local artist to paint a colorful wall mural on the front of the building.
"As someone who lives on Chestnut, seeing all of the businesses put chairs out in the spring is really nice," she says. "Walking down the sidewalk and seeing people hanging out gives it a really vibrant feel."
To further the community focus, Russell is encouraging locals to reach out on social media and let her know which products they would like to see in the shop. She is also looking forward to partnering with other small businesses, whether that means seeking out artists to create merchandise for the store or offering food and drink mashups for visitors going to see the 34th Street lights during the holidays.
Thinking of ways to collaborate with other businesses, Russell says, is a skill she mastered while creating apps in the tech world.
"In Baltimore more than anywhere, everyone wants everyone else to succeed," she says. "Every time a new business opens in Hampden, it benefits all of the other businesses. People are really supportive as long as there's a good-faith effort to listen to the neighborhood."