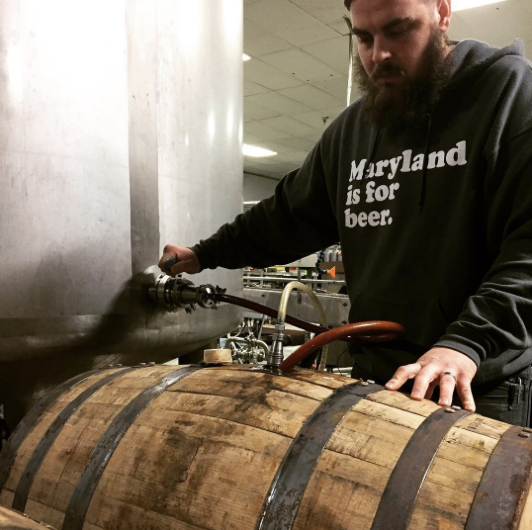 Tim Scouten of Goonda Beersmiths filling a stout at Peabody Heights Brewery. [email protected] via Instagram
The gloves were off at an eight-hour hearing in the House Economic Matters Committee Friday, which included heated testimony that will undoubtedly have an effect on the future of the state's craft beer climate.
More than 15 bills on the meeting's docket discussed the intricacies of everything from licensing to distribution, but the legislation that seemed to spark the most debate was House Bill 1052, which would add more restrictions to craft breweries and reverse the changes made during last year's legislative session.
The 2017 session closed with the approval of HB 1283—a bill that was originally proposed to accommodate Guinness' large-scale production coming into Baltimore and was subsequently amended in the Senate amid pushback from brewers, who wanted a level playing field. The bill was ultimately viewed by most parties as a compromise.
"There's been a lot of discussion and debate since 1283 passed last session," testified Del. Talmadge Branch of Baltimore City, who is co-sponsoring the new bill along with committee chairman Dereck E. Davis of Prince George's County. "Since the end of last session and throughout the summer and fall, I've read articles and listened to meetings over the internet that continuously express that the industry was not satisfied."
In fact, what the craft beer industry is saying, according to the Brewers Association of Maryland (BAM), is that the bill wasn't progressive enough. Though some amendments did alter the bill in favor of the brewers, BAM's sentiment was that there was still work to be done. (For example, Frederick's Flying Dog Brewery put its $50 million expansion plans on permanent hold due to the outcomes of HB 1283.) But instead of moving the ball forward, craft brewers feel that HB 1052 takes them back to square one.
"The only two positive pieces [of HB 1283] were that contract brewing was legalized and that the barrel increase was recognized, and now they're trying to take that away," explains Tim Scouten of Goonda Beersmiths, which currently contract brews out of Peabody Heights Brewery. "It says to the brewers, 'You are not a priority.'"
However, part of what lawmakers were arguing on Friday is that proposed lack of limitations on brewing production bring up public health concerns.
"With every expansion on the consumption of alcohol, there is a direct correlation to social and health consequences," testified Del. Benjamin Kramer of Montgomery County. "I'm not saying it's the burden of the craft beer industry. That is a burden for the entire industry. But do understand, the prospect of unlimited sales at every one of these breweries is a very valid health concern. The welfare of the residents of our state is an absolute priority."
Brendan O'Leary—who moved his family from Colorado to develop soon-to-open True Respite Brewing Co. in Rockville—countered Kramer's point by comparing craft beer to the macro-brewed products sold at regular bars and restaurants.
"The proliferation of craft beer in Maryland does not necessarily spell doom or disaster for the highways of Maryland," O'Leary said. "I'm not aware of any bar or restaurant that has limits on how many beers they can sell. So when we're talking about concerns of public health, I'm not sure that it's fair to pin the problem on craft breweries who are taking market share from national brewers here in Maryland."
From the retail perspective, some proponents of HB 1052 fear that bars, restaurants, and liquor stores will face competition if breweries have fewer restrictions. But Scouten argues that retailers only benefit from having breweries in their area.
"The liquor stores closest to Union in Hampden are packed with Duckpin," he says. "This scarcity mindset that the retailers and wholesalers are operating under is understandable, but just in general, very negative."
Capital Gazette reporter Liz Murphy echoed Scouten's statements when she shared an anecdote about a connection made between Odenton's new Crooked Crab Brewing Co. and nearby restaurant The Hideaway.
"I asked [the owner] how he felt about Crooked Crab Brewing coming to the neighborhood," she recalled. "His face lit up, and he said, 'I cannot wait for them to open. Do you know this will mean for Odenton? More people will come here, to my restaurant, and other businesses in town.'"
As a counter to HB 1052, Comptroller Peter Franchot—a longtime local beer champion—has introduced HB 518, which was also heard by the committee Friday. Colloquially referred to as the Reform on Tap Act of 2018, the bill would lift many of the current restrictions and was inspired by a task force of 40 people that Franchot assembled last year to study the current state of the industry and modernize its laws.
"Every last one of us in Maryland has benefitted from the innovation and the sacrifice of these craft brewers," said Franchot, adding that breweries produce more than $637 million in total economic output. "They are the manufacturers of the 21st century, who have demonstrated their capacity to not only propel the manufacturing sector into the new millennia, but completely drive and revitalize local economies."
All of the proposed brewery bills will be deliberated further by the committee before a vote is decided later in the session, which closes on April 9. In the meantime, while BAM is encouraging citizens to contact their local representatives to discuss the proposed legislation, lawmakers are urging the craft beer community to soften their rhetoric on social media.
"We don't have to throw stones to get the message across," said Del. C.T. Wilson, in response to Franchot's testimony. "You might not get every single thing you want in your bill, but if you don't get everything, could you please stop attacking us on Facebook and Twitter? I don't understand how that moves the ball forward. [We need to] stop with this vitriol so that we can move on for the good of not just the craft brewers, but the entire state of Maryland."