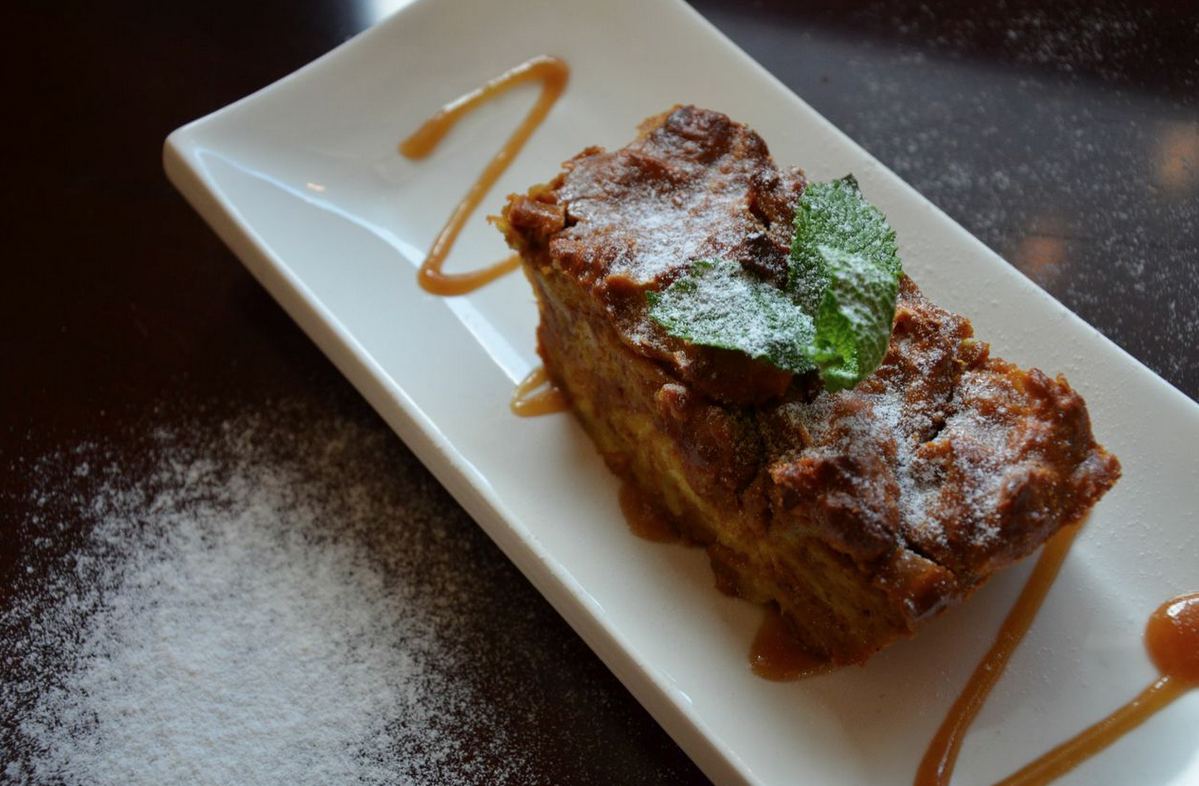 Courtesy of The Classic Catering People
As much as we hate to put the covers over our grills and remove our favorite crab markets off of speed dial, fall has a way of putting us in the mood for adding cinnamon and pumpkin-spice to our diets. With that in mind, we turned to chef Callie Tarts of The Classic Catering People in Owings Mills to help us with our constant cravings.
"Fall is my favorite time of year," says Tarts. "I love cinnamon and nutmeg, they make everything great."
One of Callie's autumn-inspired dishes epitomizes the season's best offerings by combining pumpkin into a hearty bread pudding.
"The pumpkin gives it a different consistency," says Tarts. "I'm not really a fan of bread pudding, but this is absolutely delicious. It'll stick with you, it's really something that you can sink your teeth into."
So whether you're looking for recipes to wow your holiday guests this season, or just attempting to add interest to fall meals, here are three dishes to get you started.
Pumpkin Bread Pudding
By chef Callie Tarts
Ingredients:
Unsalted butter, room temperature
6 tablespoons dark brown sugar
1 can (15 ounces) pumpkin puree
4 large eggs
1 cup granulated sugar
1 ½ cups half-and-half
2 teaspoons pure vanilla extract
1 teaspoon ground cinnamon
1 teaspoon ground ginger
¼ teaspoon ground allspice
1 pinch salt
8-10 large croissants
Confectioners' sugar for dusting (optional)
Directions:
1. Preheat oven to 350°F. Butter one 13''x9'' pan and sprinkle with 1 tablespoon brown sugar.
2. In large bowl, whisk together remainder of brown sugar, pumpkin, eggs, granulated sugar, half-and-half, vanilla, spices and salt. Cut croissants into small cubes, toss in bowl and stir gently to evenly coat; let stand a few minutes. Place in pan and press down to make level.
3. Bake until custard is set in the center and top is golden brown, about 40 minutes. If bread browns too quickly cover loosely with aluminum foil. Remove from oven: let cool slightly.
Serves 8-10
Acorn Squash Risotto
By chef John Walsh
Ingredients:
3 cups duck stock (can be substituted for chicken stock)
1 large acorn squash (approximately 1 pound)
5 tablespoons butter
2 tablespoons shallots, chopped
2 cups Arborio rice
1 ½ cup dry white wine
1 tablespoon fresh sage, chopped
¼ cup Sheep farmer's cheese
2 tablespoons heavy cream
Salt and pepper to taste
Directions:
1. Heat duck stock to a simmer.
2. Skin and seed acorn squash and finely dice; heat saucepan and add 2 tablespoons of butter
3. Once butter begins to bubble, add shallots, risotto, and squash. Sauté for a few minutes and deglaze with white wine.
4. Add stock one cup at a time, cooking each cup until almost completely absorbed.
5. Add remaining ingredients: sage, 3 tablespoons of butter, Sheep farmer's cheese, and heavy cream. Season with salt and pepper to taste.
6. Let cool for a few minutes before serving.
Serves 8
Potato and Turnip Gratin
By chef Therese Harding
Ingredients:
1 yellow onion, thinly sliced
2 cloves of garlic, minced
2 tablespoons olive oil
2 tablespoons unsalted butter
½ pounds baby kale
2 pounds Yukon gold potatoes
1 pound turnips
2 cups heavy cream
1 cup local goat cheese, crumbled
1 teaspoon kosher salt
½ teaspoon fresh ground pepper
1 cup gruyere cheese
Directions:
1. Sauté the onion and garlic in olive oil and butter on medium heat for 5 minutes.
2. Add baby kale and cook 10 minutes until tender. Set aside to cool.
3. Peel potatoes and turnips. Mix the potatoes and turnips in large bowl with cream, crumbled goat cheese, salt and pepper. Add the cooled sautéed onions and garlic.
4. Pour mixture into a baking dish and press down until smooth. Sprinkle the top with gruyere cheese.
5. Bake 1½ hours until potatoes are tender.
6. Let cool for 5 minutes before cutting and serving.
Serves 8