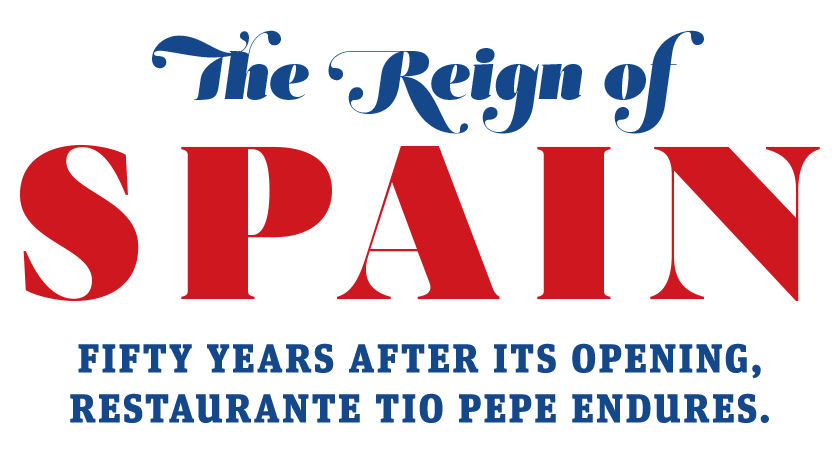 Food & Drink
The Reign of Spain
Fifty years after its opening, Restaurante Tio Pepe endures.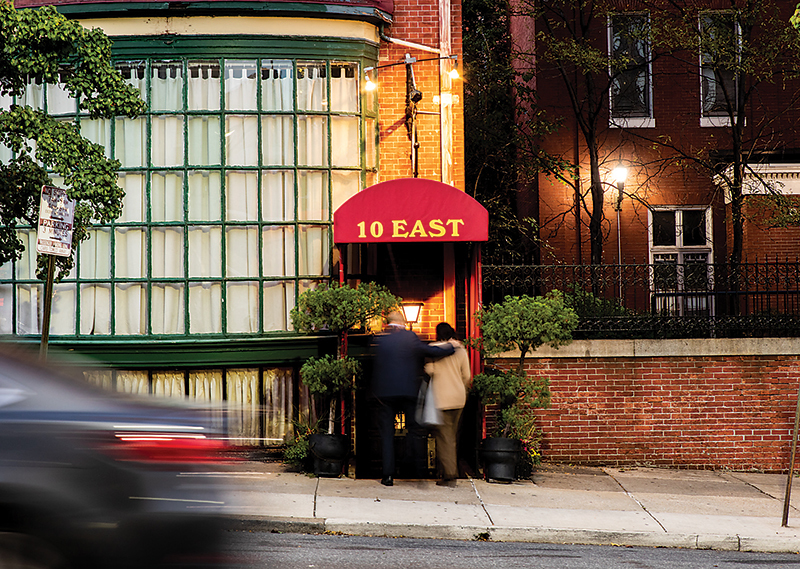 at Tio Pepe's, but none of the venerable Spanish restaurant's tables are occupied, save for one. In the back of the cool, dimly lit subterranean dining room, two men sit at a round table, sharing a pasta dish with beef and mushrooms in a cream sauce—and memories. On this bright and blazingly hot August Saturday, the two are enjoying a "family meal" before the restaurant opens. (Lunch is still served during the week.)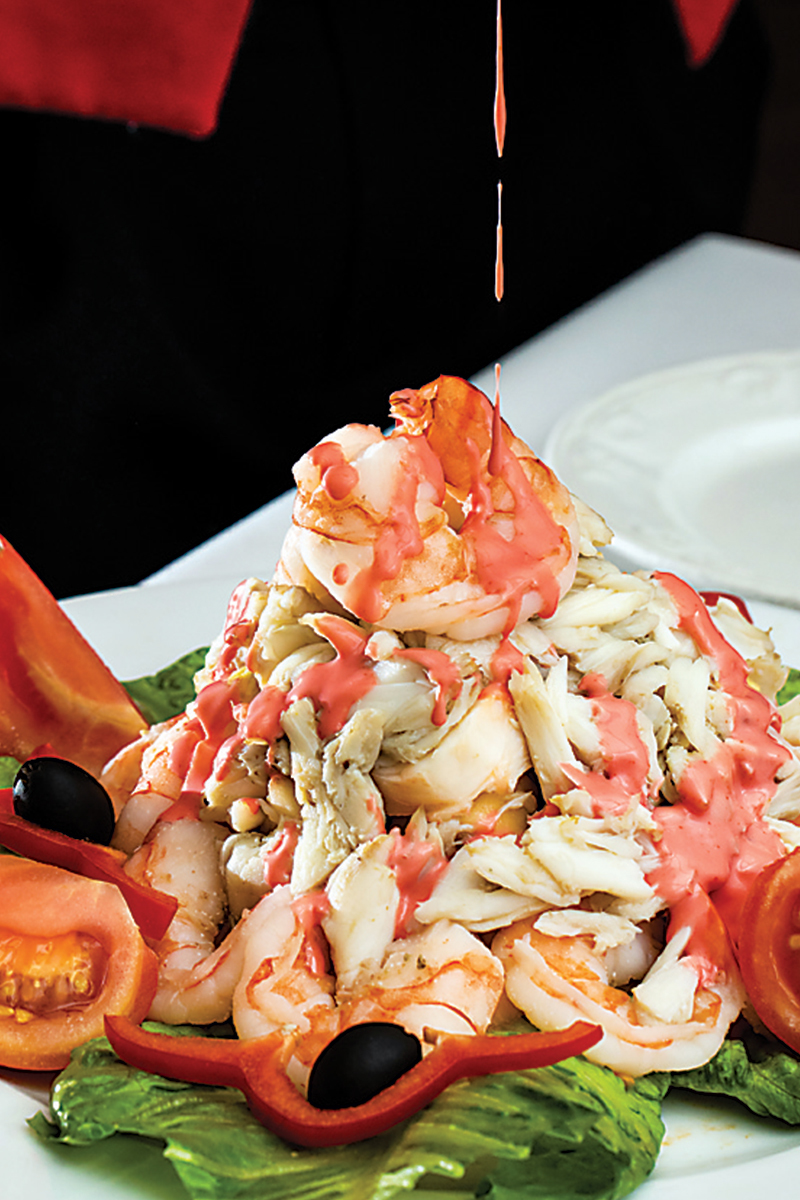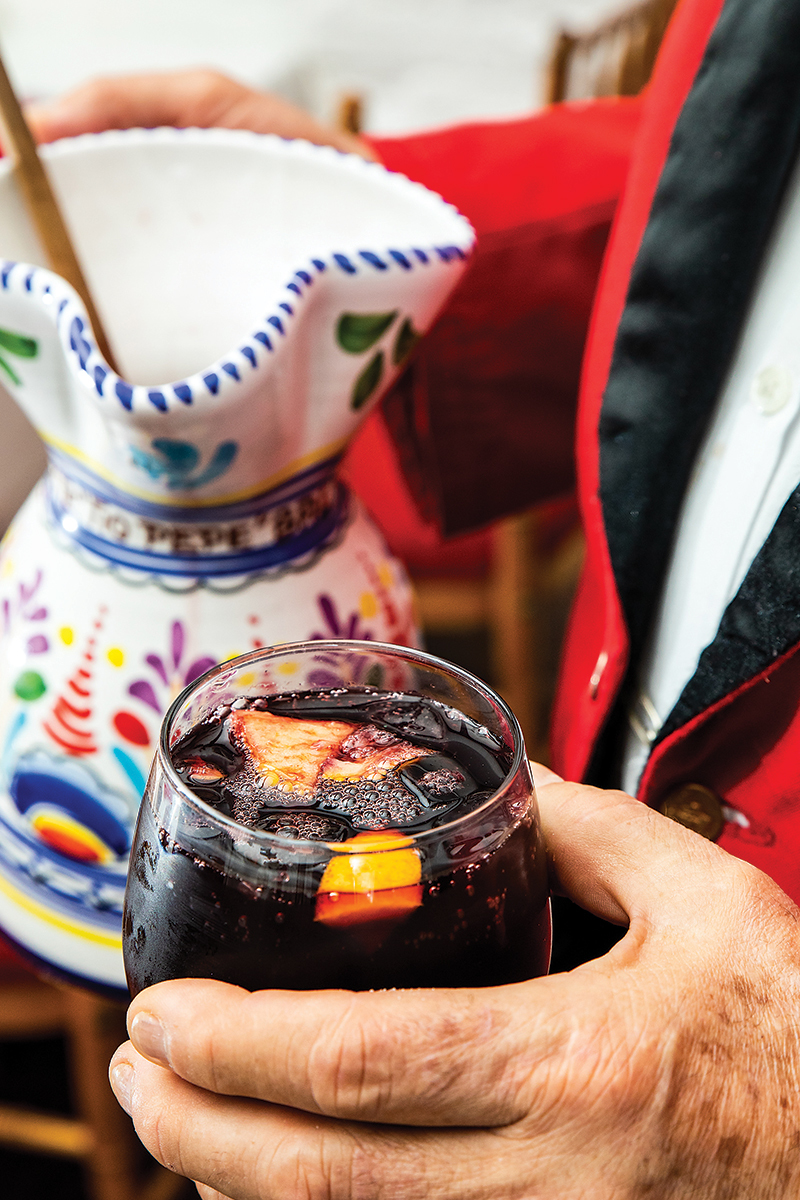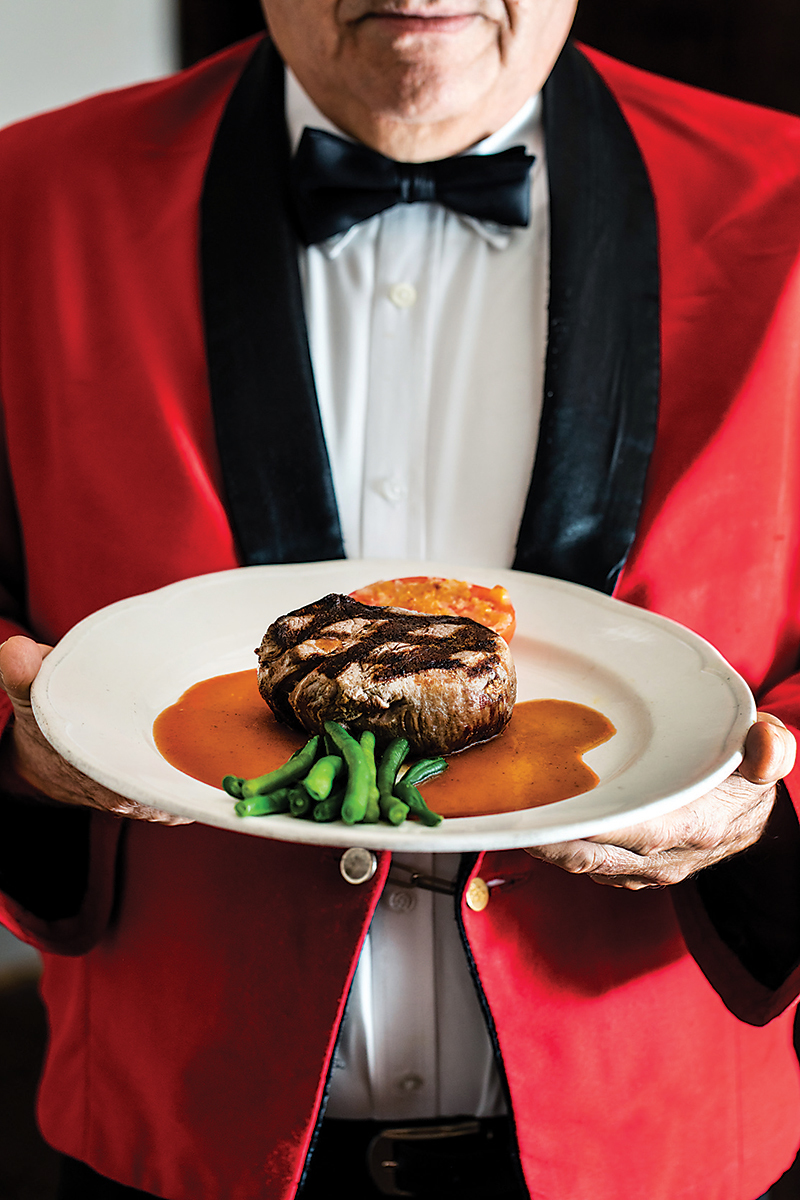 The older of the two, Emiliano Sanz, has been working here since 1970, two years after his distant cousin, Pedro Sanz, opened it and summoned him from Madrid.
"I was 24," says 72-year-old Emiliano, who now co-owns the Mt. Vernon restaurant. "Who doesn't want to come to America?"
Five years later, in 1975, Oscar Galvis, newly arrived from Colombia, started as a busboy. Within eight months, he traded his gold jacket for the blue one worn by runners, and soon after that he donned the signature red coat that he still wears today as a waiter.
In the 50 years since it first opened on Dec. 26, 1968, precious little has changed at Restaurante Tio Pepe, its official name. Pedro, who presided over the kitchen during its glory days in the 1970s and '80s, passed away in 1989, but the paella, cochinillo asado estilo Segovia (suckling pig), gazpacho, and of course, sangria, that have drawn diners for a half-century continue to intoxicate them today. The food—richly spiced, seasoned, and sauced and generously portioned, caloric consequences be damned—is prepared by Emiliano, a man who has devoted 48 years of his life to the place. It's served by a staff that turns over once a generation, if that, and consumed in many of the original cavernous maze's stone-walled and wood-paneled dining rooms. Ashtrays remain mounted above the urinals in the men's bathroom, even though they haven't been used in years.
"The only change is us," Emiliano says.
"We got old," Galvis, 65, replies with a hearty laugh.
Fifty may be middle-aged for most of us, but it's downright antediluvian by restaurant standards. Culinary tastes evolve; populations shift, age, and transform; what was once cutting-edge suddenly feels stale. In the midst of this reality, Tio Pepe's has thrived, withstanding the migration of diners away from downtown toward Harbor East, Hampden, and a host of other newer, hotter 'hoods. Its heyday—when it stood with giants such as Marconi's, the Chesapeake, Haussner's, and The Prime Rib (the only one that remains) has passed—but the present is pretty dulce.
On Saturdays, the kitchen begins cooking between "four or five" Emiliano says. He's a man who seems to prefer suggestions to absolutes; those in the know often order dishes like Lobster Emiliano (tail meat topped with shrimp, crab, and champagne sauce) that are not on the menu.
"If you request anything and I have [the ingredients], I'll do it," he says.
One gets the feeling that almost any time a guest descends the four steps from East Franklin Street into this time capsule of a restaurant, they're politely seated, graciously served, and in all senses of the word, immensely satisfied. That was the case today, when Emiliano insisted that I join him and Galvis for lunch.
In the 50 years
since Tio's
opened, little
has changed.
Like most days, Emiliano arrived at the restaurant before 7 a.m. He needs to be there to begin fileting fish, cutting meat, preparing the suckling pig—all by hand—and overseeing the preparation of 26 sauces. Those and a large cauldron of rice are the only things made before a diner orders, he stresses.
A short, stocky man with thinning white hair and a thick accent, he will be here past 10 tonight. He comes in six days a week, but jokes that if you add his hours, it's more like 10.
Hard work never scared Emiliano, who as a child in Spain used to harness a donkey to haul water to his house. He has worked in kitchens since he was 13, when his older cousin Pedro, who had moved from Segovia to Madrid, first brought him to the Spanish capital. In 1964, at 24, Pedro visited New York for the World's Fair and decided to stay. After a stint cooking at a Spanish restaurant in the city, he moved to Baltimore and worked at the long-gone Peter Lucas restaurant in Roland Park, where he established a name for himself. When he opened his own place in 1968, he called it a popular Spanish name, to which he had no apparent connection.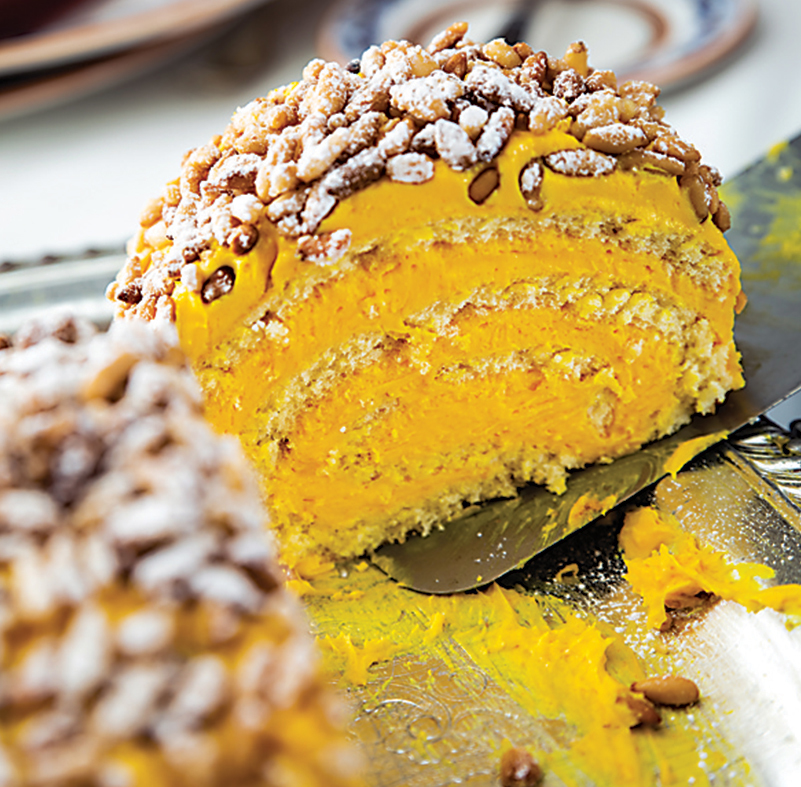 The story is being recounted, as it has been dozens of times, by Pedro's nephew, Miguel Sanz, 59, who came to the U.S. in 1983 to study engineering at The Johns Hopkins University. But after cancer took Pedro at the age of 54, he reluctantly took over management of the restaurant.
"I never expected it," Miguel says of what became his career. "Ever since I was a kid, my father never directed me to this. He said it's too hard. Use your brain, not your arm."
Throughout 29 years at Tio's, first as a busboy, then as a runner, server, and now general manager and co-owner, Miguel has employed both. Despite his understated manner, he's startlingly frank—and unapologetic—about the evolution, or lack thereof, of the restaurant.
A warmth emanates
from Emiliano that is
no doubt conveyed
in his cooking.
"It's not like it was 15 years ago, but it's still a good business," Miguel says. "We have an older clientele. Something else comes along that is more attuned to the times, more attuned to young people. You cannot expect to be at the top if you don't move. Restaurants have changed, and we haven't."
Indeed, consider this passage from a 2007 Baltimore story on the restaurant, which is as accurate today as it was 11 years ago. In it, then-food editor Hannah Feldman reflects on a 1985 story the magazine ran entitled "A Day in the Life of Tio Pepe."
"Much of the article, however, is as accurate today as it was 22 years ago," Feldman wrote. "The kitchen layout remains the same: a narrow corridor separating cold-side prep (where salads and desserts are assembled) from the hot side, which holds the Vulcan stoves, the ovens, and the gigantic steamer used to cook some 100 pounds of green beans each night. Many of the employees mentioned in the article are still working the same positions. Suckling pig is still a featured item on the menu."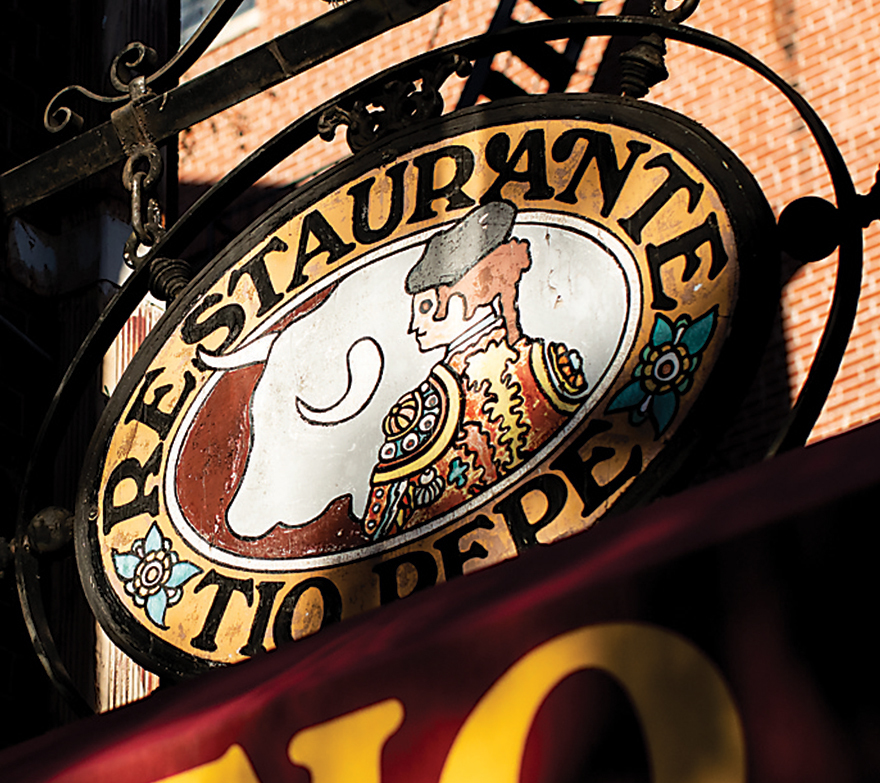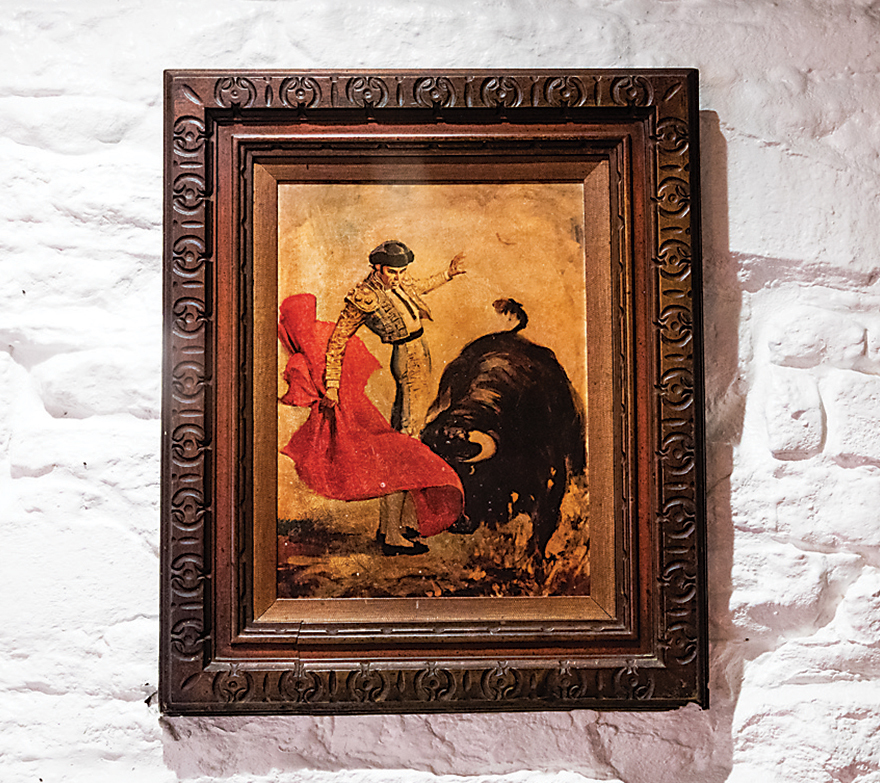 As usual, Hilary Caplan, Richard Bader, and Carl Tuerk Jr. are sitting at a round six-top sipping drinks and swapping stories. This is their tradition, but don't call it a routine. Routines are tedious. Lunch at Tio Pepe's is a pleasure.
"I've been coming here for 40 years, every Friday at 1—now a little bit earlier," says Caplan, a retired judge. "The people are wonderful, the food is beyond belief. They cook and serve with perfection."
Caplan, who orders a glass of white sangria, says he didn't drink at lunch back when he worked, to which his friend Floyd Pond, who's joining the regulars today, playfully chimes in, "He's not under oath."
Bader barely gets out the sound "mar…" before Galvis, the longest-tenured waiter, finishes "…garita."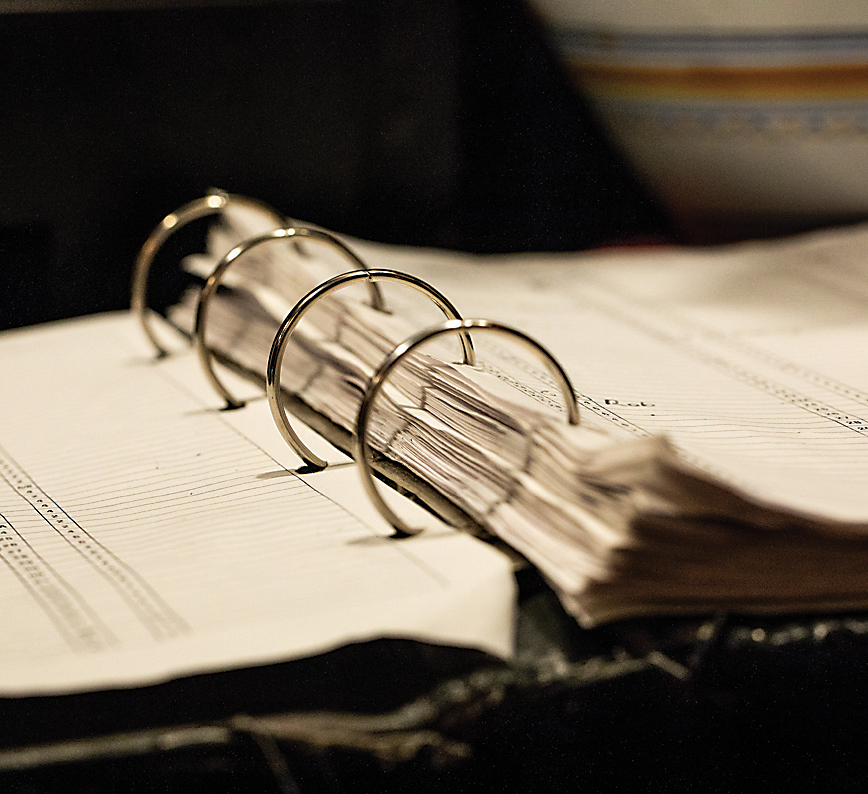 "It's like eating in your mother's kitchen," Bader says. "We trust [Emiliano]. He comes out and we say, 'What do you got today?' He tells us, and we'll try that."
This afternoon it's the red snapper in green sauce, which three of them order. Caplan is having crab imperial, which isn't on the menu but is the best in the city, in the judge's opinion.
At the table next to them is another group of regulars, albeit irregular ones. Joe and Fran Kasher are with their daughter, Chris Arrowood, her husband, Tom, and their grandson Michael. They all live in Pennsylvania but make the hour-and-a-half to two-hour drive a few times a year to eat at Tio's (and visit their Baltimore doctors). Joe took Chris to the restaurant when she turned 16, and she, in turn, took her son there when he celebrated the same landmark birthday.
"We started coming here in the late '60s," Joe says. "I'll never forget the first time: two couples, four people, four pitchers of sangria."
After that much of the red wine-based, fruit-infused drink, it's somewhat miraculous that he can recall that night. It is still among the most popular libations in the city—thirsty patrons consume more than 150 pitchers during an average week.
Nobody has better stories about people's unquenched lust for sangria than Emiliano.
"Sangria is a miracle drink," he says between bites of that creamy pasta. "I remember one time one guy came in with crutches many years back. Everybody sits down, they have dinner, they drink sangria. When he gets up, he forgot his crutches. He never came back. Maybe the sangria took care of the problem."
Having finished his lunch and elicited a laugh from Galvis, Emiliano ambles to the front of the restaurant to check on the reservations for the evening. The book sits on a stand above which a faded, framed copy of Baltimore's 1999 "Best Restaurants" issue hangs.
"That's me!" Emiliano proclaims, seemingly still tickled that he graced its cover.
A warmth emanates from Emililano that is no doubt conveyed in his cooking.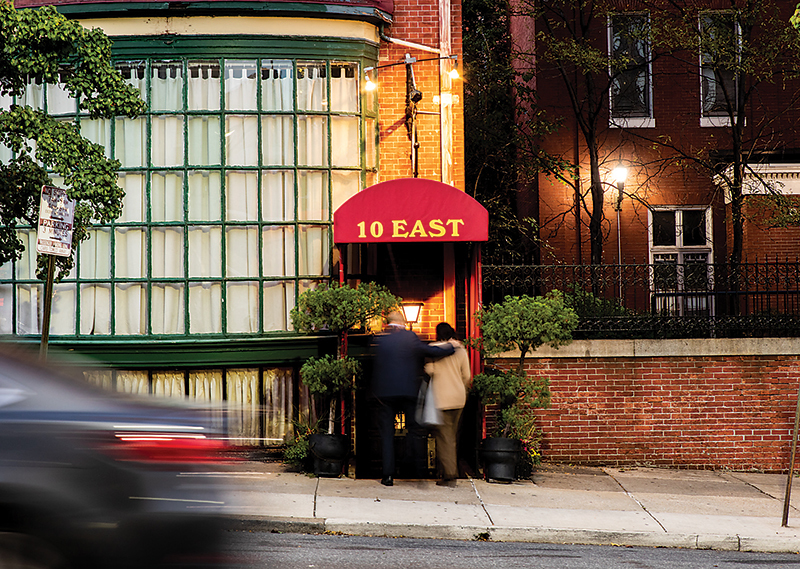 "Do you feel hungry?" he asks. The question startles me; it takes a moment for me to figure out why. As a food writer, I'm often asked if I am hungry. Never before have I been asked if I feel that way. The phrasing, whether intentional or not, speaks to why Emiliano has spent more than half his life in the kitchen, where he now heads to prepare me grouper topped with crabmeat. (That I answered "no" to his question he apparently found irrelevant.)
For him, food is emotional. It's passionate. It's personal.
While he's gone, I look through the thick reservation book, a four-ring binder filled with pages of three columns of handwritten names. Some of them have been recorded in it and its predecessors hundreds of times; others are making their first appearance. Nearly 400 people will dine here tonight, devouring dishes they can't find anywhere else: veal kidneys in a sherry sauce with saffron rice; filet of sole sautéed with bananas; the famous house-made pine nut roll. They'll wash their feast down with one too many glasses of sangria, then ascend glassy-eyed and smiling up those four steps onto East Franklin Street wondering when they'll have the pleasure of doing it all over again.
It's a timeless culinary flamenco, but the sobering truth is time stops for no one. In the 2007 Baltimore piece, Miguel was asked about Tio Pepe's future.
He mentioned the restaurant's 40th anniversary, coming in 2008, and wondered about its ultimate fate. "To tell the truth, I haven't even sat myself down to think about it," he says in the story. "I guess I'd like to see if we can make it to the 50th birthday. Past that, God will decide."
More than a decade later, the almighty, it seems, has weighed in.