Review: Chez Hugo Bistro
Steve Monnier's Chez Hugo Bistro delights downtown with its focus on France.
On an early spring evening, Steve Monnier inspects a plate of poulet roit au foin—whole chicken roasted in hay and glazed with honey-brandy sauce—while a pastry chef at the pass pipes cream in between fine layers of puff pastry to build a Napoleon, and a line cook oversees the asador, where quail gets grilled above the sparkling embers of the wood fire. 
This is the scene at Chez Hugo Bistro, Monnier's downtown dining follow-up to Hampden's Arômes, where the focus was solely a pre-fixe tasting menu. In a sea of sameness, it was a unique restaurant concept at the time, but not everyone in Baltimore was ready for a menu in which the chef did all the deciding. So Monnier heard the people's cri de coeur and closed his boîte at the end of last year to work on this new concept. If my first few visits are any indication, it was a bonne idée, indeed.
At Hugo, Monnier is cooking not only what he wants to cook, but also what others expect of traditional French bistro food. For daring foodies, there's still a tasting menu (six to 10 courses for $85/per person), but Hugo's main menu features a greatest hits of French-country cuisine—from pâte en croute to coq au vin and moules frites. And unlike the sometimes experimental Arômes, which often highlighted avant-garde ingredients such as lime ash and dehydrated scallops, the fare, although still fanciful (to wit, beets with wild rose vinaigrette and sour plums), needs little to no translation.
Also, while Arômes' environs were the cramped quarters of a Hampden row house, Hugo—named for Monnier's 4-year-old son and on the site of the former Baltimore International College—has no such issues. Inside this historic building (originally a Methodist Episcopal Church, long before becoming the local culinary arts college), there's a roomy bar for sipping an effervescent French 75 and a tony dining room with tufted, mustard-colored banquettes, cabaret chairs, French blue walls, mosaic tile floors, and original carved wood moldings. (Think Bordeaux meets Baltimore.)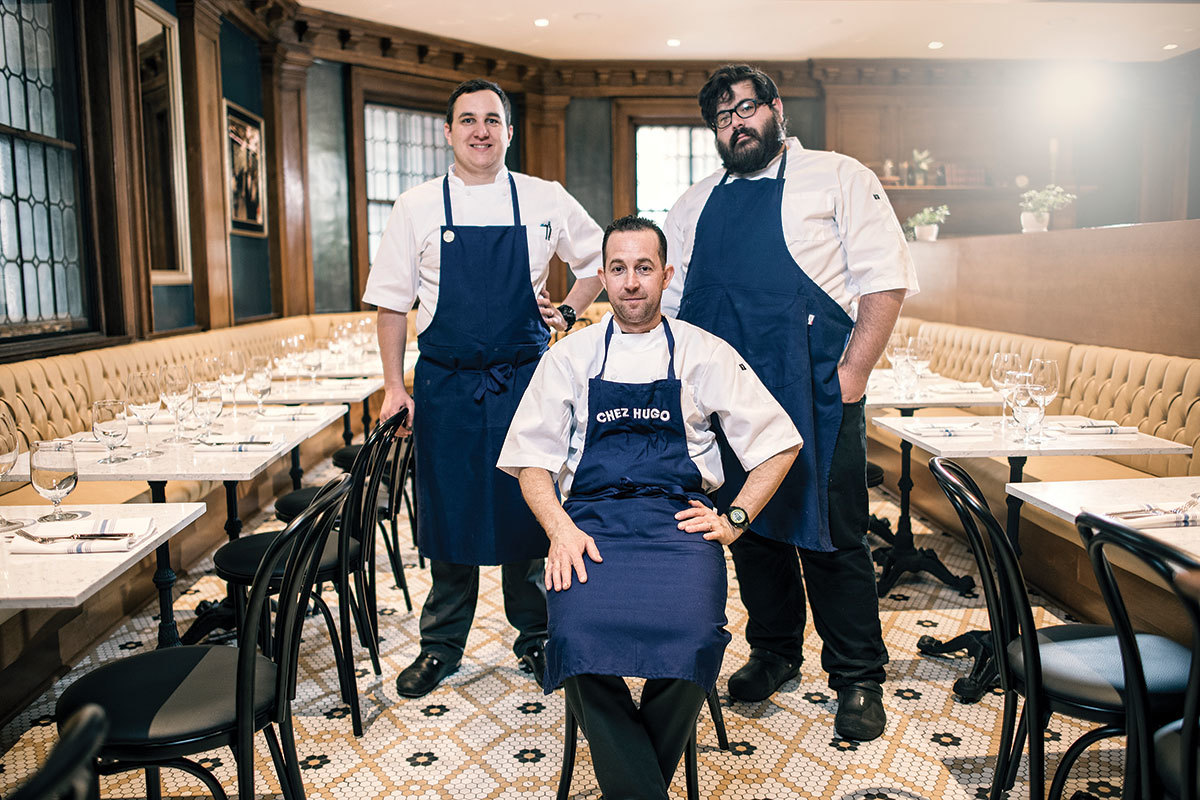 Monnier, who hails from Reims in the Champagne region of France and worked in the kitchens of several Michelin-starred spots (Le Carré des Feuillants, Le Laurent, Taillevent), is able to showcase his culinary talents here. Of course, many fine-dining chefs have been classically trained in the Escoffier school of cooking, but there's something about having an actual French chef at the helm that creates a kind of culinary verité.
While our trips to the table were beset by some minor missteps (on one outing, ours was among the first tables seated on a Saturday night, and already the kitchen was out of whole chickens), there were remarkably few for a restaurant in its first semester. On our dinner visits, servers were relaxed and gave good recommendations, including one for the soupe à l'oignon et son toast with sweet charred onions and croutons nestled under a cap of melted gruyère and a beef broth that takes two days to prepare. There was also a ringing endorsement for a simple salad of grilled carrots tossed with tangy grapefruit sections, fennel, and frisée. The citrus of the grapefruit offset the natural sweetness of the charred carrots, and the fennel added a nice crunch. 
On our first visit, the most outstanding entrée was the beef bourguignon, a masterpiece in composition with thick hunks of braised beef short rib on a plate punctuated by carrots, pearl onions, button mushrooms, and two thick slices of bread for mopping up the Bordelaise sauce. It was rich and comforting and a paragon of French home-style cooking.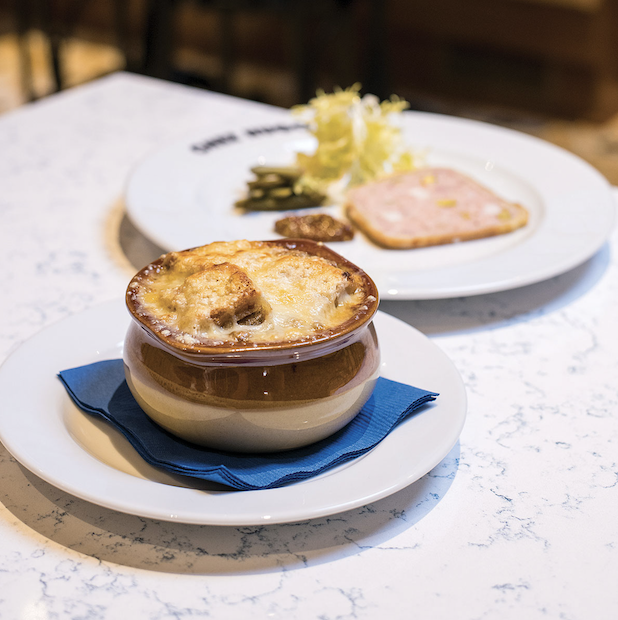 There are also nightly specials, including a lobster salad special for two. The $70 price tag was a bit steep, but the portion was large, and the preparation, employing brown butter and curry and placed on a bed of frisée along with a Japanese sweet potato, beautifully showcased the shellfish.    
But the pièce de résistance, and the reason for our return visit, was the aforementioned roasted chicken for two. It has long been said that the true test of a chef is his or her chicken. Nowhere is this truer than at Hugo, where a pasture-raised whole bird is roasted at high heat, then deglazed with white wine, cream and chicken stock. As we waited the requisite 45 minutes it took to prepare, the anticipation, and hunger, mounted. And when a fleet of servers arrived with the fragrant and flavorful chicken neatly sliced in a skillet and served alongside roasted broccoli and potatoes—plus au jus on the side to amp up the succulence and a small salad verte on the side—we ate with abandon.  
Though you're likely to feel sated even without dessert, remember The French Diet (red wine, butter, chocolate). Consider the macaron au chocolat with chocolate ganache or the crème brûlée with its professionally caramelized crust and just the right level of vanilla swirled into buttercup yellow custard. The Paris-Brest, a donut doppelganger made with choux pastry and filled with praline cream, is equally divine. For next time—and there will be a next time—our sights are set on that Napoleon.

CHEZ HUGO BISTRO: 206 E. Redwood St., 443-438-3002. HOURS: Mon. 11 a.m.-2 p.m. Tues. Thurs. 11 a.m.-2 p.m., 5-9:30 p.m.; Fri. 11 a.m.-2 p.m., 5-10 p.m. Sat. 5-10 p.m. PRICES: appetizers: $7-25; entrees: $23-32, plates for two: $50-75. AMBIANCE: French bistro.