Review: Flamant Takes a Turn Toward More Casual Dining
As the West Annapolis bistro shows us, the rebrand is an art form all its own.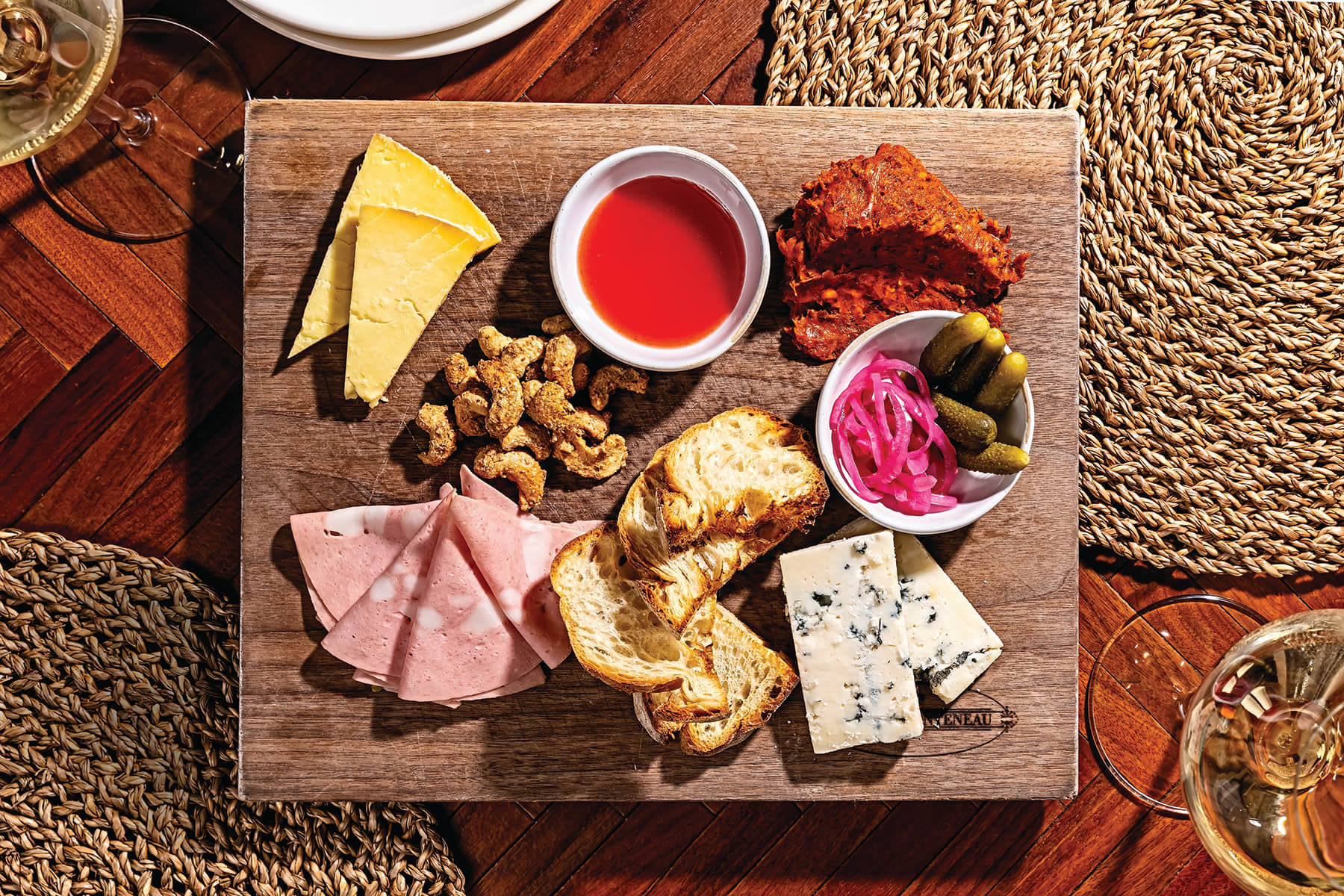 After two years of sitting at home on the sofa, it suddenly feels like a lot of work to shed our athleisurewear in favor of something more formal for a night on the town. But thanks to a major restaurant trend toward more dialed-down dining, we don't have to. Magdalena, inside Mt. Vernon's luxe The Ivy Hotel, made the shift in late 2020 with a new focus on local sourcing and a new name—Magdalena, a Maryland Bistro; Top Chef contestant Bryan Voltaggio followed suit in 2021, transforming his multi-course prix fixe Volt into the low-key Thacher & Rye, featuring burgers and Bolognese. And following the trend, earlier this year, Flamant in West Annapolis metamorphosed to Flamant Bistro for fare that's more accessible and affordable.
The rebrand, it turns out, is an art form all its own.
Thankfully, Flamant, a former children's clothing store, is as bright and beautiful as ever. There's a newly expanded open kitchen space for the culinary curious and a heated covered patio with boho textile touches and banquettes tossed with plush pillows. The main dining room still features Scandinavian design décor, with a wood-burn- ing fireplace and a wall of South American baskets that add bold bursts of color. And the staff is efficient and informed, as ever.
Belgian-born owner-chef Frederik De Pue opened this seasonally focused, Flemish-inspired spot in 2016. In its first incarnation, the restaurant featured imaginative dishes and ingredients that are still very much on show here, though toned down—in presentation and price—to appeal to a wider audience.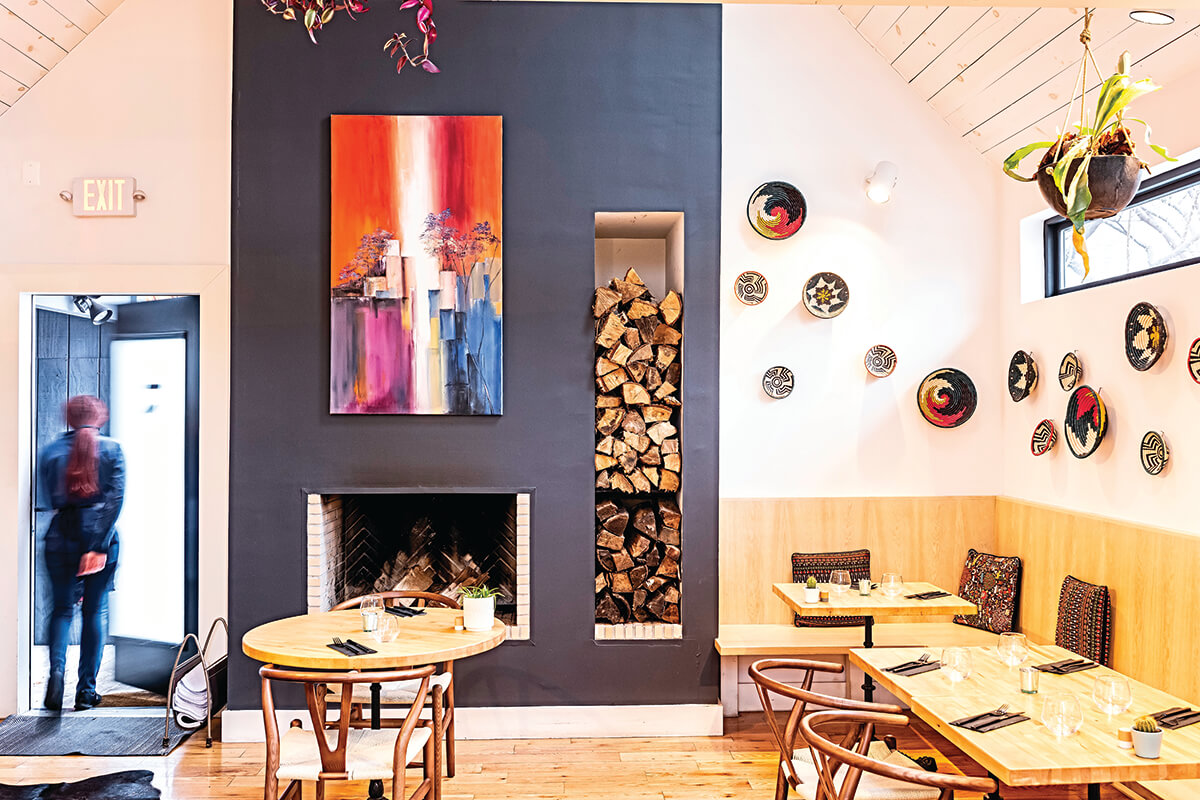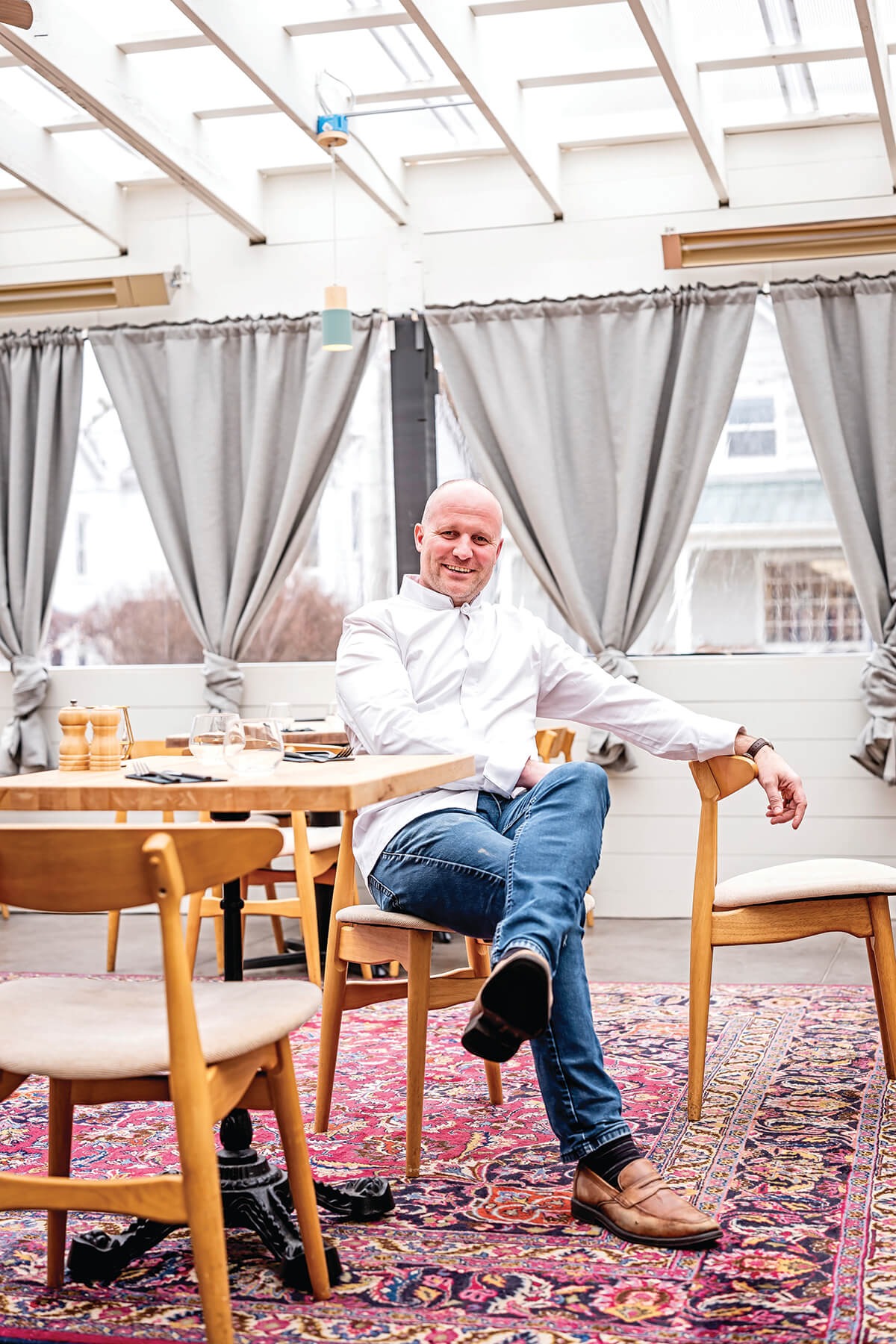 At Flamant, what has changed is that menu has moved from composed plates to a smattering of salads, charcuterie boards, hors d'oeuvres, sides, sandwiches, and simple snacks. The beverage program has expanded to include inexpensive glasses of wine (for as little as $7), half-priced bottles on Wednesday nights, and an assortment of Belgian and domestic beers on tap.
Over the course of two visits in late February, my dining companions and I shared several dishes that were as pleasing to the palate as they were to the eye. A beet and blue cheese salad showcased a classic combination of endive, walnuts, green apple, and blue cheese. The sweetness of the beets, in concert with the bitterness of the endive, the creaminess of the cheese, and the crunch of the walnuts all worked deliciously together. The winter citrus salad with supremes of blood orange and grapefruit, cucumbers, and pickled onions tossed into a nest of frisée was beautiful and balanced and made good use of seasonal ingredients in the dead of winter when it can be hard to be inspired by what's available.
Under the hors d'oeuvres section, we enjoyed the "crab rolls," served with gin dip, basically cocktail sauce spiked with a splash of gin to add floral flavor. The rolls, which were more stick-shaped, were delicately fried and a great finger food to whet the appetite. We were reluctant to order the crispy Brussels sprouts and squash, only because we get tired of these ubiquitous starters, but this riff—tossed with bacon jam, aioli, pine nuts, and sage—was delicious and distinct. In fact, there are small palate-teasing touches throughout the menu that prevent a sense of sameness even when you're ordering something that's served at every restaurant in town. Chicken liver mousse is enlivened by a dollop of onion honey, for example; pâté gets boosted by black garlic mustard; and the "Royal" burger, a house-ground char-pocked chuck and brisket patty, is doused with gin dip and onion jam and embellished with raclette and arugula.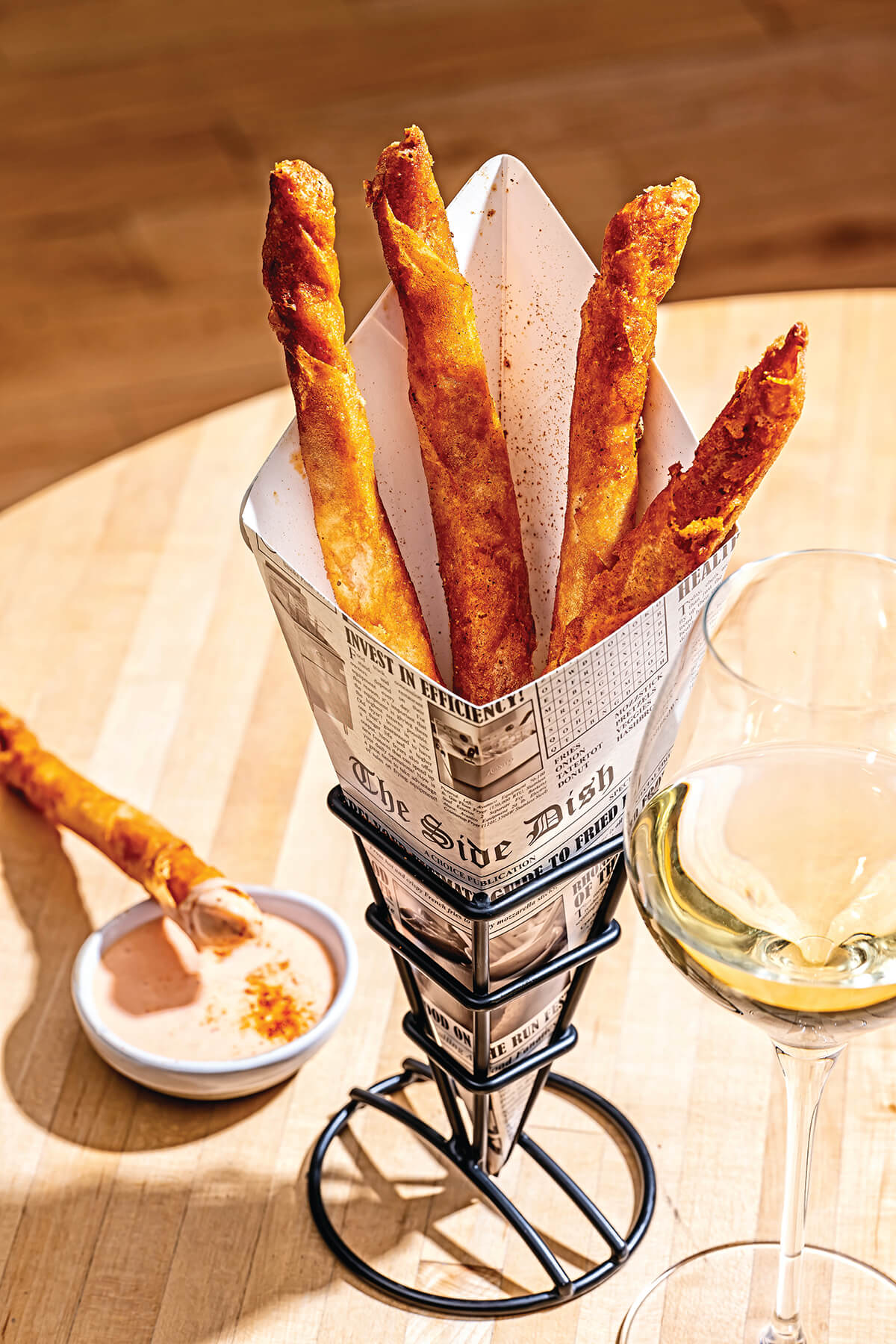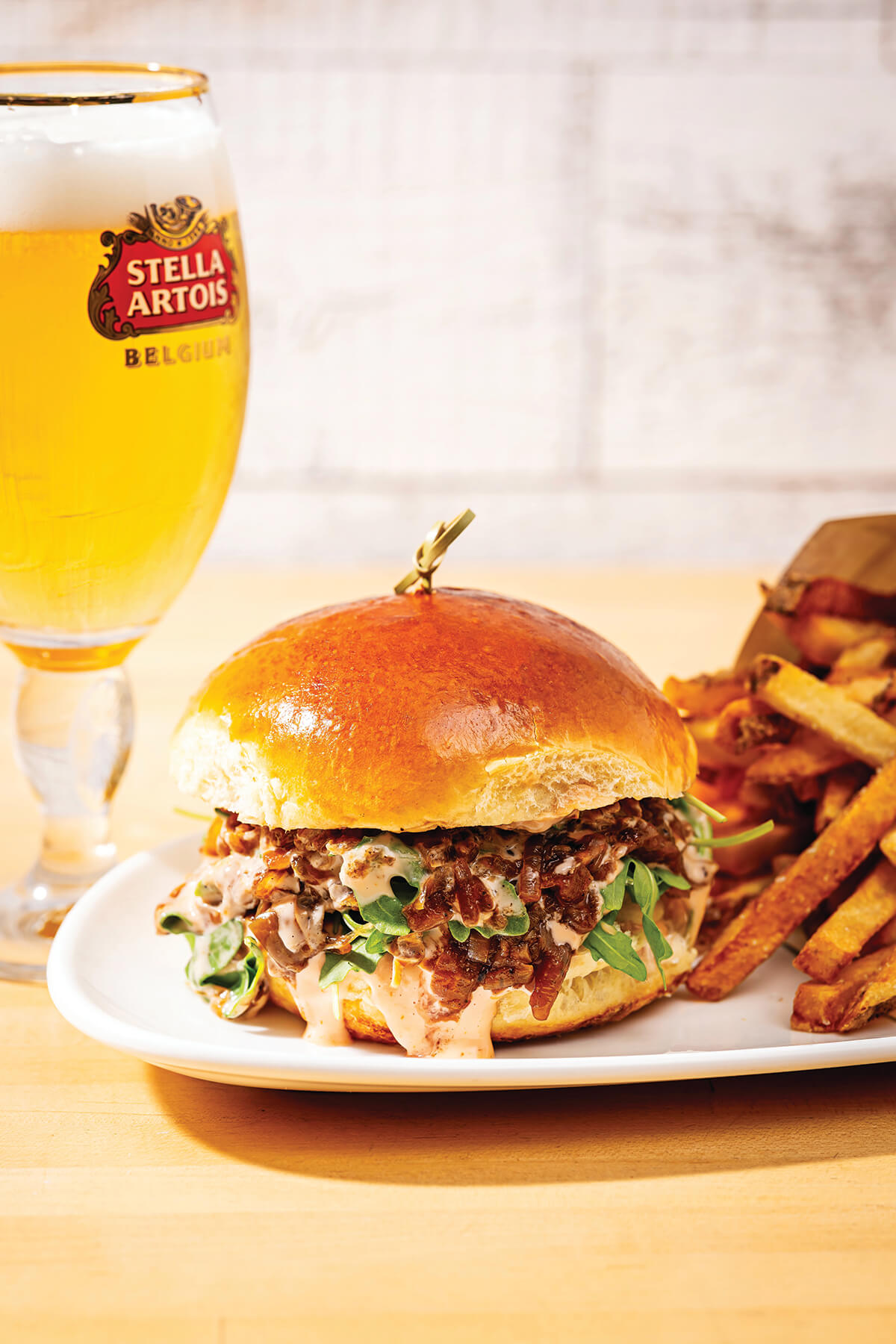 For all the positive changes, however, the menu is still a work in progress. On the entree end, I had high hopes for the steak frites, a piece of New York strip which came coated in a béarnaise-style sauce. I'm guessing that maybe it had to do with trying to keep costs down, but the meat was so full of fat that it was difficult to chew, and we left most of it uneaten. (Note to servers: Always ask why the food is left uneaten and report back to the kitchen if there's an issue.)
On our second visit, among the entrees, there were two whole fish dishes, including the trout stuffed with spinach, wrapped in smoked bacon, and drizzled with meunière sauce. Though it sounded promising, this dish was equally unfortunate, primarily because it looked so unappetizing. Slicked with the butter sauce, the fish appeared to have slime on its skin. The intact eyes only added to the ick factor. Aesthetics weren't the only issue, however. The accompanying lentils and pommes pont neuf fried potatoes were overly dry and too starchy together.
As restaurants like Flamant navigate the new normal, mistakes are inevitable. On many modern menus, the entree is fading fast in favor of small plates. Indeed, every small plate we tried was memorably good, so why not abandon entrees all together? It can be hard to let go of the past, but with a few more tweaks, Flamant's future will be bright as the flames that flicker in the dining room's fireplace.

FLAMANT 17 Annapolis St., 410-267-0274. HOURS: Tues.-Sat. noon-2 p.m.; 4:30-9 p.m. PRICES: Soups, salads, sandwiches, appetizers: $9-20; entrees: $14-38; desserts: $8-12. AMBIANCE: Scandinavian chic.