Gunther 2.0
Gunther Brewing Company is transformed.
What elevates a restaurant from good to great? A great restaurant gets your attention from the moment you step inside and continues to captivate through to the very last morsel of the meal. Case in point: Gunther & Co., a staggeringly spectacular space set inside the century-old boiler room of the Gunther Brewing Company. Co-owned by Jerry Trice and his fiancée, Nancy Hart, the new Modern American spot (open for lunch, brunch, and dinner) delivers from beginning to end.
Inside the two-level dining room, the ceiling soars and exposed steel beams, old beer bottles, and a vintage conveyor belt recall the building's brewery beginnings. So, too, does a stunning staircase that leads patrons past mechanical gauges strung like a necklace across a sky-high living wall. The only downside to the sprawling 250-seat spot (which includes a bar, a gorgeous patio, and an ample seating area near the open kitchen) is that the vast space can feel empty even when it's plenty packed. My advice? Go with a boisterous group of your own to add to the merriment.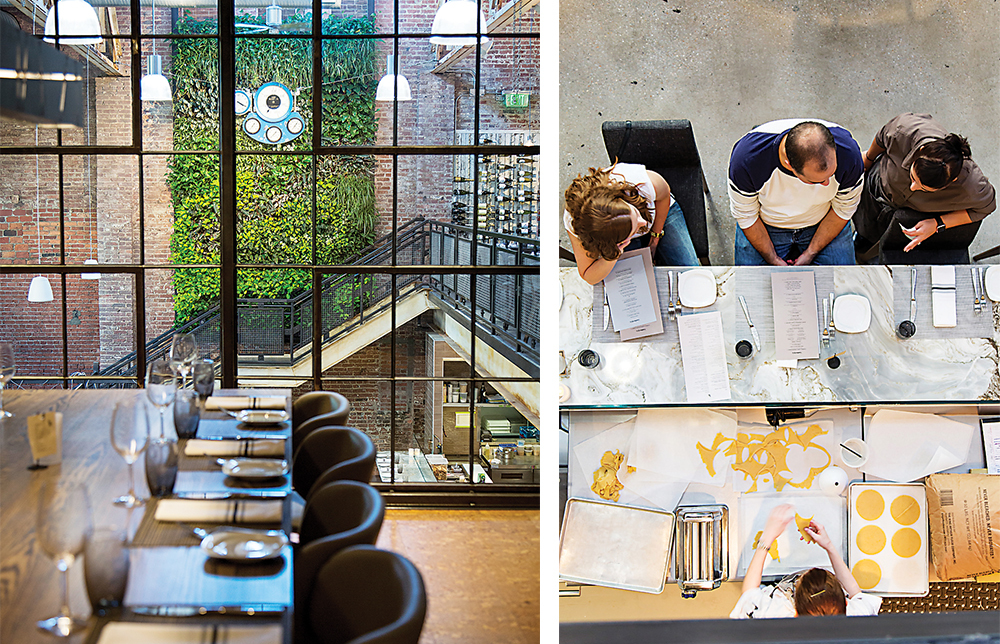 Trice, a graduate of the Culinary Institute of America, describes Gunther's fare as "globally influenced, locally spun," which is a way of saying that menu items such as the grilled leg of lamb served with Thai eggplant, Israeli couscous, and cucumber-mint raita form a veritable polyglot on your plate. There are plenty of well-executed standard staples, too—such as a burger, and salad options topped with various forms of protein.
Over the course of several visits, we discovered several signature standouts, including a flatbread and green garbanzo hummus. (Apparently, green garbanzos have more nutrition than their beige brethren.) The flatbread resembled pieces of pita bread torn into jagged triangles, crisp and slick with roasted garlic and za'atar (a blend of herbs, sesame seeds, and salt). The accompanying hummus mixed with Greek yogurt and preserved lemon paired beautifully with the bread. Eager to enjoy the last of summer's bounty, we ordered the heirloom tomato salad tossed with herbed goat cheese and dressed with oil and sherry vinegar. It was simple and satisfying. On another visit, fried green tomatoes with corn squash relish and jalapeño crème fraîche added some Southern sass to a lineup that's heavy on Asian influences.
As for the entrees, there's a reason that the Thai seafood hot pot is used in all the promotional pictures of this place. Yes, hot pots are trending, but this one is particularly noteworthy—a steaming clay crock filled with pungent morsels of mussels, clams, shrimp, scallops, and fish floating in lemon grass and coconut milk, and accompanied by a side of sticky rice. "The soul of the chef is in the soup," said our server as she placed it on the table. We had to agree.
---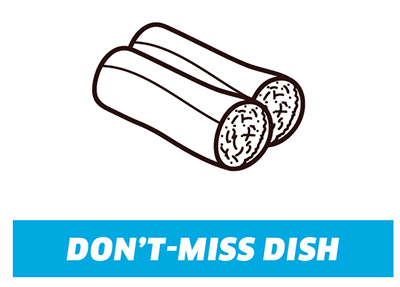 Duck Confit & Scallion Spring Rolls
The duck confit and scallion spring rolls starter is a great go-to. The spicy and sweet chili dipping sauce highlights the flavors of the filling.
---
Equally soul-satisfying was the wood-oven-roasted chicken. Anyone who thinks poultry is pedestrian will be won over. Marinated in brine, vacuum packed for several hours to seal in the moisture, then roasted in the wood oven, the bird was fantastically crisp on the outside and moist on the inside. And the roasted okra, corn, fingerling potatoes, and onion rings that appeared on the plate were worthy costars. Also on order was a grilled hanger steak sitting atop a swoosh of chimichurri sauce and sided by sautéed Swiss chard and a pile of nicely salted house malt fries. It was tasty enough, though not in the same league as the other entrees.
Even if you don't normally order the sweet stuff, don't stop at dessert. Pastry chef Aja Cage, formerly of Fleet Street Kitchen and Salt, has a penchant for combining savory and sweet. On our visits, that included a pine-nut tart served with rosemary-ricotta ice cream; a bowl of sweet-corn ice cream; and an almond cake served with pistachio ice cream and garnished with a candied basil leaf plucked straight from Gunther's garden.
While a minor quibble, there were small errors in service. On our first trip, the culprit was an overly eager busboy who prematurely cleared plates we weren't ready to relinquish. On another go-round, our otherwise seasoned server forgot the coffee we ordered at the end of the meal. Then again, by the time we dug into the final footnotes, so had we.
---

GUNTHER & Co. 3650 Toone St., 443-869-6874.
HOURS Mon.-Thu. 11:30 a.m.-11:30 p.m., Fri. 11:30 a.m.-12:30 a.m., Sat. 11 a.m.-12:30 a.m., Sun. 11 a.m.-10 p.m. CUISINE New American. PRICES Appetizers: $6-15; entrees: $10-32; desserts: $8. ATMOSPHERE Factory chic.