Review: Larder
Larder feeds us from the inside out.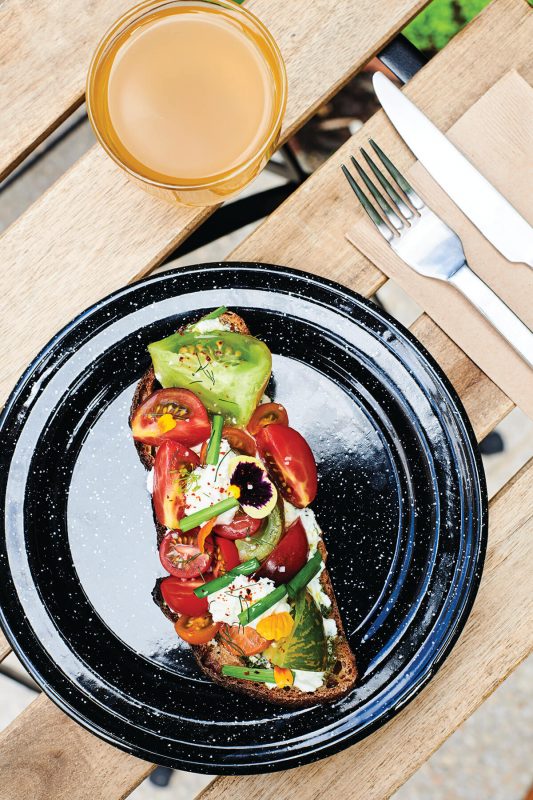 With its shelves stocked with fancy finishing salts, artisanal toothpaste, and hand-crafted herbal cleaning products, Larder feels like a place where you might find Gwyneth Paltrow nibbling on a gluten-free frittata with nettles and edible flowers.
Larder is owned by chef Helena del Pesco, whose chef C.V. includes gigs around the globe in places such as Mexico City, Tel Aviv, and the San Francisco Bay area, where she trimmed chanterelles and made nettle ravioli at Alice Water's legendary Chez Panisse.
Del Pesco opened Larder after befriending Lane Harlan of Clavel fame. Harlan, ever the sorceress, excels at taking properties in need of some TLC and making magic of them. This time around, she had the vision to transform a dilapidated block between Maryland and Charles Streets to make way for three independently owned businesses, of which Larder (sharing a courtyard with Harlan's new natural wine bar/tap room Fadensonnen) is one.
At Larder, you'll find a lunch menu rife with farm-grown produce, including house-made relishes and kimchis, as well as scratch-made gluten-free pastries. The menu rotates weekly, but for all of the offerings, the focus is on "food that tastes good, feels good, and does good," according to the menu's website.
If, indeed, we are what we eat, we're in good hands here—all ingredients were recently picked, plucked, or sourced from farm or field. For Del Pesco, who holds a graduate degree in fine arts from Berkley, presentation is paramount, and everything— from the blond wood walls to the not-too-sour house kombucha—is meticulously curated and crafted.
The menu is concise, yet broad enough without feeling limited, thanks to the opportunities for customizing vegetarian dishes with cheese, lamb, or beef. On my visit, a too-pretty-to-eat mushroom and pesto pasta arrived in a delicate blue-and-white striped bowl filled with brown rice pasta, tossed with a mix of cremini, shitake, and oyster mushrooms, and enlivened with fresh dill and walnut pesto.
In the bowl of Beans, Greens & Grains, the individual elements, including locally grown Hmong sticky rice, black beans, Swiss chard, kale, and grilled radicchio (and sheep's milk, which we added on), worked in harmony, though some acid to boost the brightness of the vegetables would have been appreciated.
Another item, a simple bowl of tomato soup with sprigs of dill flower floating in delicate broth, was the essence of summer. The soup was accompanied by a diminutive—and delicious—grilled cheese served on whole-grain bread sourced from the new Motzi Bread, owned by Russell Trimmer, the former lead baker of Woodberry Kitchen.
Know before you go that Del Pesco takes more of a quality over quantity approach and portions tend to be on the smaller side, though the price point, an average of $9 per, allows you to order an additional plate or side without breaking the bank.
"Some people complain about our portion size," admits Del Pesco, "but with food this nutrient-dense, I ask them, 'Are you still hungry or do you feel satisfied?'"
On our trip to Larder, two of three of us felt the latter. Even so, we decided to sample the spicy-sweet strawberry tart. In addition to being delicious, its ginger-vinegar curd seemed practically detoxifying, even good for the gut. Gywneth would approve.
---
›› LARDER 3 W. 23rd St., 410-982-6246, Tues.-Thurs. 11 a.m.-7 p.m. Fri.-Sat. 11 a.m.-9 p.m.