Review: Spice Squared
The Canton spot puts a spin on the classic neighborhood bar.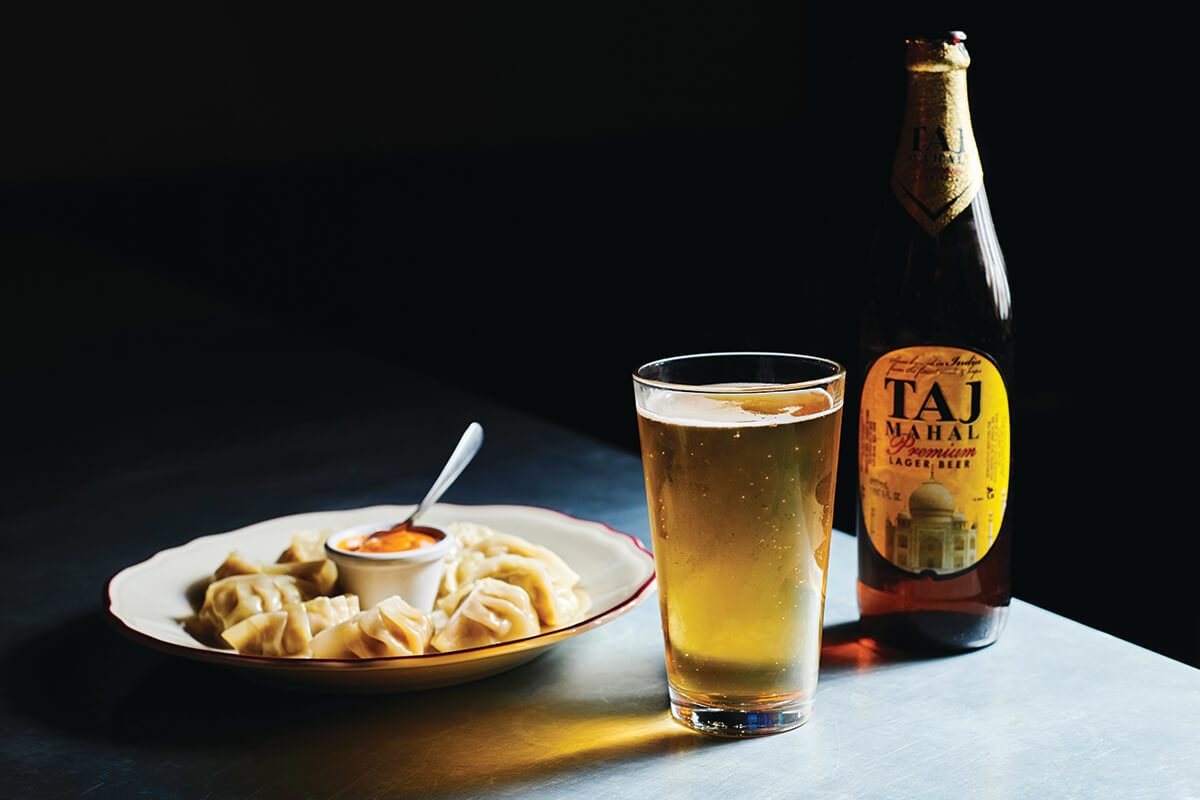 It was a scene that surely was playing out in thousands of bars around the country. People perched on stools, washing down a late dinner or early midnight snack with an ice-cold beer while watching the World Series.
But at the newest contender to fill the ever-revolving space between Canton stalwarts Nacho Mama's and Mama's on the Half Shell, the baseball wasn't accompanied by burgers and Bud Lights. Inside, the smell of naan bread baking in a tandoor oven filled Spice Squared.
Chicken momos (traditional Nepalese dumplings), not chicken wings, were the appetizer of choice, and they were washed down with a 22-ounce bottle of Taj Mahal Premium Lager.
I've been to dozens of Indian restaurants, most of which have small bars, but until that rainy Halloween Eve, I'd never been to a bar that specializes in Indian food. And make no mistake—while Spice Squared does have a dining room, it's more bar than restaurant.
Eight large TVs hanging behind the spacious rectangular bar make it an ideal spot to park, watch games, and enjoy a drink. Live music is featured on Wednesday and Friday nights, and all beer, wine, and liquor offerings are half off during happy hour.
There's a large selection of domestic, imported, and craft brews, as well as a food menu that includes non-Indian staples such as nachos, quesadillas, mozzarella sticks, and a quirky cocktail list.
The pumpkin mule, made with vanilla vodka, pumpkin purée and spice, and ginger
beer, was the perfect concoction for a chilly fall night. An apple cider mojito also warmed both the bones and the soul, but not nearly as much as the malai kabob, a plate of chicken pieces marinated in sour-cream butter sauce that was served sizzling.
When we ordered shrimp karahi, our bartender, Maverick (yes that's his real name, and, yes, he's named after Tom Cruise's character in Top Gun), asked us if we wanted it mild, medium, hot, or exotic. That's not a question one usually has to answer after ordering potato skins.
Co-owners and brothers Dhiraj and Vijay Kunwar serve authentic food in a lively atmosphere that's welcoming to all. As singer Grey Smith wailed a Johnny Cash tune while strumming his guitar, I popped a shrimp pakora into my mouth, took a swig of beer, glanced at the ballgame, and thought, what could be more American than this?
[Editor's Note: Though Spice Squared has announced plans to rebrand as Good Life Cafe later this year, the restaurant will maintain its current concept through February.]