Review: The Crackpot Comeback
The Towson crab house begins a new chapter.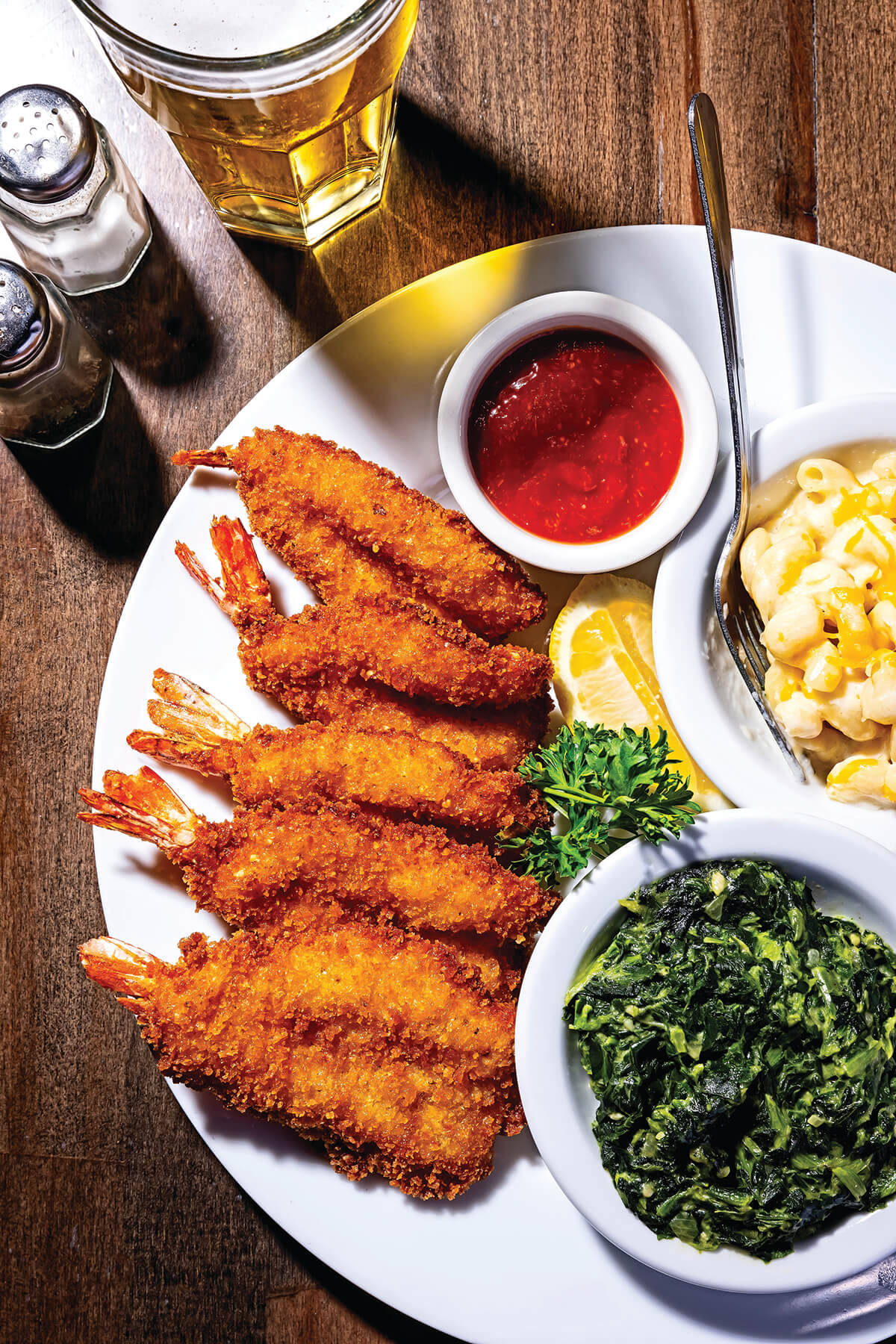 In its heyday, The Crackpot, which opened in 1972, reeled in customers with plump crab cakes, spicy hard shells, and an array of fish dishes. But over time, the place lost its luster. The decor—wood paneled walls, carpeted floors, crab-pot lights—hadn't budged from the previous century. The food was passable, but the place was badly in need of resuscitation. Fifty years later, this is not your parents' Crackpot anymore.
New owners Binod Uprety, who owns Namaste, a popular Indian/Nepali restaurant in Roland Park, and his business partners Mandira Mainali and chef Ram Thapa, have rejuvenated the Towson restaurant. They took over the spot in 2020 and have transformed the interior into a modern, casual space and curated the menu to focus on The Crackpot's excellent, gluten-free crab cakes and other items, like baby back ribs and fried shrimp. Steamed crabs are still served when they're available.
While the storefront in the Ravenwood Shopping Center looks the same, once you step into the dining room, you can spot the differences. A separate bar and eating area are now blended into one room. Twelve TVs ring the perimeter. A wood floor has replaced the carpet, white brick walls brighten the place, and stylish light fixtures hang from the ceiling. But the stuffed fish, including sailfish and swordfish, remain on the walls, reminding patrons that this is a seafood restaurant.
We got down to business, starting with seafood beignets, bulging with chunks of shrimp and lump crab, and a bowl of cream of crab soup, whose density almost triggered an "uh-oh" response. We needn't have worried about whether it was too floury. The thick soup was flavorful, laden with crab, and not gloppy at all. Other appetizers include crab dip, calamari, and oysters on the half shell.
The old Crackpot offered several crab cake specialties. Now, it focuses on a classic Maryland crab cake—a seven-ounce round of lump that we savored—and blackened or "cruise missile" versions. The latter gets a boost from hot sauce. If you're feeling especially "crabby," a 23-ounce orb is also on offer. We also tucked into a seafood pasta with shrimp and crab served Alfredo-style. The linguine glistened with a silky white sauce hinting of Parmesan and plenty of seafood. You can bolster the main dishes with sides like crunchy cole- slaw (a must), fries, mushrooms, broccoli, or creamy spinach.
On our visit, dessert choices were limited to cheesecake, limoncello cake, and a brownie sundae. While not made in house, the citrusy limoncello was refreshing. The staff was cheerful and helpful, adding to our evening.
The updated Crackpot is starting off the next half century with a lot of promise.