Review: Todd Conner's
A Steelers fan bar gives way to Baltimore fare.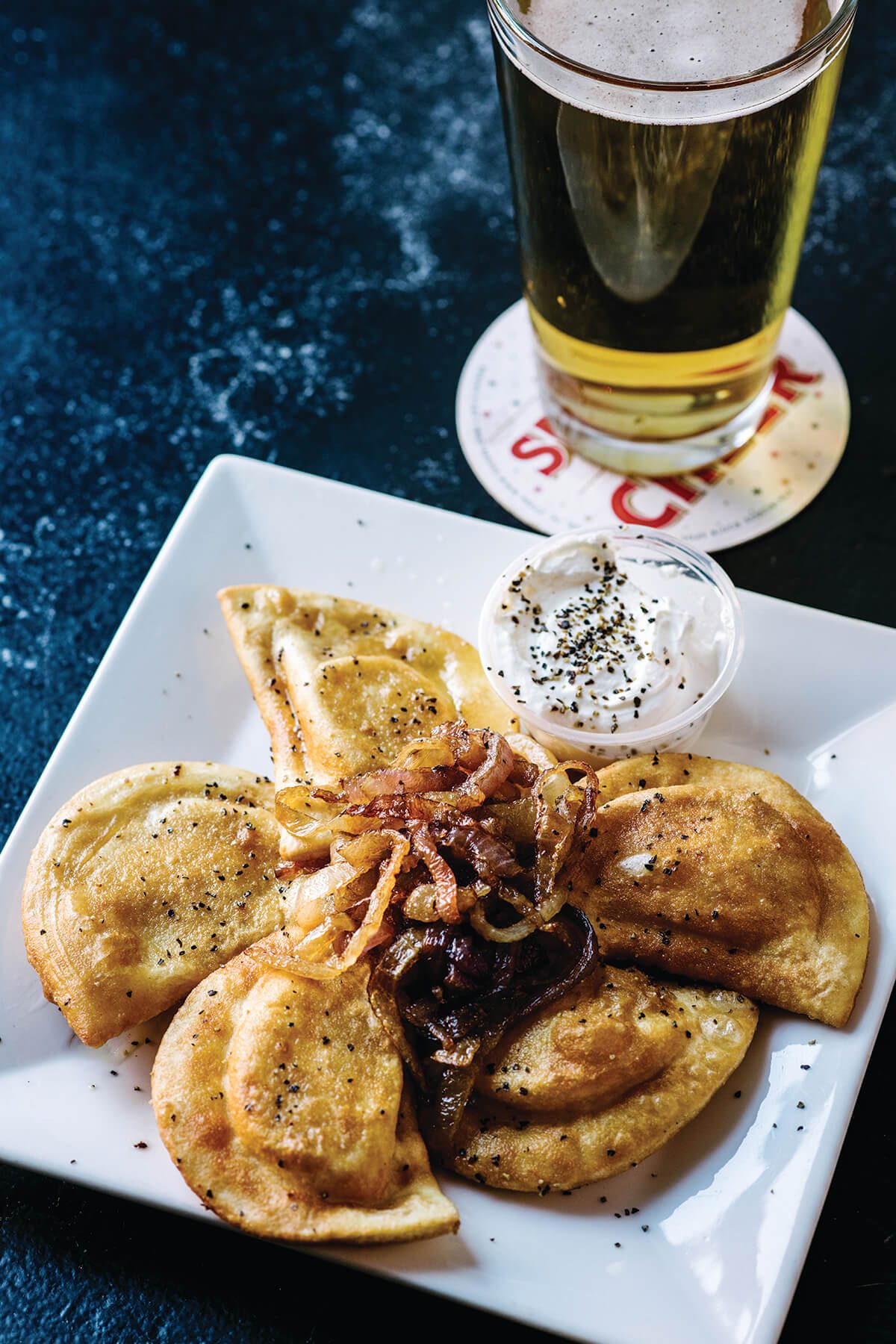 Todd Conner's in Fells Point may be known as a Pittsburgh Steelers fan bar, but its new menu embraces its Ravens roots. Get ready for creamy crab dip, Maryland crab cakes, shrimp steamed in Natty Boh, Berger Cookies, and cocktails such as the Egg Custard, an alcoholic twist on Charm City's favorite snowball.
Christian Wilkins, who owns the bar with his parents, Robert and Debbie Barker, wanted to make the fare "simpler, Baltimore, pub-style," he says. The newest revision, under the guidance of consulting chef Michael Smearman, condensed the number of items on the menu while delivering a sense of place to customers. Before Wilkins joined the bar in 2015, original owner Nikki Popovich, a staunch black-and-gold fan, encouraged game-day gatherings. When she left the restaurant, Wilkins had no plans to turn away Steelers supporters. "What was I going to do? Kick them out?" he says. "It's only 16 Sundays."
In deference to our northern rivals, Wilkins included Pittsburgh pierogis on the menu—half-moon dumplings stuffed with potato and cheese and enveloped in a tangle of sautéed onions. But the Pigtown pierogis we also sampled brought the focus back to Fells Point, where Polish immigrants once flocked to work on the ships of yore. This version got a boost from shards of bacon, tomato relish, and sour cream spiked with seafood seasoning.
The front area of the corner space presents coziness with a 12-seat wooden bar and several high-top tables. A side entrance leads to a separate dining room, ideal if you're looking for a place to take the kids.
Service is casual, with patrons ordering food at the bar. The evening we stopped by, ska-inspired music like "Old Friend" by Rancid and "Gangsters" by The Special A.K.A. provided a carefree island lilt.
A bratwurst from Baltimore-based Roma added a comforting vibe, too. The plump sausage, poached in Natty Boh and grilled, was nestled in a soft roll with a blanket of sautéed bell peppers, onions, and mushrooms.
Todd Conner's has long featured mac and cheese, but since the kitchen uses bowtie pasta, Wilkins renamed the dish "Fells Bohtie Mac." It's a sumptuous portion that could easily satisfy three or more diners. We added applewood-smoked bacon, for an additional fee, to our cheesy mound. Other extras include hot peppers, fried egg, and lump crab.
Baltimore's German heritage makes an appearance for dessert. A rectangle of smearcase, a lighter-style cheesecake, hails from Hoehn's Bakery in Highlandtown, which has been making the family recipe since it opened in 1927. Berger Cookies are another sweet choice. They, too, descended from the hands of German immigrants.
The book The Pittsburgh Steelers Fans' Bucket List by Scott Brown called Todd Conner's "one of the most well-known havens" for the team's enthusiasts. But Baltimoreans shouldn't throw in the (terrible) towel. There's a lot for locals to love about this bar.