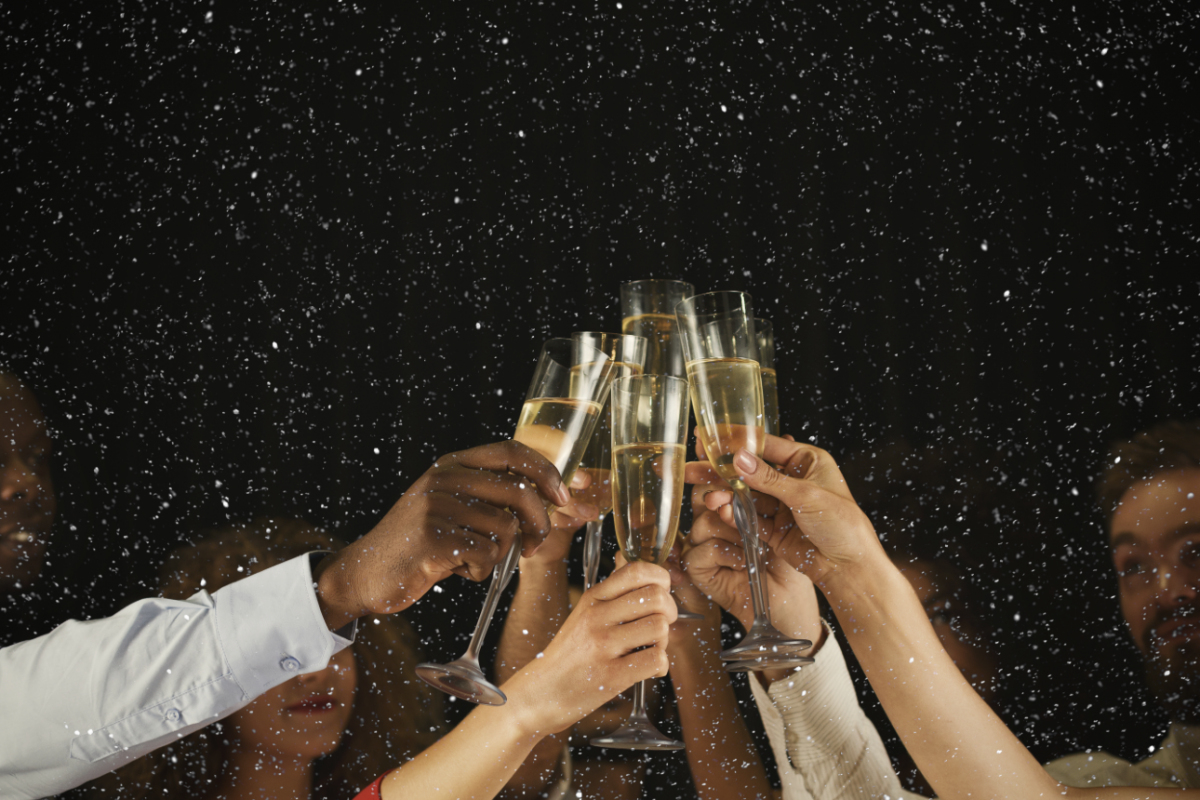 Shutterstock
Hard to believe, but once again it's time to sing "Auld Lang Syne" as we count down to a new year. From daytime family activities to nighttime parties, concerts, and fireworks, Maryland has more than enough ways to embrace 2018. 
KID-FRIENDLY FESTIVITIES
Noontime New Year's Celebration
End 2017 with a bang while still making bedtime during the kids' museum's popular daytime party.  Port Discovery, 35 Market Pl. 10 a.m.-5 p.m. Free-$15.95.
Noon Year's Eve Celebration
Head to the Avenue at White Marsh for ice skating, story time, kids music by the Joanie Leeds Trio, and an early ball drop at noon. The Avenue at White Marsh, 8125 Honeygo Blvd., White Marsh, 10 a.m.-12 p.m., Free.
Midnight Noon
For early festivities, gather your goslings for confetti poppers, party masks, and music by Milkshake. Maryland Science Center, 601 Light St. 10 a.m-2 p.m. Free-$24.95.
Midnight at Seven
Jump-start your New Year's Eve with an evening fireworks display followed by a leisurely stroll through the Symphony of Lights. Symphony Woods, 10475 Little Patuxent Pkwy., Columbia. 5-8 p.m. Free-$20.
Fifth Annual Kiddie Scoop Ball Drop
Bring the entire family for The Charmery's annual pre-bedtime event with sparkling cider, an outdoor ball drop, and, of course, plenty of ice cream to go around. The Charmery, 801 W. 36th St., 8 p.m., Free.
MIDNIGHT MUSIC
Better Off Dead
Dance the night away to music inspired by the one-and-only Grateful Dead. The 8×10, 10 E. Cross St. 8 p.m. $13.
BROS New Year's Eve at the Ottobar: Sinners and Saints with Bosley
Feel-good soul sensation Bosley Brown is playing this special New Year's show hosted by the Baltimore Rock Opera Society. Other local acts on the evening's bill include dreamy rockers Joseph and the Beasts and indie group Cora Sone. Ottobar, 2549 N. Howard St., 9 p.m., $20-25.
Charmaine Michelle Quintet
Get lost in the cool jazz sounds of this trumpet-led quintet in the holiday-decked neighborhood of Little Italy. Germano's Piattini, 300 S. High St. 6 & 9 p.m. $25.
Funky Fresh Farewell to 2017
At this all-night funk fest, groove until dawn with local greats Chuck the Madd Ox, Guy Grams, Eze Jackson, and Joe Keyes & The Late Bloomer Band. Other party highlights will include raffles, a photo booth, and a Dominican breakfast menu from 3-6 a.m.  Malibu Beach Bar, 8247 Eastern Ave., Essex, 9 p.m., $10-75, 443-762-3729
Here's to the Night
Nineties nostalgics go nuts for this local cover band, whose setlist mixes boy-band anthems with familiar one-hit wonders. (Think everything from Backstreet Boys and Britney Spears to Smashmouth and Kris Kross.) Sing along as the band takes stage at Power Plant Live this New Year's Eve. We can only hope that they end the night with a soothing rendition of Semisonic's "Closing Time." Angels Rock Bar, 34 Market Pl., 9:30 p.m., $95
The Marcus King Band
For a musical midnight you won't forget, jam out with the rising stars of this Southern band and its blues-rock tunes. Baltimore Soundstage, 124 Market Pl. 10 p.m. $32.45-137.50.
Motown New Year's Eve 1968 with The Bellevederes
Travel back to the '60s with swingin' soul covers from The Bellevederes. Then, dance the night away with familiar Motown hits (think The Supremes, Stevie Wonder, and everyone in between) from DJ Landis Expandis and DJ Rob Macy of Save Your Soul at Lithuanian Hall. Creative Alliance, 3134 Eastern Ave., 8:30 p.m., 410-276-1651, $30-35
NYE at Metro Gallery with Black Rose and Black Lung
Forget the champagne—Metro Gallery is offering a complimentary whiskey toast at midnight. At this New Year's Eve show co-hosted by Key Brewing and The Baltimore Whiskey Company, enjoy jams from Thin Lizzy tribute band Black Rose, doomed blues trio Black Lung, punk rockers Murder, and metal-influenced Alms. Metro Gallery, 1700 N. Charles St., 9 p.m., $5-10, 410-244-0899.
BIG SHEBANGS
Annapolis New Year's Eve Celebration
Get ready for 2018 with family-friendly fun, two fireworks displays, and live music in the historic heart of Annapolis. Downtown Annapolis. 3 p.m. Free.
New Year's Eve Spectacular
Watch colorful fireworks and live entertainment along the waterfront during this beloved big event, featuring a countdown by Mayor Catherine Pugh. Inner Harbor, 9 p.m., Free. 

Big Night Baltimore
Enjoy food buffets, open bars, go-go dancers, and the return of beloved cover band Mr. Greengenes at Baltimore's biggest midnight countdown. Radisson Hotel, 101 W. Fayette St. 9 p.m. $90-190.
A Black Tie Affair at The Charles
Dress to the nines and head to this recently rebranded Federal Hill hangout to enjoy passed bites and a premium open bar. Chef Cory Pastor will also be whipping up a special three-course prix-fixe menu featuring oysters on the half shell, petit filet with lobster, and a champagne mousse with pistachio and blood orange. The Charles Baltimore, 1110 S. Charles St., $75, 410-727-2333
Charles Street Block Party
Bounce between Federal Hill sister-spots Banditos, Wayward Smokehouse, and 101 Deli Bar to enjoy a premium open bar, live DJ entertainment, party favors, and more. Ticket packages also include VIP options if you're hoping to skip the lines. Multiple locations including 1117 S. Charles St., 9 p.m., $79-159.
Constellation Deck Party
Watch the New Year's Eve Spectacular with glasses of bubbly, gourmet eats, and cannon firings aboard the USS Constellation. Pier 1, 301 E. Pratt St. 10 p.m. Free-$85.
New Year's Eve at Bond Street Social and Barcocina
Hop back and forth between these two Fells Point sister spots to enjoy passed hors d'oeuvres, live DJ entertainment, complimentary champagne at midnight, and killer views of the Inner Harbor fireworks. 901 S. Bond St., 9 p.m., $40.  
New Year's Eve Explosion at The Baltimore Eagle
Dress to the nines and head to this Station North bash to dance the night away with a lineup of four DJs, who will spin nonstop until 6 a.m. The Baltimore Eagle, 2022 N. Charles St., 6 p.m., $25-100. 
Mount Vernon Marketplace Ball Drop
Get amped for midnight with party favors, noisemakers, and live music at this third-annual event hosted by the vendors at the Mount Vernon Marketplace. Each stall will host its own food and drink specials all night long. 520 Park Ave., 8 p.m., Free
Rooftop New Year's Eve Celebration at Minnow
Rally a group of friends and head to this South Baltimore seafood spot for an all-inclusive rooftop rager (with multiple outdoor heaters, of course) featuring open bars, food stations, dancing, and a live DJ. 2 E. Wells St., 8 p.m., $100, 443-759-6537
GATSBY GALAS
1920s Themed New Year's Eve Celebration at The Owl Bar
The Owl Bar is honoring its Prohibition-era roots with a rollicking Gatsby gala. Don your best flapper attire to enjoy light bites, snap pics in a photo booth, and dance the night away with music spun by DJ Sean J. If you're feeling extra swanky, head upstairs to the 13th Floor for upscale hors d'oeuvres and an open bar. 1 E. Chase St., 9 p.m., $20-$125, 410-347-0888
New Year's Eve Gala at Sagamore Pendry Baltimore
Enjoy live jazz, passed cocktails, and a variety of food stations at this stylish soiree in the Sagamore Pendry Hotel's ballroom, which will be revitalized to its original 1914 aesthetic. 1715 Thames St., 7 p.m., $500, 410-522-1400
1920s New Year's Countdown
Sweet 27 in Charles Village is taking it back to the roaring '20s with authentic speakeasy decor, beer and wine specials, craft cocktails, and signature eats. Top hats and cocktail dresses are encouraged. Sweet 27 Bakery and Cafe, 123 W. 27th St., 9:30 p.m., 410-464-7211
New Year's Eve at The Bygone
Head up to the 29th floor of the Four Seasons Baltimore to check out this brand new rooftop spot from Atlas Restaurant Group. Experience the restaurant's panoramic views and Gatsby-era feel while enjoying a live DJ and open bar. Other highlights will include a lobster bar, raw bar, meat-carving station, and caviar station. 400 International Drive, 6 p.m.- 1 a.m., $375. 
OUTSIDE-OF-THE-BOX BASHES
Krumpe's Donut Drop
Be one of the first 5,000 guests to get free donuts and see an extra-special ball drop featuring a giant fiberglass donut falling into an oversized coffee cup. 10 Public Square, Hagerstown. 5 p.m. Free.
Midnight Muskrat Drive
On the southern Eastern Shore, finish the year with the quirky tradition of dropping a muskrat replica down a zip line. Somerset Ave., Princess Anne. 9 p.m. Free.
Miracle on 34th Street Ball Drop
Enjoy the last night of the illuminated 34th Street with a hot cocoa and a jam-packed ball drop in Hampden. 700 block of 34th Street. 9 p.m. Free.
Skate into the New Year
At the Pandora Ice Rink, practice your axels while watching the fireworks light up the Inner Harbor. Inner Harbor, 11 a.m.- 12:30 p.m., $15
New Year's Eve Party at James Joyce Irish Pub
Celebrate the New Year twice at this Harbor East pub—which will toast the Irish New Year with free pints at 7 p.m., and host a traditional champagne countdown at midnight. The party will feature live music by Celtic rockers Brendan Pelan and Clint Szafader. James Joyce Irish Pub & Restaurant, 616 S. President St., 6:30 p.m., Free.
FINE-DINING FÊTES 
Aggio New Year's Eve Dinner
At Bryan Voltaggio's modern Italian spot in Power Plant Live, feast on a special three-course meal from executive chef Dan Metz paired with complimentary prosecco. 614 Water St., 5-10 p.m., $50, 410-528-0200
Apropoe's New Year's Eve
Spend the final hours of 2017 indulging in a four-course dinner at this Harbor East spot inside the Marriott Waterfront hotel. The menu lists seasonal dishes such as pumpkin bisque, a winter green salad, veal osso bucco, honey and spice-marinated duck breast, and a gingerbread mousse torte. 700 Aliceanna St., $25-60, 410-896-1879
New Year's Eve and Hangover Brunch at B&O American Brasserie
Say goodbye to 2017 with a four or six-course meal at this restaurant inside the Hotel Monaco. The menu features dishes such as foie gras custard, hand-cut truffle pasta, wild mushroom risotto, and panna cotta with chocolate pearls. After the confetti clears on New Year's Day, head to B&O for an a la carte hangover brunch highlighting steak and eggs, hot chicken hash, and sloppy tots topped with bacon, white chili, cilantro, and fried eggs. 2 N. Charles St., $79-99, 443-692-6172. 
Citron New Year's Eve
Head to this Pikesville restaurant to ring in the New Year with a four-course menu from executive chef Jerome Dorsch. Featured options include creamy white bean soup, vodka and beet-cured gravlax, pistachio-crusted lamb chops, roasted quail and a 20-oz. fried lobster tail. 2605 Quarry Lake Drive, Pikesville, $100, 410-363-0900
New Year's Eve at Charleston
On the heels of its 20th anniversary, this Harbor East gem is toasting the New Year some of chef Cindy Wolf's specialties. The five-course menu will include shrimp bisque, fingerling potato salad, pan-roasted pheasant, grilled prime beef tenderloin, and dark chocolate entremet. Charleston's sister-spots Cinghiale, Bar Vasquez, and Johnny's will all also be open for the holiday. Charleston, 1000 Lancaster St., $149, 410-332-7973.
Cosima's NYE Celebration
Chef Donna Crivello is pulling out all of the stops this holiday, showcasing a special five-course prix-fixe menu with optional wine pairings. Look out for dishes including lobster bisque, orange and pistachio kale salad, poached duck egg, roasted prawns, dry-aged New York strip, braised rabbit with roasted baby carrots, and vanilla panna cotta. Cosima, 3000 Falls Road, 5 p.m., $100-175, 443-708-7352
New Year's Eve at The Elephant
An enchanting evening is in store for diners at this historic Mt. Vernon mansion. Snag a seat in the main dining room to enjoy a four-course meal highlighting blue crab toast, lamb shank campanelle pasta, miso-glazed sea bass, root vegetable quinoa with seared tofu, and eggnog cake with rum creme anglaise. Optional wine pairings will also be offered. 924 N. Charles St., $125-145, 443-447-7878
New Year's Eve at Ida B's Table
Enjoy the smooth sounds of vocalist Ama Chandra while savoring dishes at this new downtown destination. Chef David Thomas will present a four-course dinner with plates including his take on chicken and waffles, black bass with black-eyed peas, rack of lamb with spoon bread masala, and scratch-made sweet potato cheesecake. Ida B's Table, 235 Holliday St., 9 p.m., 410-844-0444, $91.79

New Year's Eve at La Cuchara
Reserve a table to enjoy a four-course feast at this Basque-influenced spot. The menu will feature dishes including charred cabbage with wild mushrooms, scallops with roasted tomatoes, duck confit with butternut squash, Roseda Farms strip steak, and almond cake with a passion fruit mousse. Plus, the restaurant is offering a fifty-percent discount on wine bottles priced at $100 or more. 3600 Clipper Mill Road, Ste. 125, 5 p.m., $89-118, 410-708-3838
New Year's Eve Supper Club at Gertrude's
Snap along to the Dottie Tim Jazz Trio while enjoying three courses at this seafood spot inside the Baltimore Museum of Art. The menu highlights vegan and vegetarian-friendly dishes (think curried root vegetable bisque, baby kale salad, and spiced pear streusel cake), alongside other fare including baked oysters, rockfish imperial, and seafood paella. End the meal on a sweet note with strawberry panna cotta or toasted coconut cream pie. Gertrude's, 10 Art Museum Drive, 6 p.m., $49-59, 410-889-3399
New Year's Eve at Gunther & Co.
End 2017 in style with chef Jerry Trice's four-course tasting menu at this Brewers Hill hotspot. Featured dishes will include lamb tartare, baby beet salad, Wagyu short ribs, sunchoke gnocchi, and Maine lobster with mascarpone risotto. 3650 Toone St., $75-110, 443-869-6874
Rye Street Tavern New Year's Eve Bash
Chef Andrew Carmellini's Port Covington spot is celebrating its first New Year's Eve with plenty of booze, five food stations, a raw bar, an entire dessert room, and live music by The Keynotes. Buffet fare to look out for includes crudité, a deviled egg tower, fried chicken, roasted brie, pasta salad, prime rib, lamb lollipops, mini crab sliders, al pastor tacos, and more. 225 E. Cromwell St., 7 p.m., $135, 443-662-8000
New Year's Dinner and Lounge Party at Wit & Wisdom
Watch the fireworks sparkle over the Inner Harbor at this dining destination inside the Four Seasons Baltimore. Enjoy a three-course dinner from chef Zack Mills (think roasted-chestnut soup, smoked duck breast, citrus-steamed halibut, and cream puffs with cocoa powder ice cream), before dancing the night away at Wit's lounge party with live DJ entertainment and free bubbly at midnight. 200 International Drive, 7:30 p.m., 410-576-5800, $65-125