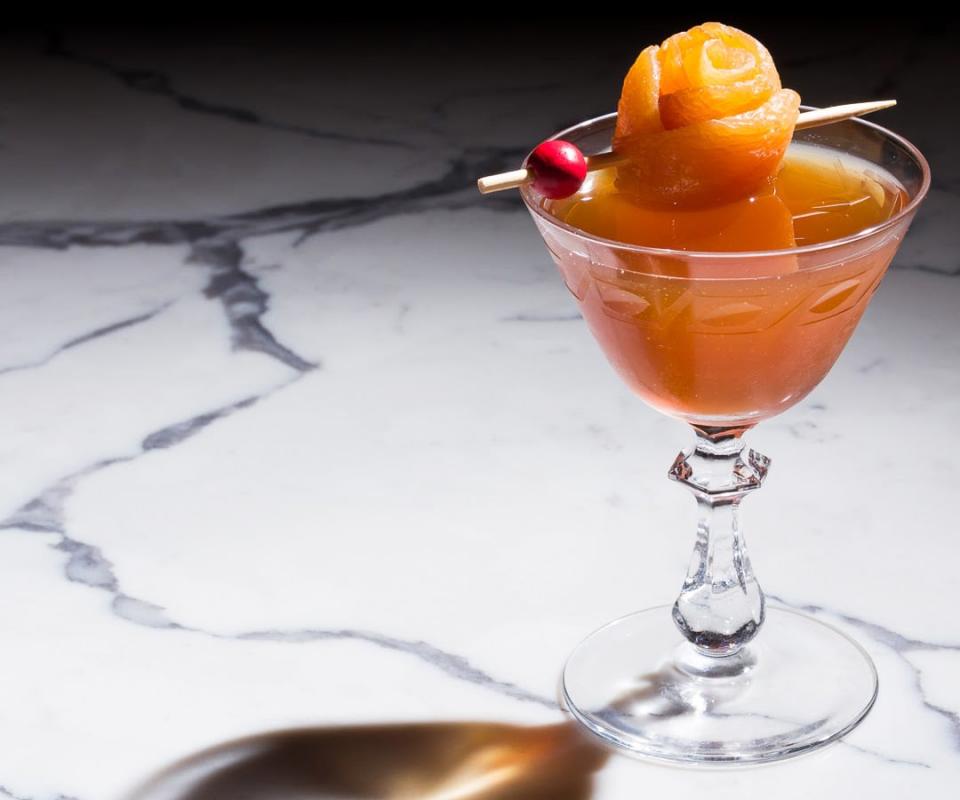 —Photography by Christian Parent
Unbeknownst to many, Maryland's rye-soaked roots date all the way back to the Civil War era. A corn-heavy, fruit-forward version of the whiskey placed the Old Line State on the map in the late 1800s, and by 1911, Baltimore was home to more than half of its 40-plus distilleries. Prohibition squashed that, and four decades later, Maryland's last remaining rye distillery closed up shop. But in 2011, Brendan Dorr began to notice that the malt-based spirit was back on the climb. 
"We were seeing brands starting to bring back rye," says Dorr, whose local bartending career took off at the late Ixia restaurant and lounge in Mt. Vernon. "Instead of just blending it into their bourbons, they were creating a line of rye in their portfolios." 
The timing could not have been better for Dorr. 
The bartending veteran, who now owns Dutch Courage in Old Goucher with his former Ixia colleague Eric Fooy, had just launched the Baltimore Bartenders' Guild (BBG), which was looking to raise funds for its new members. For Dorr, a rye-centric cocktail event presented the perfect opportunity for the BBG to support itself—and make its mark in the community—while showcasing a lesser-known Maryland spirit.
But, in addition to a trademark sip, the fundraiser still needed a local beneficiary.
"One of our bartenders at the time actually had a friend who had cystic fibrosis," Dorr recalls. The potentially fatal genetic disorder, which affects more than 30,000 U.S. patients, is known to cause damage to the lungs, digestive system, and other internal organs.
At the suggestion of area event coordinators, BBG teamed up with The Cystic Fibrosis Foundation (CFF.) And in 2012, the pair's first annual Rye's Up Against Cystic Fibrosis gala was held at B&O American Brasserie inside the Inner Harbor's Kimpton Hotel Monaco.
Over the years, the galas—which, prior to COVID, featured cocktail tasting stations and small bites from various local eateries (think Hersh's and Alma Cocina Latina)—have featured a rye-centric cocktail competition, with a people's choice vote for best participating bartender.
However, this weekend's virtual event will take on more of an anonymous twist. This year's Rye's Up guests will receive a package of pre-batched, handmade sips (Dorr hints at cocktails made with fat-washed rye, tea, wheatgrass, and steeped goji berries) courtesy of 12 local bartenders, who have each been introduced on the BBG's Instagram page. But, while guests will still have a chance to cast a vote for their favorite concoctions, the faces behind each bottled batch will remain a mystery until March 28. 
On Sunday evening, one winning sip will be announced at Rye's Up's first-ever virtual wrap party, hosted by Shocktail Hour's Aurora Gorealis and theatrical artist Lance Bankerd. Guest speaker Heather Kohlberg will also attend and share her story of living with Cystic Fibrosis.
As always, proceeds from the event will directly benefit the Cystic Fibrosis Foundation's Maryland chapter. (Although the batched cocktails are currently sold out, a no-ticket-necessary online silent auction—including items like a virtual shucking class with The Local Oyster and a Baltimore Spirits Company gift basket—will also raise funds for the cause.)
Competitor Ashley Mac, also the bar manager at NiHao Baltimore and BBG's "social media human being," says she's excited that this year's cocktail crafters will be kept under wraps for a change.
"Even if the person didn't know you at the beginning of Rye's Up—when we did [the event] in person—you had the ability to win them over," says Mac, who will face off next weekend against her husband Greg Mergner of Mr. Nice Guy Cocktails. "This is an opportunity for us to be judged strictly on our work, which is really cool." 
Inevitably, Mac says she and Mergner are aware of which cocktail the other is making: "We've actually purchased Rye's Up tickets, and we've decided that we're going to vote for a cocktail that isn't one of ours," she says.
However, regardless of who ends up winning, Mac says that she'll be "just as ecstatic."
"Obviously, we all want to win, but I'm just so happy for everyone," Mac says. "This is like prom for the guild members."
Dorr agrees, adding that, in virtual times, he hopes the community spirit of Rye's Up—which he has built up throughout the past decade—will resonate with participants, even as they taste from home.
"Take one ticket and share it with your spouse—share it with your best friend," he sums up. "Have fun."