Seafood Spectacular: Oysters
Our suggestions on where you should get your best shucks.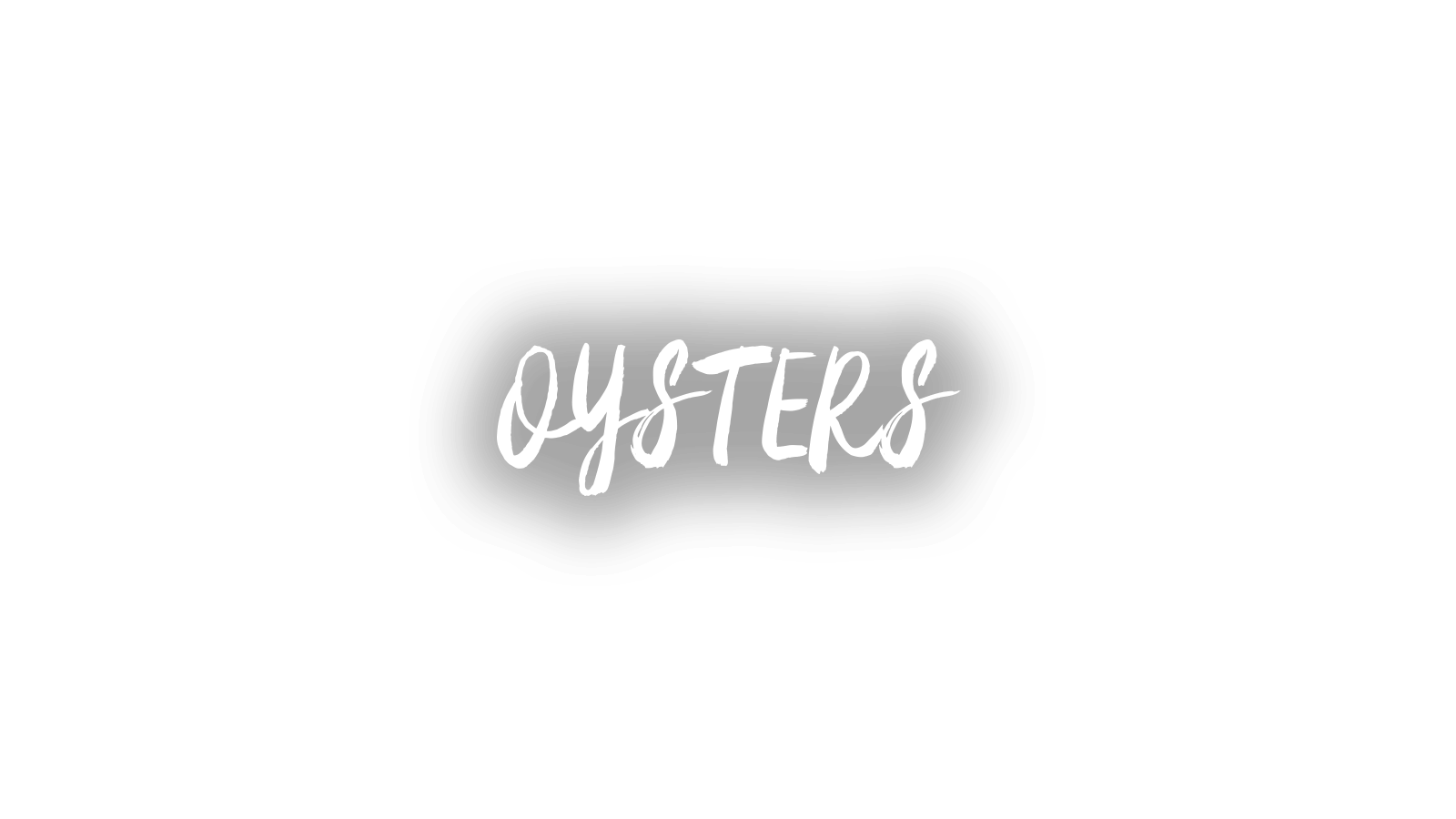 SECTION 2: OYSTERS
Forget that old adage about oysters and months ending in the letter "R." Oysters, like these from Ryleigh's, pictured, are now available year-round. Luxurious, yet unpretentious, these bivalves are having their must-order moment.
Over the years, the bay's once-rich oyster beds have been decimated. But thanks to restoration efforts, sustainable sourcing, and oyster farming—aka oyster aquaculture—business is booming again. Our suggestions on where you should get your shucks:
Lobo
Fells Point
Don't underestimate this little Fells Point corner bar with its glass-brick windows and Old Baltimore charm. Instead, sit at the bar and order a round of Chesapeake Bay oysters, which get shucked in front of you, then served with fresh horseradish and an array of house-made sauces. Peruse the small menu, which teems with seafood snacks like mussels in a swoon-worthy wine, fennel, shallot, and butter sauce, and tuna tartare, which is almost too beautiful to eat (though we happily obliged). Trust us—one visit and you'll be a regular in no time. 1900 Aliceanna St., 410-327-0303
Main Street Oyster House
Bel Air
You'll go gaga over the menu at Main Street Oyster House. The well-rounded oyster selection wows (with Chesapeake Golds from Hoopers Island representing the Eastern Shore), and they come in plenty of preparations, including raw, baked, and fried. They're packed into the Eastern Shore Steam Pot, too, alongside steamed shrimp and littleneck clams. Just be sure to take a second from your seafood to admire the décor, with its hand-painted maritime murals by local artists. 119 S. Main St., Bel Air, 443-371-7993
Nick's Oyster Bar
Federal Hill
You probably don't know the oyster stand in this historic Federal Hill market by name, but you might know that this little slice of South Baltimore is the place for cheap oysters and prodigious pours of beer. Open since 1972, Nick's was way ahead of the wave. Pull up a barstool, slurp some local bay beauties, and enjoy this pearl of an oyster bar. Cross Street Market, 1065 S. Charles St. 410-685-2020
Ryleigh's Oyster
Mt. Vernon
Whatever your bivalve predilection—raw, grilled, fried, swimming in a stew or stuffed into a po'boy—this oyster house has your cravings covered. Slurp some hair-of-the-dog shooters at brunch or partake in Oyster Hour with dollar shucks. Whenever you go, take a seat at the bar and watch as master oyster-openers shuck local lovelies. With an approachable menu, helpful staff, and upcoming oyster guide app, Ryleigh's is working to turn even the most inexperienced oyster eater into a mollusk maven. We love all the locations, but the newest iteration across from the Meyerhoff has fast become our favorite. Several locations, including 1225 Cathedral St., 410-539-2093
Thames Street Oyster House
FELLS POINT
It's no secret that this New-England-cum-Fells-Point oyster house is where you go for impeccable seafood—like the glitzy raw-bar towers and award-winning lobster rolls—and a menu full of delectable, sea-centric dishes. Even so, it's the oysters—from the brackish waters of the Chesapeake to the shores of the salty Pacific Northwest—that are the real menu must. With over a dozen different oysters served on a silver bed of ice along with fresh horseradish, cocktail sauce, and an array of outstanding house-made mignonettes, Thames Street would gladly be our last meal on Earth. 1728 Thames St., 443-449-7726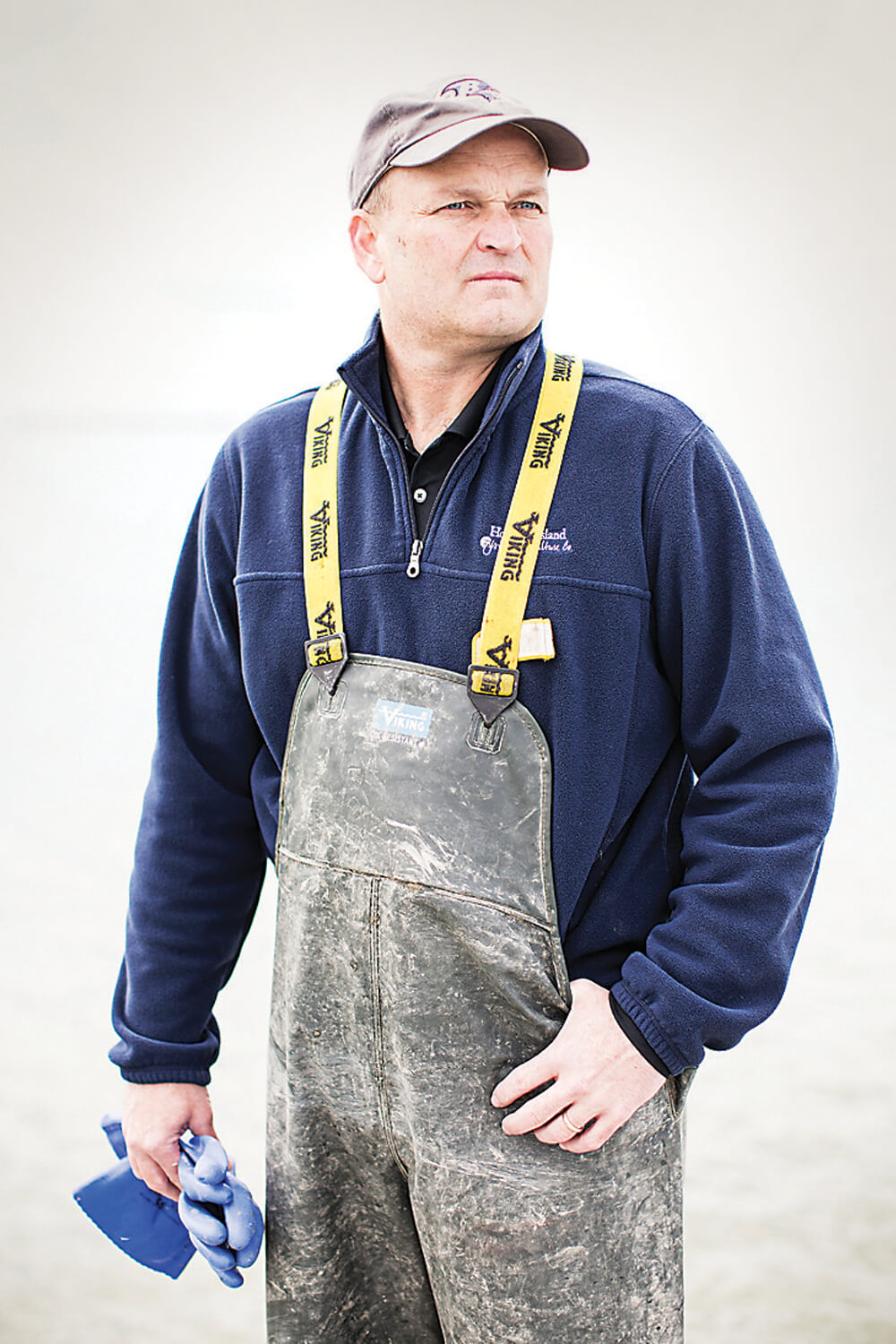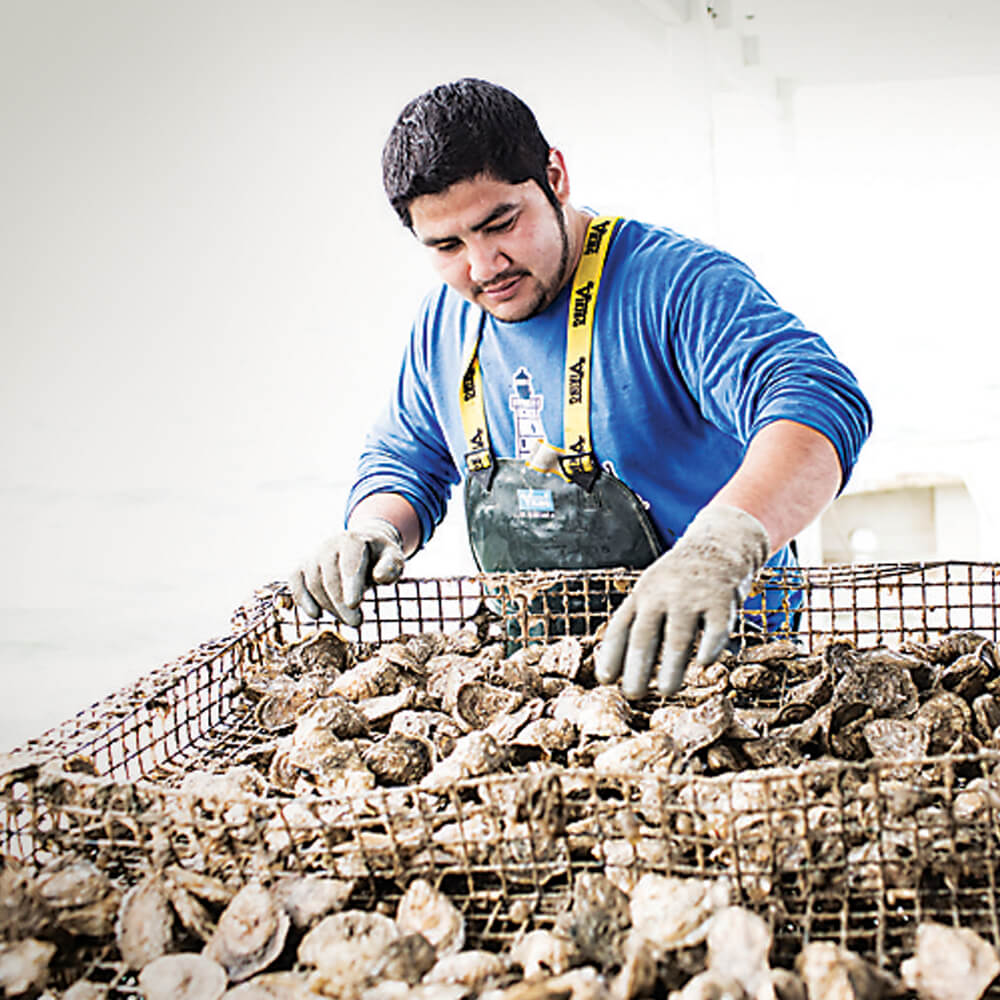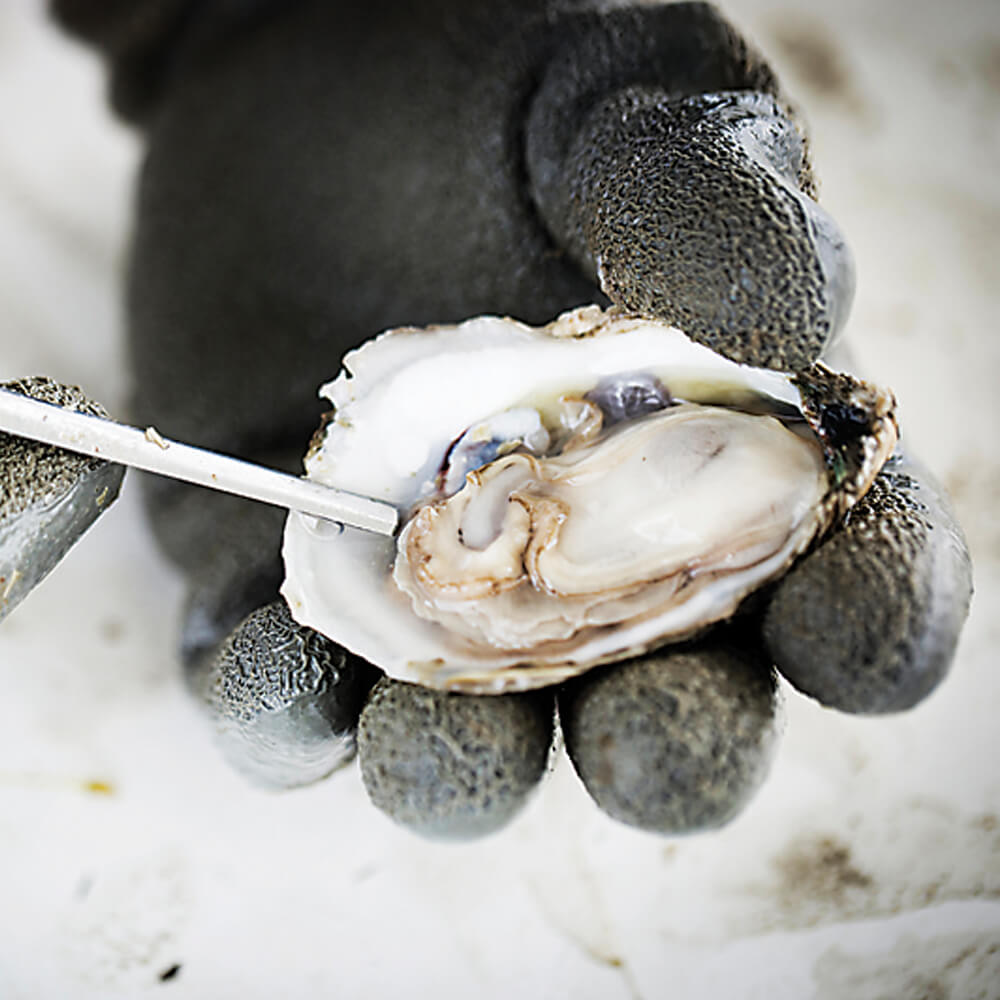 The Oyster Farmers
By Lydia Woolever
Johnny Shockley steers his old wooden boat beneath the Honga River bridge that connects the disappearing archipelago of Hoopers Island. On this gray day, the morning chop laps at the hull as it heads out toward Tar Bay.
Shockley, 52, was born on these waters, where time slows down and the loblolly pines and clapboard houses look as they did when his father grew up here, and his father's father before that. Like those men, Shockley grew up to be a waterman—crabs, fish, oysters—whatever he could get his hands on, but today, he no longer catches his living. Instead, as an oyster farmer, he grows it. Although oyster farming (an example of aquaculture) is nothing new, it's been slow to take off in Maryland, with new private leases prohibited for decades. However, in 2009, revised laws lifted restrictions in an effort to bring oysters back to the bay. "Aquaculture is the new foundation for the seafood industry," Shockley says. "It's an economic engine that can protect this amazing natural resource."
A businessman at heart, he and his partner, Ricky Fitzhugh applied for a five-acre lease for their Hoopers Island Oyster Aquaculture Company. In 2012, their first harvest yielded some 300,000 oysters. Last year, it was 1.2 million. You can now find their Chesapeake Gold and Holy Grail oysters across the state and country.
Shockley slows down as he reaches his houseboat-turned-fishing-vessel, the Chesapeake Gold. On it, his crew spreads out over a thousand young oysters in a black metal cage, gray little beauties the size of silver dollars, before throwing them overboard on a buoyed line. "They're like plants," says Shockley's son, Jordan, 23, as he skips a shell into the water. "They'll stay the same size if you keep them in a small pot. They need room to grow."
That takes about 18 to 24 months. Shockley's oysters arrive as larvae from local hatcheries and are fed a steady flow of algae-rich water as they grow and start to produce a shell. Next, they're moved to larger silos, first on land then along the shoreline, before heading to the open water in bottom cages. There they stay, picking up the "merroir," or subtle flavors of the waters in which they're raised, constantly tended to until they reach market size. Thanks to aquaculture, oysters are no longer confined to months that end in "R". That adage harkens back to a time before refrigeration, strict regulations, and the advent of triploid oysters (which don't spawn, thereby keeping their meat desirable year-round).
Besides sating our appetites, aquaculture is breathing new life into a once-thriving industry and helping the bay's health. "I don't want to do away with tradition," says Shockley, who also sells wild-caught oysters. "We have a diamond that runs up our state, and with good infrastructure, we can bring back and protect what the bay naturally produced."
On the way back to shore, he points out his other lease, and another, near the dock. Jordan now works on the farm. And, if all goes accordingly, one day there will be a third-generation Shockley learning about oysters, too.
IN THE DRINK
75th Word
—Le Garage
Though Le Garage is known for its mussels and frites, it was oysters that inspired bar manager Patrick Gartner to create this play on two classic cocktails, the French 75 and the Last Word, with Dolin Génépy standing in for the latter's absinthe. "Since oysters come with a wonderful salinity, we upped the amount of Génépy to give the drink extra sweetness that balances the dryness of lime and brut," he says.
.75 ounces Dolin
Génépy liqueur
.5 ounces Voyager dry gin
.5 ounces Luxardo
maraschino liqueur
.5 ounces fresh lime juice
2 ounces brut
sparkling wine

Combine all ingredients in a cocktail shaker and shake vigorously. Double strain over ice in a double old-fashioned glass. Garnish with cardamom.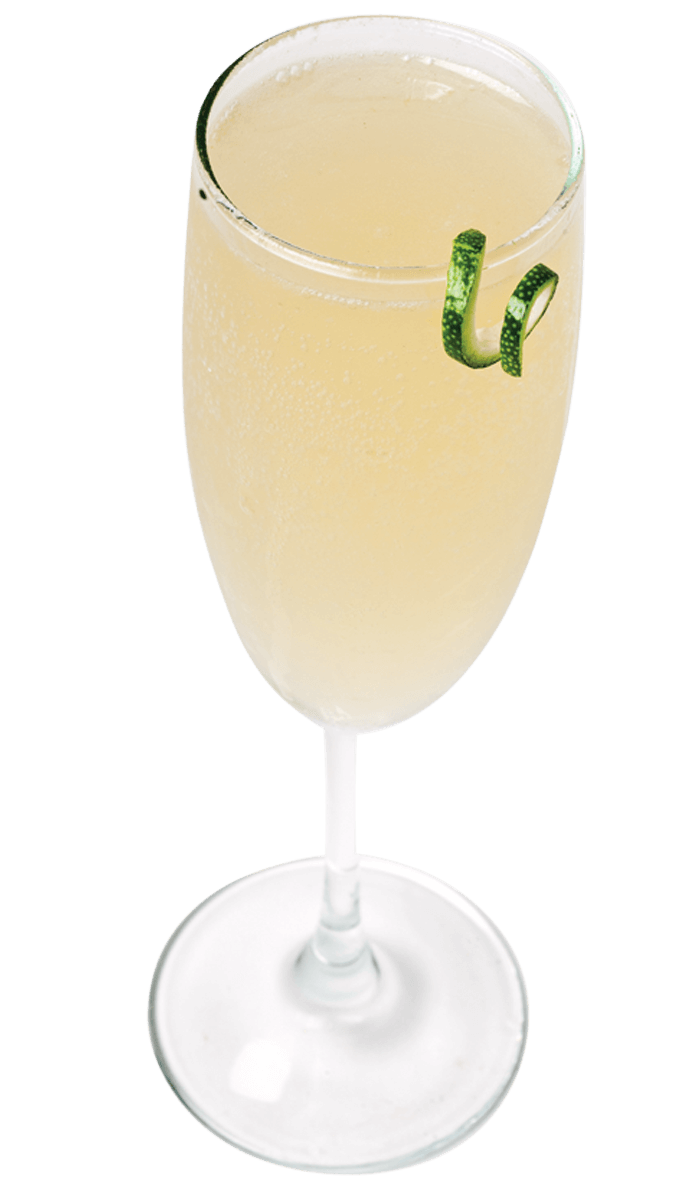 Barbecued Oysters
This unique recipe comes from Southern Maryland, where barbecue is big. "They have a lot of smokehouses down there," says chef John Shields, "and they do a lot with pork products and seafood. This recipe brings all those elements together."
INGREDIENTS
24 fresh oysters
1 1/2 to 2 cups your favorite barbecue sauce
24 pieces (2 inches square) bacon
Rock salt
DIRECTIONS
Preheat oven to 450°F. Shuck oysters, keeping meat in deep part of the shell. Place 1 tablespoon barbecue sauce on each oyster. Top with 1 piece of bacon. Make a layer of rock salt on a heatproof tray and arrange oysters on it. Bake for 6 to 8 minutes, or until the oysters begin to curl at the edges and the bacon browns slightly. Serves 4 to 6.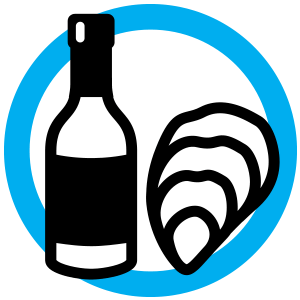 Rookie Move
"At a party, we had unshucked oysters on display. A guy grabbed one of the unshucked oysters, put cocktail sauce on the shell, and attempted to eat it."
—Dylan Salmon of Dylan's Oyster Cellar
TOOLS OF THE TRADE Maryland oyster knives help get the job done
Through the ages, people have found their way inside an oyster by any means necessary, but the oyster knife, made in Crisfield in the early 1900s, certainly made extractions a lot easier. "There are several different styles of knives," explains Pete Lesher, chief curator at the Chesapeake Bay Maritime Museum in St. Michaels. "Some had handles and blades made entirely of steel and those are considered cracking knives that are used at the oyster's hinge, but the wooden-handled stabbing knives that open from the bill, pictured, right, are considered the native way of opening an oyster on the Chesapeake."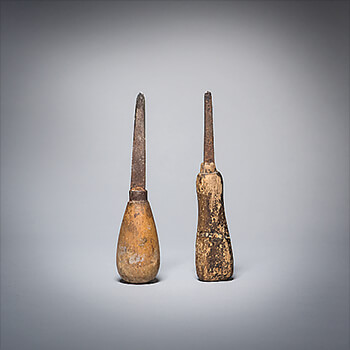 Eastern shore oyster stabbing knives from the early and mid 1900s.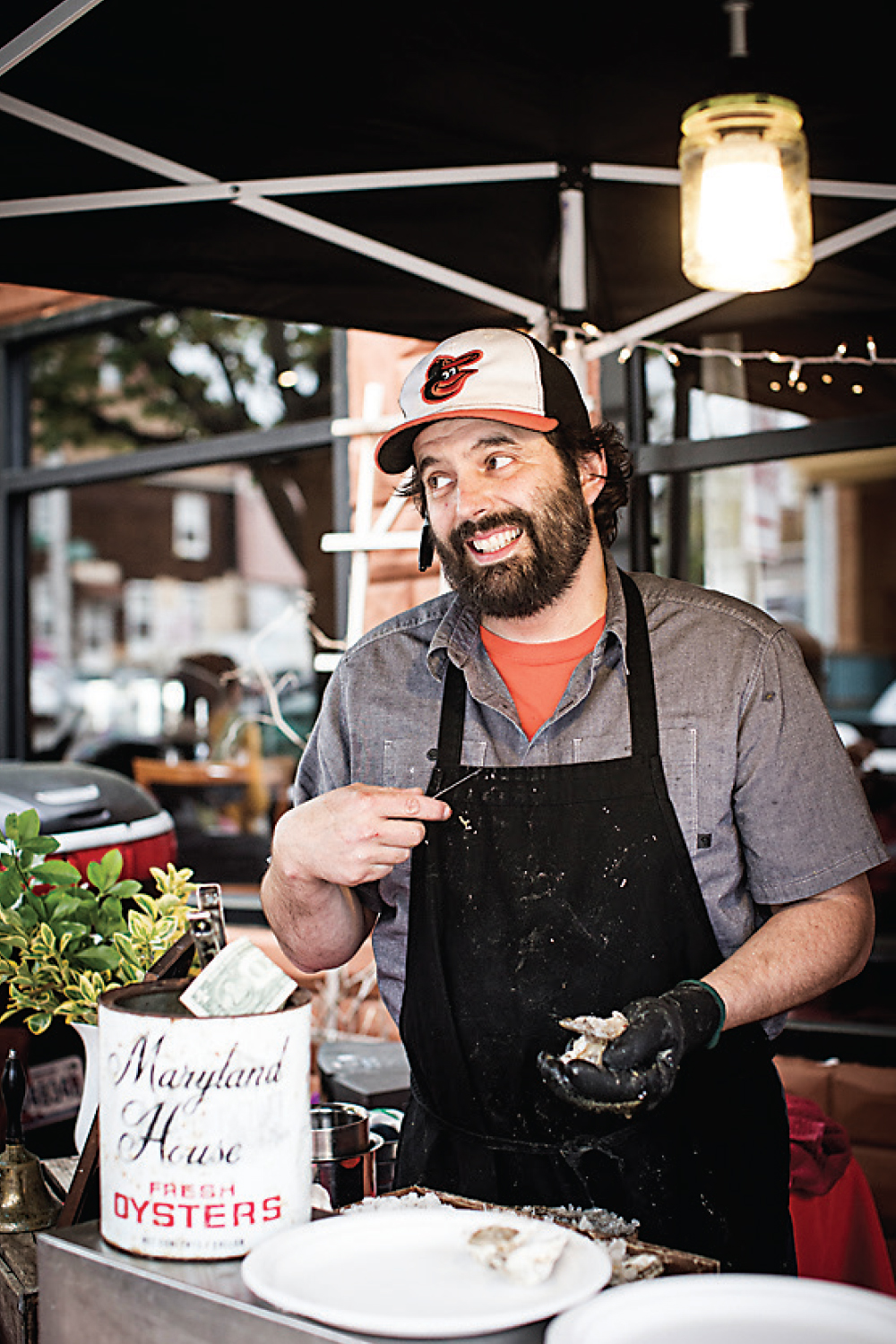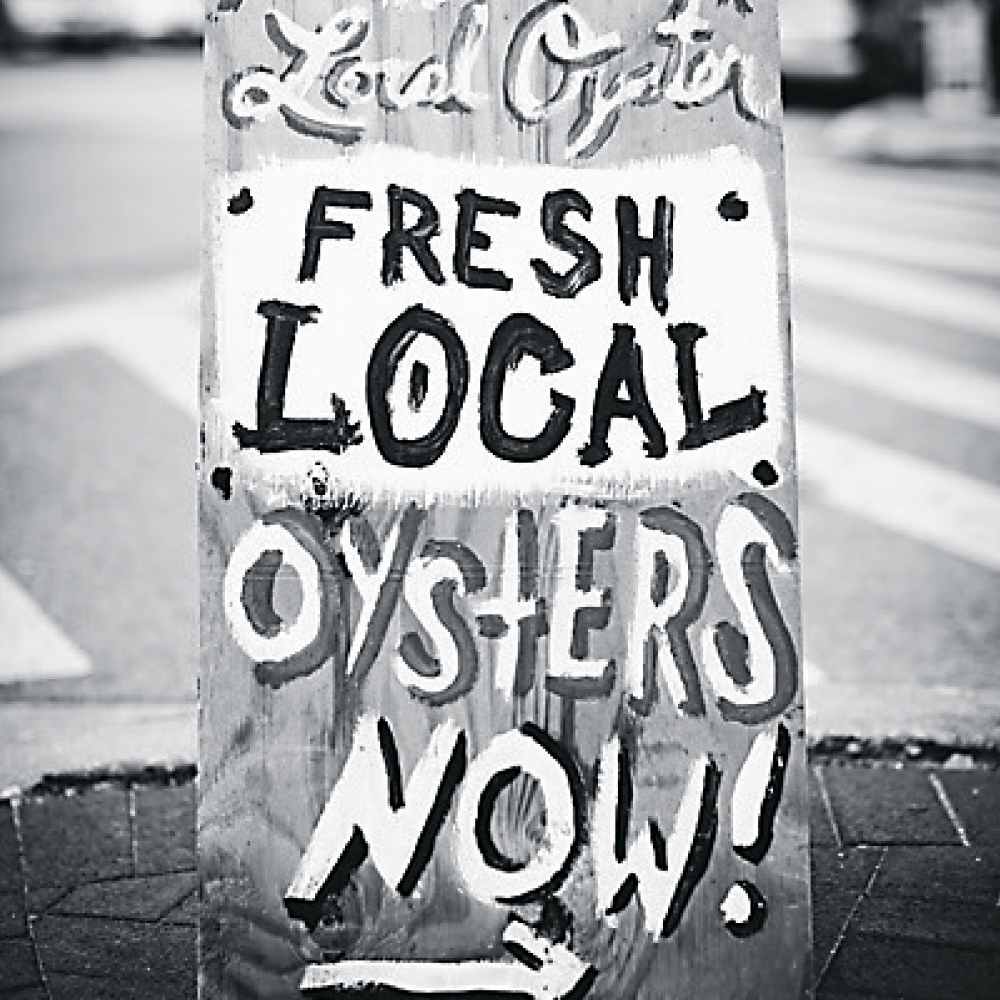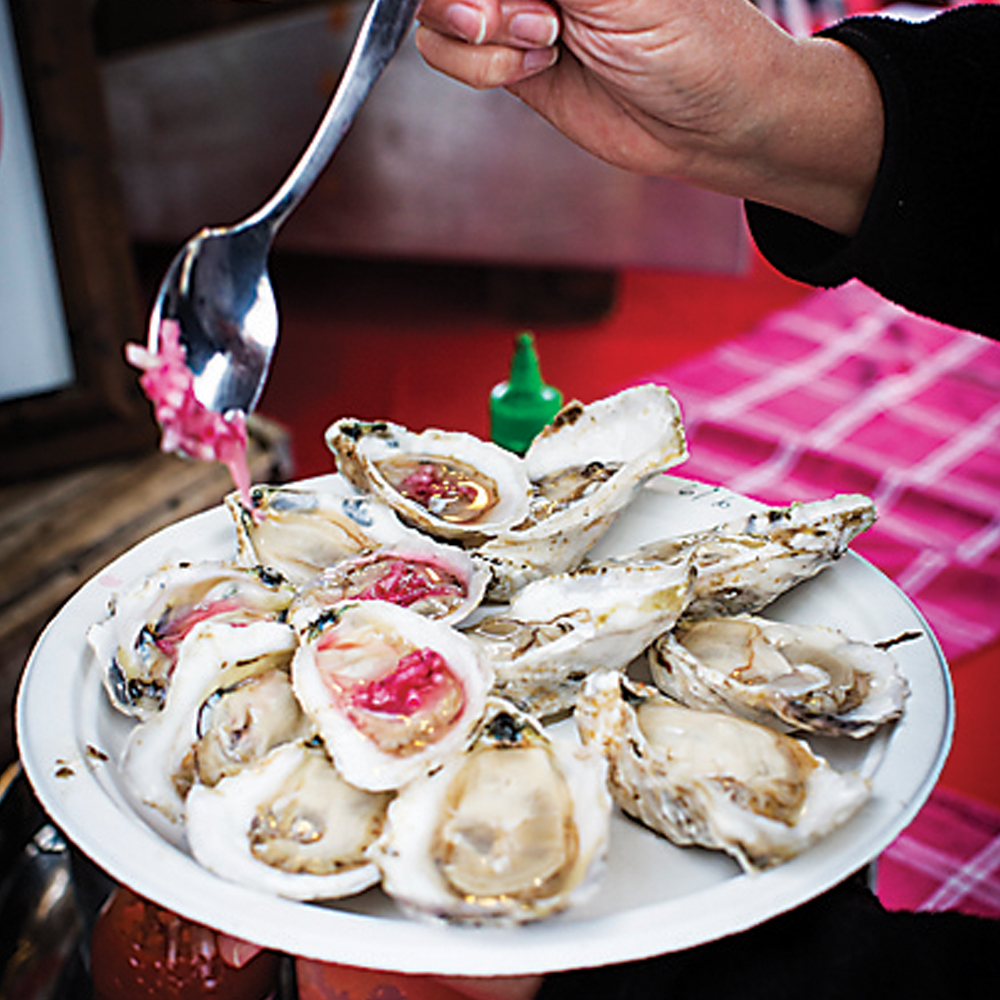 Have Oysters,
Will Travel
The Local Oyster's Nick Schauman brings the bay's bounty to city streets.
By Lydia Woolever
Beneath the hand-painted seafood signs and harsh lighting of Lexington Market, Nick Schauman bellies up to the old, wooden raw bar at Faidley's Seafood. "My grandfather used to take me here when I was a little boy," says Schauman, ordering a half-dozen on the half-shell, his black hair spilling out from underneath an O's cap. "He'd sit me right here on this counter and feed me oysters, so I guess this is where it all started."
These days, the 42-year-old Schauman can be found at his very own oyster bar—The Local Oyster. But unlike the iconic brick-and-mortar seafood house in which he stands, his travels. With little more than a table, tent, and the Maryland flag, he sets up shop all around the city—in the street and outside of hip bars and restaurants. Wherever you find him, he'll be selling Chesapeake Bay oysters—500 to 2,000 a night at two bucks a shuck—and chatting with customers until his seafood box runs dry.
Schauman started The Local Oyster in 2013. Before culinary school and a crab-soup delivery venture, he was a man of many lives, including stints on movie sets in L.A. and as a crewmember on season three of HBO's The Wire. "I always wanted to work the craft-service table," he says. He kept coming back to food, and since he grew up in East Baltimore and Harford County, the bay's bounty was always part of his DNA. "We'd go up Pulaski Highway, where the white cube trucks sit on the side of the road with plywood signs that read 'Oysters' in spray-paint," he recalls. "A lot of people don't have the opportunity to go to an oyster house, so that's what I'm trying to do—bring that experience to the public—and make a connection between the two."
With the shaggy charm of a long-lost friend, Schauman does exactly that, making the world your oyster by mixing the high with the low. He takes the polish and presentation of a fancy seafood house—the quality oysters, the rustic décor, and adds the downhome twist of a tidewater roast—the paper plate, the setting beneath the stars.
He also educates his customers about the oysters they eat. He knows where they're from, and how they're raised, and he drinks beers with the guys who grew them. He's now teaming up with True Chesapeake Oyster Co. from St. Mary's County for all his big events, and even has his own cocktail sauce, too. [Editor's note: Since publication, Schauman has opened up his own oyster bar at the new Mt. Vernon Marketplace.]
Schauman is a busy guy, but for now, he raises an oyster into the air, as if he's about to give a toast. Even after a full night of shucking, he never gets tired of them. "They're all different," he says, pulling the shell closer to his lips, which spread out into a smile. "They make me feel good, and they're always a treat."
---
SHELL GAME
A local oyster primer
From the Eastern Shore to the mouth of the Chesapeake, slurp back these personal picks from Nick Schauman of The Local Oyster.
MOJOS
Farm: Bay Landing Shellfish Co., Johnson Bay. Origin: The state's only coastal bay bivalves, grown in a unique habitat in Worcester County, influenced by the saltwater tides of the Atlantic and the protected waters of the Assateague Island National Seashore. Flavor: Maryland's saltiest oyster.
BARREN ISLANDS
Farm: Barren Island Oysters, Hoopers Island. Origin: Grown in the open water off a tiny, eroding dot of land near the Blackwater National Wildlife Refuge and one of the few remaining islands on the Chesapeake. Flavor: Light, clean, hints of mineral.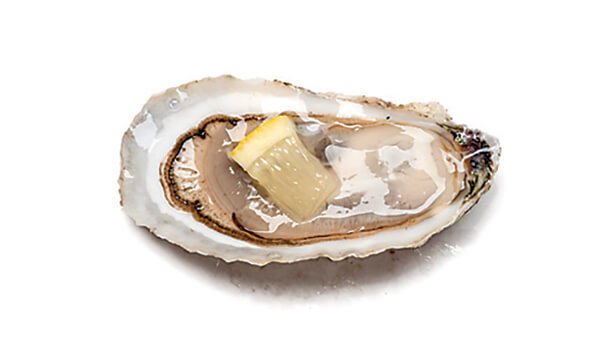 SKINNY DIPPERS
Farm: True Chesapeake Oyster Co., St. Jerome Creek. Origin: Raised in a creek near the Potomac that mingles with the high salinity of the Atlantic. Flavor: Clean, crisp, with a "soft salt" finish that's not too salty, not too sweet.
CHESAPEAKE GOLDS
Farm: Hoopers Island Oyster Aquaculture Co., Hoopers Island. Origin: See page 102 for more on how they're raised in Tar Bay, just off Hoopers Island. Flavor: Fairly salty, full upfront flavor, sweet finish.
---
CANNED GOODS
Maryland oyster tins are relics from the glory days.
In the old, forgotten pockets of Baltimore and beyond, you'll find oyster cans—in every color and size, candy-coated or marred by layers of rust. The tiny tins were born here in the 1800s, when the industry established itself on the docks of the Inner Harbor and along the shores of the Chesapeake. With the invention of canning and the expansion of railroads, what had once been a local commodity could now be carried across the country. And appetites for Chesapeake oysters only grew. In its heyday, Maryland was harvesting 15 million bushels a year. The tin's labels emphasized the oyster's taste, health, and heritage. Today, the canneries are long gone, but as the oyster industry attempts a comeback, the cans—little metal mementos of how it all began—remain a piece of our tidewater past. — LW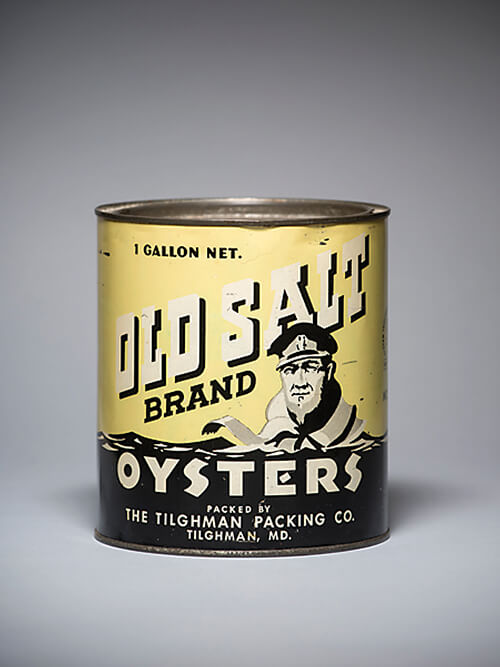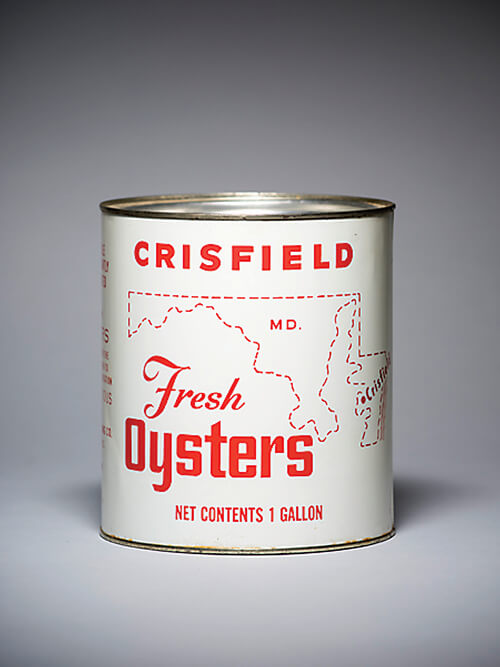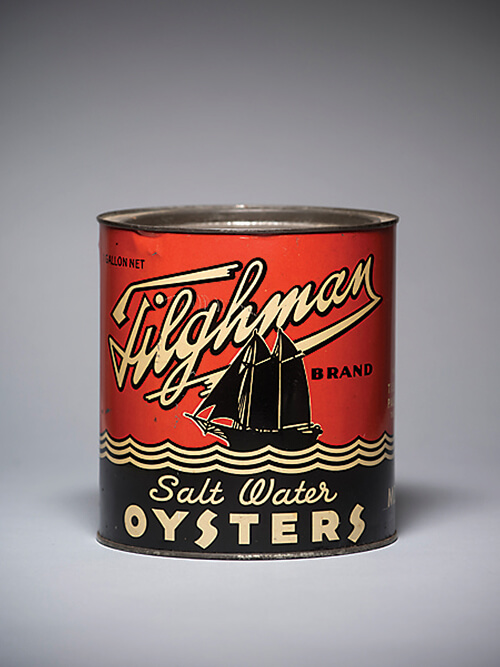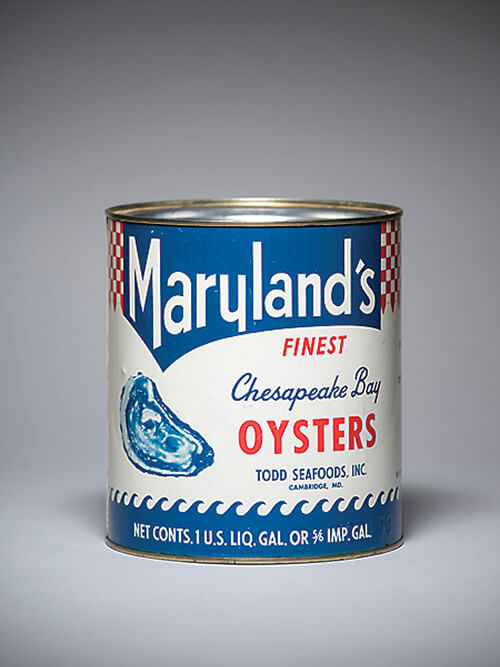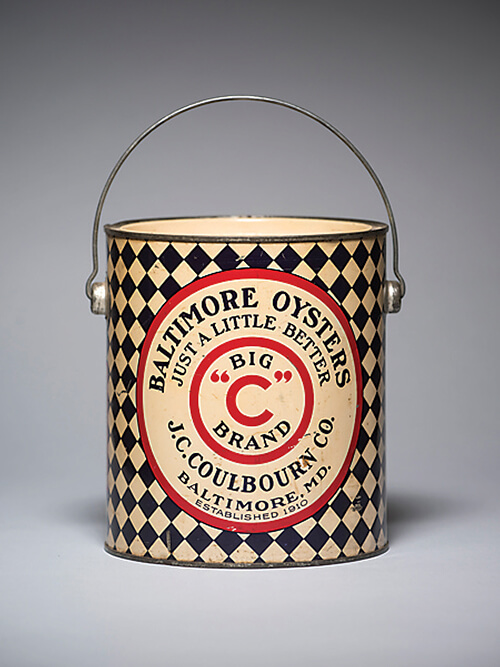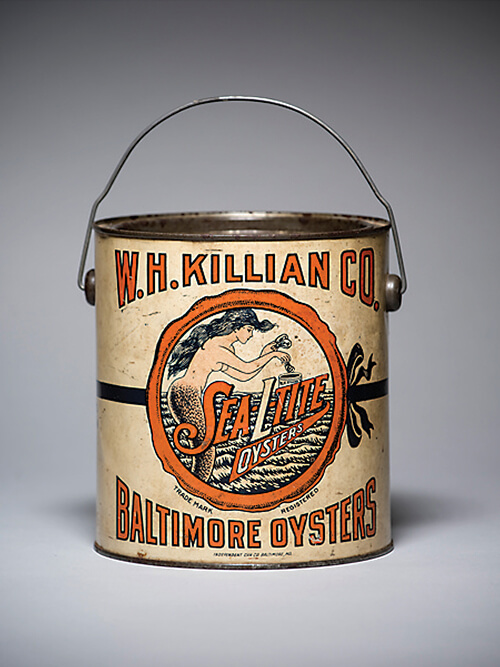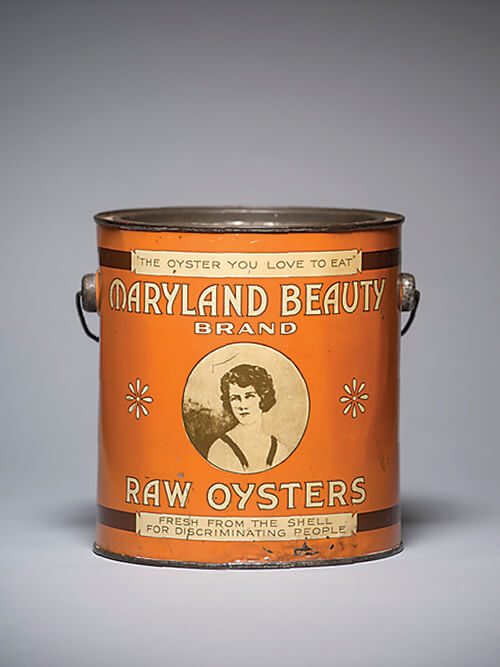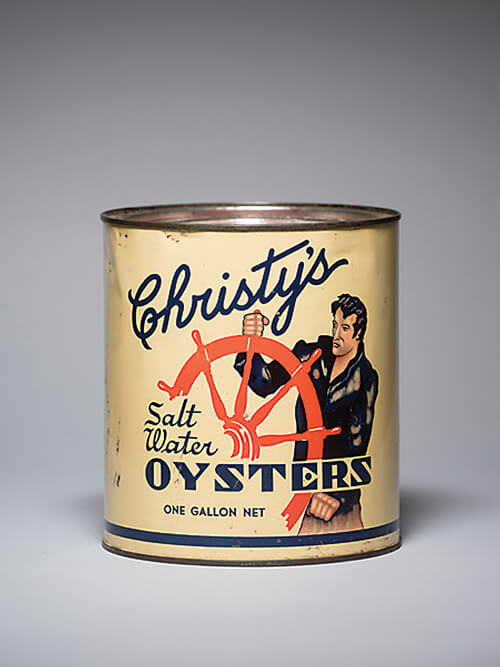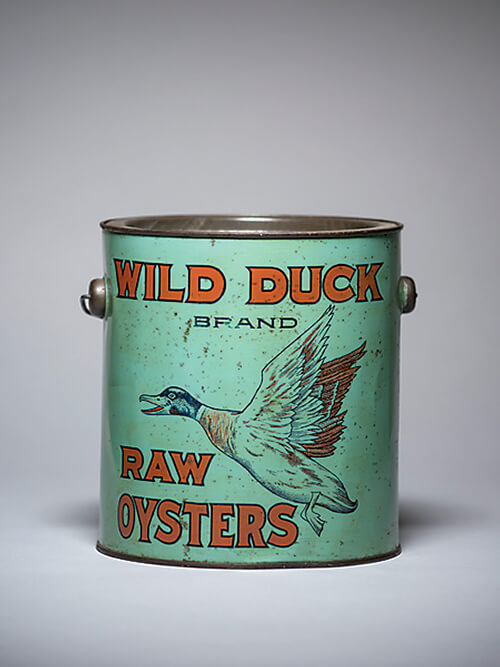 SWIPE