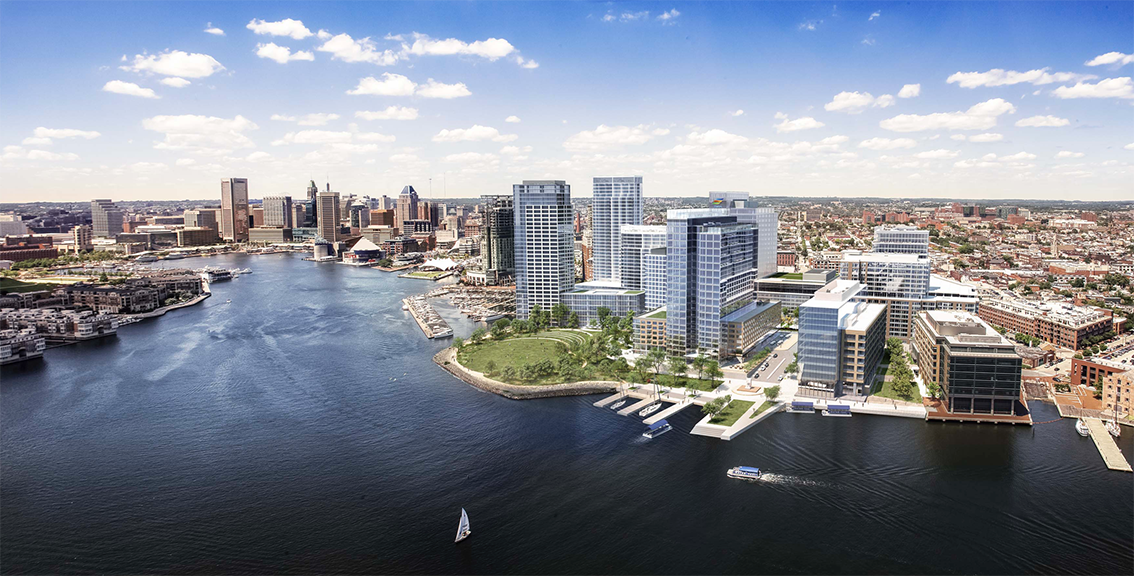 Courtesy of Beatty Development
With citywide destinations including Woodberry Kitchen, Artifact Coffee, Parts & Labor, and Bird in Hand, James Beard Award-winning chef Spike Gjerde already dominates a good portion of the local dining scene. And a new al fresco hangout coming soon to Beatty Development's Harbor Point site will significantly increase the restaurateur's reach.
"We already feed a lot of people," says Corey Polyoka, managing partner of Gjerde's restaurant group Foodshed. "But this space nearly doubles that footprint."
Sandlot—a harbor-front oasis slated to open Memorial Day Weekend—encompasses 30,000 square feet of open space to be used for outdoor dining, recreation, live performances, family-friendly games, and community outreach events.
The spot is part of Beatty Development's up-and-coming Harbor Point project on the border of Harbor East and Fells Point, which will eventually yield more than three million square feet of office, residential, retail, and hotel properties.
Polyoka says that the vision for the hub was inspired by Foodshed's recent partnership with Beatty Development founder Michael Beatty—who was looking for a temporary concept to take over the outdoor promenade for five years while the Harbor Point peninsula continues to flourish. Eventually, the space will be transformed into a full five-acre waterfront park.  
"We really enjoyed each other's company and started to see that we had a shared vision for what we could do in Baltimore, both on the development and food sides," Polyoka says of the partnership. "He started to see an opportunity to make a lot of this square footage available to a different kind of sourcing."
Polyoka explains that the design was heavily influenced by city zoning, which required all structures to be portable since the space is technically considered a park: "The city wanted us to be able to pull everything away if we needed to," he adds.
To embrace the zoning requirements, the Foodshed team came up with the idea to set up multiple shipping containers and a recycled 1968 Safari Airstream trailer to house elements including a mobile cocktail bar, ice cream and blender bar, storage rooms, and an 8×20-foot commercial kitchen complete with its own takeout window.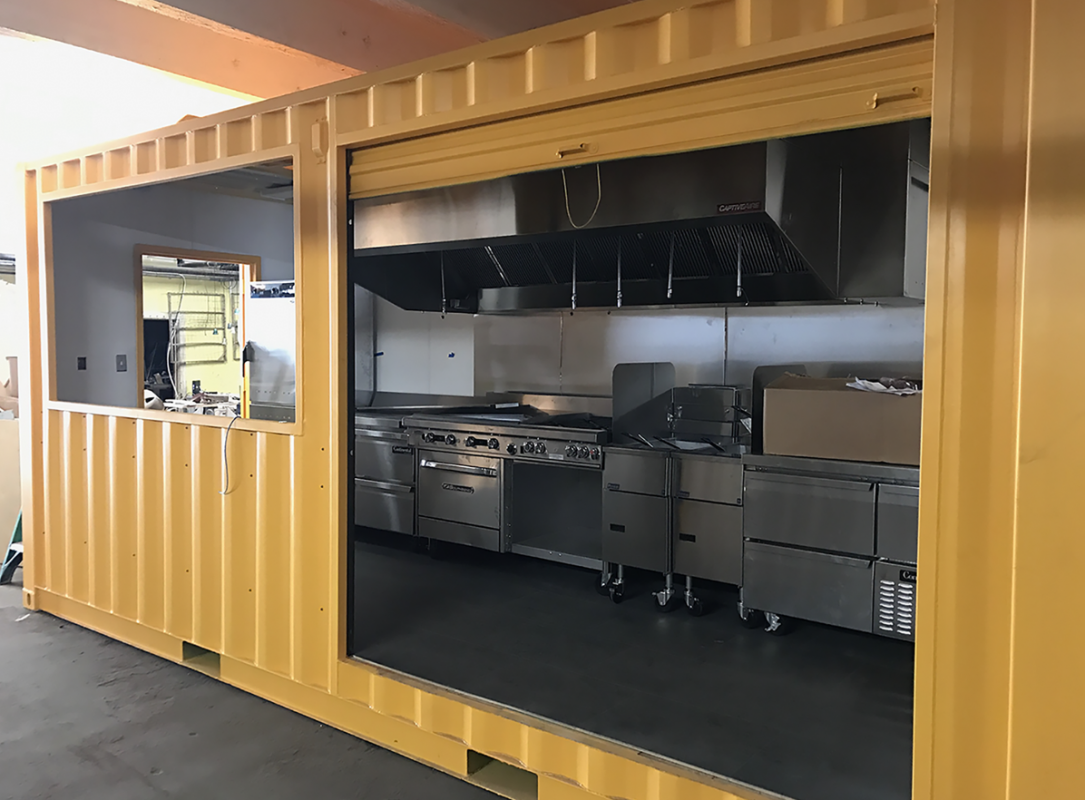 "The more you're here, the more you realize, 'This is going to be pretty big,'" says contractor Luke Steckel of Hampden's Studios on Sisson, who has worked on a number of the Foodshed properties. "I'm always the guy that they call to do something different."
Though menu details are not yet set in stone, the seasonal offerings (think snacks on a stick, nachos, sandwiches, smoothies, juices, and barbecued meats made on a custom rotisserie built in West Baltimore) will be streamlined by chef de cuisine Patrick Morrow and maintain Foodshed's philosophy of supporting local producers.
"From a food and drink perspective, we wanted to give people another way to experience local food," Polyoka says. "It's going to be geared toward families and all Baltimoreans to come and enjoy."  
To complement the eats and drinks, the open space will also boast six professional-sized volleyball courts, three bocce courts, a tree garden with canopy lighting, climbing apparatuses for kids, beach chairs overlooking the waterfront, its own hop yard, and custom-built interactive seating for outdoor concerts and performances. 
"It has kind of an island vibe," Polyoka says. "It's going to be a fun place to play during the summertime."
Aside from the requisite volleyball tournaments, the site will also host community programs like sailing regattas, Fourth of July festivities, food and wine festivals, and bike parties. Sandlot will also be open for visitors to check out during the Saturday morning Fells Point Farmers' Market, which has temporarily relocated to Harbor Point for the season while construction continues at Broadway Square. 
Polyoka, a father of four, says that he's most excited to introduce a new city gathering place that is family friendly—an aspect that has strong ties to the meaning behind the concept's name.
"For me, Sandlot is all about remembering being young, being outside, and not taking things too seriously," he says.