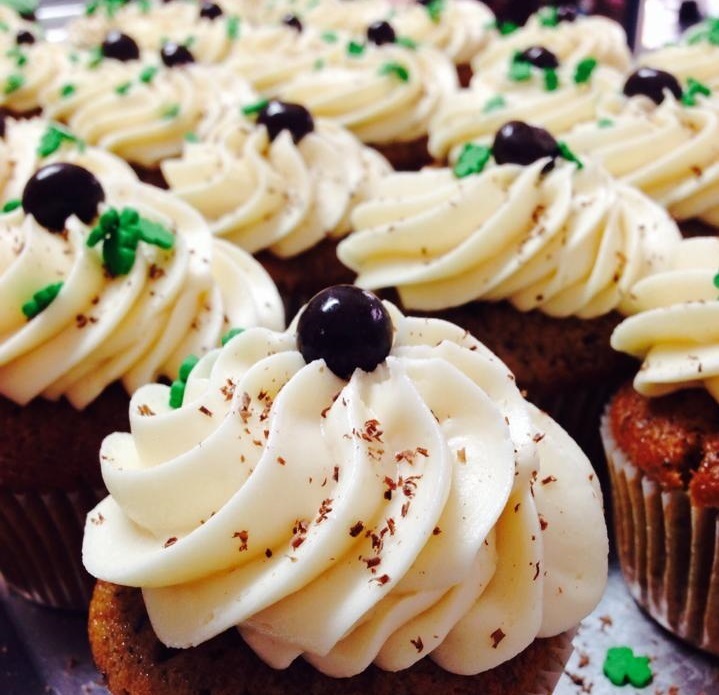 Courtesy of IcedGems Baking.
Corned beef and cabbage and Shepherd's Pie aside, one of the best things about St. Patrick's Day dining is dessert. Whether you're hoping to perfect a classic loaf of Irish Soda Bread, or looking to do some non-traditional boozy baking, these festive recipes will be sure to do the trick at this year's celebration.
If you're sticking to tradition: Irish Soda Bread from Stone Mill Bakery
Back in the day, Irish Soda Bread—traditionally made with only flour, salt, baking soda, and buttermilk—was a necessity during times of poverty in the Emerald Isle. Now, more than 150 years later, the recipe has evolved with sweeter iterations, often fusing eggs, butter, and raisins.
Green Spring Station fixture Stone Mill Bakery, which also operates a location in Pikesville, showcases dark raisins and coarse sugar in its signature sweet loaves made especially for St. Patrick's Day each year.
"It's scone-like in texture and has just enough sweetness with the raisins and sugar on top," says co-owner Dana Himmelrich. "It's a popular classic that's particularly delicious for breakfast with a little bit of butter and honey."
Ingredients:
2.5 lbs 4 tbsp. flour unbleached & unbromated
1/4 lb 4 tbsp. extra fine sugar
2 tbsp. granulated salt
1.4 oz baking soda
1.4 oz baking powder
¼ lb 4 tbsp. cold butter
1.5 lbs dark raisins
1 quart buttermilk
Extra-large grain (coarse) sugar for sprinkling on top
Instructions:
1. Preheat oven to 350 degrees.
2.Mix flour, sugar, salt, baking soda, baking powder and butter until all butter is incorporated, about 5 minutes. It should resemble consistency of scone mixture.
3. Add raisins and mix for 1 minute.
4. Add buttermilk and mix about 2 minutes, just until ingredients wet.
5. Let rest on table for 30 minutes.
6. Weigh at 1 lb. 8 oz.
7. Brush with buttermilk and sprinkle with the coarse, extra-large sugar.
8. Bake 4 loaves to a pan for 46 minutes.
Yields approximately four loaves. Note: Recipe is meant for large-scale ovens, you may want to keep an eye on baking time and adjust according to sight.
If you want to mix things up: Chocolate Guinness Cupcake with Bailey's Irish Cream Buttercream from IcedGems Baking
IcedGems Baking, the Reisterstown sweet spot known for its travelling cupcakery on wheels, has been known to fill its display cases with tons of green-inspired treats (think Shamrock shortbread cookies and cupcakes decorated with rainbows and pots of gold), this time of year. Despite all of the options, owner and master decorator Christine Richardson says that IcedGems' Chocolate Guinness cupcake is always a fan-favorite for St. Paddy's.
"It's the perfect way to reward your inner Irish," she says. "The Guinness really brings out the chocolate flavor and with the Bailey's it brings together two of Ireland's best exports—we think, better than boiled beef and cabbage."
Ingredients:
For cupcakes:
3/4 cup of unsweetened cocoa
2 cups granulated sugar
2 cups all-purpose flour
1 teaspoon baking soda
A pinch of salt
1 bottle of Guinness
1 stick of butter
1 tablespoon of vanilla extract
3 large eggs
3/4 to 1 cup of sour cream
For buttercream:
4 sticks of butter
6 cups of powder sugar
1/2 Cup of Bailey's Cream Liqueur
Instructions:
1. Preheat oven to 350 degrees.
2. Set cocoa, granulated sugar, flour, baking soda, and salt, in a bowl.
3. In separate bowl, blend Guinness, butter, vanilla extract, and eggs and sour cream together until smooth.
4. Once the wet ingredients are blended gradually, add the dry ingredients to the bowl to make a batter.
5. Grease your pans or use cupcake liners and fill each 3/4 of the way full.
6. Bake for about 25 minutes turning the pans half way. The cake should be domed but bounce back to the touch. Let cool before turning out.
7. To make the Bailey's buttercream beat together butter, powdered sugar, adding Bailey's Cream Liqueur until creamy.
8. Top the cakes with the frosting.
Yields two dozen.