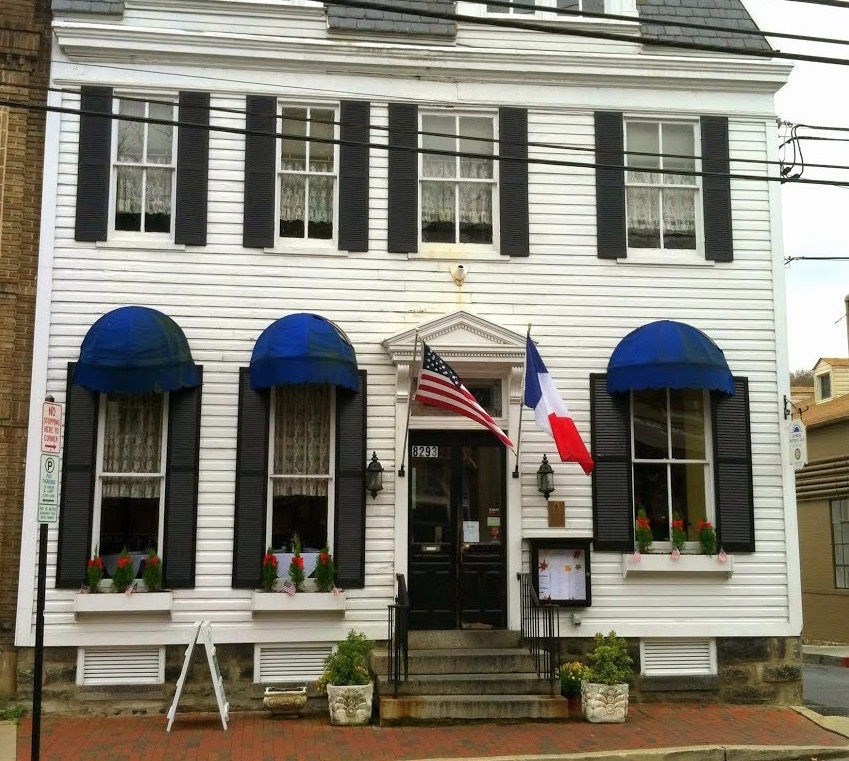 Having endured two floods and a fire since opening in 1975, family-owned Tersiguel's French Country Restaurant is no stranger to the concept of rebuilding.
After moving to Baltimore County from Brittany, France in the early '60s, Fernand and Odette Tersiguel premiered their fine-dining den, then called Chez Fernand, on the lower end of Main Street in Ellicott City. But just two months after the grand opening, Hurricane Eloise flooded the restaurant with nearly seven feet of water.
"The basement was full of mud," remembers chef Michel Tersiguel, Fernand and Odette's son who has now taken over the family business. "I still remember watching my parents and the workers emptying it all out."
Nearly a decade later, a five-alarm fire completely destroyed the building, prompting the Tersiguels to relocate Chez Fernand to a space in Baltimore City on Fayette Street near Shot Tower.
The restaurant eventually moved back to Main Street in 1990, debuting as Tersiguel's in a new home on higher ground. Oddly enough, one of the primary reasons why Fernand bought that property was because he thought it would be able to withstand any heavy rainfall.
But in an unfortunate case of history repeating itself, Tersiguel's is now being forced to rebuild yet again, after raging flood waters wreaked havoc on Main Street in late-July.
"It's like a part of our family, and all of the sudden that livelihood has been taken away," Michel says. "With the fire, we were able to make our closure. Here, we have this ailing patient that we've finally gotten stable. The future is looking great, it's just a matter of getting the therapy in and getting it back to normal."
Michel estimates that the flood—which wiped out the entire contents of Tersiguel's basement wine cellar and an array of expensive equipment including two walk-in refrigerators—caused upwards of $160,000 in damage. But, in keeping with the restaurant's history of resilience, he is committed to reopening as quickly as possible.
Michel is using the reopening as an opportunity to get creative with the menu. Though favorite dishes—like the saffron fish soup and Odette's famous paté—will remain staples, the chef plans to rotate the offerings every two weeks based on what is in season. Previously, with the exception of a few smaller items, the restaurant's menu would only change every five months.
"People have their favorites, but they're going to be willing to try new things because they trust us," Michel says. "That's the important thing."
Since Tersiguel's has been forced to downsize its storage and equipment (more than $50,000 worth of tools in the basement are not being replaced), Michel plans to prep ingredients and make all desserts daily.
"We've always been farm-to-table, but now we're going to be even more farm-to-table," Michel says. "We're just trying to look at it in a positive way and say 'We're coming back the same, but better.'"
Though access to the building has been limited, the Tersiguels have hired a disaster relief specialist to help spearhead their efforts and estimate that the restaurant will reopen for dinner service in early October.
Infrastructure issues, like replacing the furnace and water heaters, still need to be addressed, but Michel says that most of the cleanup was able to be completed with the help of community volunteers who assisted with everything from washing dishes and floors to shampooing seat cushions and curtains.
Above all, support from the community is what means the most to the Tersiguel family, as they prepare to rise from the ashes once again.
"It's this incredible rollercoaster of grief and generosity that gets your heart going up and down," Michel explains. "That's what really motivates you."