Travel & Outdoors
50 Best Bars
We break down the region's best watering holes into 10 handy neighborhood bar crawls.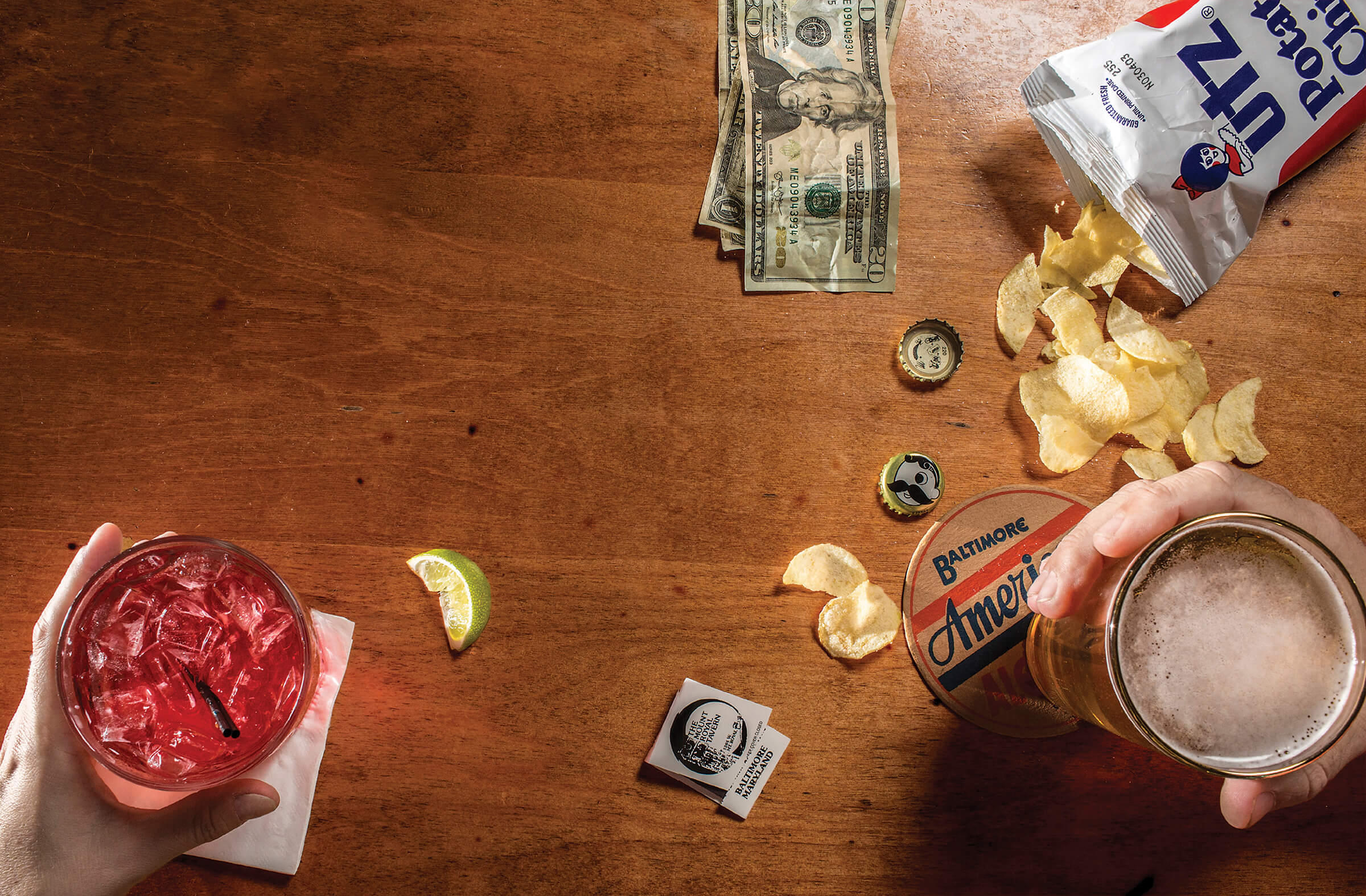 As the city of neighborhoods, it makes sense that Baltimore is also the city of bar crawls. You know the kind—where you and your friends meander through the streets, stopping into corner dives or cocktail bars to get a fix at each one. They usually start with a civilized meal and toasting of glasses and end with an encore from a live band or a late-night slice. So follow us as we embark on the region's ultimate bar crawl guide: 10 neighborhoods, each consisting of five bars, the best way to get around, and a late-night food spot. We also talk to the city's nocturnal workers—from bartenders to Uber drivers—to hear their funniest crawl stories and practical tips. Plus, we pay homage to the beer can, the simple vessel that has seen a surge in popularity recently. Because, while we love fancy cocktails and trendy speakeasies as much as the next person, sometimes all we need is an ice-cold beer and the promise that our next bar destination is just around the corner.
---
Brewers Hill/Canton
---
Canton has long been known as a favorite nightlife spot for twenty-somethings, and the burgeoning neighborhood to its east (under the glow of winking Mr. Boh) is only adding to that appeal. We started off at 1Of Love & Regret (1028 S. Conkling St., 410-327-0760), known for its Stillwater ales, which may have been specifically designed for this rainy fall night, as its candle-lit, dark-wood ambiance felt ideally cozy. When our mustachioed bartender almost immediately asked us what we wanted, we replied "anything with whiskey" and he whipped up the Saturday Night Wrists with blood orange liquor, rye, mezcal, and orange around the rim.
Feeling the autumn vibes, we munched on golden beets with toasted almonds and a brandy-apricot cheese ball, the perfect way to warm up before heading out the door and up the street to Cardinal Tavern (901 S. Clinton St., 410-327-7850), which, on the night of a Ravens-Steelers game, was filled to the brim. Though every seat was occupied, a bartender in a Flacco jersey promptly took our drink order and let us know about the upstairs seating. We were happy to stand and munch on spicy, meaty Buffalo wings and sip Loose Cannon while football fans cheered and jeered the rivalry. Cardinal, with its Calvert Hall décor and other local sports tributes, was just the place to do it.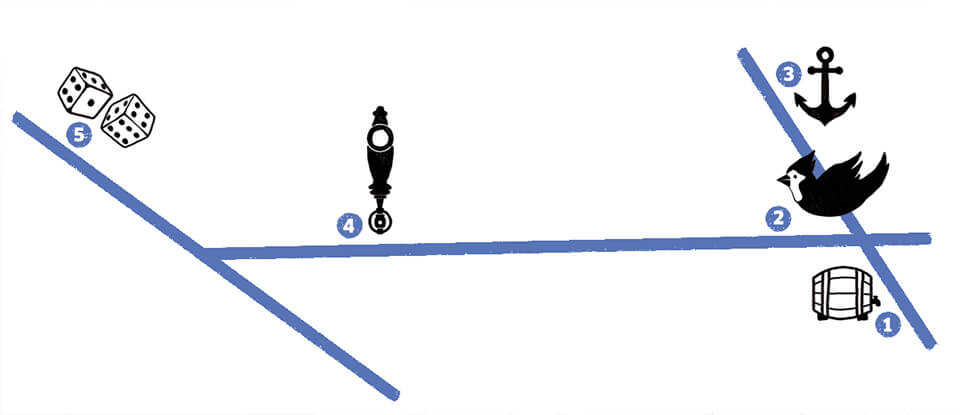 During halftime, we sauntered up Clinton Street to The Chasseur (3328 S. Foster Ave., 410-327-6984), a brightly lit, nautically themed bar that, on any given night, could feature bingo, a tap takeover, or a charity event. Tonight, it's all about the Ravens, which means TVs have sound and happy hour lasts throughout the game with $2-off drafts, $5 duck fat tots, and $7 crab mac and cheese. The third quarter was about to start, so we headed to the corner beer haven that is Mahaffey's Pub (2706 Dillon St., 410-276-9899), where you're always encouraged to try new things. Tonight it was Yards Pynk beer, made with raspberries and both sweet and sour cherries, which was more tart than saccharine and an adventure we didn't mind taking. Even though the game wasn't the main focus, the friendly female bartenders still encouraged us to partake in $5 game-day grape bombs (grape vodka and Red Bull).
Once energized, we ventured back out and ended up at Bartenders (2218 Boston St., 410-534-2337). Despite its tiny rowhouse size, you'll likely run into someone you know at this Cheers-esque sports bar. At one table, a group was playing Cranium; at another, patrons were munching on thick-crust pizza. But as the Ravens went into overtime, all eyes were glued to the TV. When Justin Tucker's final field goal went through the uprights, the crowd (and staff alike) erupted with joy.
How to get around: The mile-and-a-half crawl is walkable. Late-night food: A classic diner, Sip & Bite (2200 Boston St., 410-675-7077) features surly waitresses, delicious gyros, and the best 2 a.m. people-watching.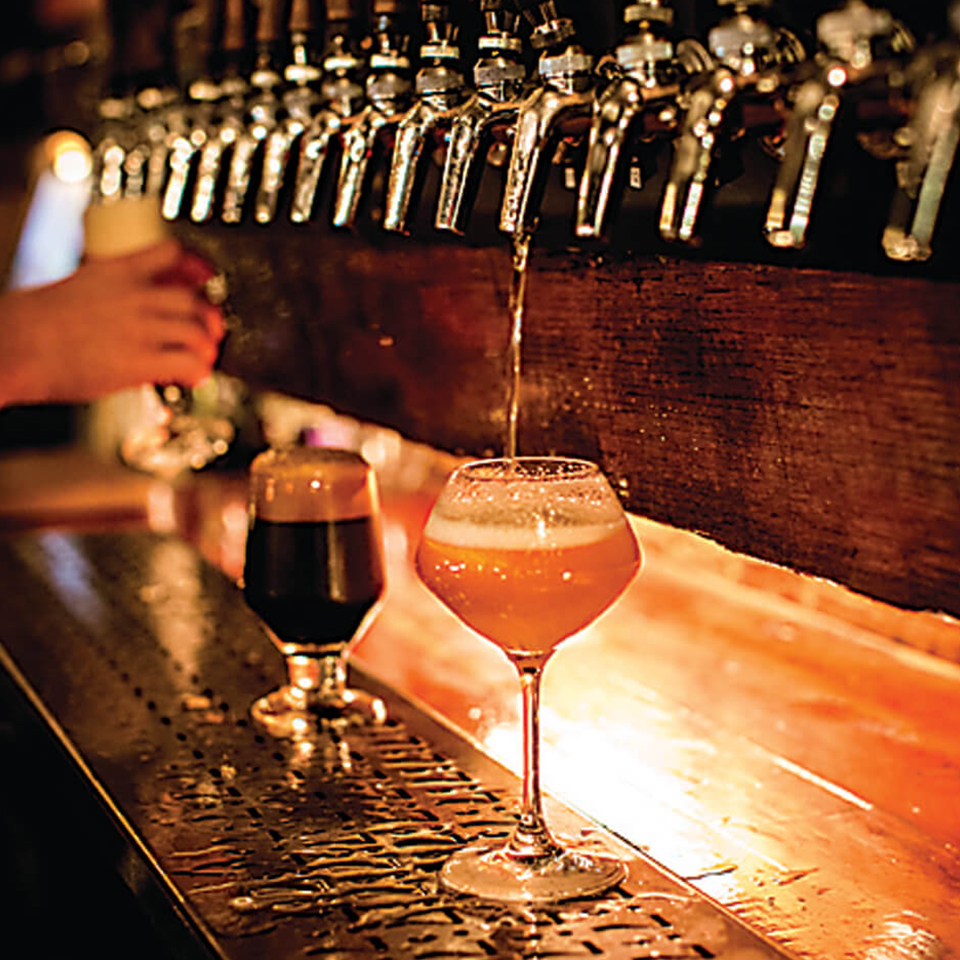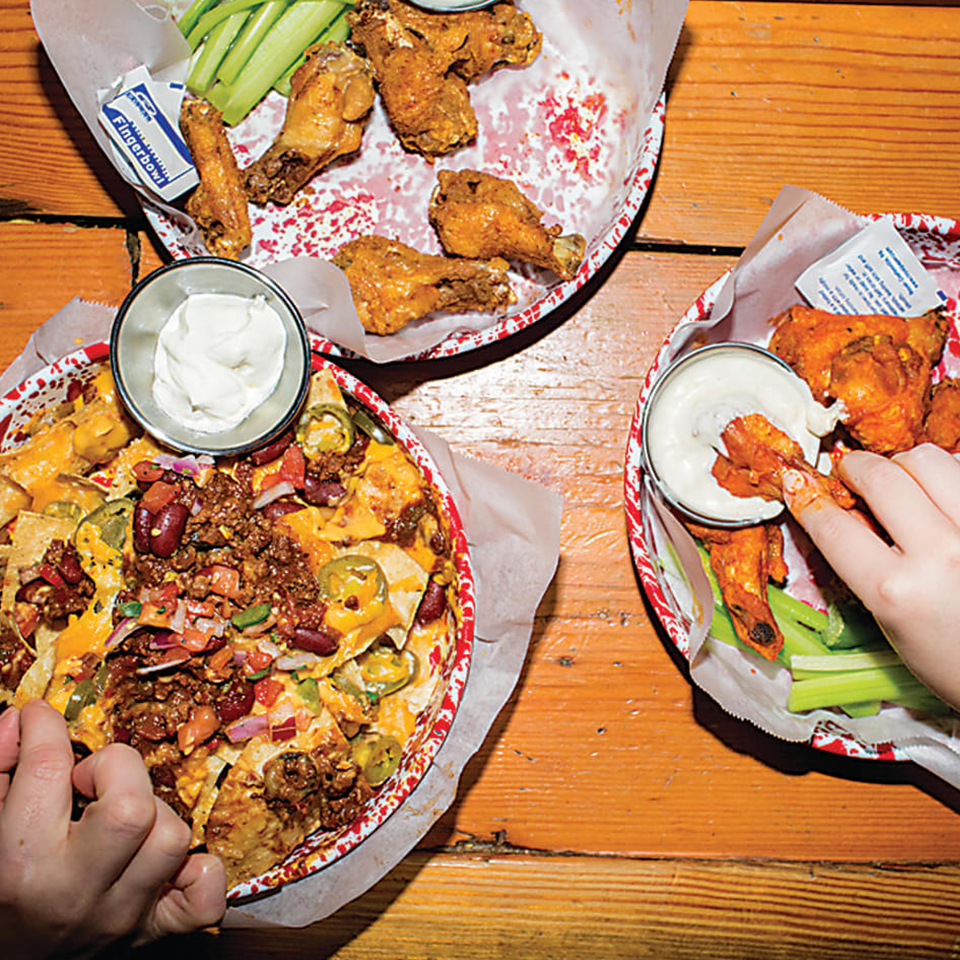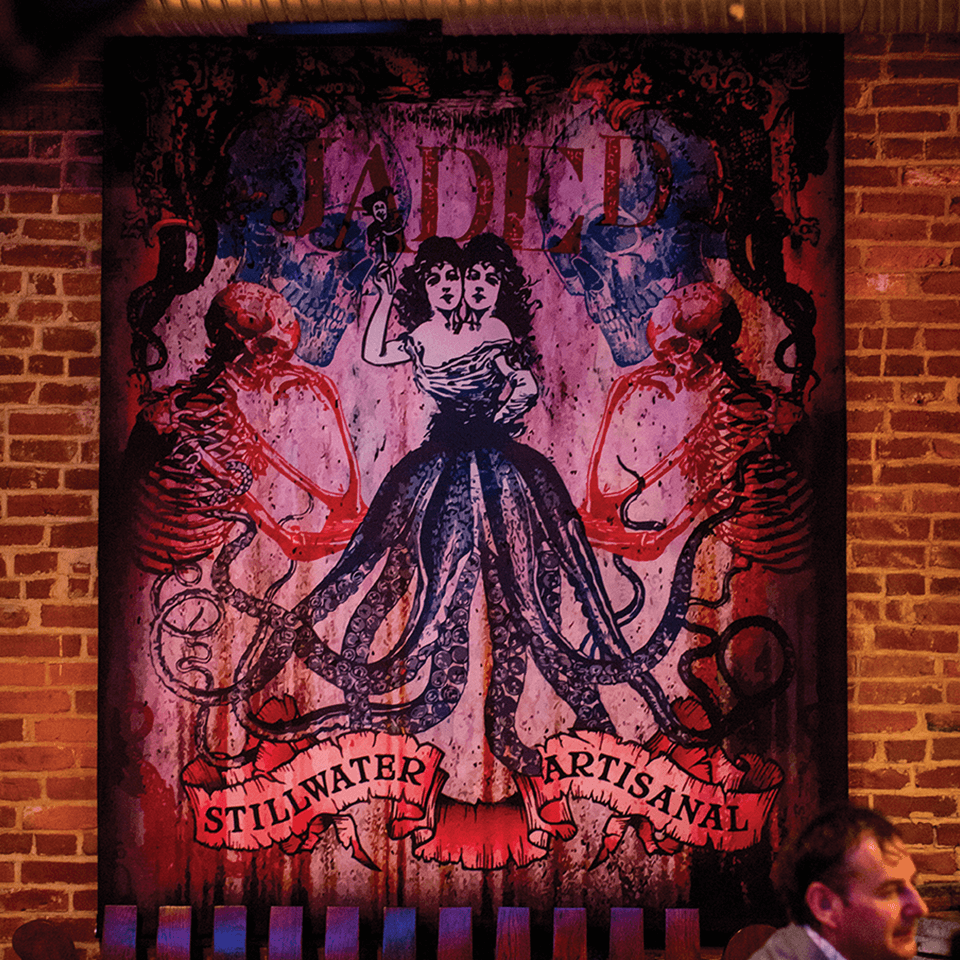 ➤

Booze at Of Love & Regret. A Stillwater draft. Toasting at Cardinal Tavern. Pub grub at Cardinal Tavern. Pouring shots at Cardinal Tavern. Wall art at Of Love & Regret.
---
Fells Point
---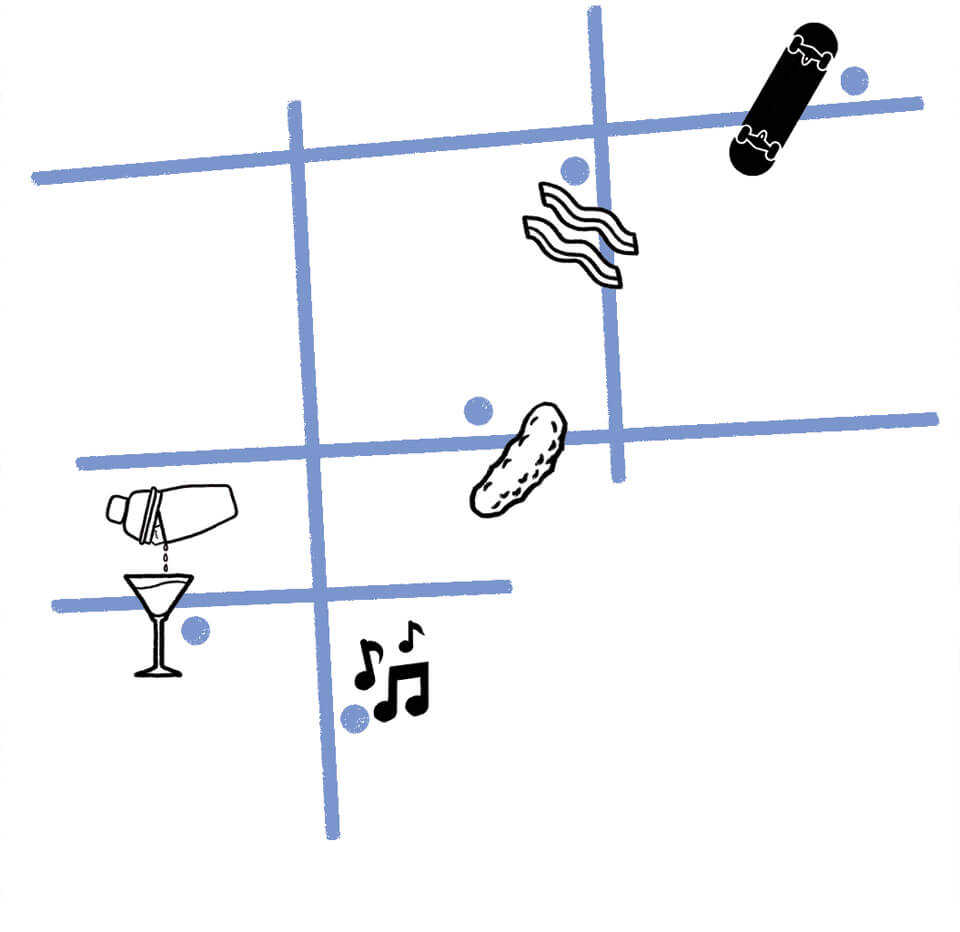 There are so many bars in Fells Point, it actually can be hard to choose. Often times, this leads to tying on one too many, but it's usually worth it. On a crisp fall night, we first found ourselves at Johnny Rad's (2108 Eastern Ave., 443-759-6464), the little skater-hip pizzeria stocked full of cool craft beer and stellar pies with skeeball in the back. Seated at its red bar, we coated our stomachs with a classic Primo pizza (red sauce, mozzarella, basil, olive oil, sea salt), dove into a few drafts of Union's Duckpin, and chatted with the bartender as locals filed in and out with their to-go boxes.
With a borderline food baby, we decided the weather was too fine not to walk the four blocks to Bad Decisions (1928 Fleet St. 410-979-5161), a lauded and aptly named corner dive (hailed as one of the country's best bars by Esquire magazine). The typically packed house was surprisingly empty so we took our pick of barstools and perused the Bible-thick handwritten notebook filled with drinks like the Fisherman's Wife and the Suffering Bastard. We kept it classic with a round of rye old fashioneds and a basket of bacon (yes, bacon—the bar's specialty), and watched a favorite episode of The Simpsons on TV. Rightly sauced, we scrambled south to Lobo (1900 Aliceanna St., 410-327-0303), the relatively new little corner bar that feels remarkably old-Baltimore with its brick-glass windows, fair prices, and neighborhood charm. Food coma be damned, we ordered an ice-cold tray of Chesapeake Bay oysters from the raw bar, a few drafts of local beer, and a cocktail made with house-brandied cherries. We considered some oyster shooters, too, but decided it was time to head into the heart of Fells Point, amidst the throngs of intoxicated youth.
At Rye (807 S. Broadway, 443-438-3296) we settled into the dark, Prohibition-style den and let the masters work their magic. Here's where you can find some of the best cocktails in town, namely the "Off Menu" concoctions based off whatever you're feeling that night. At this point, we did what we all must do at least one time in our Baltimore barhopping lives: murder the dance floor at Cat's Eye Pub (1730 Thames St., 410-276-9866). There's no better way to cap off a night than with pints of Guinness, shots of Jameson, and a few bumped hips with the bar's footloose and motley crowd. When the lights came up, we tipped the band and then scurried out onto the cobblestone streets. It was almost 2 a.m. but the night still felt young, and so did we.
How to get around: On foot. Late-night food: Hot Tomatoes (717 S. Broadway, 410-563-4453) for more pizza, or the old standby of pretzel dogs at The Pretzel Twist (Thames St. and S. Broadway).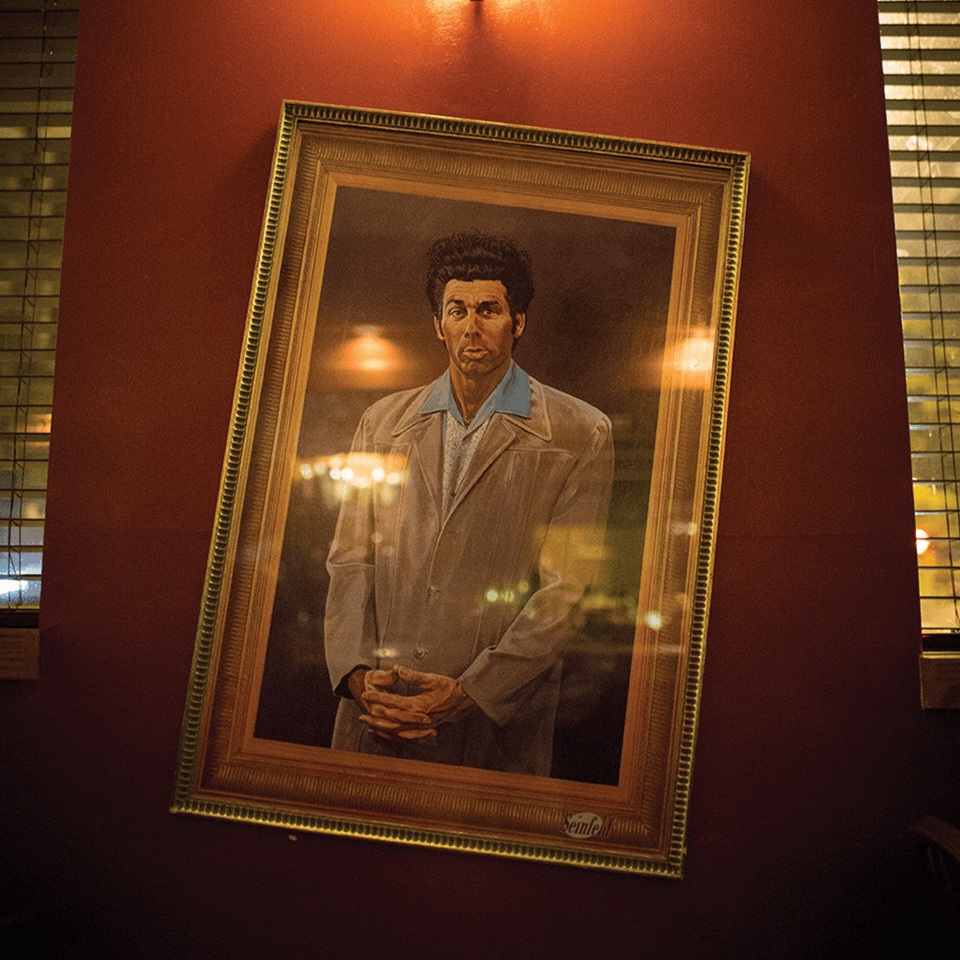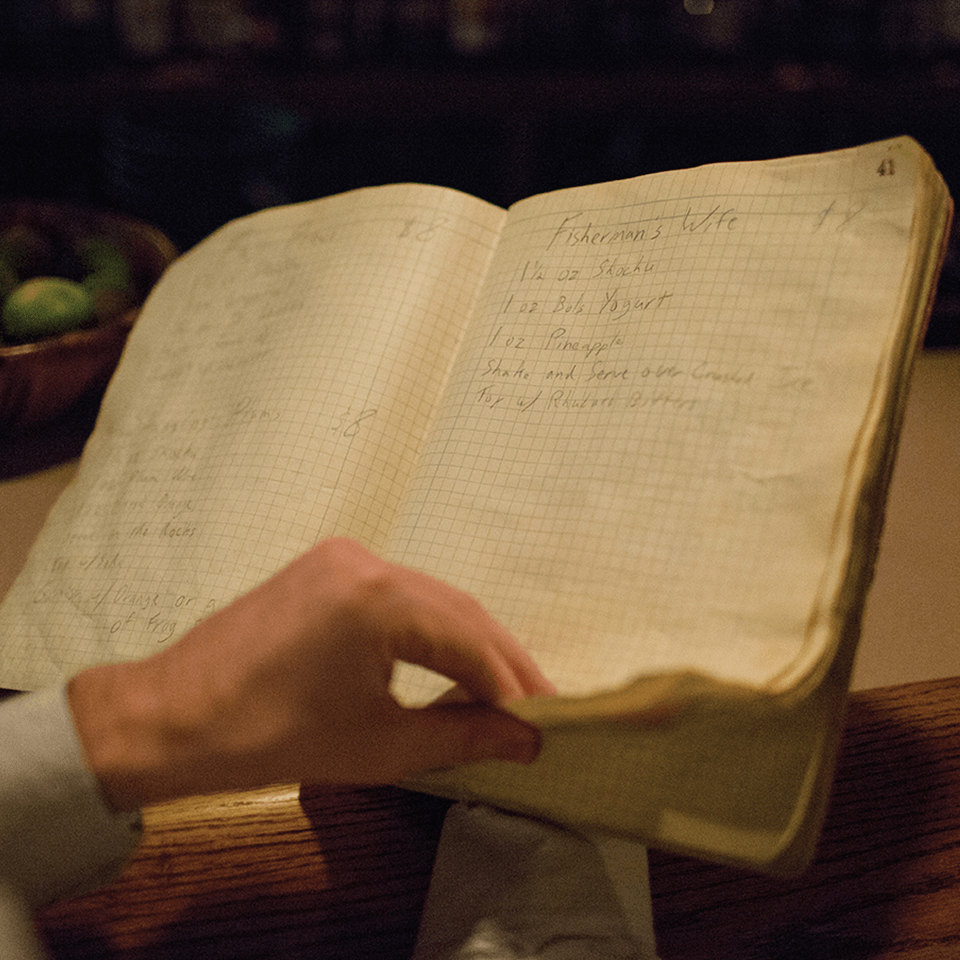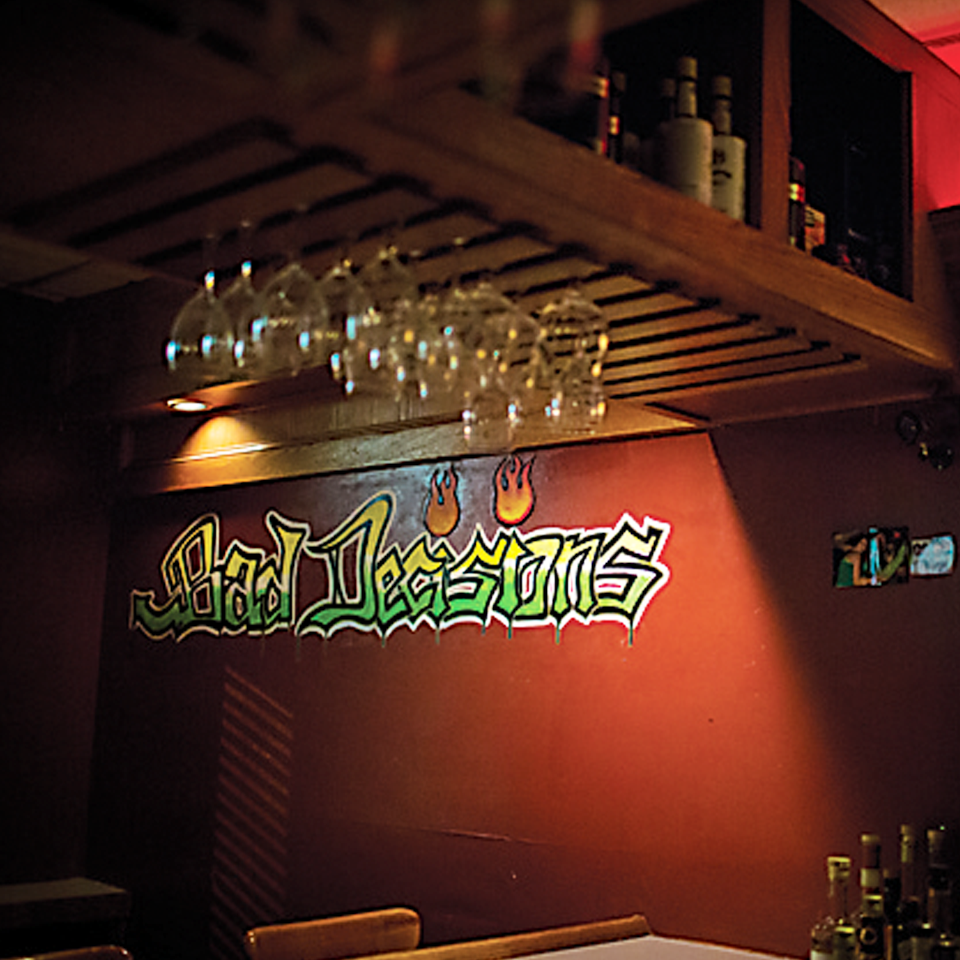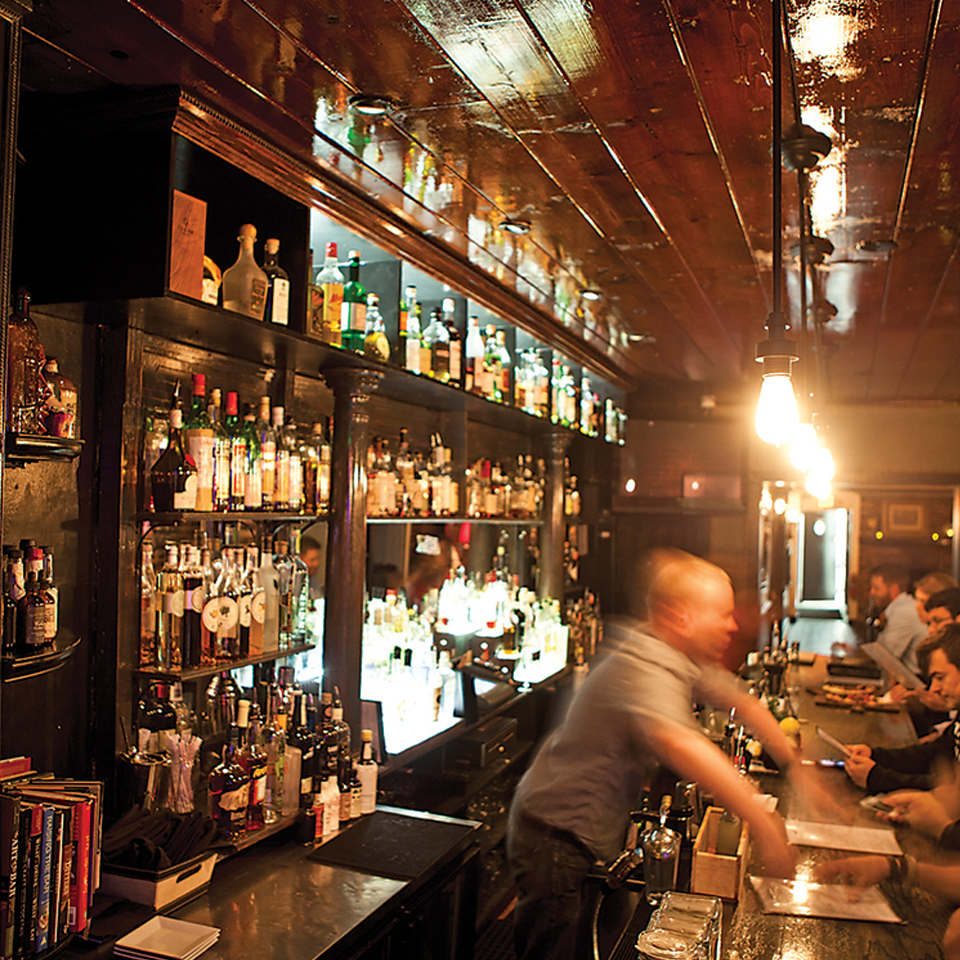 ➤

The bar bible at Bad Decisions. Kramer a bit askew at Bad Decisions. Kramer a bit askew at Bad Decisions. Perusing the cocktail menu at Bad Decisions. Guests enjoying the scene at Bad Decisions. Bad Decisions' graffiti-esque logo. The bar scene at Rye.
Tales From The Bar Crawl"One of the weirdest bar crawls I've seen come through was sausage-themed. They would go around to locally owned sausage makers, buy some, then go to a nearby bar and eat it. But it's always nice if groups can call ahead of time to warn us. And always, always bring cash."John Reusing, owner, Bad Decisions
---
Federal Hill/Riverside
---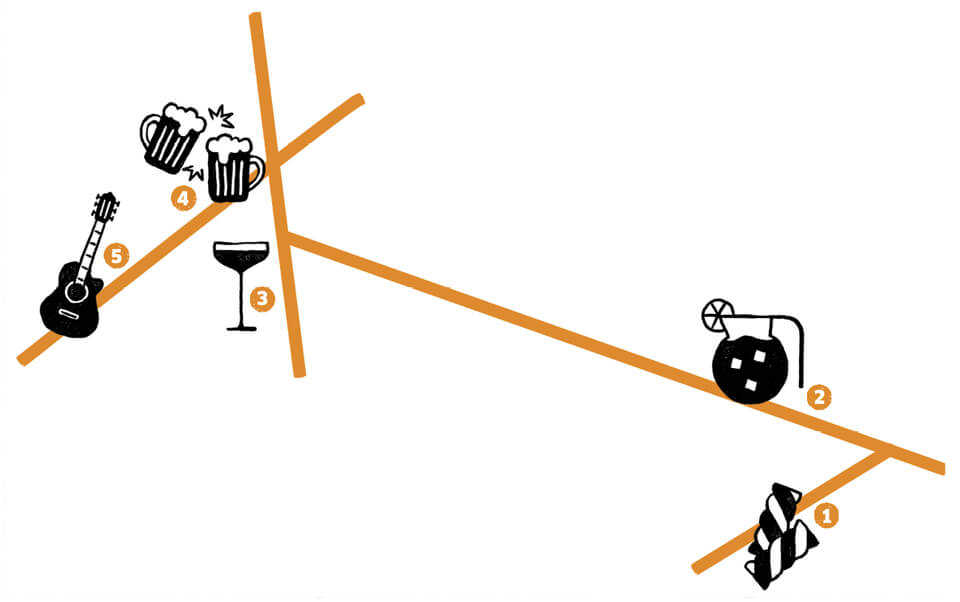 Careful planning is necessary in order to orchestrate a bar crawl from Riverside to Federal Hill that includes the best of the neighborhoods—waterfront views, craft cocktails, and live music—while avoiding the late-night craziness that can come with the territory. We started our Saturday evening with popcorn and cocktails at Bar Liquorice (801 E. Fort Ave., 443-708-1675). Open for just over a year, this Riverside hangout has already attracted a cadre of neighborhood regulars. After a cocktail, we snacked on Good & Plenty's, Red Vines, and other licorice treats at the bar while owner Jeff Cahill (formerly of Gypsy Queen food truck fame) kept our popcorn bowls full before offering up a taste of his famous Nutella bread pudding dessert.
From there, we crossed Key Highway on our walk to Little Havana (1325 Key Hwy., 410-837-9903), where we ate Cuban-inspired chicken, rice, and fried plantains on the patio overlooking the harbor. A mojito pitcher was just right for our group of four, and we polished it off before heading inside for a game of shuffleboard. The just-under-a-mile walk almost took us right past Bookmakers Cocktail Club (31 E. Cross St., 443-438-4039), which is easy to miss, since it's as inconspicuous as a speakeasy. After taking our seats between two smartly dressed couples at the bar, we admired the well-named cocktails, then ordered the Last Night in Oaxaca with mezcal, Ring of Fire with a house-made habanero tincture, and Heart Shaped Box with prosecco and thyme. Needless to say, these were cocktails done right.
We then crossed the street to Pub Dog Pizza & Drafthouse (20 E. Cross St., 410-727-6077), and wound up on the second floor of the bar and pizza joint. We ordered the bar's signature two-for-one 8.5-ounce mugs of microbrewed beer, and our group traded sips of the fruity drafts, instantly mixing up our drink choices. Our last stop, Mum's (1132 S. Hanover St., 410-547-7415), is a dive bar sandwiched between two rowhomes on a quiet street. When the bartender heard that two of us were first-timers, she recommended the No. 1 special, a Natty Boh with a shot of Evil (a sweet house-made liquor with ginger, cinnamon, and cloves), which got a ringing endorsement from a couple at the bar. We downed the drinks and took a seat to listen to a rock-folk musician as the shot's warmth spread to our bellies.
How to get around: A well-timed Charm City Circulator bus. Late-night food: The Local Fry (21 E. Cross St., 410-244-1283) for buffalo chicken or bánh mì fries.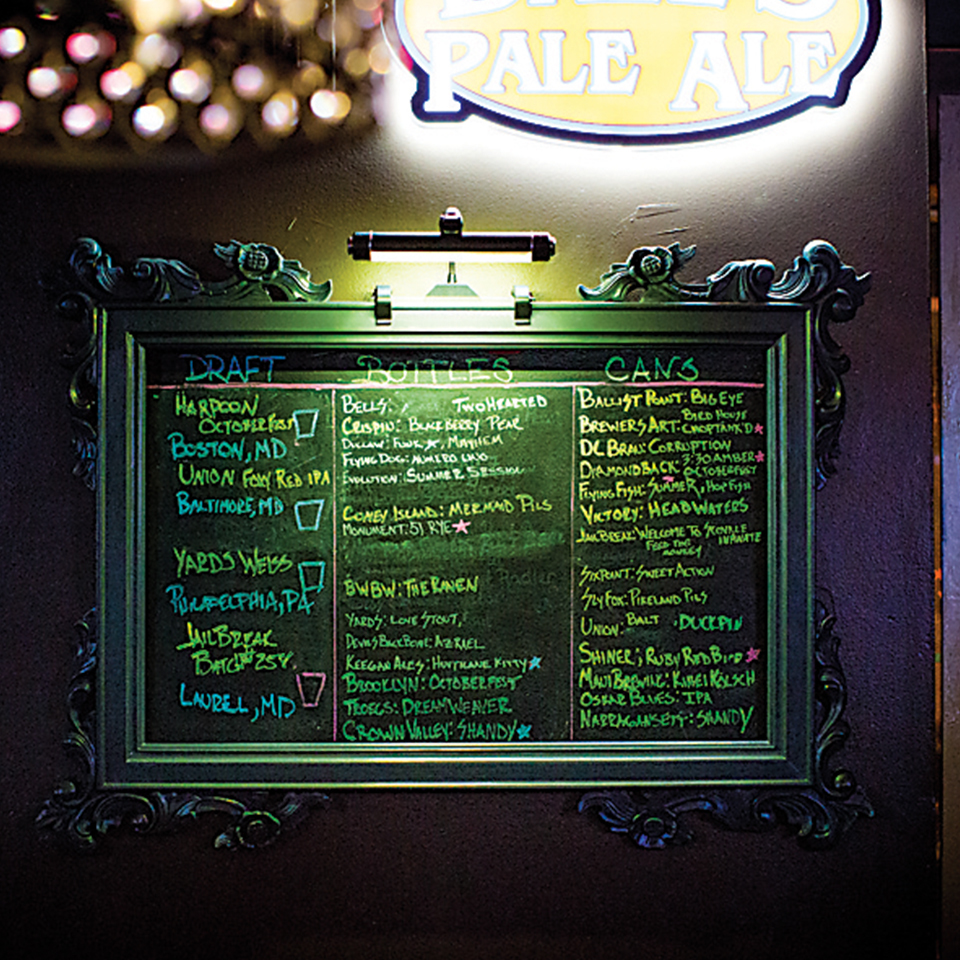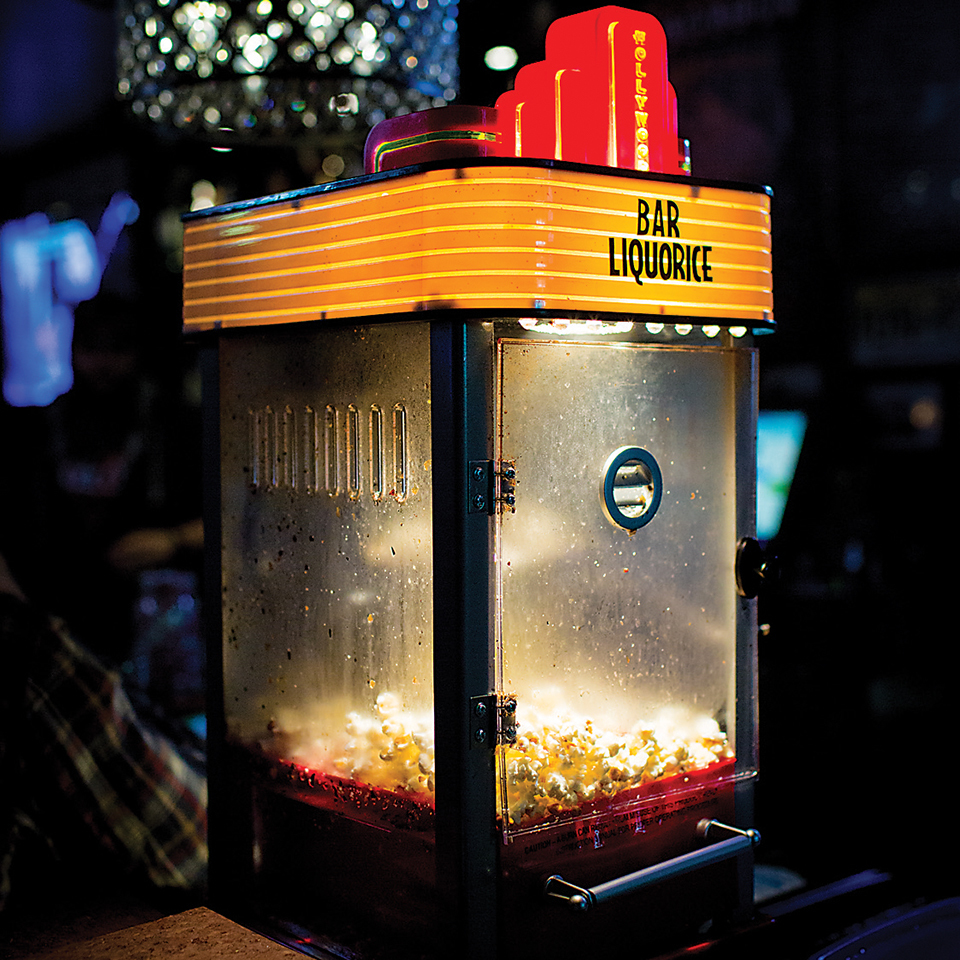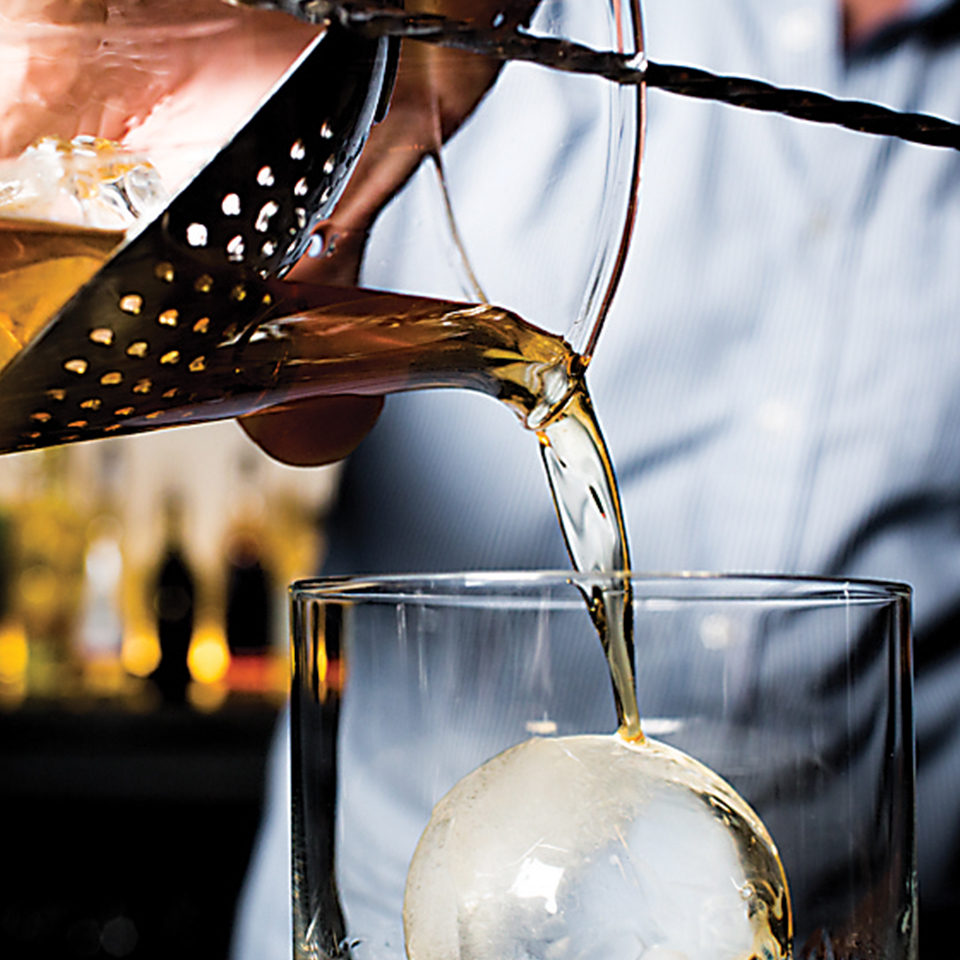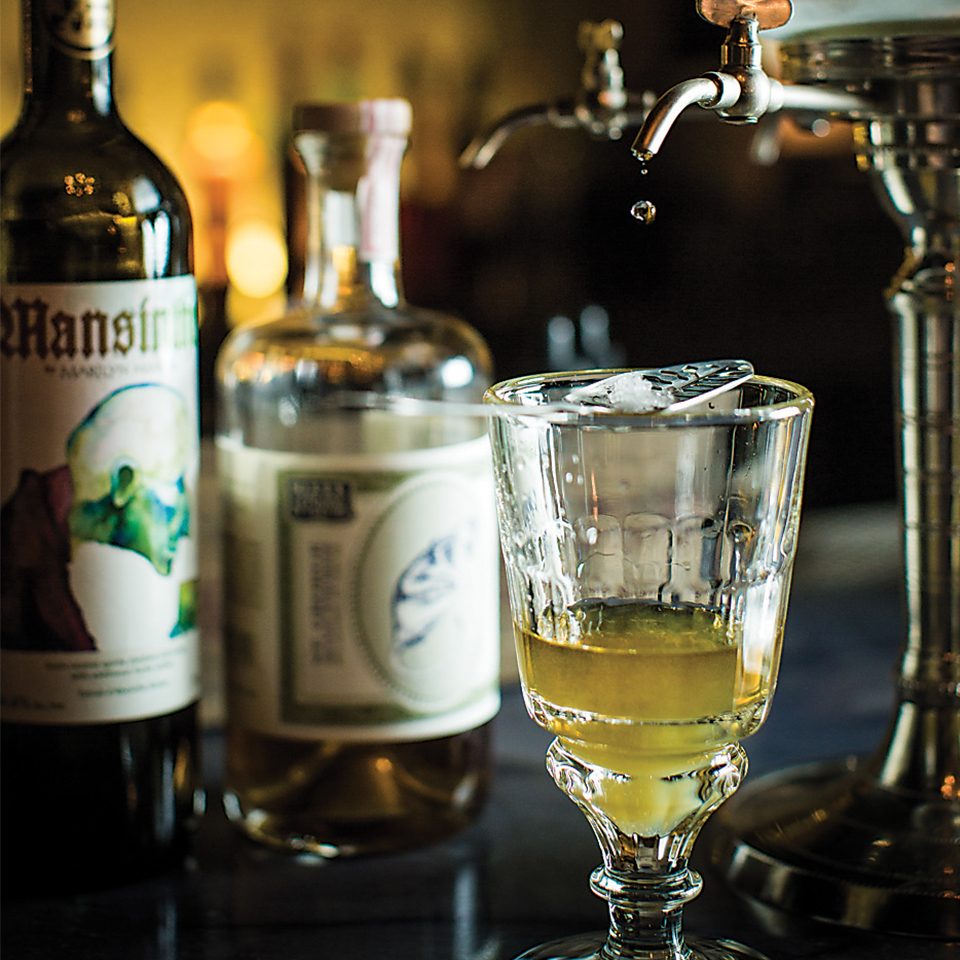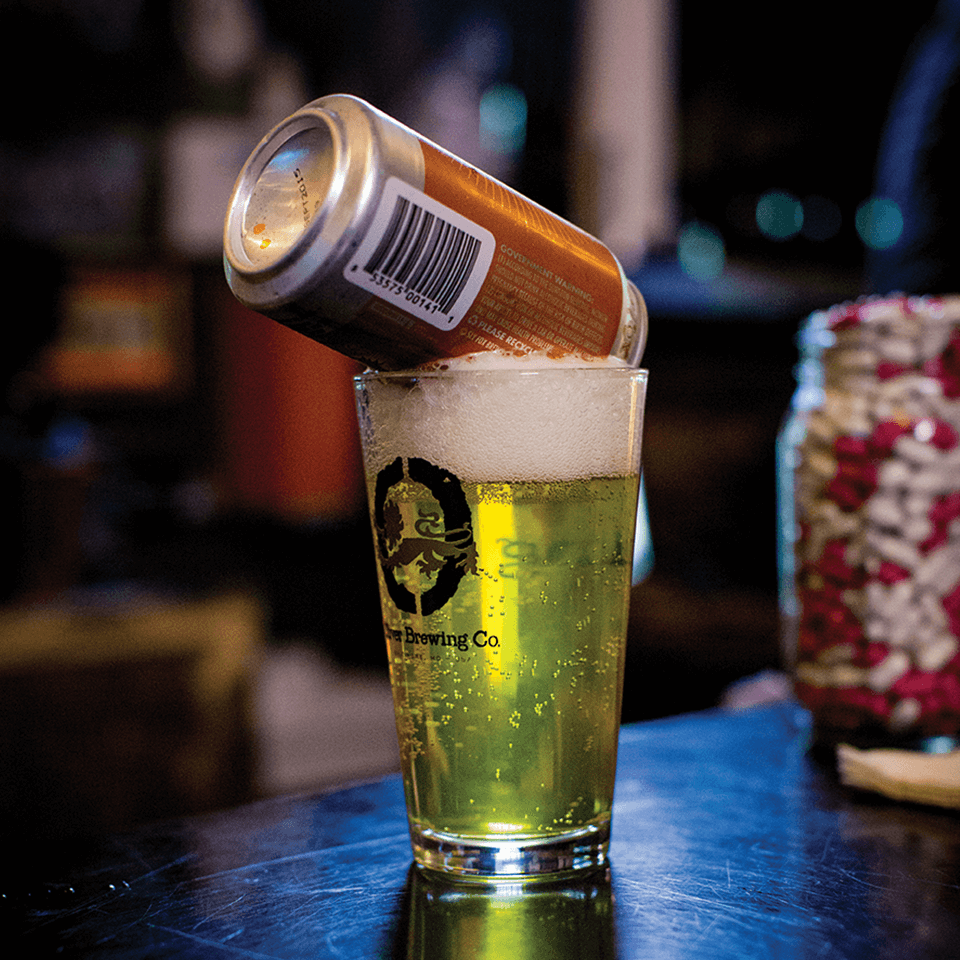 ➤

Booze at Of Love & Regret. A Stillwater draft. Toasting at Cardinal Tavern. Pub grub at Cardinal Tavern. Pouring shots at Cardinal Tavern. Wall art at Of Love & Regret.
---
BOTTLE CAP QUIZ
Test your I.Q. with the famous Natty Boh bottle cap pictograms.
---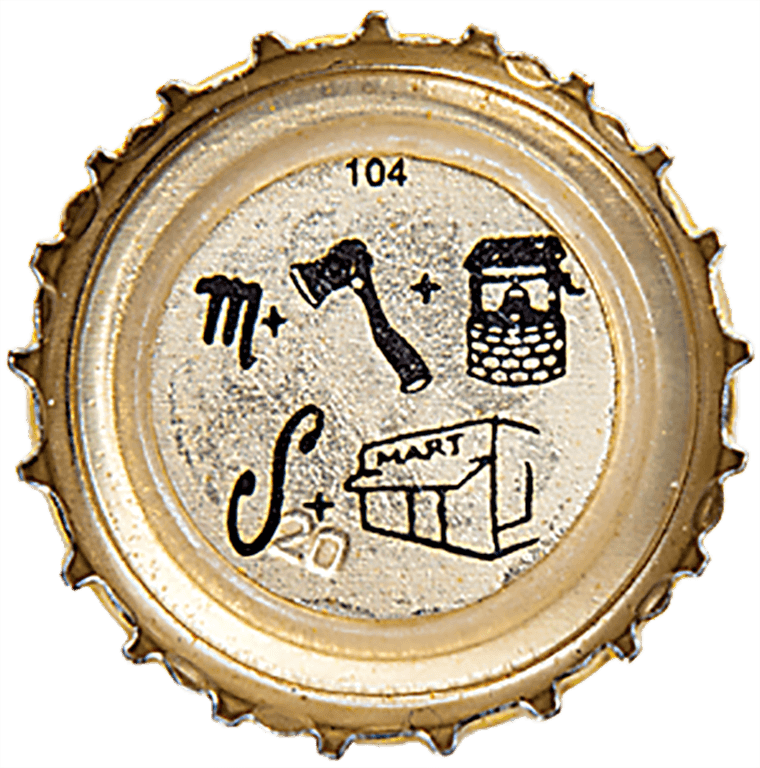 1. Hint: 1960s TV show character.
ANSWER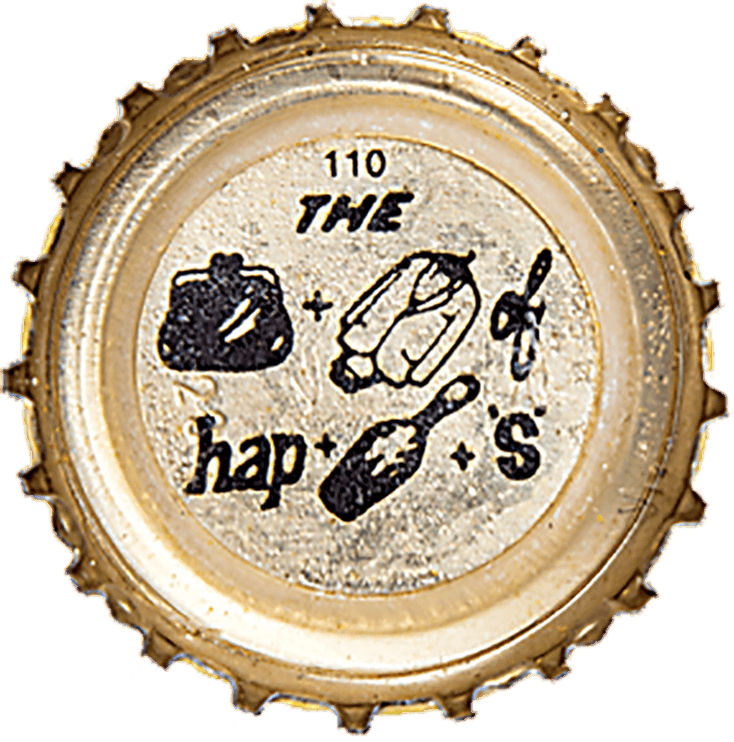 2. Hint: It's a fundamental right.
ANSWER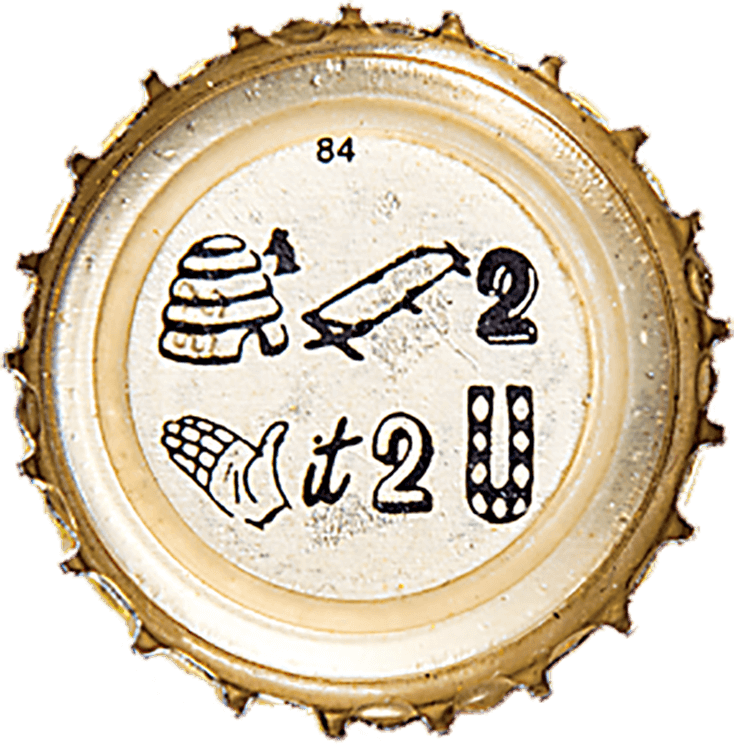 3. Hint: Giving high praise.
ANSWER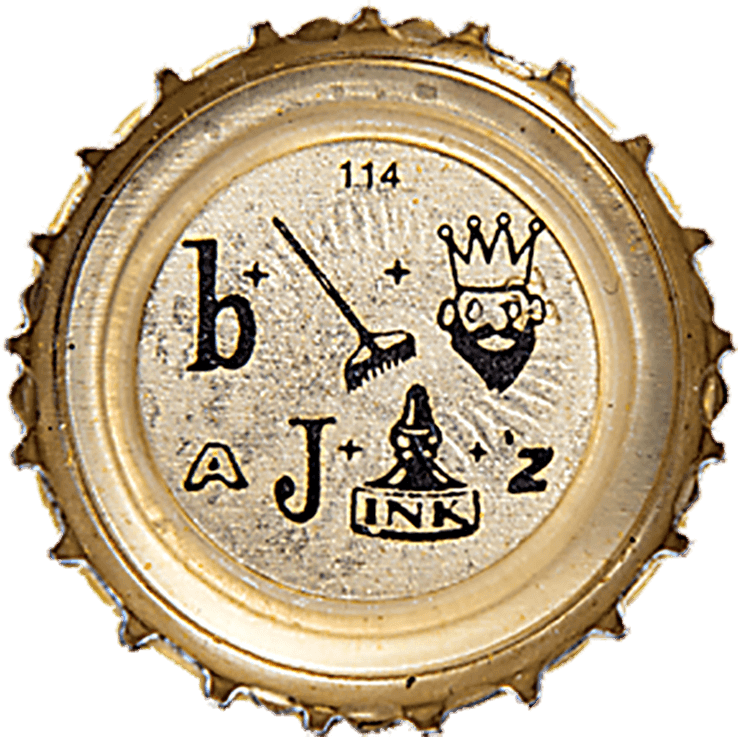 4. Hint: Very superstitious.
ANSWER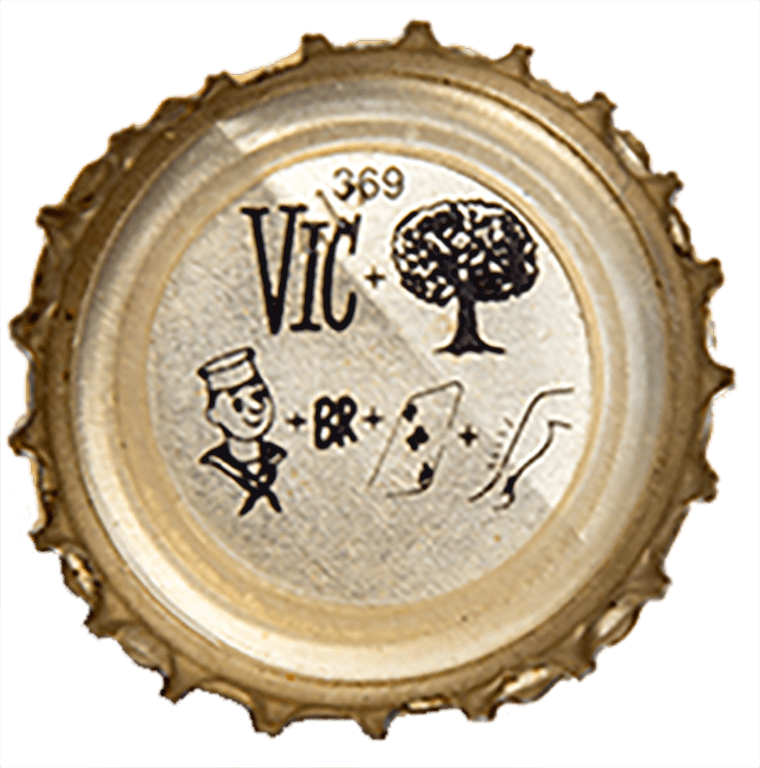 5. Hint: Party after a win.
ANSWER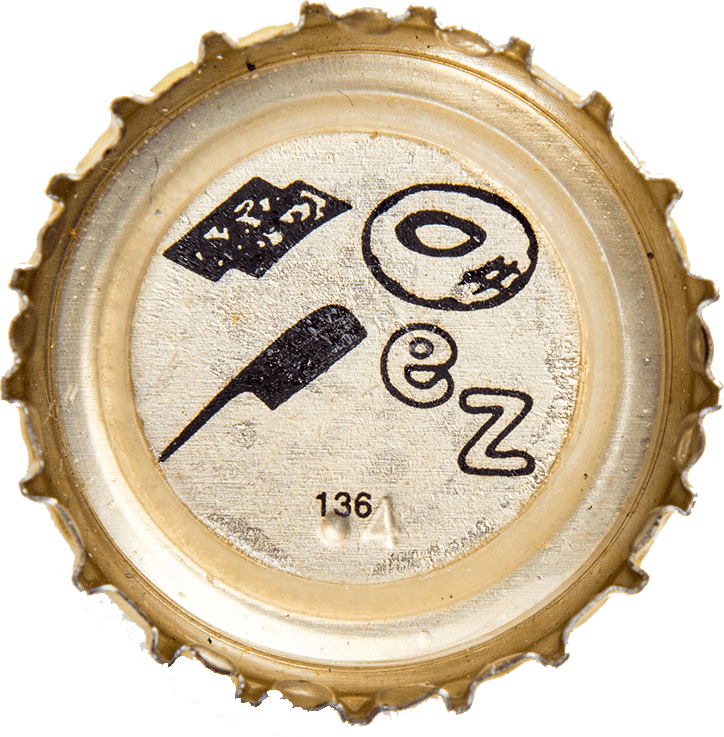 6. Hint: Keep your day job.
ANSWER
---
Ellicott City
---

A day of drinking can turn real ugly real fast if it starts without a proper pregame meal, so we began our Saturday afternoon at The Phoenix Emporium (8049 Main St., 410-465-5665). Its renowned burgers, made using beef from J.W. Treuth & Sons butcher less than two miles away, are juicy and flavorful without being greasy. (Tip: Avoid fried or super-filling foods before a boozing marathon.) We washed them down with an ice-cold Sierra Nevada, one of more than 100 bottled beers from around the world offered at this tap-less gem.
Our bellies fortified and our livers sufficiently lubricated, we walked a few blocks east to The Trolley Stop (6 Oella Ave., 410-465-8546). Housed in a lovely stone building erected in 1833, the exposed wood-beam ceiling and wooden paneling above the bar give it a cozy feel. TVs were tuned to football games but set to mute, so we chatted with a regular about the merits of the Reuben sandwich (his looked delicious) while we downed Yuengling lagers. (It's best to take a break from 8-percent IPAs if you want a bar tour to last more than two stops.) Emerging back into the bright sunshine, we dodged pedestrians on Main Street before veering off to The Diamondback Tavern (3733 Old Columbia Pike, 410-313-8530), a no-frills joint where we quaffed pints of Baltimore-brewed Diamondback 3:30 Amber Ale (no relation) to the strains of Tom Petty.
Our next stop was Ellicott Mills Brewing Company (8308 Main St., 410-313-8141) where a flight of four 5.5-ounce samples of their suds brewed on-site ran $7.50. A young woman next to us asked the bartender for a beer rundown, and—after patiently waiting through a spiel that included the intricate characteristics of weizenheimers, marzens, and dunkels—promptly proclaimed, "I'll have a Beam on the rocks." By now we had to consciously remind ourselves to look both ways before crossing the street on our way to The Judge's Bench (8385 Main St., 410-465-3497), housed in a stone building that's rumored to be haunted. Feeling spook-free, we admired the handsome semi-oval brick bar, solid lineup of 17 rotating taps, and hundreds of whiskies that have justifiably made it an E.C. staple.
How to get around: On foot, just be sure to look both ways. Late-night food: We craved grease, so we headed to BonChon Chicken (3419 Plum Tree Dr. No. 102, 410-465-0515), which serves mind-bogglingly crispy Korean-style drumsticks and wings until midnight.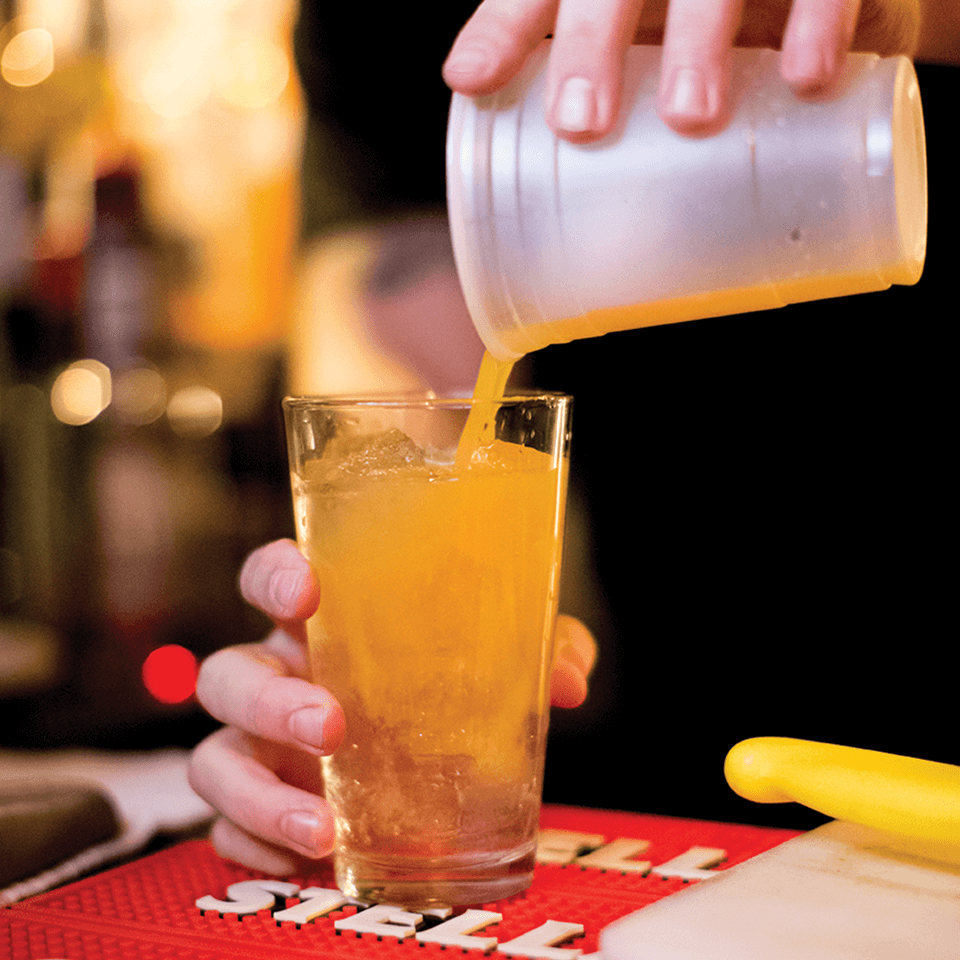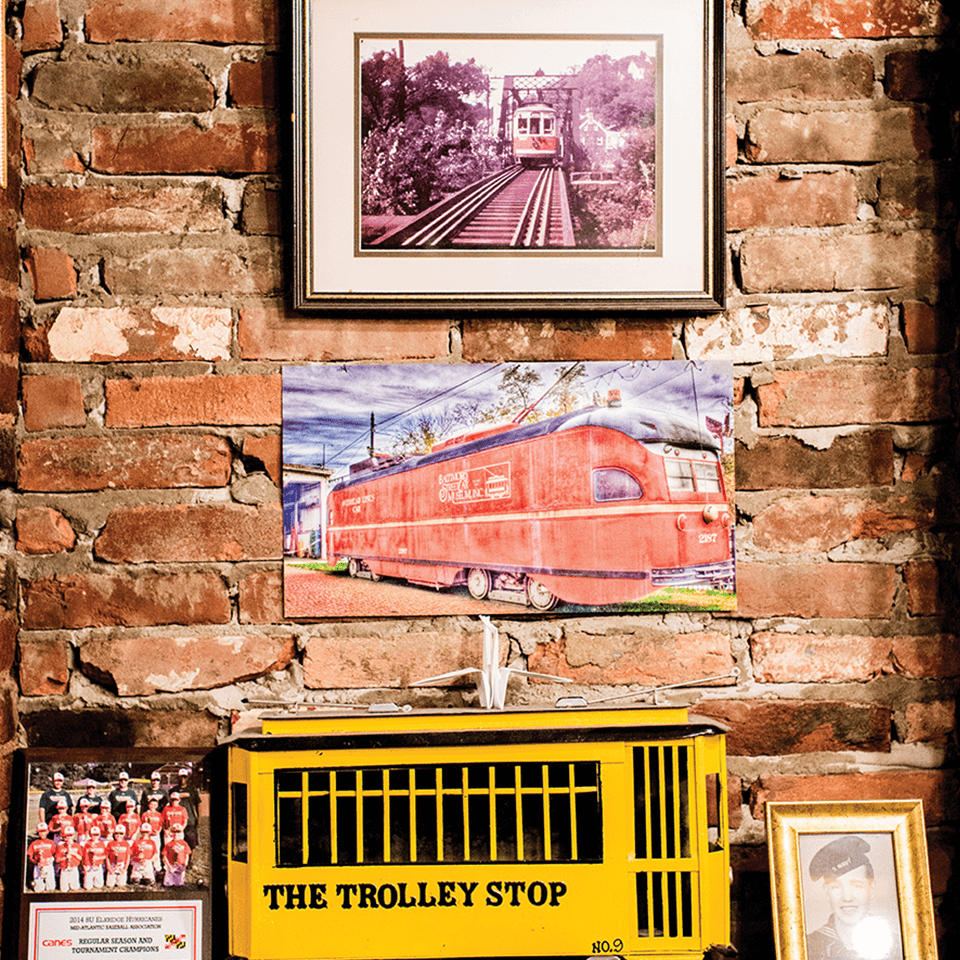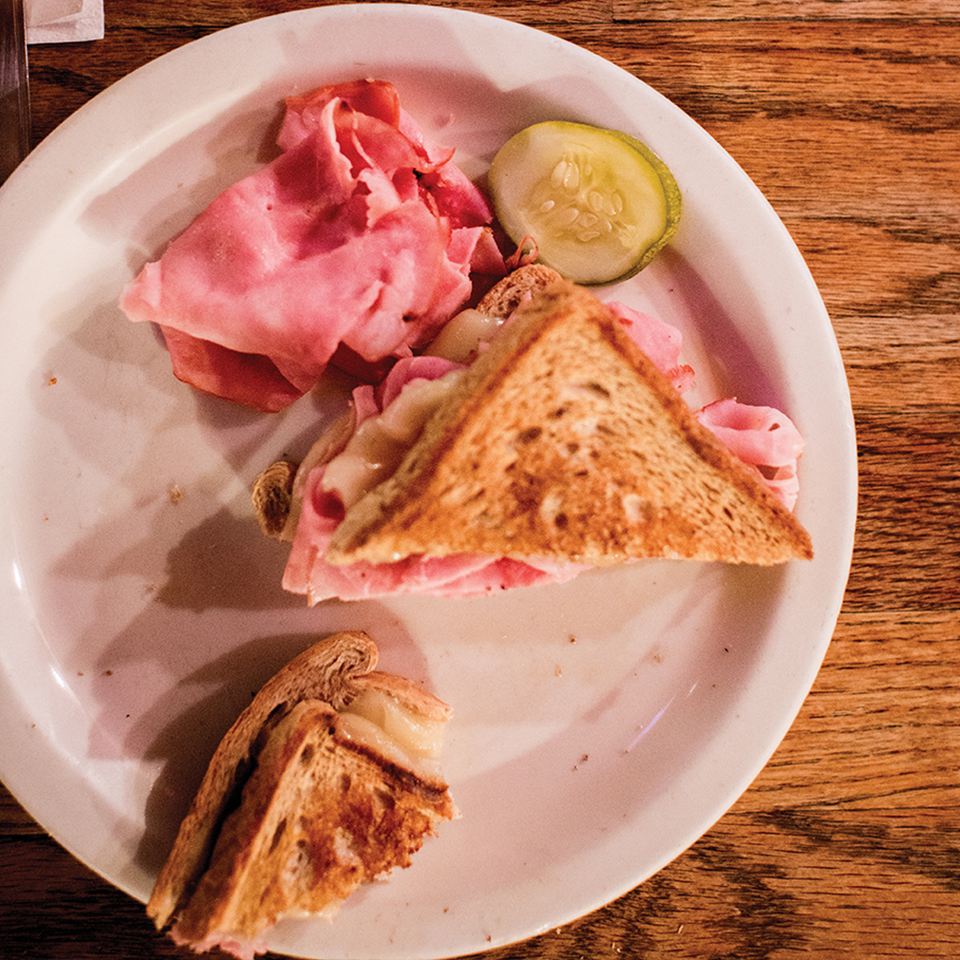 ➤

Diamondback's Orange Crush. Streetcar decor at The Trolley Stop. Stone exterior of The Trolley Stop. Clipboard menus at The Diamondback Tavern. A reuben at The Trolley Stop.
Tales From The Bar Crawl"There was a bachelorette party for a woman in her mid-50's. This tour had women come from all over the East Coast to celebrate and they had been friends for over 25 years. They sang and danced to Motown, pedaled and drank the night away, and retold old stories about life and love. Talk about goals!"Amanda Davis-Eriksen, driver, 16-person bike, Charm City Pedal Mill
---
Harford Road
---

No less an authority than John Waters once called Harford Road "the sexiest neighborhood in Baltimore." Maybe that's a bit of a stretch, but Northeast Baltimore's main thoroughfare does have its own appeal. We started at Koco's Pub (4301 Harford Rd., 410-426-3519), the canary yellow corner restaurant at the southern tip of Lauraville. Because we're not fools, we ordered two of Koco's show-stopping crab cake platters and sipped a Traveler pumpkin shandy before wobbling off to our next stop feeling toasty and plump, just like the crab cakes.
A five-minute stroll north and we arrived at Lauraville House (4528 Harford Rd., 410-444-6664), another bar/restaurant, this time specializing in barbecue. We weren't here for the 'cue though. No, we came for the Friday night karaoke. So we downed our Dogfish Head IPA and Angry Orchard cider, belted out a Fleetwood Mac classic, mic dropped, and caught a ride about a mile north to Hamilton Tavern (5517 Harford Rd., 410-426-1930), which opened in 2008 but still seems so of-the-moment with its farm-to-table menu, rotating craft brew drafts, and artisan-chic décor. As usual, it was packed, but, after a short wait, we managed to snag a table, at which we sipped an Oliver's Modern Life Is Rubbish porter with notes of black coffee and licorice hearty enough to fortify us against the chilly fall air.
Our next stop was Freddie's Ale House (7209 Harford Rd., 410-254-8373)—better known to a generation of patrons as Dead Freddie's, a dive bar renowned for its wings and bad attitude. The new owners have ditched the attitude but kept the wings, and added an emphasis on craft beers, including local labels such as Union Craft and Key Brewing. A modest makeover has opened up the space, which features a plethora of video and bar games in the back.
From there, it was just a hop, skip, and a jump over the county line to Racers' Cafe in Parkville (7732 Harford Rd., 410-665-6000). We marveled at the chalkboard menu detailing the scores of Belgian-style ales available, gaped at the separate chalkboard menu enumerating the 15 beers on draft, and scoured the lengthy bourbon and scotch menu for a suitably stiff pour. Though it all sounds very hipster-chic, it has been family-owned and operated since 1944. Just like the rest of the Harford Road scene, Racers' transcends trends—and there ain't nothing sexier than that.
How to get around: You'll mostly want to Uber it or find a designated driver. Late-night food: Open 24 hours, Valentino's (6627 Harford Rd., 410-254-4700) has a novel-length menu, but go straight for the pies and cakes glistening in the dessert case.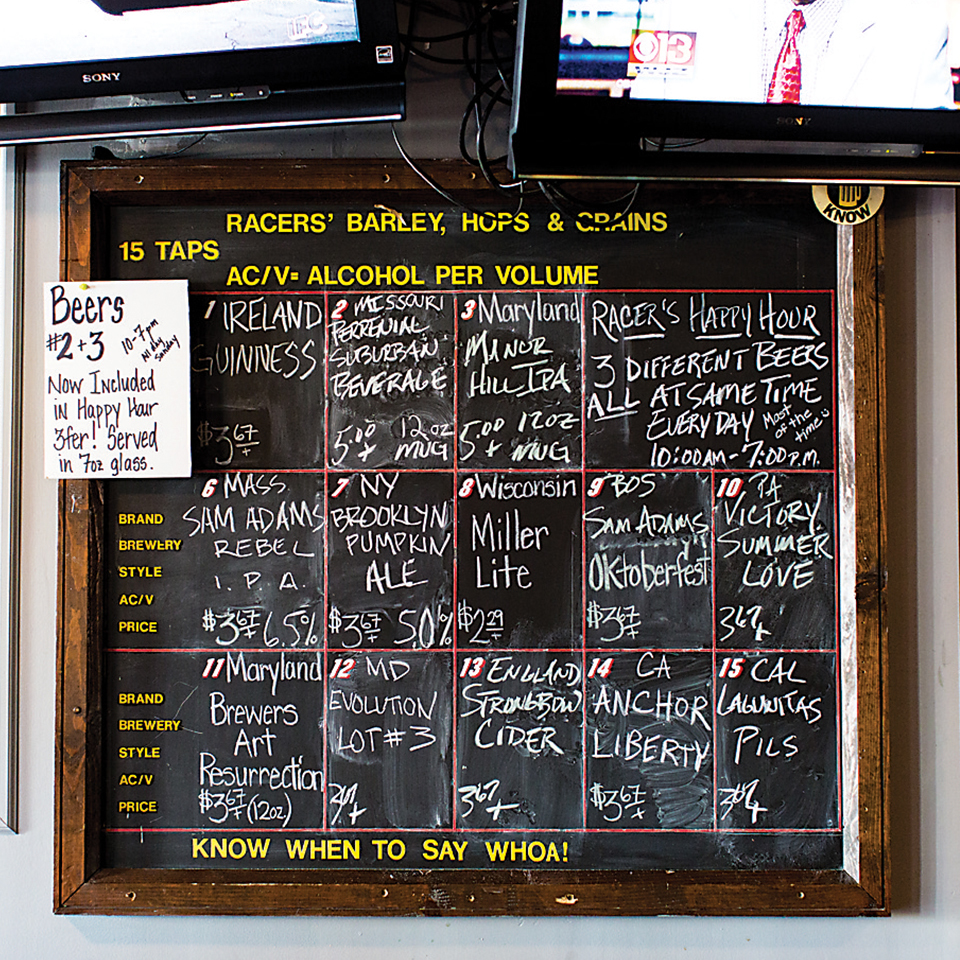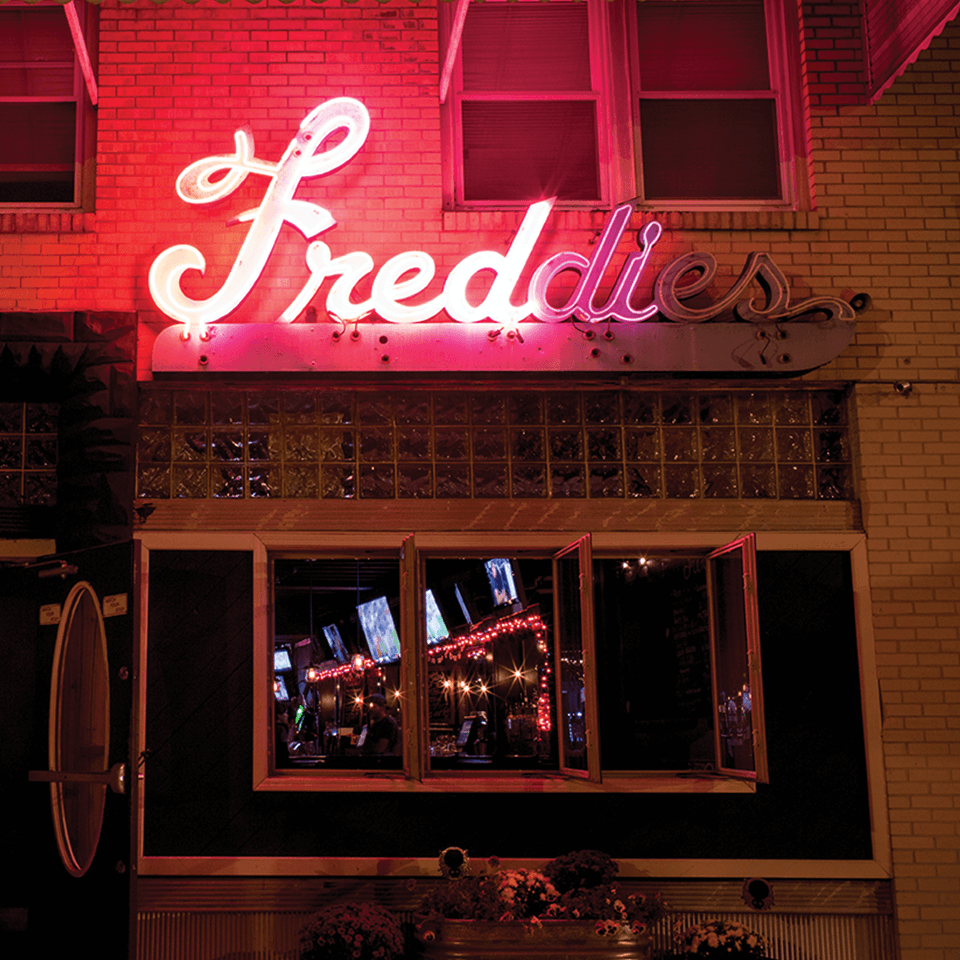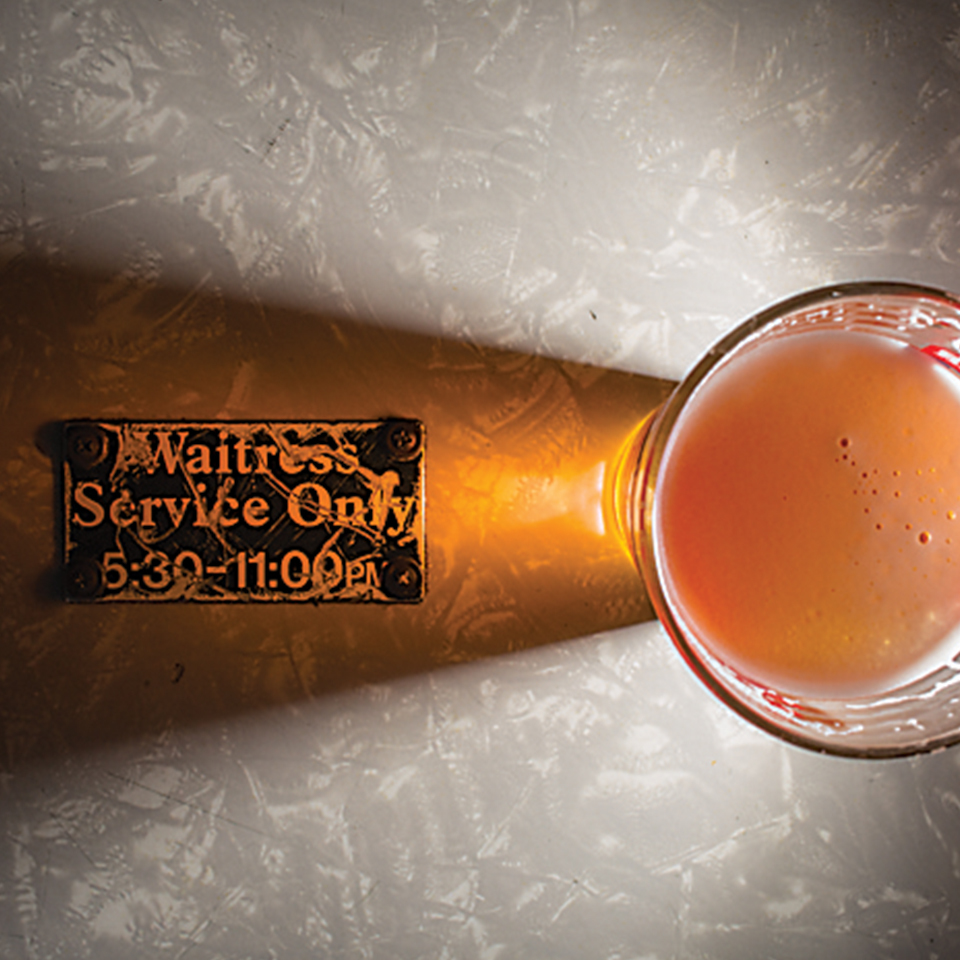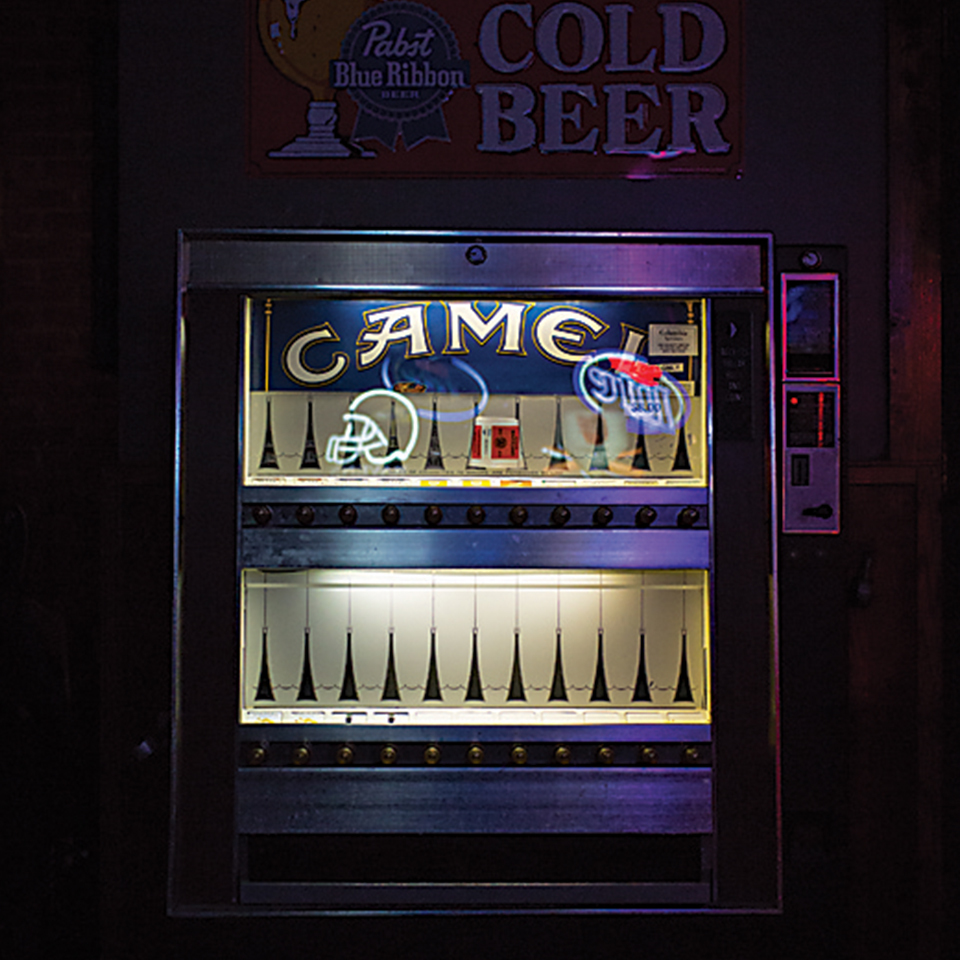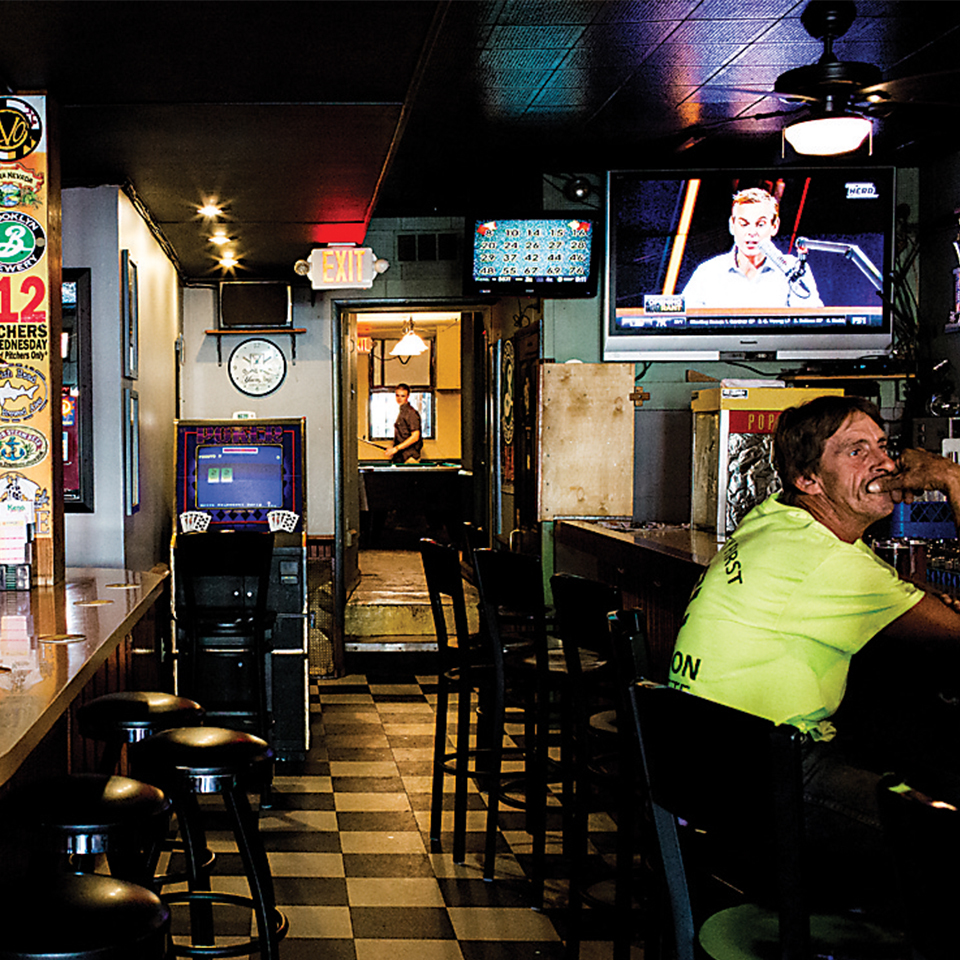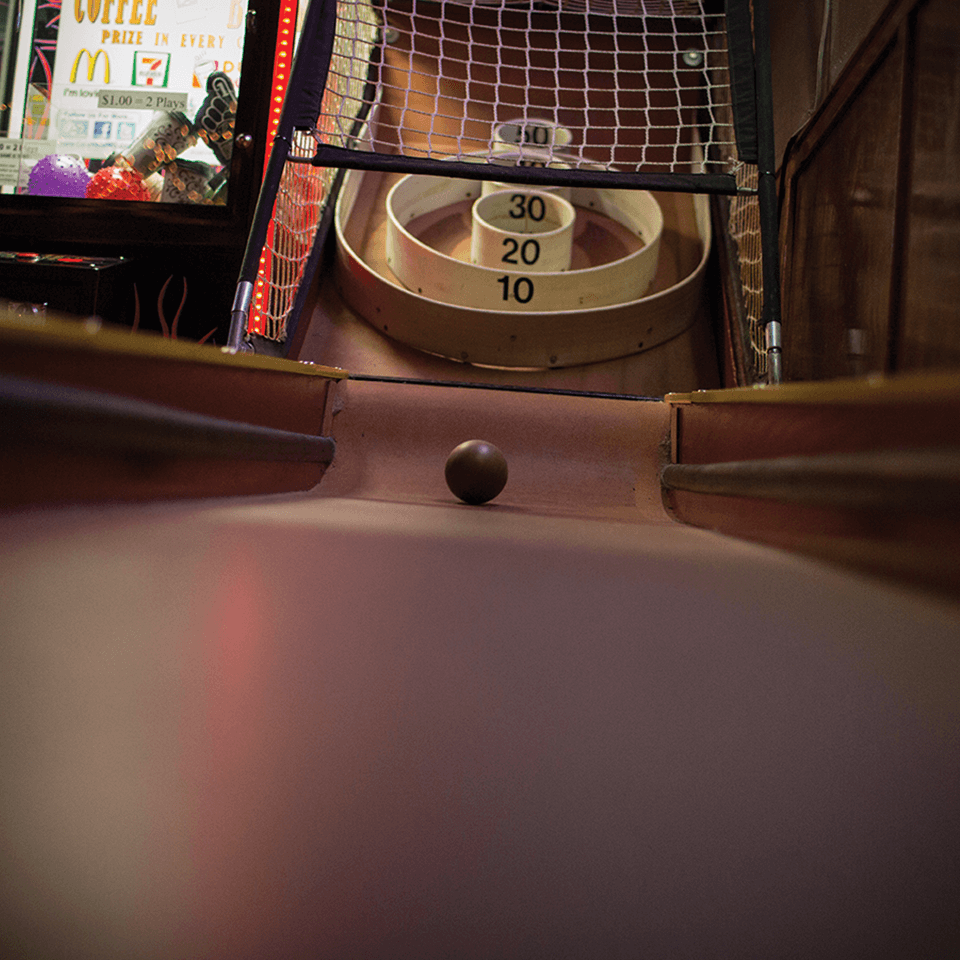 ➤

Chalkboard at Racers'. Freddie's a bit faded. Beer at Freddie's. Cigarettes at Freddie's. A Racers' regular at the front bar. Skee Ball at Freddie's.
Tales From The Bar Crawl"We see folks all the time who use the taxi to save on parking and to avoid getting arrested. But check the schedule! Sometimes people think that we run 24/7, but we close before the bars let out. If you aren't sure you'll make it back before then, buy a one-way ticket." Frank "Sonny" Novak, five-year Baltimore Water Taxi captain
---
Hampden
---

Whether you're the craft cocktail type or just looking for a barstool to enjoy a Boh, Hampden offers a multitude of options within walking distance. We started our crawl at Blue Pit BBQ & Whiskey Bar (1601 Union Ave., 443-948-5590), which has a lived-in feel despite being less than two years old. From bucket stools at the bar, we sipped rye-based cocktails like the Riverboat Sour, mixed with kumquat shrub, mint, and house sour, before heading to the back patio for some grub. We polished off the last of a Big Dawg sandwich (chopped brisket, sausage, red chili slaw, and pickles—for the indecisive), then walked off the calories with a 10-minute trek to Other Corner Charcuterie Bar (850 W. 36th St., 443-869-5075).
This space in the back of the Corner restaurant can get crowded, but we snagged a couple of wood-barrel tables and took our picks from the post-Prohibition side of the cocktail menu, which favors drinks of the more complex variety. By now we were ready for a beer, and thankfully our next stop took us to De Kleine Duivel (3602 Hickory Ave.), a Belgian beer hall just off The Avenue. A crowd spilled out from the neighboring Gallery 788 exhibit, skewing the patrons a bit more artistic than usual. Watching the bartender pour our beers into the brewery's branded glass and scrawl our orders onto slips of paper rather than a glowing screen added to the hall's old-world charm. One of the last places to see live music in the neighborhood, Holy Frijoles (908 W. 36th St., 410-235-2326) is a popular hangout for folks in the industry. Our window booth offered ample people-watching opportunities on 36th Street as we sipped on house margaritas to the clink-clink of pinball machines in the back. Like many bar-goers on the street, we ended our night at Frazier's on the Avenue (919 W. 36th St., 410-662-4914), a massive space with two bars and a vintage-Baltimore vibe thanks to Memorial Stadium and Colts memorabilia plastering the walls. Bohs in hand, we played pool to a leather-jacket-wearing couple's pick from the jukebox, Michael Jackson's "Beat It." After a few more drinks, we decided to do the same.
How to get around: This compact crawl is perfect for walking. Late-night food: The take-out window at Golden West Cafe (1105 W. 36th St., 410-889-8891) with chicken tacos and Nutella waffles is open until 2 a.m. on weekends.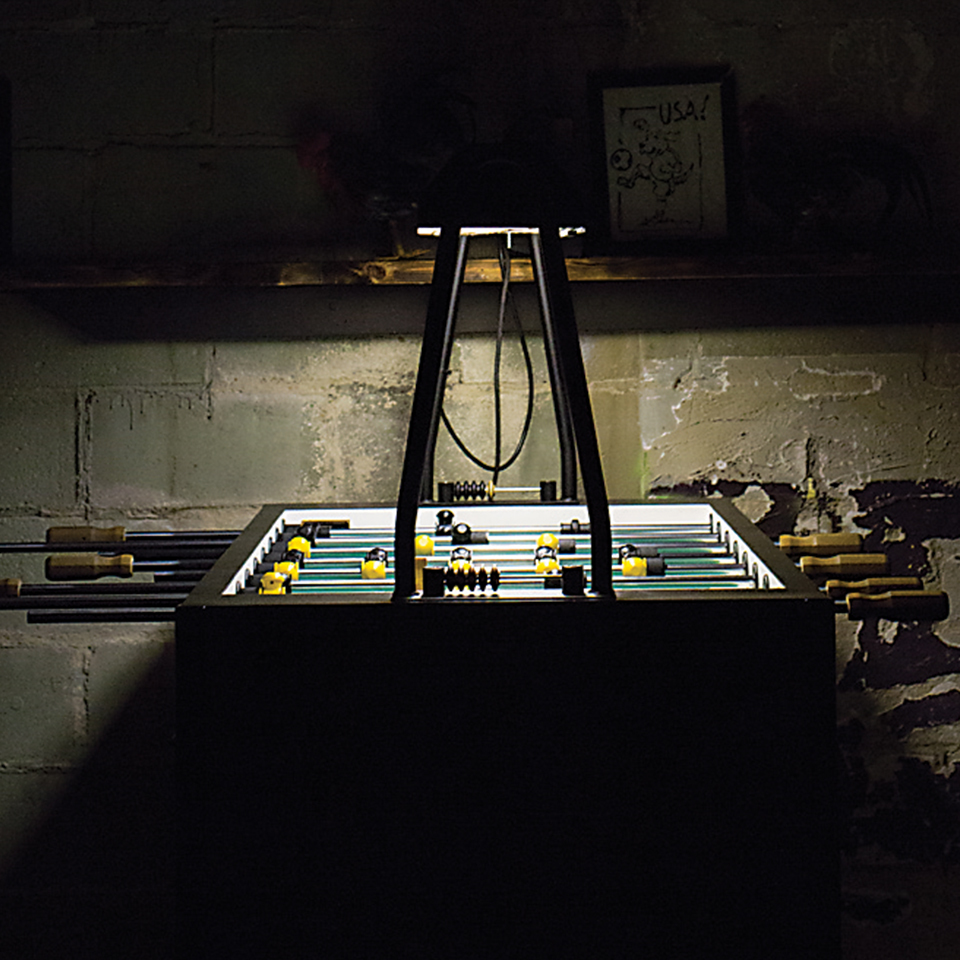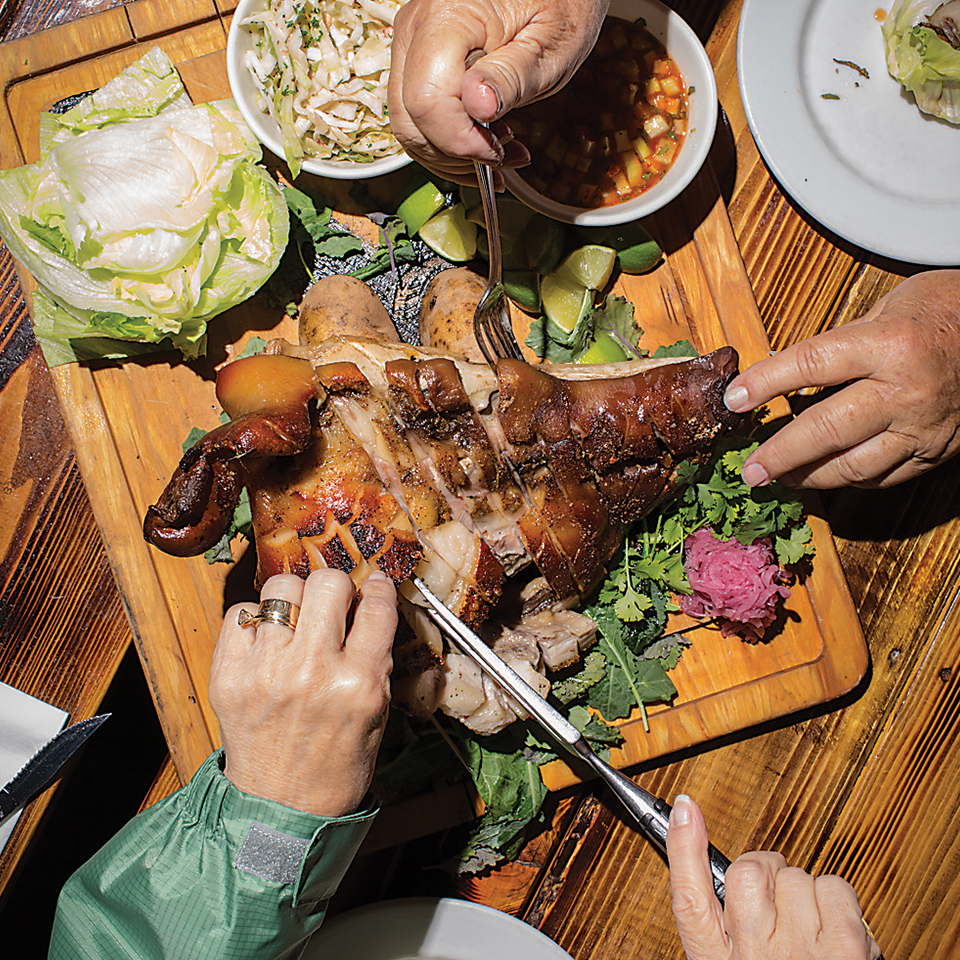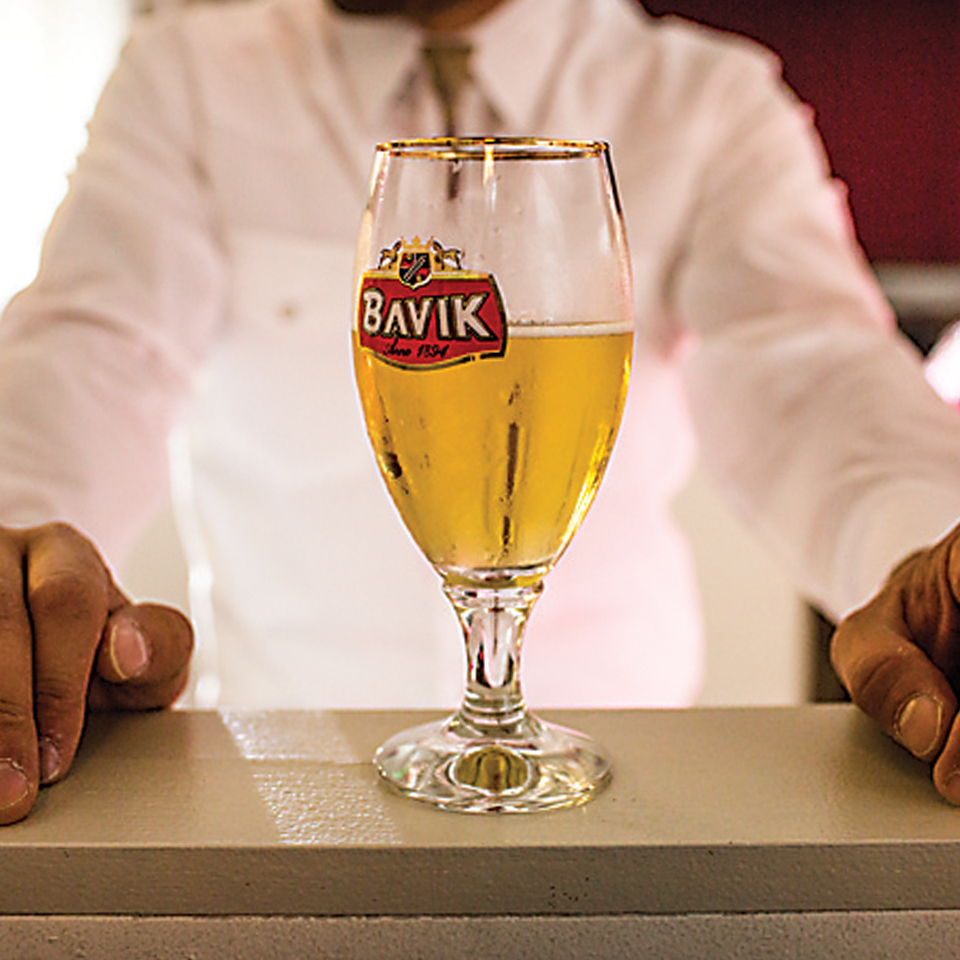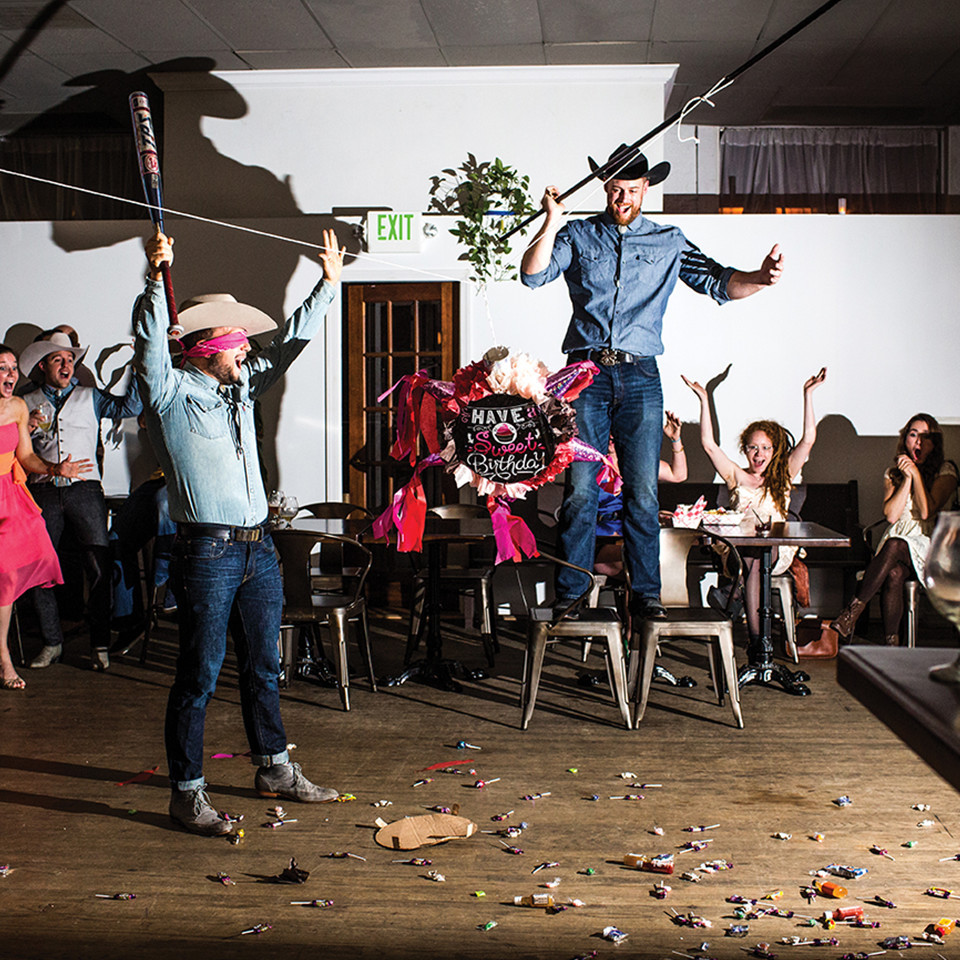 ➤

Foosball at Other Corner. A roasted pig's head at Other Corner. De Kleine Duivel's Belgian beer selection. De Kleine Duivel's Belgian beer. De Kleine Duivel's clientele. Chemistry and cocktails at Other Corner.
Tales From The Bar Crawl"They're drunk. Sometimes they forget what they're doing. They steal the condiments. They steal the lemons. They fight with the lemons. Sometimes we turn around and they steal the tip [jar]. We have two people working at night: one taking orders, one guarding the tips." Carlos Martinez of The Pretzel Twist stand in Fells Point
---
Downtown/Mt. Vernon
---
If you've outgrown the rowdiness of, say, Federal Hill or Fells Point, but you're not ready to resign yourself to a night of boxed wine and Netflix, Mt. Vernon offers the perfect happy medium—an eclectic mix of bars to suit all energy levels. We started our crawl with one of the city's best burgers at Alewife ( 21 N. Eutaw St., 410-545-5112), the Westside gastropub cater-corner to both the Everyman and Hippodrome theaters. Oxblood walls, wrought-iron fixtures, and a winding wooden staircase speak to the building's 1800s origin, but the drink menu is au courant with cocktails featuring on-trend ingredients. Try The Baltimore Sour made with Pikesville Rye, Domaine de Canton ginger liqueur, sour mix, and a malbec float. Next, we headed four blocks east to the swanky B&O American Brasserie (2 N. Charles St. 443-692-6172). Located off the lobby of Hotel Monaco, B&O's bar/lounge pioneered the now-ubiquitous craft cocktail trend in Baltimore. We dithered over the many tempting suggestions on the clipboard menu, but ultimately opted for the Nux Alpina Mule, made with Applejack, walnut liqueur, house bitters, lime, and ginger beer—it tasted like fall in a glass.
From there, we walked a brisk half-mile up Charles Street to arrive at Sugarvale (4 W. Madison St., 410-609-3162), a new basement bar from the folks who run Dooby's around the corner. With walls of white subway tile and old-fashioned light bulbs, Sugarvale's vibe is very East Village bistro. Accordingly, we ordered some wine (including a buttery chardonnay the bartender called a "soccer mom white") and some noshes. Our spread of crusty bread, house-made boursin, apple butter, pickled cherries, and a mini crème brulée in a chocolate-cookie crust arrived on a wooden cutting board and was gone in seconds.
Reinvigorated, we then headed over to the venerable gay dive The Drinkery (205 W. Read St., 410-225-3100), where we grabbed two seats at the U-shaped bar and asked for a drink menu, a request that was met by howls of laughter. Message received, we asked the bartender to suggest something sweet. He then whipped up two mysterious—and mysteriously tasty—"green drinks" for us, which we happily slugged while patrons watched Seinfeld reruns, played bar games, and sang along to Mariah Carey and Whitney Houston classics. Our final stop of the night was the granddaddy of Baltimore brewpubs, The Brewer's Art (1106 N. Charles St., 410-547-6925). We arrived just as the upstairs restaurant was closing, so we headed downstairs to the cellar bar, which was as packed as ever, with revelers huddled in every nook and cranny, downing signature brews like Resurrection, Beazly, and Proletary ale. To borrow a lyric from one of the new wave hits on the stereo, it was the "same as it ever was"—and that's a very good thing.
How to get around: On foot if the weather allows, or via Charm City Circulator Purple Line if it doesn't. Late-night food: Blessedly open until 3 a.m. on Fridays and Saturdays, Never On Sunday (829 N. Charles St., 410-727-7191) is a perfect last stop for a stomach-settling greasy gyro and fries.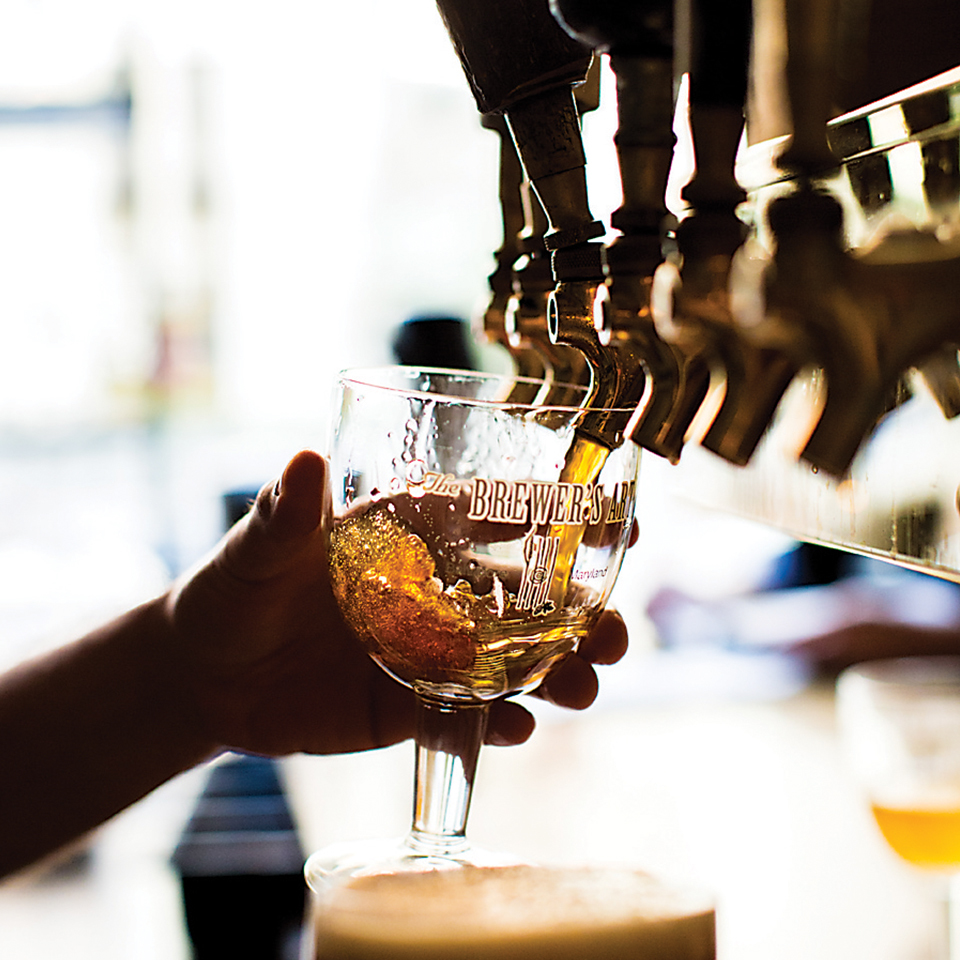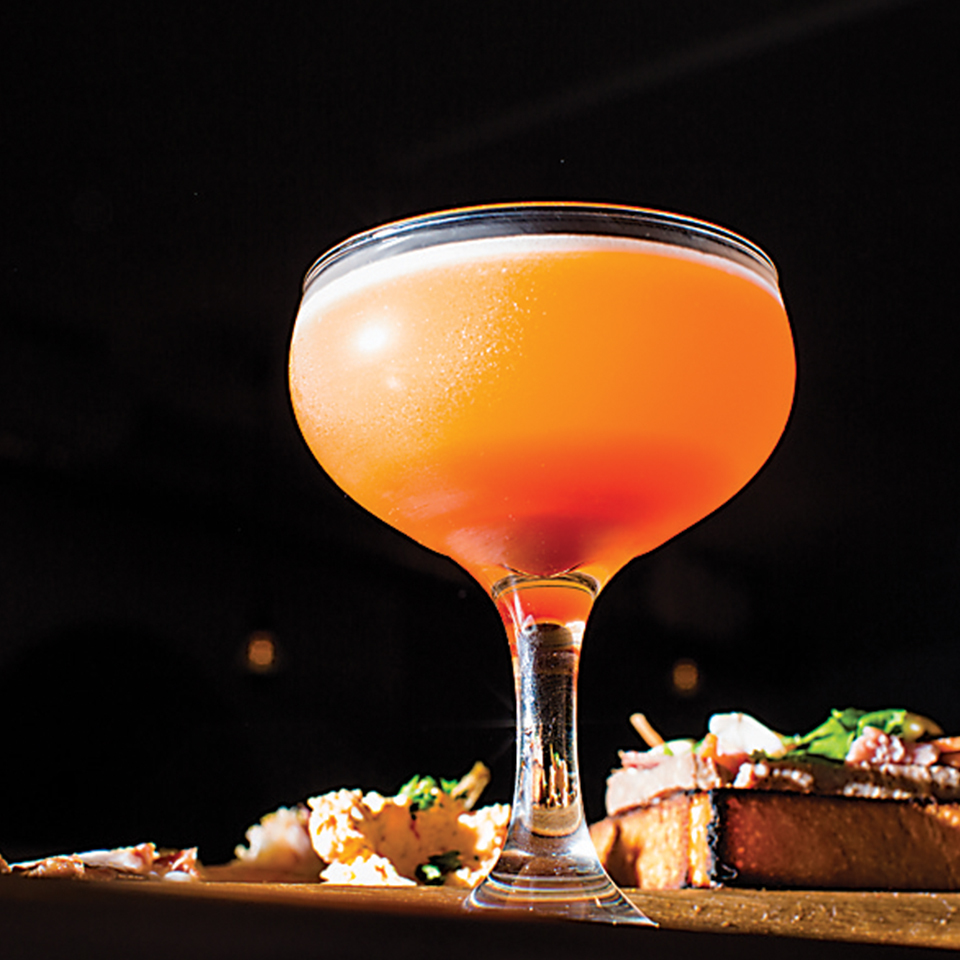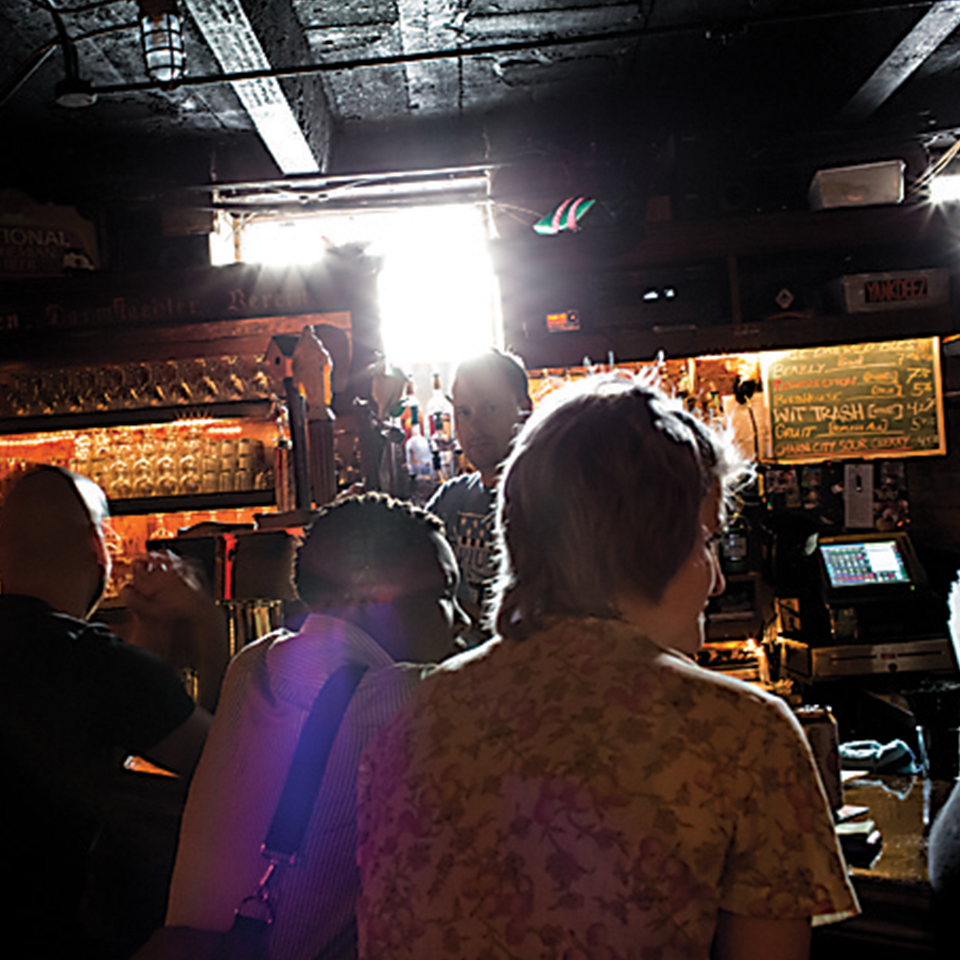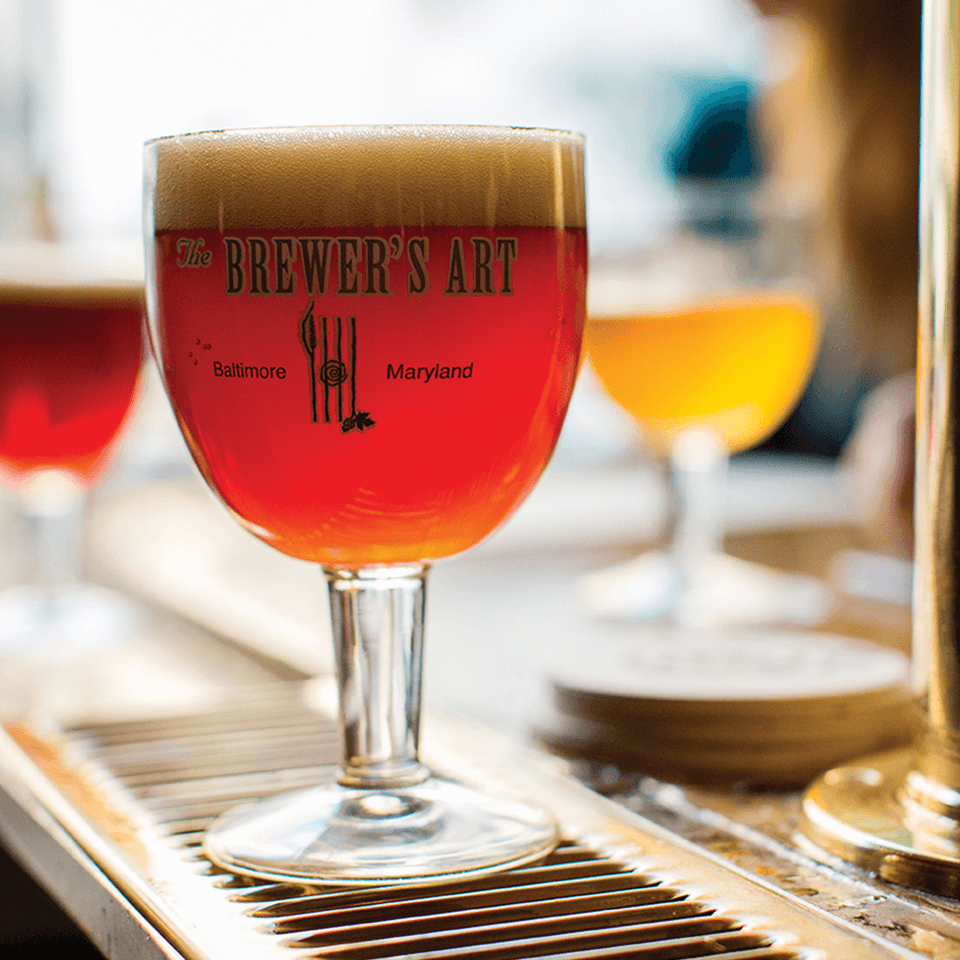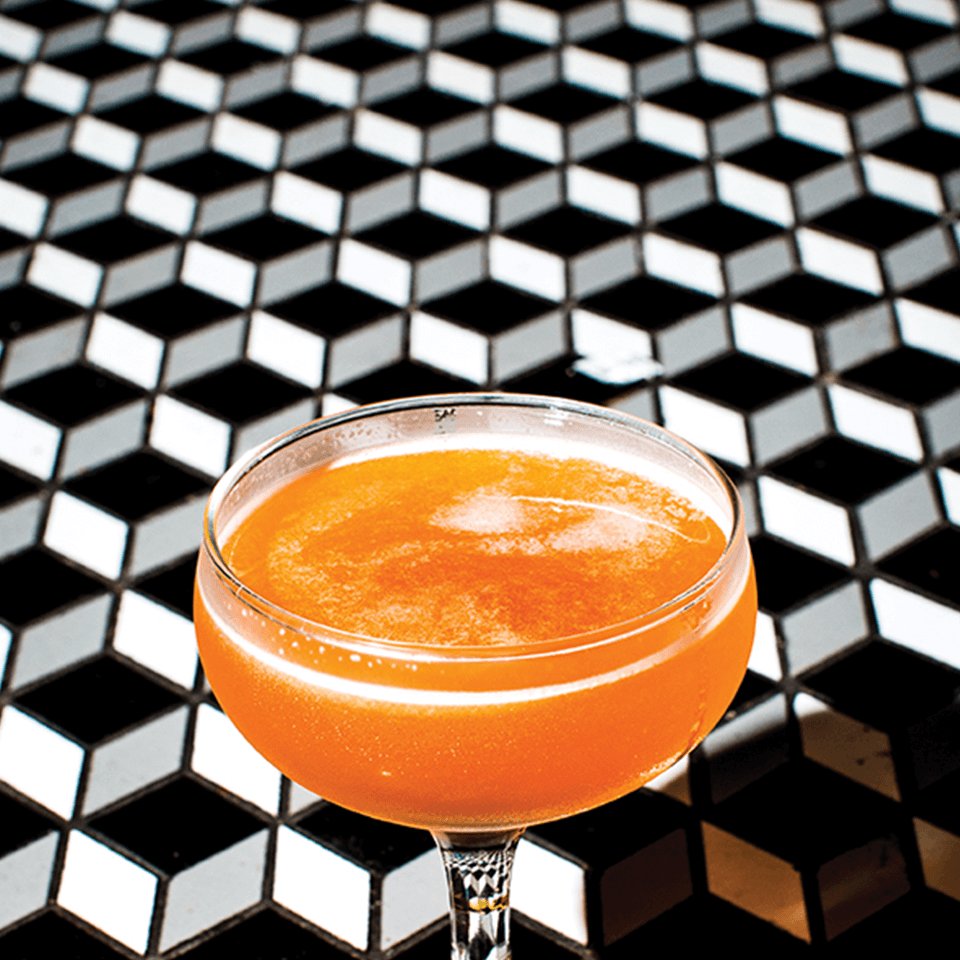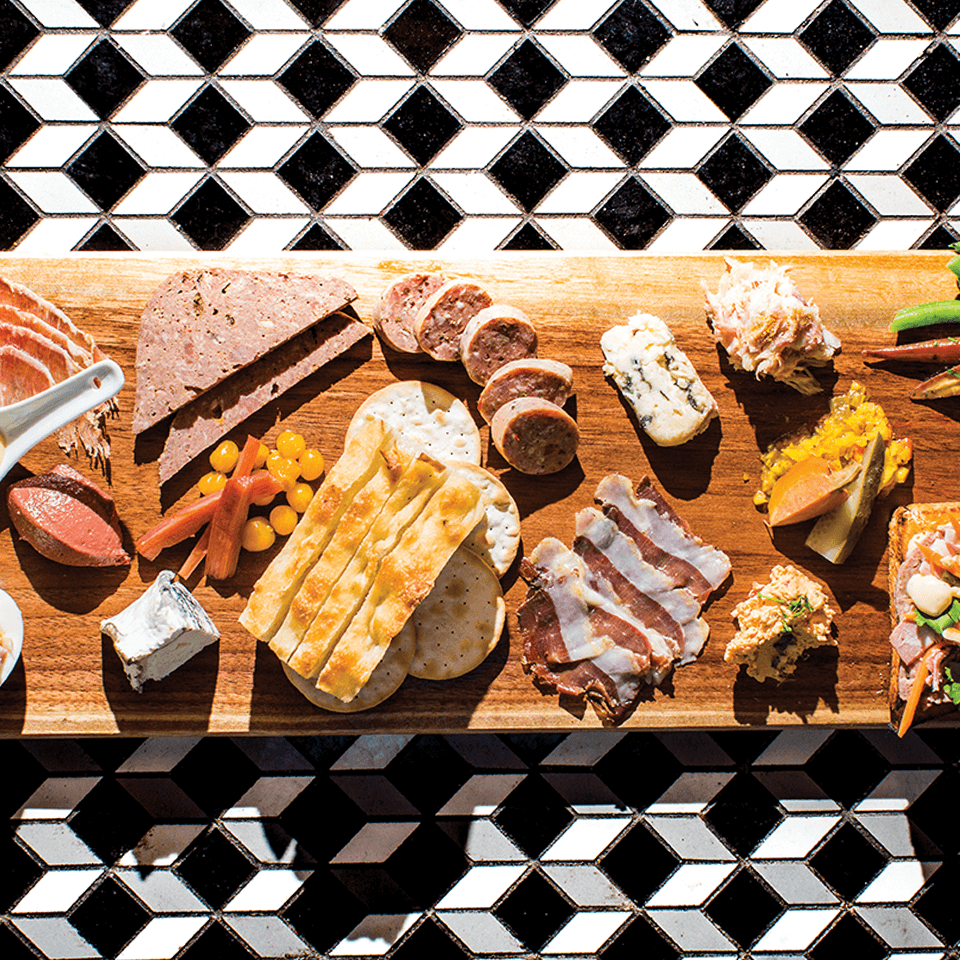 ➤

The Brewer's Art's house-made beer. A cocktail and charcuterie plate at Sugarvale. Basement bar at The Brewer's Art. A fresh draft at Brewer's Art. A cocktail at Sugarvale. A charcuterie plate at Sugarvale.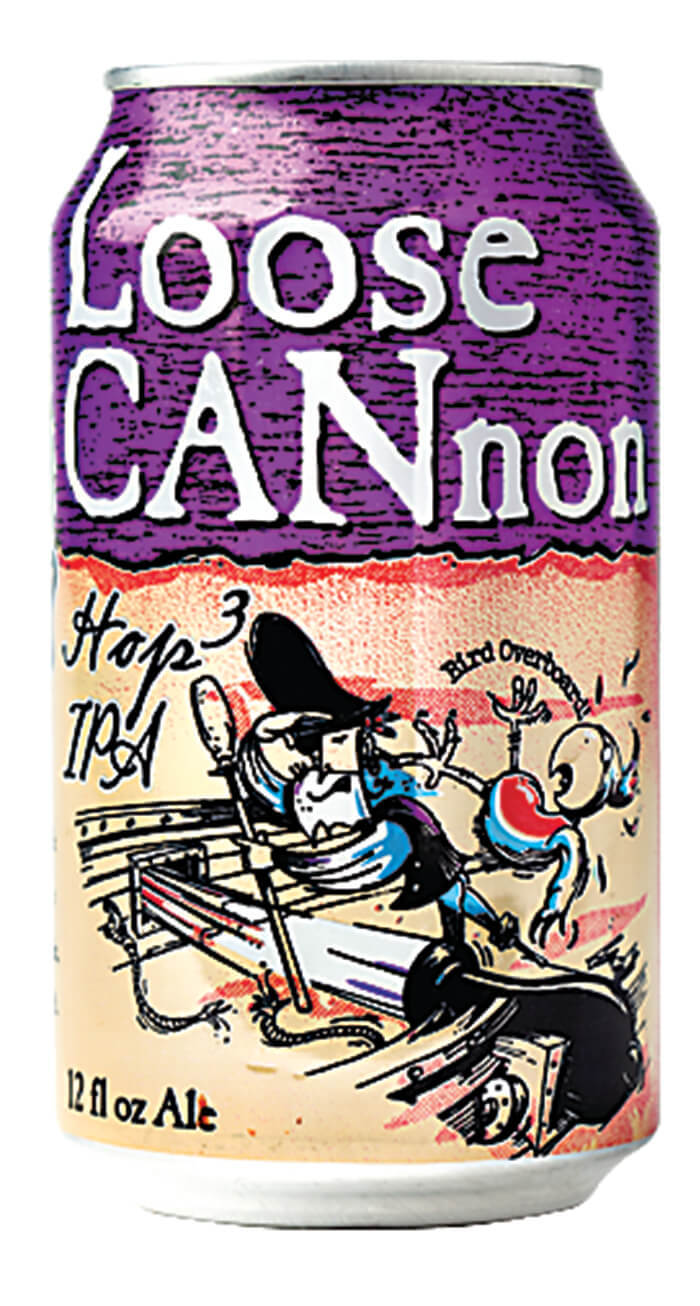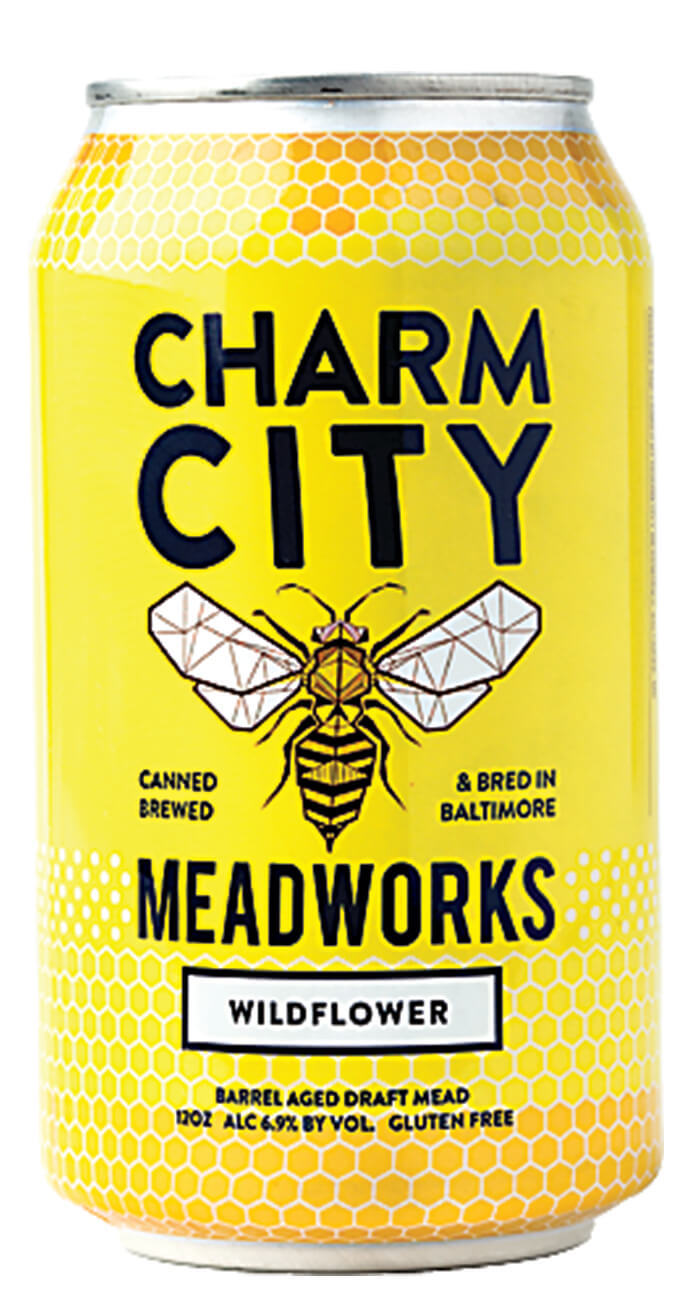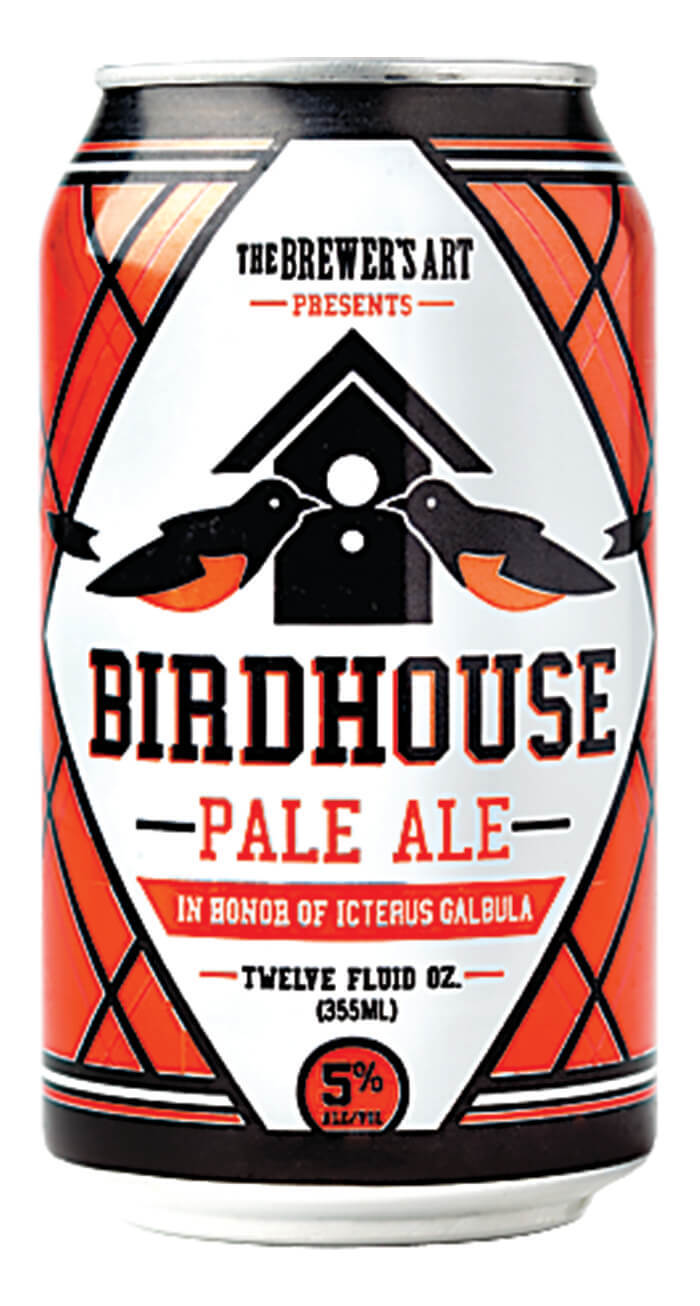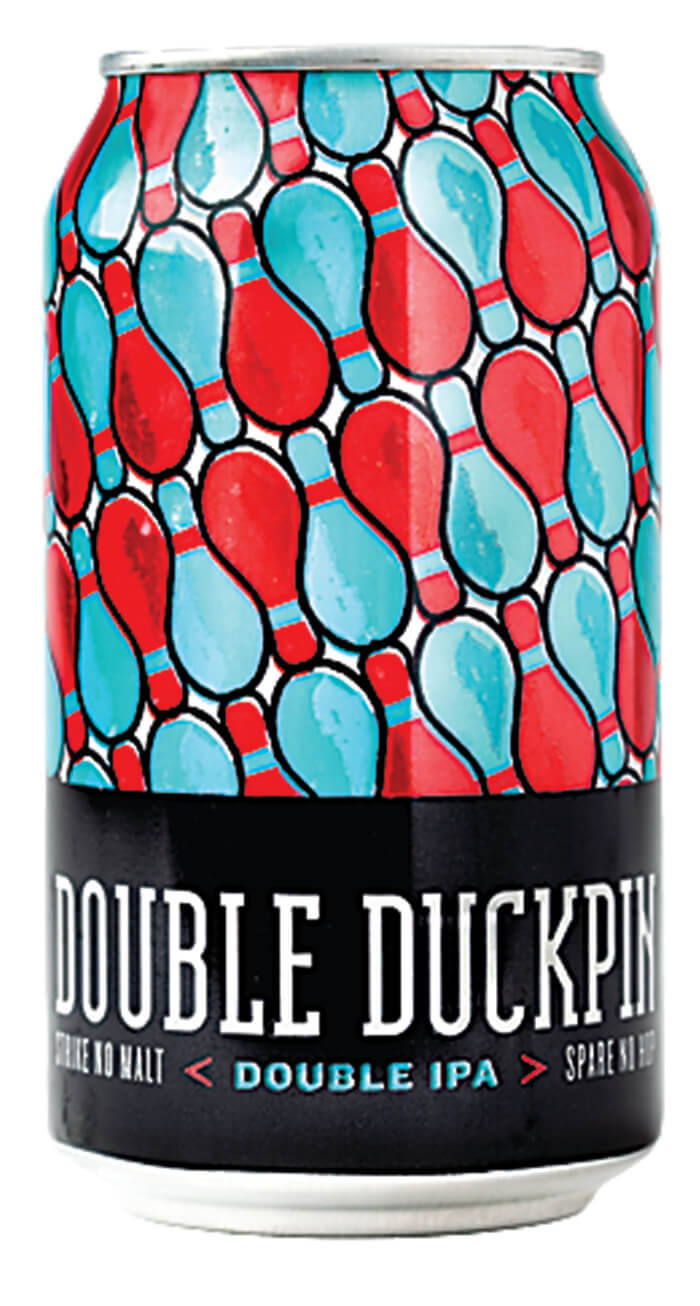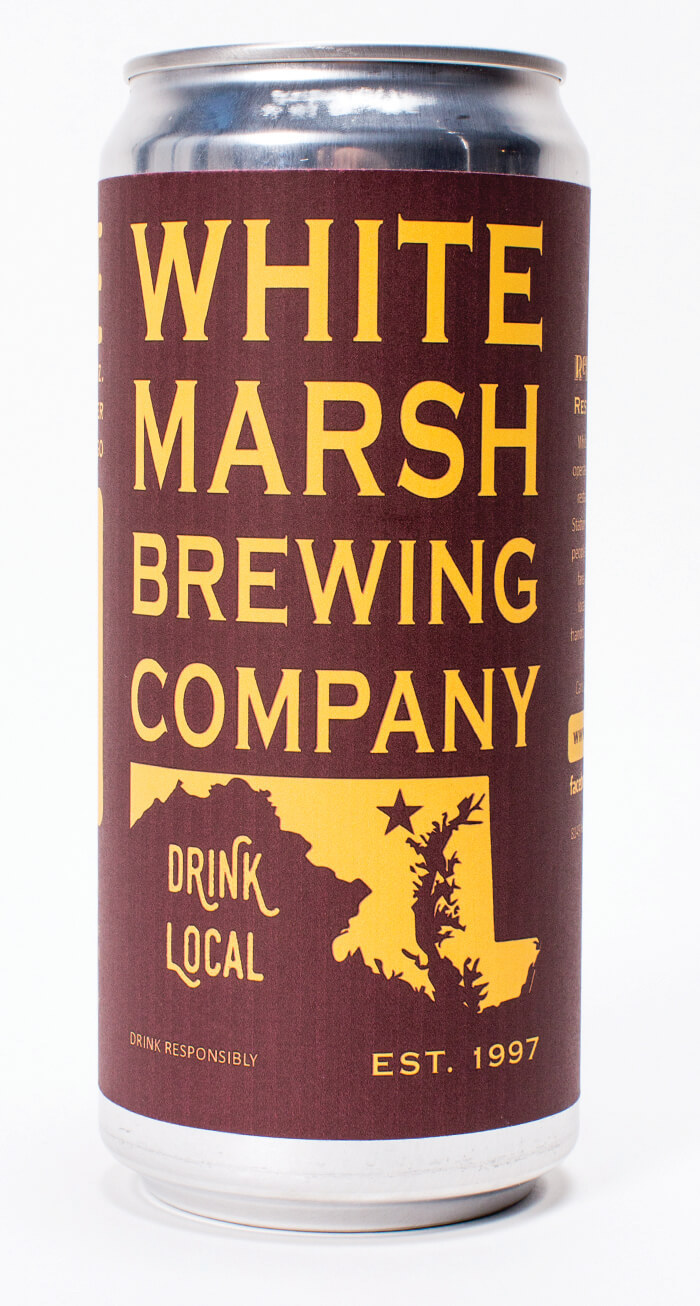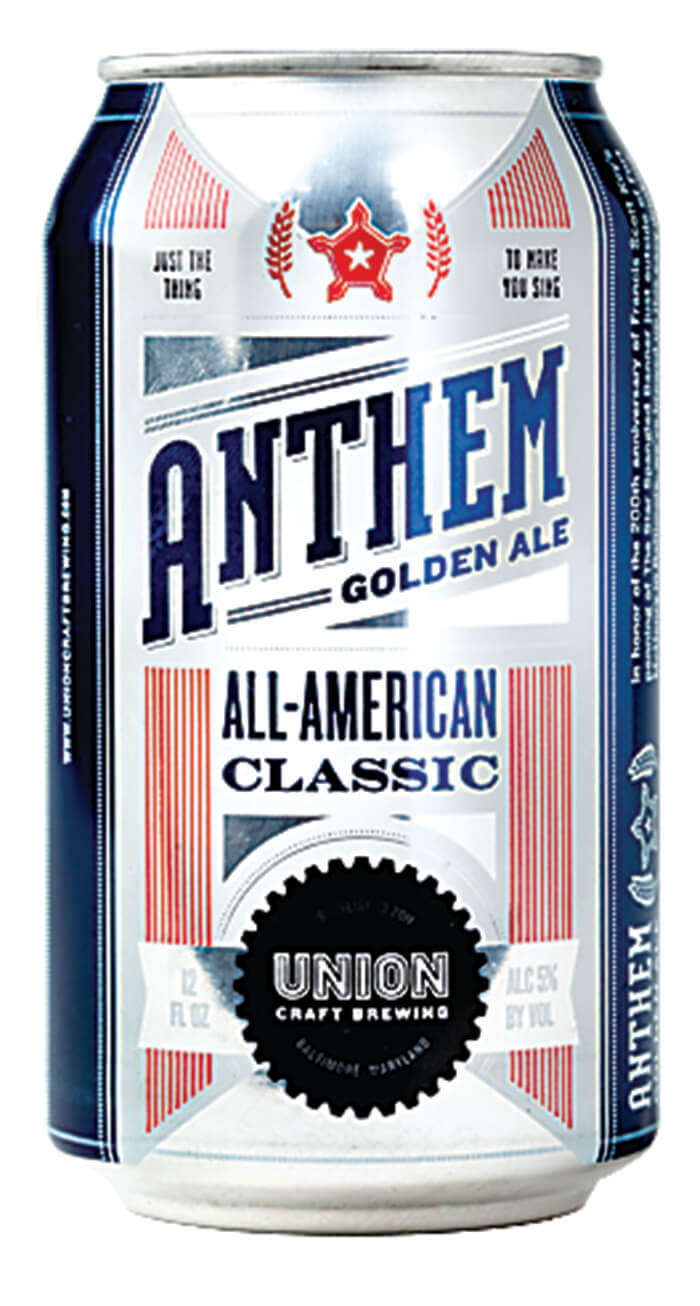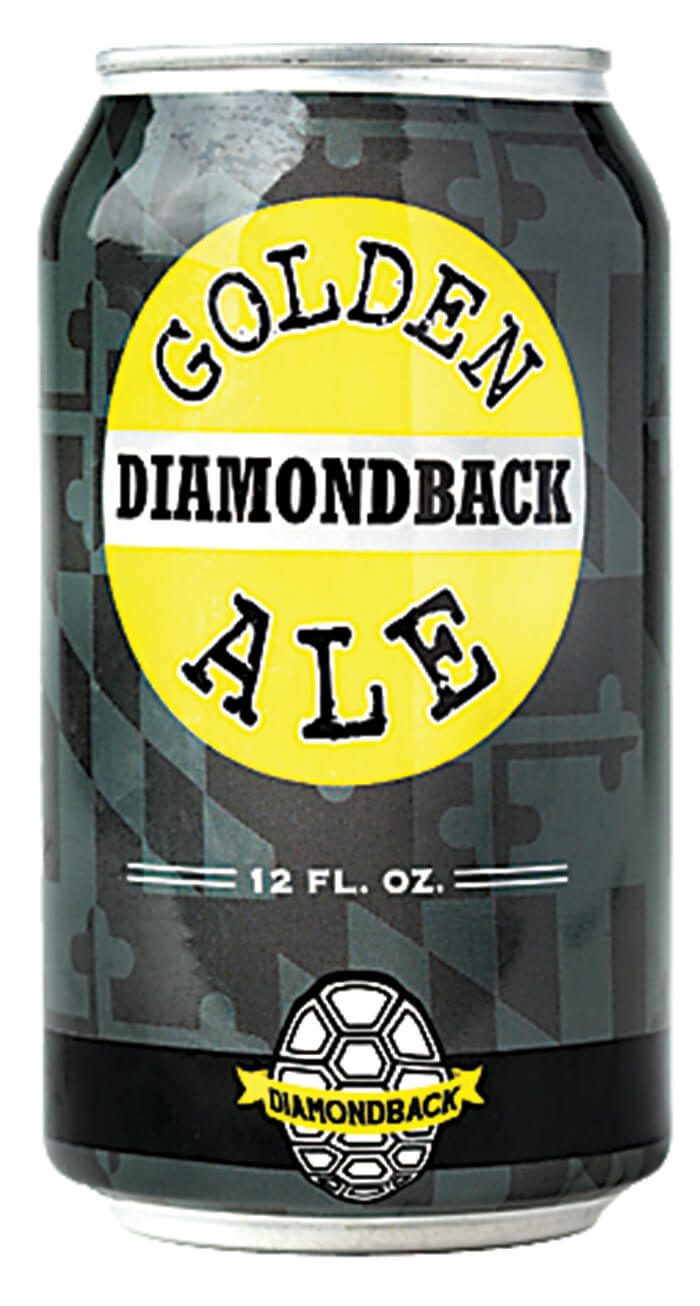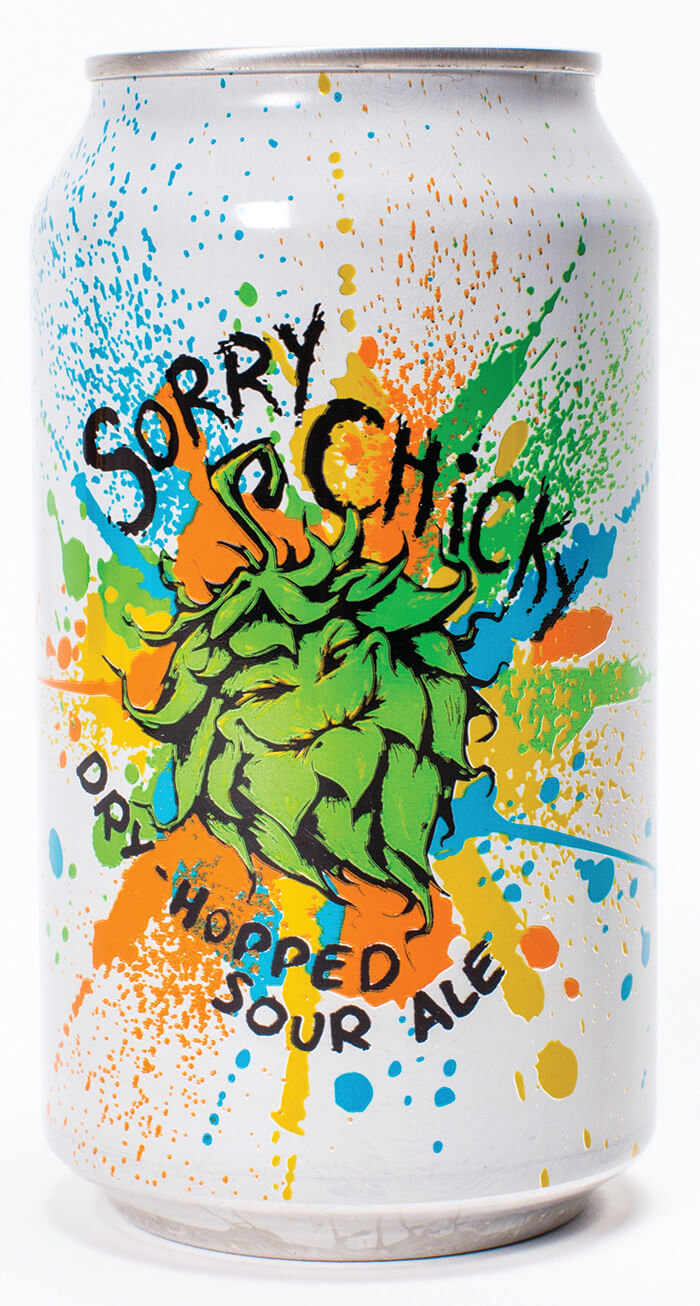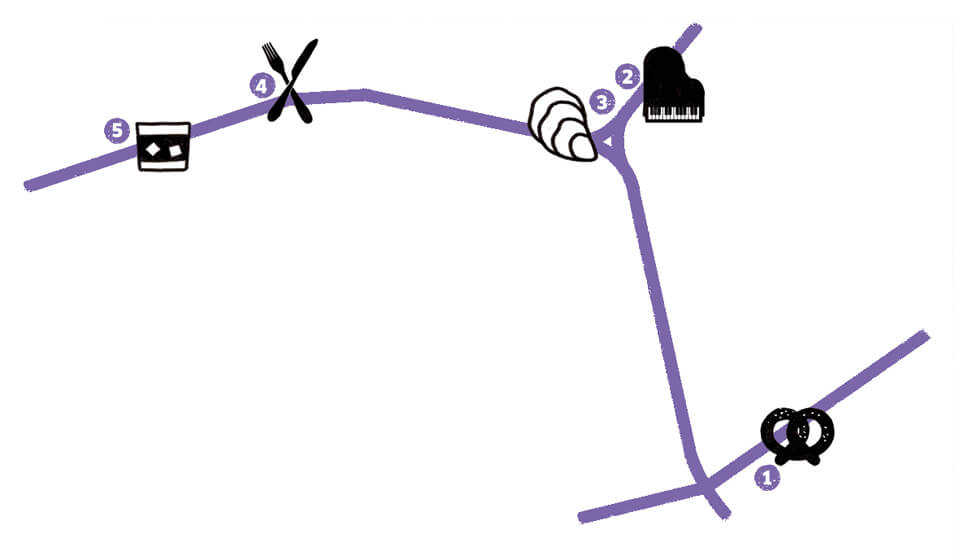 With dozens of watering holes packed into its walkable and charming downtown, our capital city is tailor-made for a bar tour. We started our Saturday evening with a crab pretzel and beers at Davis' Pub (400 Chester Ave., 410 268-7432). Many Annapolis bars can be overly touristy, but this Eastport staple feels like the town's version of a Baltimore corner bar. (It actually is located on a corner.) An older crowd of mostly locals contributes to the laid-back vibe—you'd be hard pressed to find many people wearing socks here. The longest walk of our tour took us over Spa Creek to the historic district, where we ducked into the legendary Middleton Tavern (2 Market Space, 410-263-3323), which, in one form or another, has hosted drinkers since 1750. We slammed down a round of its famous oyster shooters before heading to the upstairs bar, where Larry Lay has played piano for 20 years. We chuckled along with him when a well-on-her-way woman aggressively requested Billy Joel songs.
The usually crowded but rarely too crowded McGarvey's Saloon & Oyster Bar (8 Market Space, 410-263-5700) has been Middleton's neighbor for 40 years. Standing next to us near the front bar was a couple who had just come from their daughter's wedding. We asked the tuxedoed father if he liked his new son-in-law, and after a pregnant pause, he replied, "He's okay." Yikes. Next, we strolled up to Level (69 West St., 410-268-0003), an upscale lounge that takes its food and drink very seriously. When our bartender heard us contemplating whether the Bourbonapolis, a cocktail made with Old Forester 86, Aperol, strawberry-rhubarb balsamic shrub, lemon, and bitters, might be too sweet for our taste, he offered to make it less so—and he nailed it.
While it tasted great, it definitely wasn't less intoxicating, making us thankful that the walk to our final stop, bar and live-music venue Metropolitan Kitchen & Lounge (169 West St., 410-280-5160), was a short one. We grabbed stools at the upstairs bar, ordered more bourbon (it was becoming that kind of night), and asked the bartender what time he was closing. He smiled and said, "I've got nowhere to go." Luckily, neither did we.
How to get around: On foot and, if you're lucky enough, by boat. Late-night food: Charlie's Bar at Mangia (81 Main St., 410-268-1350) for a slice of pizza.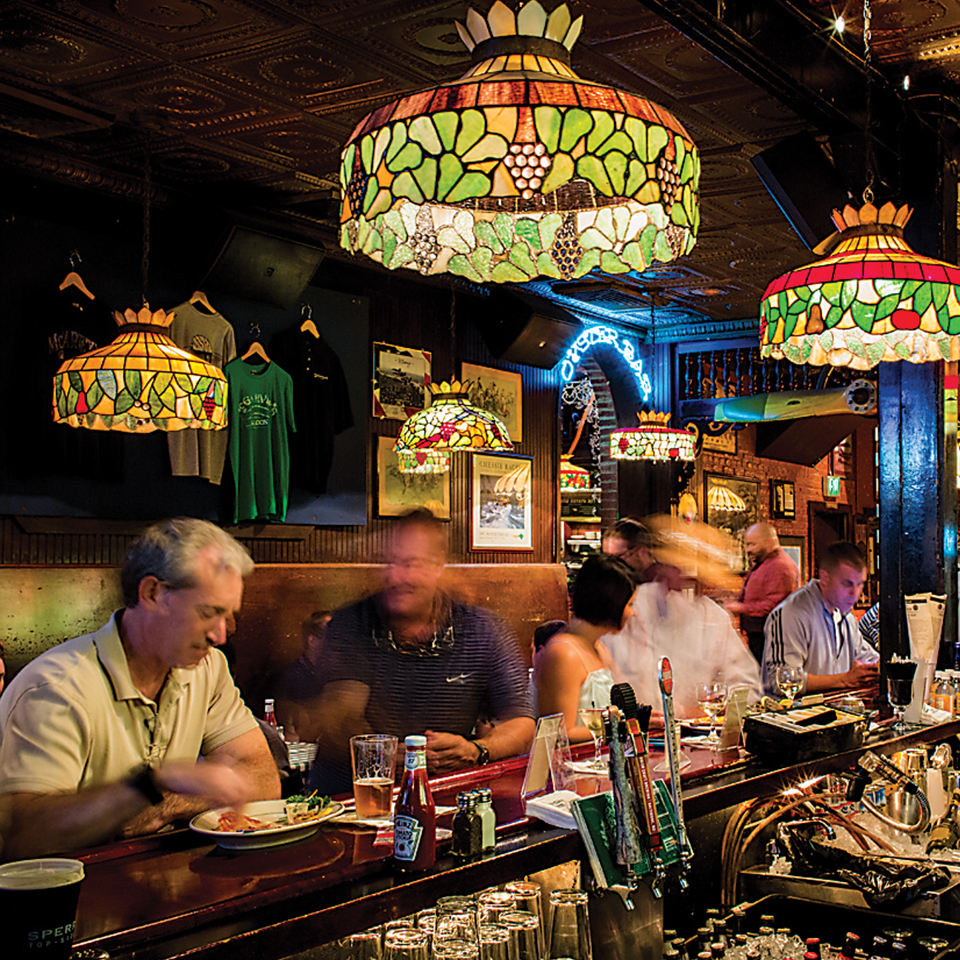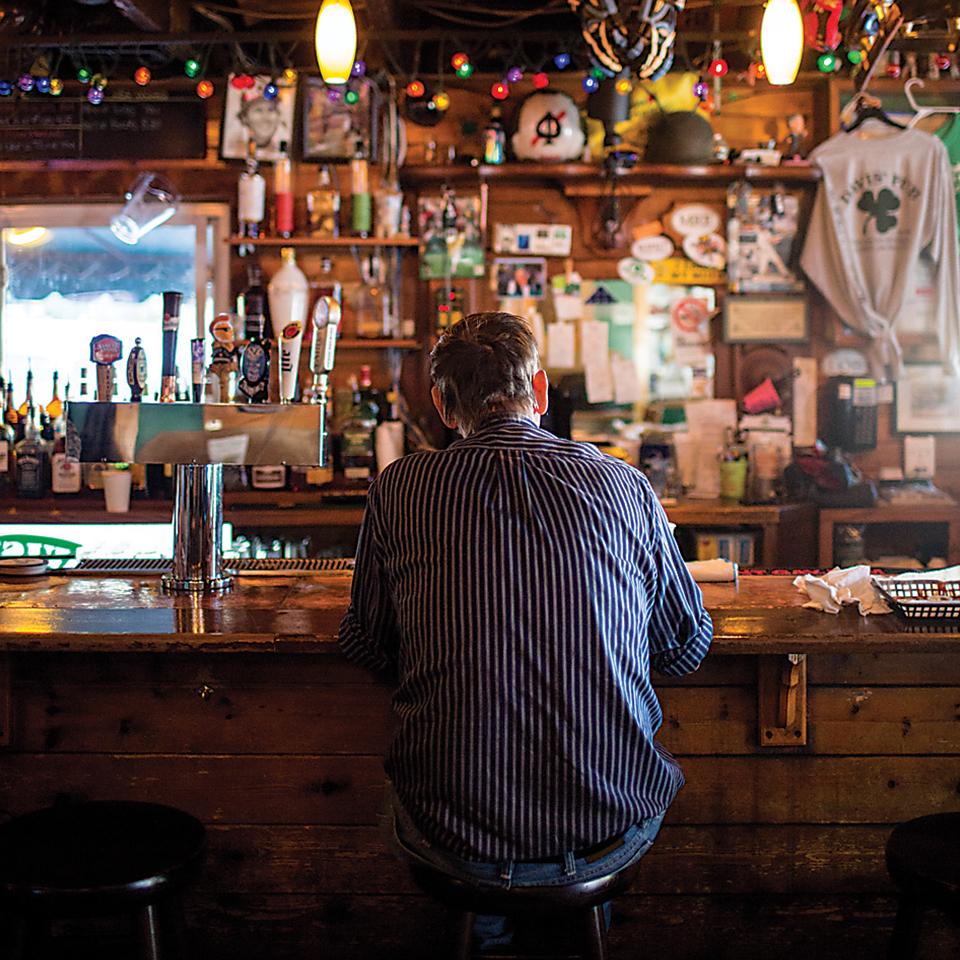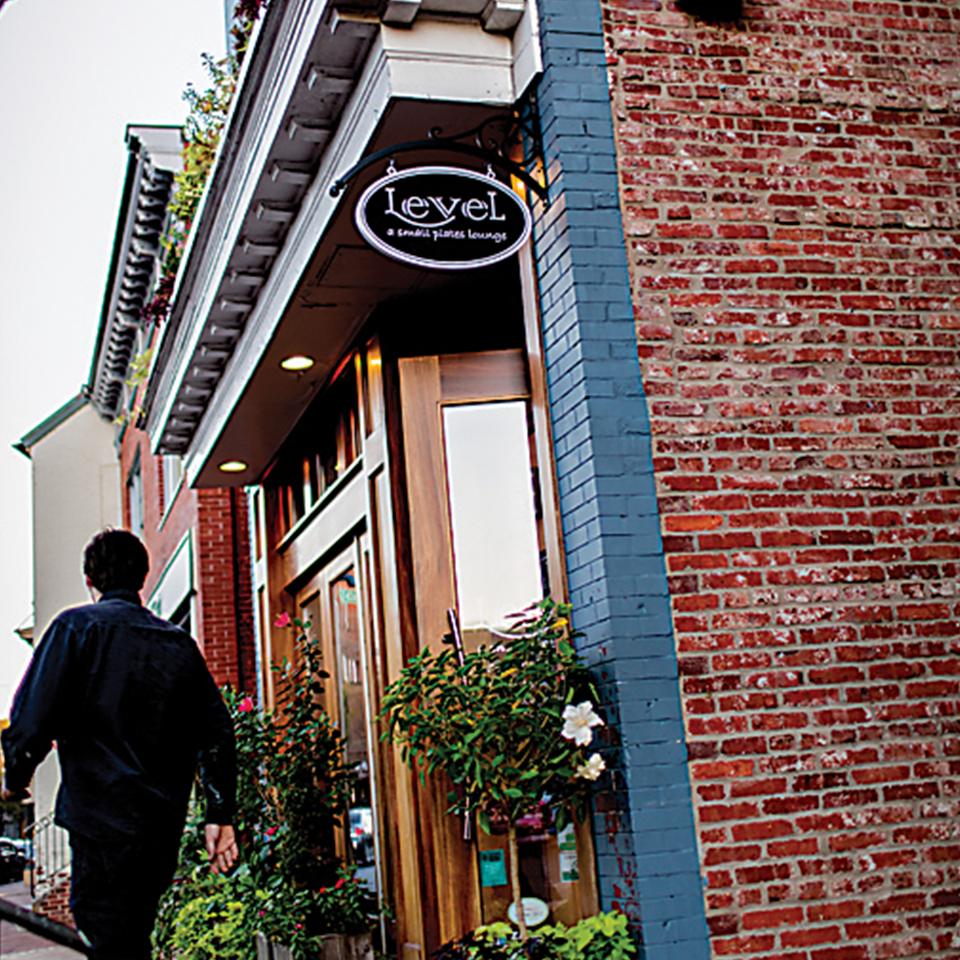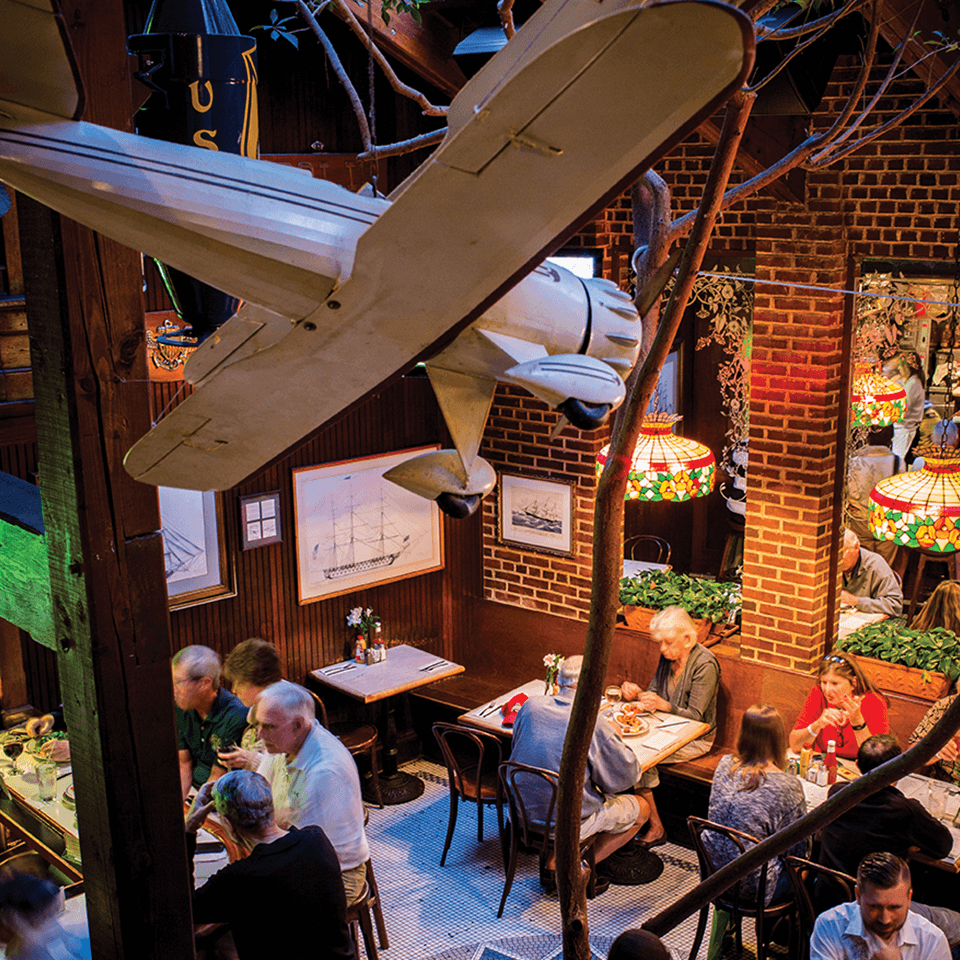 ➤

Crab pretzel at Davis' Pub. Stained-glass lights lining McGarvey's. Bar at Davis' Pub. Exterior at Level. Cocktails at Level. Coming in for a landing at McGarvey's.
Tales From The Bar Crawl"I love bar crawls, but my advice to drunk people would be: Try to be mindful. Don't kick shit or jump up and down acting all crazy. I've been that drunk person, but I've always been able to hold my drink." Ashley Bradbury, first-time Uber driver
---
Station North/Remington
---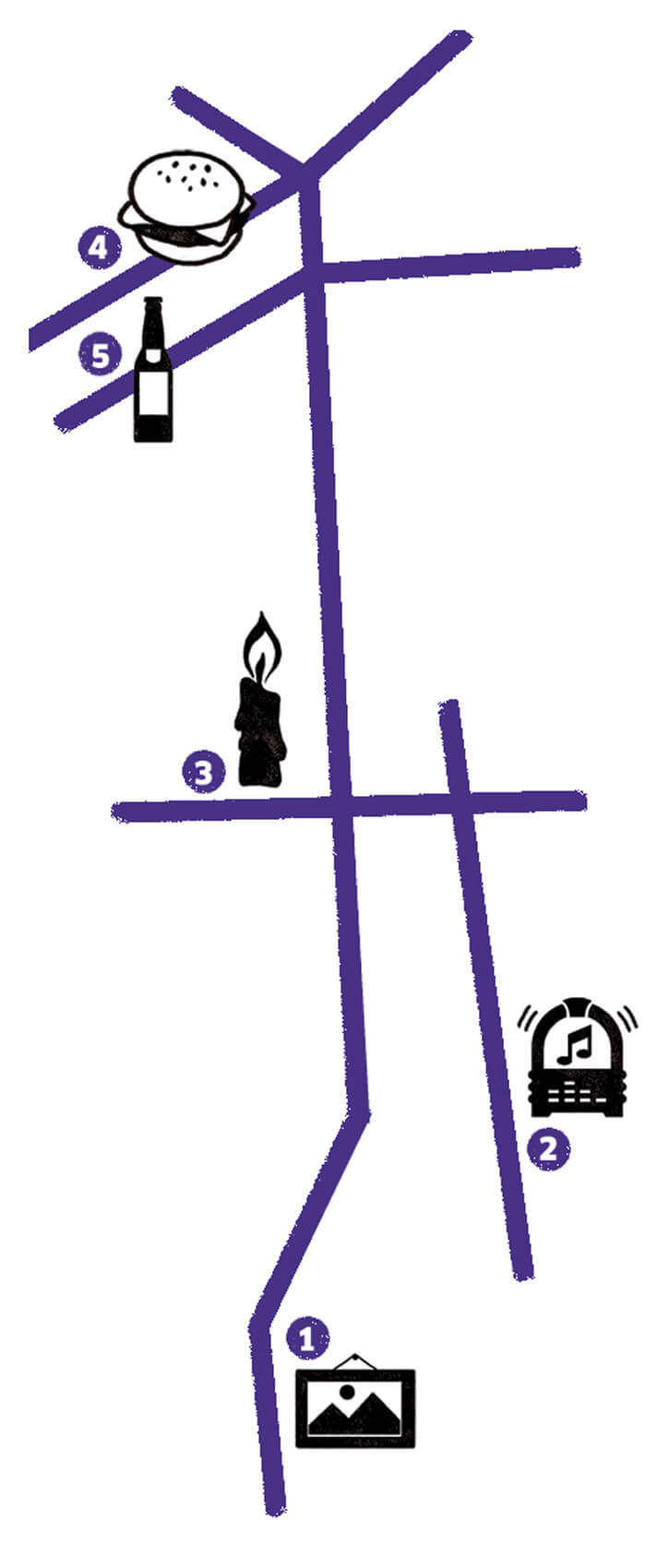 We started our night on the edge of arts mecca Station North, in the red neon halo of Mount Royal Tavern (1204 W. Mt. Royal Ave., 410-669-6686). The Bolton Hill watering hole was filled with its usual MICA-meets-salty-dog crowd, and we bellied up beside them at the long blue bar, admiring its fading mural overhead as we ordered a round of whiskey. With New Order on the jukebox and the smell of crock-pot chili in the air (it was actually pretty good), we scribbled on the bar's complimentary postcards. From there, we ambled outside into the cool fall night and headed north to Club Charles (1724 N. Charles St., 410-727-8815)—or Club Chuck, as the Art Deco cocktail lounge is affectionately known. In its hazy pink glow, we grabbed a plush leather booth, ordered another round of whiskey, and admired the intense Halloween decorations (a Poltergeist crib swirling from the ceiling, a life-size Freddy Krueger in the corner, Children of the Corn projecting on the wall).
Time slows down in this warm, dark bar and we almost forgot it was a school night, but then we quickly ordered an Uber to W.C. Harlan (400 W. 23rd St., 410-925-7900). Behind the unmarked door of this craft cocktail hangout in Remington, we cradled two classics (an old fashioned and a Manhattan) as well as the daily special (some tequila-honey-lemon-Chartreuse concoction), all made by our Hawaiian-shirted barkeep. The little candles danced off the old wallpaper, Robert Johnson and Howlin' Wolf played on the stereo, and as the spirits started to sink in, our conversations turned rhapsodic—and then, naturally, toward food. It was time for The Dizz (300 W. 30th St., 443-869-5864), a cozy neighborhood corner bar within walking distance with a decent draft list and drool-worthy burgers (go with the classic bacon-cheddar).
Full and happy, we strolled around the corner for a nightcap—aka a shot of Pikesville Rye and a Boh—at Long Johns Pub (398 W. 29th St., 410-235-2426). It was karaoke night in the old Formstone dive riddled with Beatles memorabilia and lawn furniture, but we passed for a game of darts, though none of us knew the rules. We sang Journey, crushed our beer cans, and scrambled out to our Ubers in the bright light of the moon.
How to get around: On foot and Uber. Late-night food: Papermoon Diner (227 W. 29th St., 410-889-4444) for ecclectic and vegetarian-friendly comfort food or Clavel (225 W. 23rd St., 301-848-2849) for tacos and quesadillas until 2 a.m.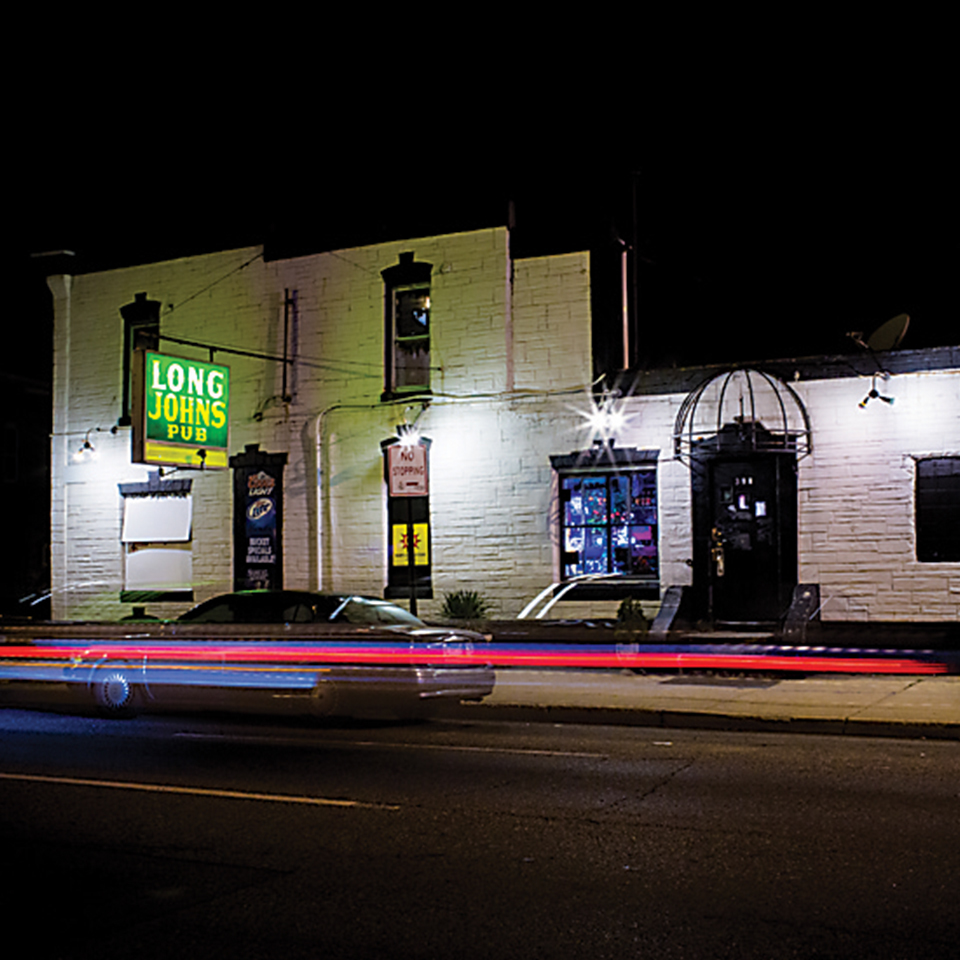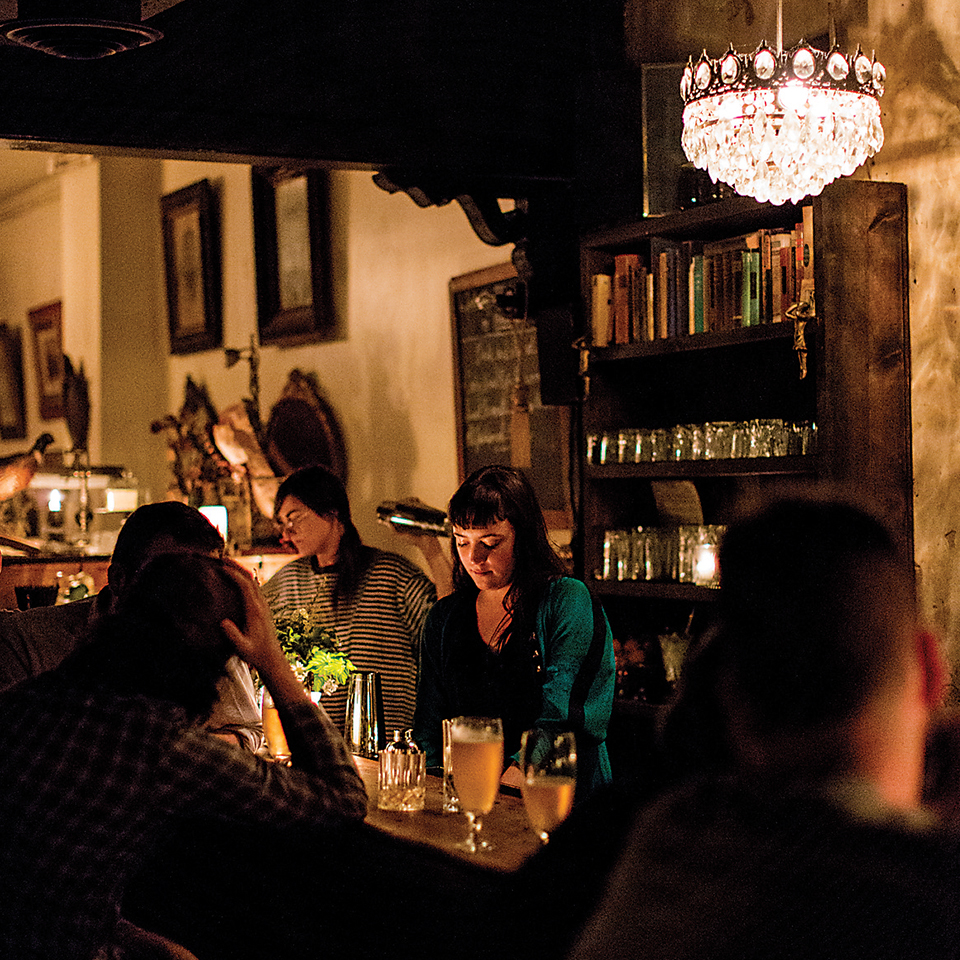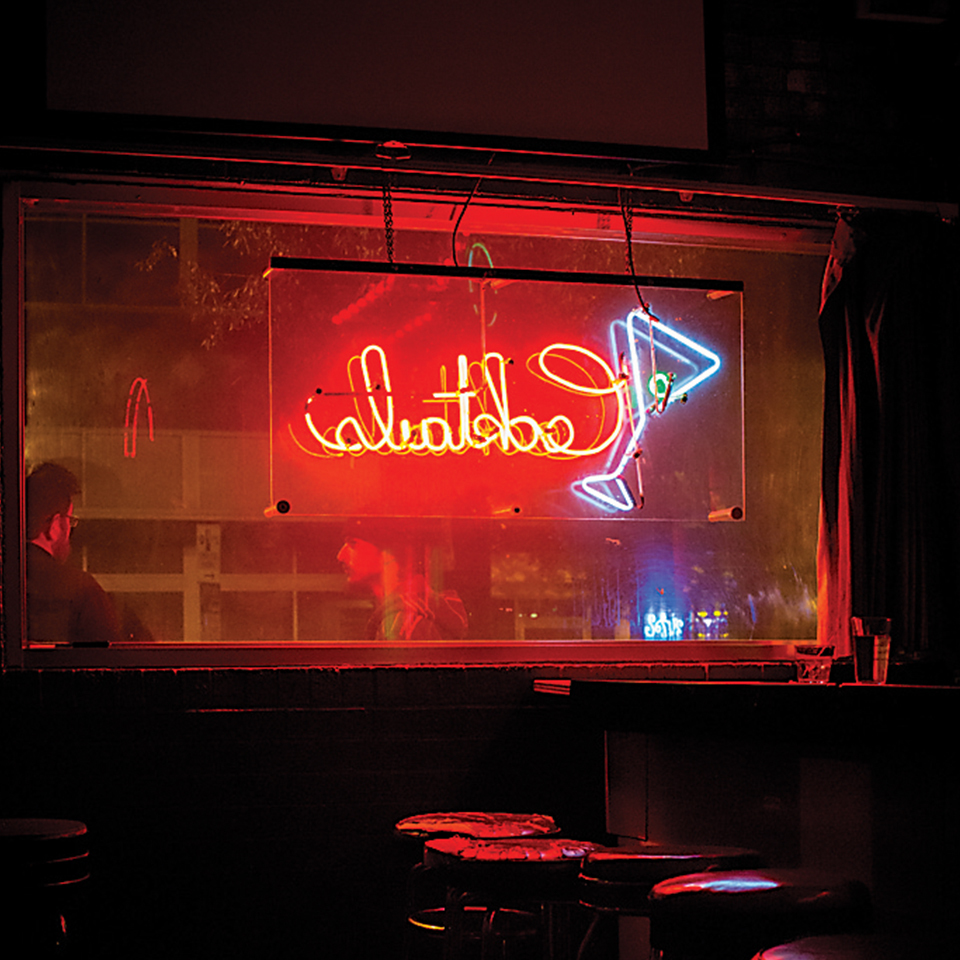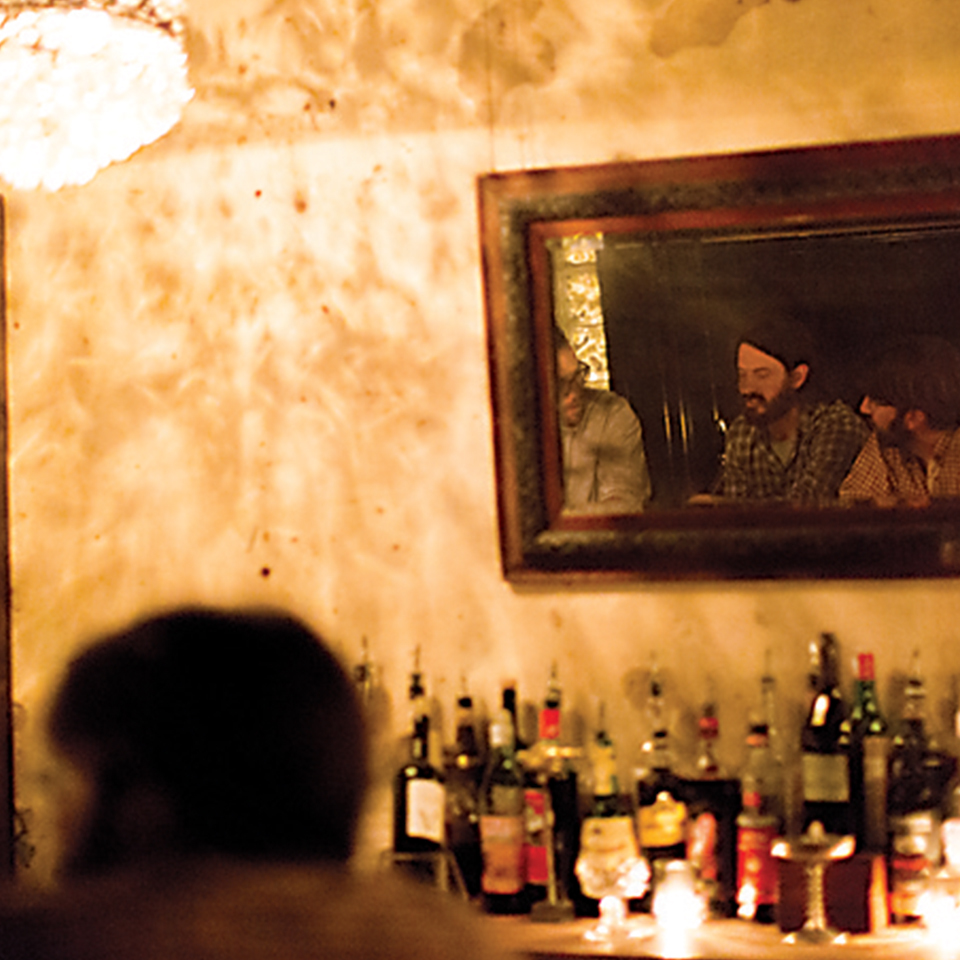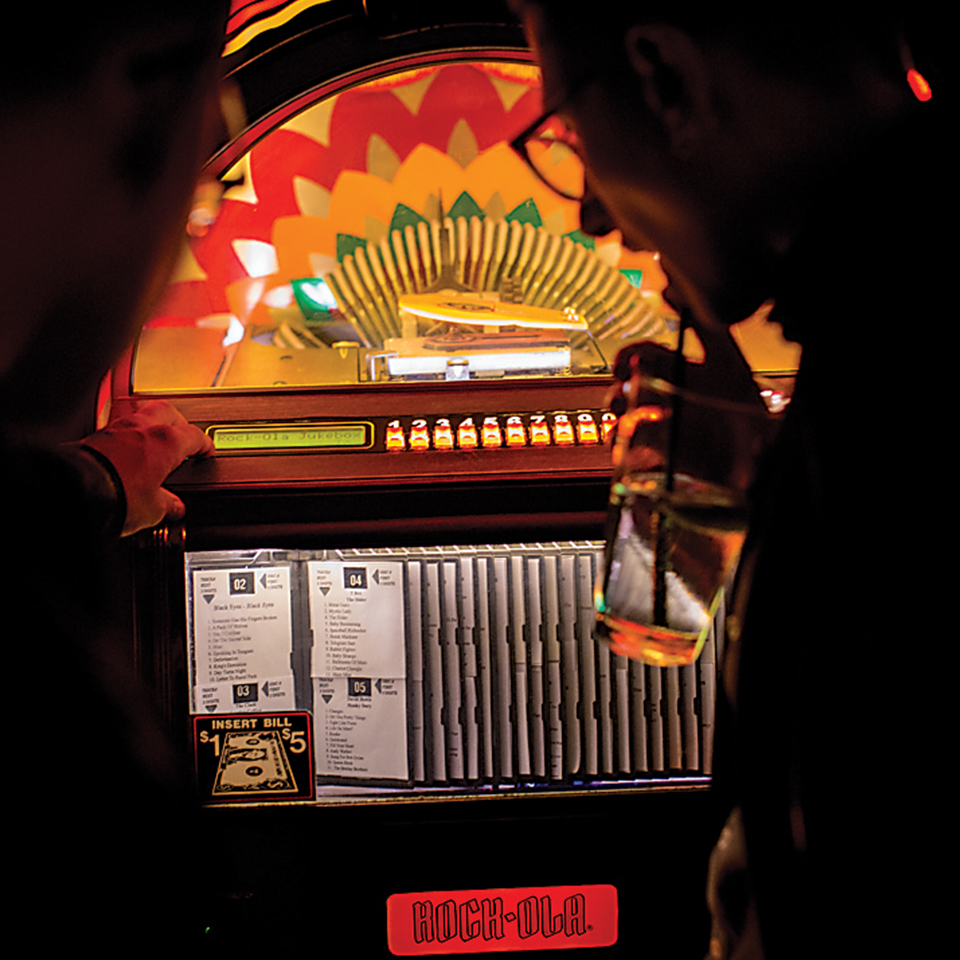 ➤

Crab pretzel at Davis' Pub. Stained-glass lights lining McGarvey's. Bar at Davis' Pub. Exterior at Level. Cocktails at Level. Coming in for a landing at McGarvey's.
---
Timonium
---
Up until a few years ago, the words "bar crawl" and "Timonium" may have felt like an oxymoron. But thanks to renovations, redesigns, and openings, the York Road corridor is now a lively late-night jaunt. Our evening began at Michael's Café (2119 York Rd., 410-252-2022), where we sat at its marble bar that, thankfully, was being warmed by heaters overhead. Our bartender was very pleasant as she plopped a few menus down and made suggestions. We ended up with a Kentucky Kelly: Bulleit bourbon, strawberries, lemon, and ginger beer in a Mason jar. As we chatted with bar regulars, we snacked on delicious ahi tuna bites and zucchini fries before making our way up the road to Hightopps Backstage Grille (2306 York Rd., 410-560-7101). This Timonium mainstay is known for its outdoor beach and playground, and a recent renovation expanded the exterior space even further. But we opted for the stone room with fireplaces while an acoustic guitarist played Rod Stewart covers. We threw back Flying Dogs and sang along, as guests enjoyed the nightly special of a $10-pizza-and-pitcher.
During a set break, our designated driver took us up to Padonia Road and inside Ryleigh's Oyster (22 W. Padonia Rd., 410-539-2093), the county location of the original Federal Hill outpost, known for shellfish and crushes. We said "When in Rome" and ordered a half-dozen Skinny Dipper oysters and two grapefruit crushes, made properly with crushed ice and fresh-squeezed fruit halves. As couples dined and the bar's multiple TVs showed ESPN highlights, our bartenders were cordial and entertaining—even sneaking two extra mollusks onto our tray when we weren't looking.
Just a shell's throw away is Five (106 W. Padonia Rd., 410-308-1800), the martini bar adjacent to Christopher Daniel. We arrived just in time for late-night happy hour, so we ordered a $7 Grey Goose dirty martini, which was well balanced and had a perfect nutty, green-olive flavor. Worried the martini went down a little too quickly, we snacked on the bar's discounted $6 Buffalo chicken tenders and now we'll be craving these spicy, lightly breaded, juicy creations for the rest of time.
We heard tell that there was a great bourbon bar attached to Magooby's Joke House, and this we had to see. So we made our way over to Wits End Saloon, (9603 Deerco Rd., 410-252-0628), a dimly lit, 15-seat bar, where many of the patrons were audience members or comedians themselves. The walls were decorated with old music flyers and massive chalkboard signs depicting the lengthy whiskey selection. We saw some familiar suspects (High West, Knob Creek, Woodford), but were even more impressed with rarities, like Featherbone and the 12-year WhistlePig Old World rye, its age making for a smooth and warm nightcap.
How to get around: A mix of walks and Ubers, though be careful on busy York Road. Late-night food: The 24-hour Nautilus Diner (2047 York Rd., 410-561-9236), with its anytime breakfast and anyone crowd, makes us feel like we're back in high school.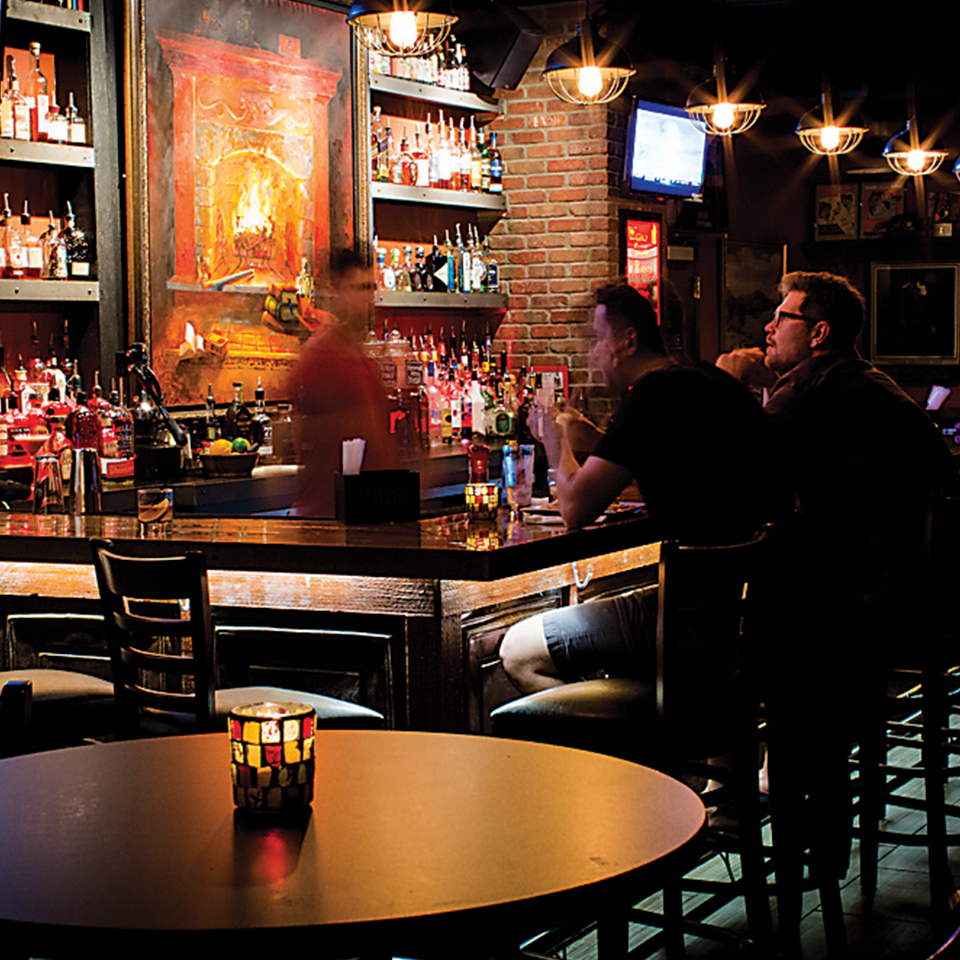 ➤

The Bar at Wit's End Saloon
---
An Ode to the Crawl
Our very unofficial—and unsolicited—advice on how to get the most from your next neighborhood bar crawl experience.
By Jess Mayhugh
---

We Baltimoreans cherish our bars. We have our go-to spots around the corner and our special occasion spots when we're feeling really celebratory. They're where we go after a long day at work or, better still, to embark on a long day of non-work. They're a part of our culture, and hell, this magazine is spending 14 pages espousing their virtues.
The best way to enjoy these havens is by throwing all caution to the wind and visiting them in bunches. While the pre-planned, themed bar crawl can be as much fun to curate as a good mixed CD, sometimes it's the crawls we don't plan that turn out the best.
We love these spontaneous journeys in the way famed journalist H.L. Mencken once described love: "Love is like war: easy to begin but very hard to stop."
Sometimes the crawl is that 6 p.m. happy-hour drink that eventually morphs into a late-night dance party. Sometimes it's that tame dinner with co-workers that turns into an all-out karaoke cabaret. Or it can be a bottomless brunch that feeds into an epic crosstown bar tour.
You usually start off with a very specific drink choice—something refined or trendy or expensive. With each order, things get a little less decisive until all of your snooty preferences eventually whittle down to a shot and a beer. But of course, a bar crawl isn't about the drinks. It's not even about the bars—much. It's about the people.
Those people you decide to assemble for your nomadic bar journey are important, each filling a certain role in your life. After a couple drinks, there is inevitably, and spectacularly, that person in your group who ends up being a total surprise. Maybe they're more prone to rounds of whiskey than you knew. Maybe they're intensely competitive at shuffleboard. Maybe they can, without missing a beat, recite the entirety of "Baby Got Back."
There are the misfits that you pick up along the way, too—perhaps people you've texted after inhibitions gave way or old friends you bump into because of this small-town city you call home.
Not that your crew isn't great, but throughout the night, some of the most interesting conversations happen with strangers: the regular who has had a few too many and knows all about the place; the total tourist who read about this particular bar in a guide book; the wobbly group of girls celebrating a special occasion who insist on buying you a shot.
Arguably the best way to choose your next adventure is to ask the person behind the bar. Odds are they've been listening to you decide what drink to get or where to go next anyway. Listen to these stirrers and shakers. They're the real experts. Order something off menu, asking your trusted bartender to have fun with a new booze experiment. While you're at it, ask them where they take a load off and you might discover a hidden gem you've walked past a million times.
Each bar you visit sort of snowballs into the next and the best advice, really, is to keep an open mind. Chat up the old man sitting at the end of the bar, try a drink you've never heard of, stay out later than you planned, and dance completely out of rhythm.
And while the night, like Mr. Mencken said, might be very hard to stop, it eventually must. The band plays an encore, the lights come up, and you catch a ride home. But you leave a bit more well-traveled, with a few new friends, and an even more profound appreciation of the old ones.
Find the Best in Baltimore