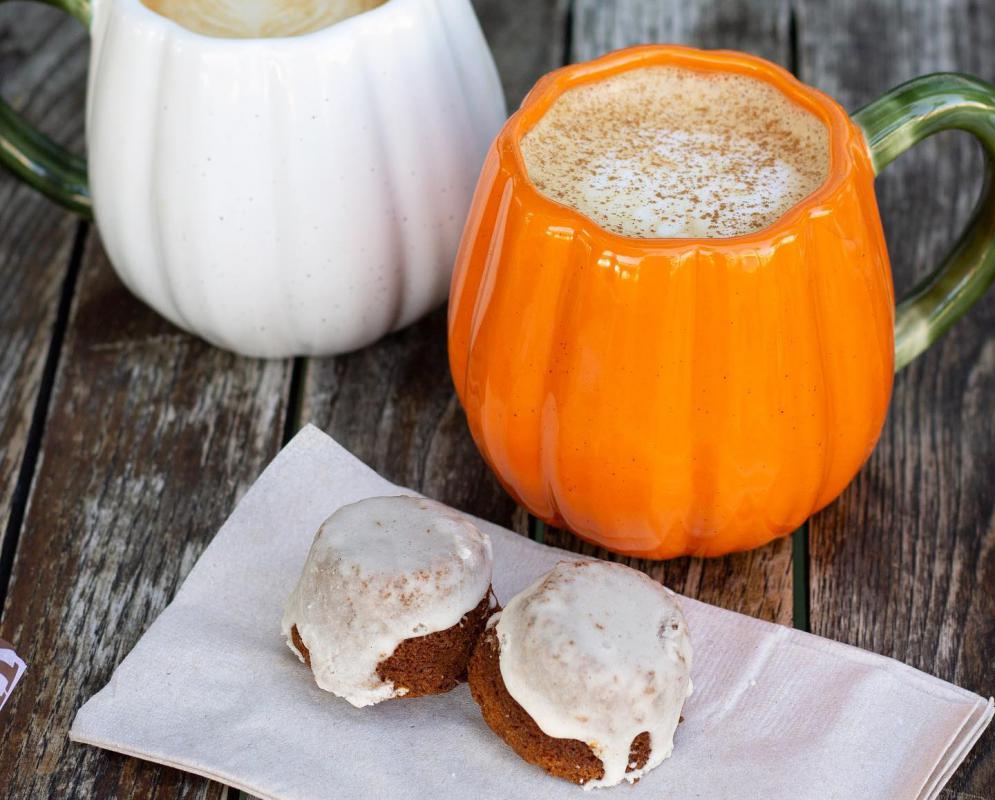 Atwater's has officially launched its fan-favorite pumpkin bites and pumpkin spice lattes. —Courtesy of Atwater's
It's been over a decade since Starbucks premiered its Pumpkin Spice Latte—the burnt-orange beverage that has since become synonymous with sweaters, scarves, and strolling over crunchy autumn leaves. But the fall flavor spans far beyond the PSL, and outposts all over Charm City are using pumpkin spice as a starting-off point to create their own seasonal specialties. From beer to baked goods, here are some of our favorite local pumpkin products.
Atwater's pumpkin lattes and pumpkin bites: Not only does Atwater's serve up some standout soups and sandwiches, but the local farm-to-table chain also offers a slew of fall-inspired takeaway items and coffees this time of year. In addition to its famous pumpkin bites, the cafe is rolling out warm pumpkin latte using a homemade syrup made with roasted pumpkins and a blend of spices beginning September 21. Multiple locations including 3601 Boston St., 667-309-7146
Common Ground's pumpkin chocolate muffins: This small-but-mighty java joint in Hampden—which has announced plans to move to larger digs around the corner this fall—is embracing the spicy season by revamping its PSL. Now, you can enjoy a new recipe crafted with real roasted pumpkin juice and warm spices. Plus, the cafe's baked-from-scratch muffin lineup now includes a plump pumpkin chocolate chip muffin that is both vegan and gluten free.
Iron Rooster's pumpkin pop-tarts: Fans of this breakfast-all-day spot can now experience a sweet ending (or beginning) to their favorite brunch dish with the pumpkin pie "Roos-tart." The orange-glazed pastries are available at the restaurant's Hunt Valley, Canton, and Locust Point locations. (Still craving more spice? Try the limited-edition pumpkin pancakes to really get into the spirit.)
Le Monade's pumpkin cider shrub: Chef Carleen Goodridge—the brains behind Le Monade's small-batch mixers, blends, and syrups—has whipped up this spicy, citrusy shrub that she describes as "fall in a glass." Not only does Goodridge recommend using it as the base of a warm or iced cocktail, but she also suggests incorporating it into savory meals as the start to a dressing or a glaze for vegetables. Order a bottle online, here.
Michele's Granola's pumpkin spice blend: Local granola guru Michele Tsucalas got her start by pedaling crunchy concoctions at area farmers' markets, and she's created a fan-favorite flavor inspired by the markets' annual fall harvest. Among the many varieties that Timonium-based Michele's Granola whips up for the chillier months is a pumpkin spice blend that fuses golden flax, pumpkin seeds, pecans, and pumpkin pie spices. You can stock up by ordering online, or heading to retailers including Whole Foods Market, MOM's Organic Market, and Wegmans.
THB's pumpkin-spice bagels and spreads: All six THB locations in Towson, Timonium, Canton, Charles Village, Columbia, and Owings Mills welcomed fall early by rolling out their seasonal pumpkin spice bagels, cream cheeses, and lattes. Boiled and baked daily, the chewy, outside-of-the-box bagels are a great way to savor the season.
Local pumpkin beers: We'd be remiss if we didn't mention the bounty of local breweries currently celebrating seasonal releases. From favorites like Heavy Seas' Great'er Pumpkin and Evolution Craft Brewing's Jacques Au Lantern to DuClaw's 31 Pumpkin Spice Lager and Full Tilt Brewing's Patterson Pumpkin, Charm City is chock-full of fall brews to get you in the mood for apple-picking and leaf-peeping.