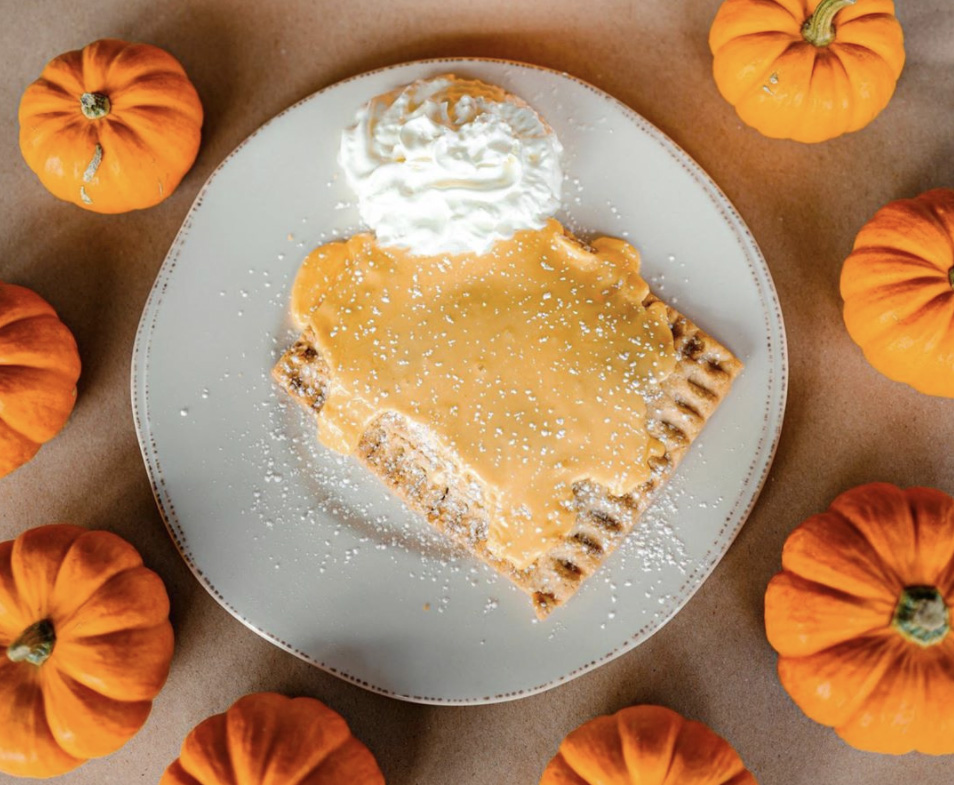 Iron Rooster
It's been over a decade since Starbucks premiered its Pumpkin Spice Latte—the burnt-orange beverage that has since become synonymous with sweaters, scarves, and strolling over crunchy autumn leaves. But the fall flavor spans far beyond the PSL, and outposts all over Charm City are using pumpkin spice as a starting-off point to create their own seasonal specialties. From beer to baked goods, here are some of our favorite local pumpkin products.
Iron Rooster's pumpkin pop-tarts: Fans of this breakfast-all-day spot can now experience a sweet ending to their favorite brunch dish with the pumpkin pie "Roos-tart." The orange-glazed tarts are available at the restaurant—which has locations in Hunt Valley, Canton, Locust Point, and Annapolis—or in the form of DIY kits that you can order online and make at home.
Michele's Granola's pumpkin spice blend: Local granola guru Michele Tsucalas got her start by pedaling crunchy concoctions at area farmers' markets, and now, she's created a flavor inspired by the markets' annual fall harvest. Among the many varieties that Timonium-based Michele's Granola whips up for the chillier months is a pumpkin spice blend that fuses golden flax, pumpkin seeds, pecans, and pumpkin pie spices. In addition to the year-round 32nd Street Farmers' Market, Michele's Granola is sold at retailers including Whole Foods Market, MOM's Organic Market, and Wegmans. Multiple locations including 3201 Barclay St.
Pumpkin Oreo ice cream at Bmore Licks: Since it's debut, this Patterson Park staple has been known for its have-it-your-way menu, with customizable soft serves, milkshakes, and hard ice-cream combos. This season, mix and match your way through the fall-inspired menu, featuring inventive hard ice-cream flavors like homemade Pumpkin Oreo (made with real pumpkins), Midnight Harvest (a pumpkin base with chocolate chips and chocolate cake crumbles), Apple Butter, and Mexican Hot Chocolate. Pro tip: order any of the fall menu items as a milkshake for the ultimate on-the-go creamy fall treat.
Pumpkin waffles at Zeke's: Baltimore may be fueled by Zeke's every other time of the year, but this season we're filling up on a bonus offering from the farmers market favorite: pumpkin spice waffles. Stop by the Hamilton cafe before 2 pm on weekends to order this autumn-inspired dish topped with an apple-cranberry compote and served with a side of bacon. Wash it all down with a piping hot cup of your favorite brew or speciality tea drink for the perfect start to your weekend.
Sugarvale's pumpkin horchata: It should come as no surprise that this subterranean spot in Mt. Vernon has found a way to emphasize the fall flavor in cocktail form. Snag a seat on the sidewalk to sample this seasonal sip—made with dairy-free house-made pumpkin horchata, rum, and pimento dram—while watching the leaves fall.
Pumpkin spice snickerdoodles at Crust by Mack: Chef Amanda Mack is always adding seasonal specials to the rotating menu at her bakery inside Whitehall Market, and her recently debuted early-fall lineup is no exception. Among the many treats is a pumpkin spice snickerdoodle cookie. If that's not enough to get you in the mood for the chilly temperatures, try out the fall-inspired slow cooked oatmeal or the spiced apple tart with vanilla bean custard.
THB's pumpkin-spice bagels and spreads: All four THB locations in Towson, Timonium, Canton, and Charles Village welcomed fall early by rolling out their seasonal pumpkin spice bagels, cream cheeses, and lattes. Boiled and baked daily, the orange bagels are a great way to savor the season.
Pumpkin Swiss rolls at Ovenbird Bakery: This Little Italy newbie is rolling out tons of pumpkin products for the season. Pair a piping-hot cup of coffee or warm chai latte with a slice of spiced pumpkin cheesecake, personal pumpkin trifle, or cream-filled pumpkin Swiss roll.
Sweetside's pumpkin macarons: If you're looking for a pumpkin-flavored treat to pair with your PSL, look no further than Sweetside Cafe. In anticipation of the new season, the Hampden hangout has introduced soft pumpkin macarons and, of course, piping-hot pumpkin spiced lattes.
Atwater's pumpkin lattes and pumpkin bites: Not only does Atwater's serve up some standout soups and sandwiches, but the local farm-to-table chain also offers a slew of fall-inspired takeaway items and coffees this time of year. In addition to its famous pumpkin bites, the cafe is rolling out warm pumpkin latte using a homemade syrup made with roasted pumpkins and a blend of spices beginning September 22. Multiple locations including 3601 Boston St., 667-309-7146
Pumpkin tarts at Cafe Dear Leon: Pumpkin tarts with housemade maple marshmallows are officially part of the fall lineup at this Canton cafe, which became an instant favorite after its debut this past summer. Starting at 7:30 a.m. daily, enjoy the treat alongside other seasonal sweets such as apple turnovers and apple cider-glazed crullers.
Local pumpkin beers: We'd be remiss if we didn't mention the bounty of local breweries currently celebrating seasonal releases. From favorites like Heavy Seas' Great'er Pumpkin and Evolution Craft Brewing's Jacques Au Lantern to DuClaw's 31 Pumpkin Spice Lager and Full Tilt Brewing's Patterson Pumpkin, Charm City is chock-full of fall brews to get you in the mood for apple-picking and leaf-peeping.
Additional reporting by Lorann Cocca.