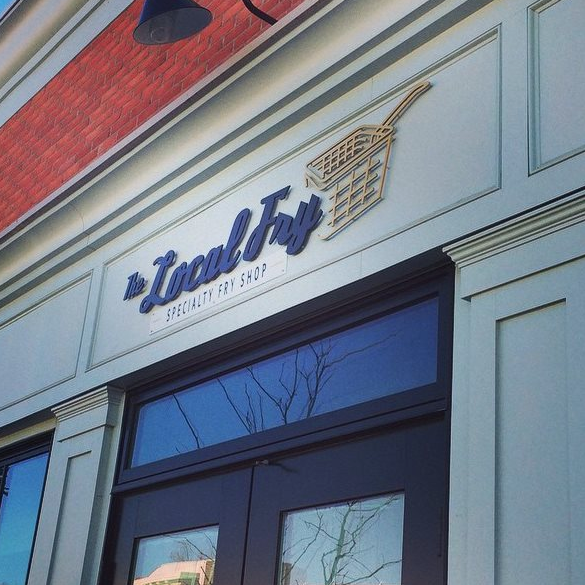 Courtesy of The Local Fry
Let's face it: Salty snacks taste a million times better after a night on the town with friends. In a neck of the woods like Federal Hill where the bar scene is always booming, late-night eats are all the rage.
The Local Fry, a specialty french-fry bar which will be open until 3 a.m. on weekends, will soon be joining the ranks of other late-night eateries like neighboring Stuggy's and the popular Ultimate Pizza.
Headed up by husband and wife team Kevin and Elizabeth Irish, this unique restaurant will sit at 21 E. Cross St., a 2,000-square-foot space that was once an M&T Bank.
"When I drink I want to eat fries," says Elizabeth. "We like that the space caters to a late-night crowd, but we also want it to be a dinner spot, as well."
The idea behind the business spans two countries and multiple attempts at recipe creations. Kevin and Elizabeth lived in Ireland, Kevin's native country, before relocating to Baltimore, where Elizabeth grew up, in 2009.
The menu at The Local Fry will reflect the couple's cultural heritage and the places that they have travelled together, with some toppings inspired by Korean, Irish, Greek, and French cuisine. Guests will be able to load their crispy fries with various sauces, toppings, and seasonings off of a rotating menu featuring new specials every week. Sliders and Buffalo wings will also be among the featured fare.
"We want to make the potato the star and show people that fries can be a main dish instead of just a side dish," Elizabeth says. "They are crispy but really soft, with great flavor, and hold very well."
Although they aren't newcomers to the local food scene—having owned a sub shop in West Baltimore for four years—The Local Fry is their first venture into the world of creating a business completely of their own.
Decked out with hanging light fixtures that resemble fry baskets, the BYOB restaurant will be able to accommodate 35 to 40 guests at a time. The informal hangout will include ten regular sized tables, two long bars, and one elevated communal table.
"We want to create an environment where you can come and hang out with friends or if you come alone you can strike up a conversation with someone you don't know." Irish says.
Awaiting BGE approval, the restaurant is slated for an early January opening.