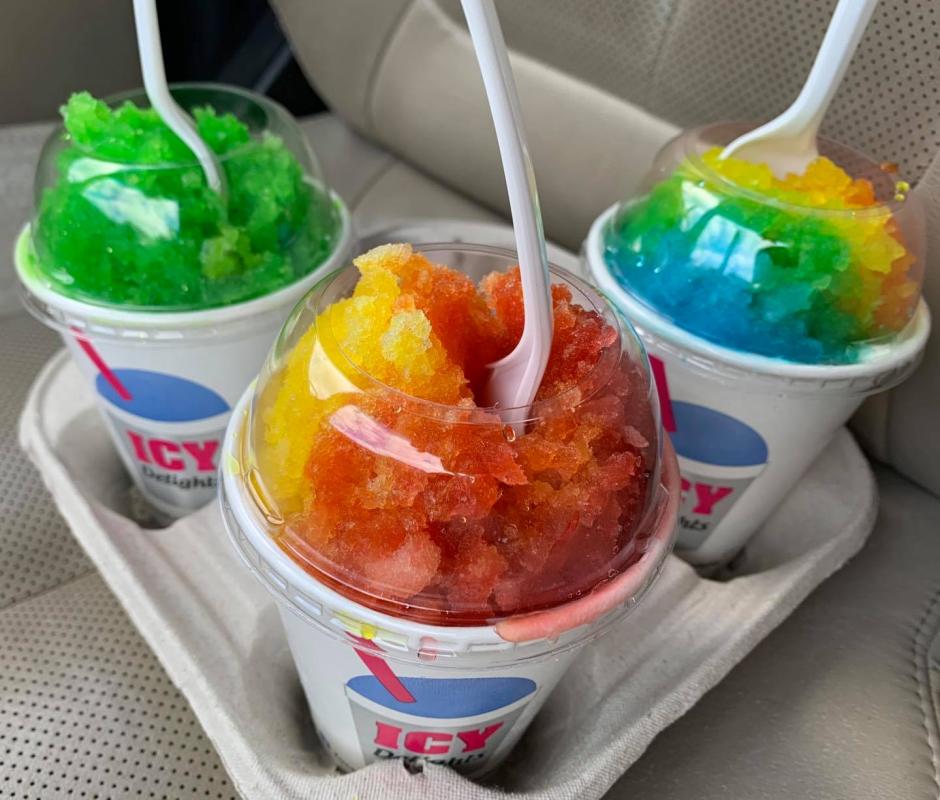 —Courtesy of Icy Delights via Facebook
Every neighborhood has one. A roadside shack that churns out Baltimore's token treat—the oh-so satisfying summer snowball. Once temperatures begin to peak, locals form lines stretching down the sidewalk to get their hands on the icy concoction, making friendly conversation with neighbors to pass the time. And the sweating Styrofoam cup is well worth the wait.
Whether you're partial to the classic egg custard topped with a dollop of marshmallow or a mixed medley that is all your own (cherry and skylite, anyone?), there is no denying that snowballs are synonymous with summer in Charm City. Here are our picks for the best spots to get your fix.
Bmore Shave Ice
Operating one location at The Go-Kart Track off of Pulaski Highway in White Marsh and another at Donald Eurice's Farm Stand in Middle River, this dessert destination is dedicated to preserving tradition. Step up to the window and order off of an extensive menu that lists flavors like lemon-lime, spearmint, and wild cherry along with the requisite marshmallow add-ons. Pro tip: the mural hand painted on the White Marsh stand also serves as a perfect Instagram backdrop. Multiple locations including 10907 Pulaski Highway. White Marsh
Chestnut Ridge Volunteer Firehouse Snowballs
Take the scenic route along the winding roads of Greenspring Valley to experience this fan-favorite stand at the Chestnut Ridge Volunteer Firehouse—which acts as an annual fundraiser for the organization. Mix and match your favorite flavors and indulge while watching the cars roam down the bucolic Greenspring Avenue. 12020 Greenspring Ave., 410-887-7781
Chill Snowballs & Ice Cream
Brothers Todd and John Hays have been serving up snowballs since the '80s, and they're keeping the tradition going with this stand on Main Street in Reisterstown. Equipped with ample seating, strung lights, and even a play area for kids, Chill certainly lives up to its name. There are plenty of treats to choose from, including sundaes, milkshakes, frozen coffees, and soft-serve "Candy Crushes" blended with chocolate-bar toppings. But the snowballs are the stars of the show. Enjoy old favorites like cotton candy and Tutti Fruity, or switch it up with signature combos signature combos like "Jungle Chill," which mixes coconut, mango, and pineapple. 249 Main St. 443-461-5040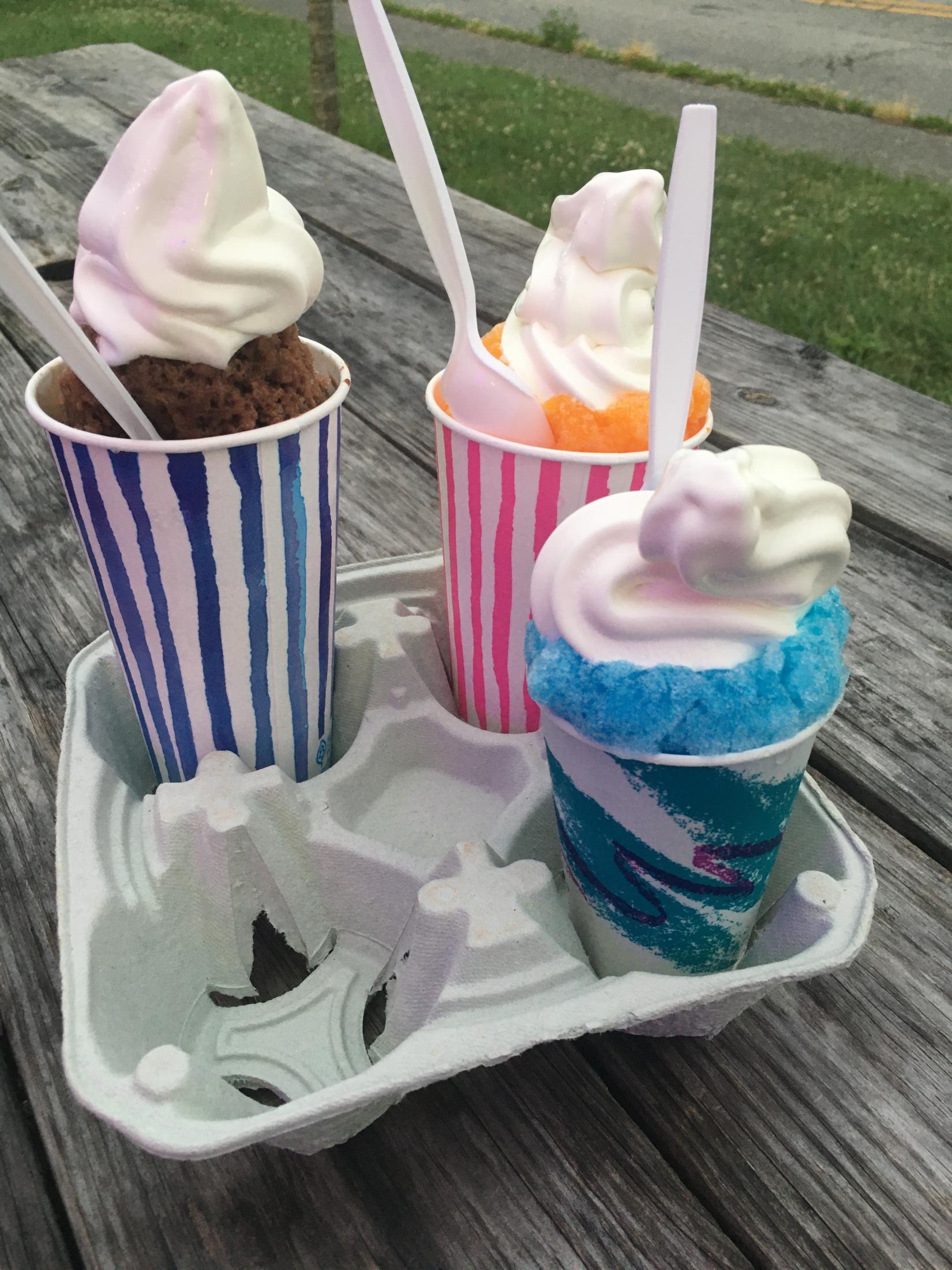 Elizabeth & Zyggie's
Parkville locals continue to rave about this stand-alone shack, which peddles inventive flavors like banana split, orange cream, mint julep, and the famous Reese's topped with chocolate sauce and crushed peanut butter cups. Of course, the classics are also offered on the lengthy menu, which includes kid-friendly favorites like raspberry and lemon-lime. 2501 Putty Hill Ave., Parkville
Emmorton Snowballs
This Bel Air institution began as a tiny structure off of Emmorton Road in the summer of 1981, and has remained a staple ever since. The classic dry-erase menu lists smoothies, milkshakes, and soft-serve ice cream, but the snowballs are the true highlight. Make your way up to the take-away window to quell summer sweet tooth cravings with flavors ranging from green apple and strawberry to signature mixes like the Tequila Sunrise (cherry, orange, and lemon) and Bahama Island (coconut, honeydew, and egg custard). 101 E. Wheel Road., Bel Air, 410-569-2941
Icy Delights
Many locals have become acquainted with this local snowball chain, which has been around since the '90s and boasts six shops scattered everywhere from Highlandtown to Middle River. The stand has become known for its signature style, which tops its Styrofoam cups with a plastic dome cover and provides a long spoon for stirring. The brand has also made a habit of placing marshmallow in the middle of the ice—so don't get discouraged if you have to dig around for it. Multiple locations including 3930 Fleet St.
Ice Queens
If the texture of your treat from this Locust Point newbie seems a bit odd, it's because the snowballs are an homage to co-owner Monique Burke's native New Orleans—where the shaved ice is known for being more fluffy than sharp. But fear not, the spot seems to have passed the Charm City test (egg custard is rightfully on the menu) and has become an instant favorite in the neighborhood. Sample classic fruit flavors or go for a signature combo like "Punch Bowl" or "Chocolate-Covered Strawberry." 1648 E Fort Ave.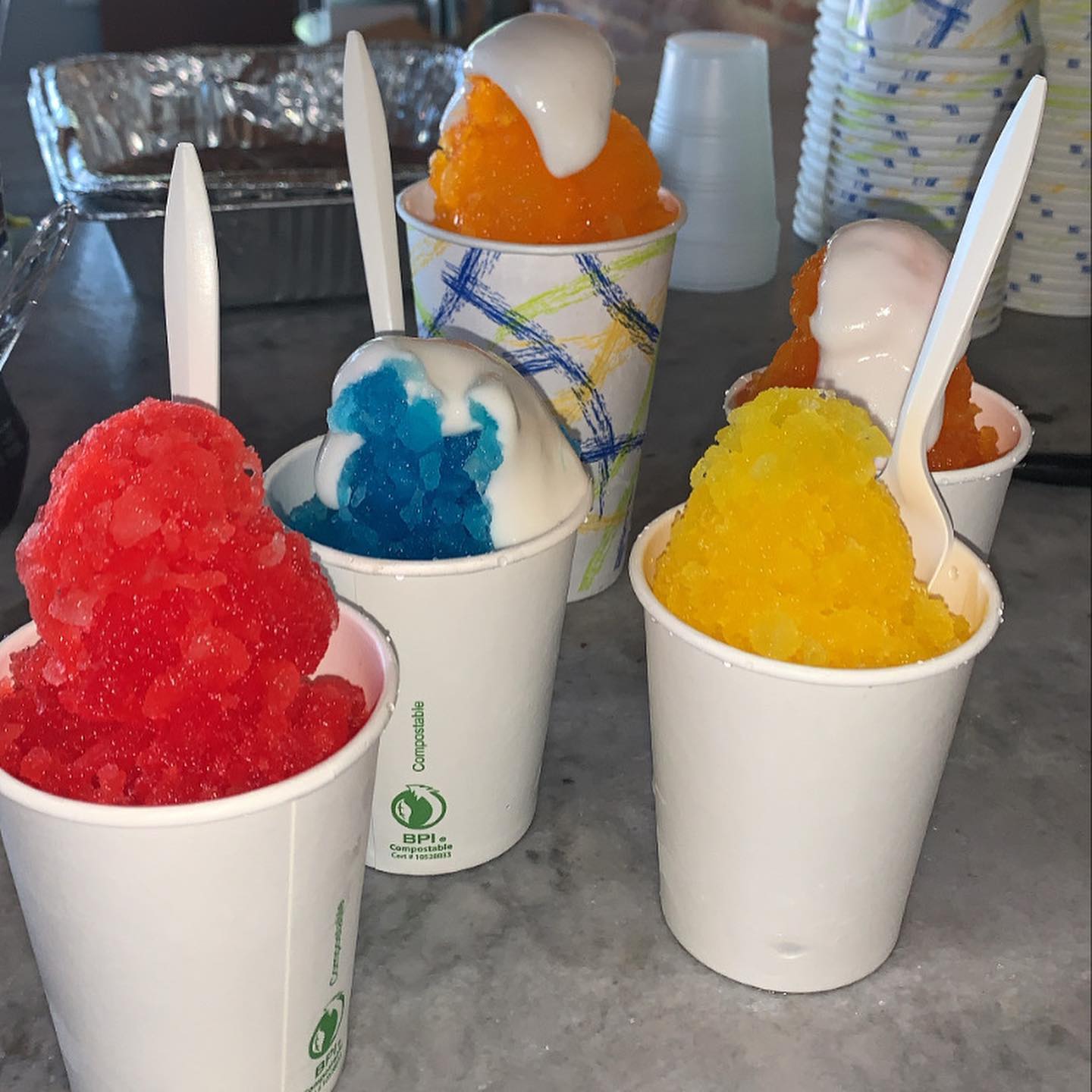 Icey Sno
This roadside stand is a haven for locals driving down Belair Road during the dog days of summer. Bring the whole family and satisfy snowball cravings with classic flavors like orange, strawberry, and blue raspberry, as well as special flavor mixtures like pink lemonade, "Tootsie Roll," and "Bob Marley." 7542 Belair Rd.
Kevin's Snowballs
Owner Kevin Rodgers has been running this community staple stationed next to St. Veronica's Church along Cherry Hill Road for years. A favorite among locals leaving church on blazing hot Sunday afternoons, "Mr Kevin's" offers all of the classic flavors in affordable servings that start at 50 cents. 806 Cherry Hill Road
One Sweet Moment
For more than 25 years, this Hamilton hangout has become a go-to spot to cool off during the summer months. Step up to the shaded wooden porch to order off of the lengthy menu, which showcases more than 150 choices categorized by regular flavors, specialty mixes, sour selections, and cream concoctions (think mudslide, creamy colada, root beer float, and strawberry shortcake.) 2914 Hamilton Ave.
Opie's Soft Serve and Snowballs
Grabbing an after-dinner treat at this sweets shop has become a community tradition in Catonsville. Post up at one of the picnic tables in the front, or snag an Adirondack chair on the back lawn to watch the sun set while chopping away at an icy snowball. Flavors range from strawberry to cotton candy, and—if you're having a hard time choosing between a snowball or ice cream—go for the signature "Snowcream," which layers soft-serve in the middle and on top of the ice. 1603 Edmonson Ave., Catonsville.
Original Hawaiian Island Snowballs
This summer hangout off of Liberty Road in between Randallstown and Eldersburg has been enticing locals for decades with its tasty treats and daily specials, including free marshmallow on Mondays and discounted shakes on Thursdays. Though it offers funnel cakes, soft pretzels, gelatis, and ice cream sundaes, the shop is best known for an array of more than 100 snowball flavors ranging from pear and tangerine to Fireball and strawberry-banana. 10636 Liberty Road, Holbrook, 410-521-2960
Quality Snowballs
The Food Market chef/owner Chad Gauss has expanded his Hampden footprint yet again with this venture, which showcases his playful food philosophy in snowball form. The 10-foot shipping container—stationed just across the street from The Food Market on the Avenue—takes typical flavors to a new level with toppings like fresh fruit, whipped cream, candy pieces, condensed milk, and torched marshmallow fluff. You can always grab a classic egg custard or lemon-lime. But if you're feeling adventurous, try concoctions like banana with Oreos, dirt cup with gummy worms, rainbow cream with Nerds, black bottom with crumbled brownie pieces, and "Celebration Cake" topped with whipped cream and rainbow sprinkles. 1014 W. 36th St.
Snoasis
Decorated with palm trees, straw umbrellas, a sand area, and twinkling lights, this Cockeysville mainstay has a relaxing feel that certainly fits with its name. The island vibe also translates into the menu, which highlights specialty flavors such as strawberry daiquiri, piña colada, and coconut cabana. 30 E. Padonia Road, Lutherville-Timonium
Snow Cone Sisters
Cleverly named after the Baltimore Museum of Art's renowned collection acquired by sisters Claribel and Etta Cone, this cafe in the museum's Sculpture Garden serves the classic cool-down treats topped with globs of gooey marshmallow. Swing by before, after, or in between browsing exhibits to sample flavors such as blood orange, peach, root beer, birthday cake, and chocolate-covered cherry. 
Stouten's Marina and Snowball Stop
This neighborhood gem located at Stouten's Marina on the water in Dundalk has something for everyone, whether you're jonesin' for a fruity flavor or in the mood for a peanut butter and jelly snowball (grape topped with peanut butter sauce). The stand is even equipped with a drive-thru window for the scorchers when it's too hot to step away from the blasting A.C. 817 Wise Ave., 410-477-2288
Sugar Shack Snowball Stand
Keep your eyes peeled for this mobile stand that famously garnishes its snowballs with hefty dollops of marshmallow and straws stacked with gummy rings. The blue bus makes frequent stops at the intersection of 29th Street and Greenmount Avenue, but also caters private events if you'd like it to come to you. Sample the icey domes in flavors such as root beer, mango, and strawberry.
Summer Shack Snowballs
It's difficult to drive down Falls Road without making a pit stop to this family-owned stand, which offers outdoor seating and plenty of sidewalk chalk to occupy little ones. Head to the royal blue awning to order a colorful snowball (think Georgia peach, pink bubble gum, and Tutti Frutti) while soaking up the summer sun. 2339 W. Joppa Road., Lutherville-Timonium, 410-296-4104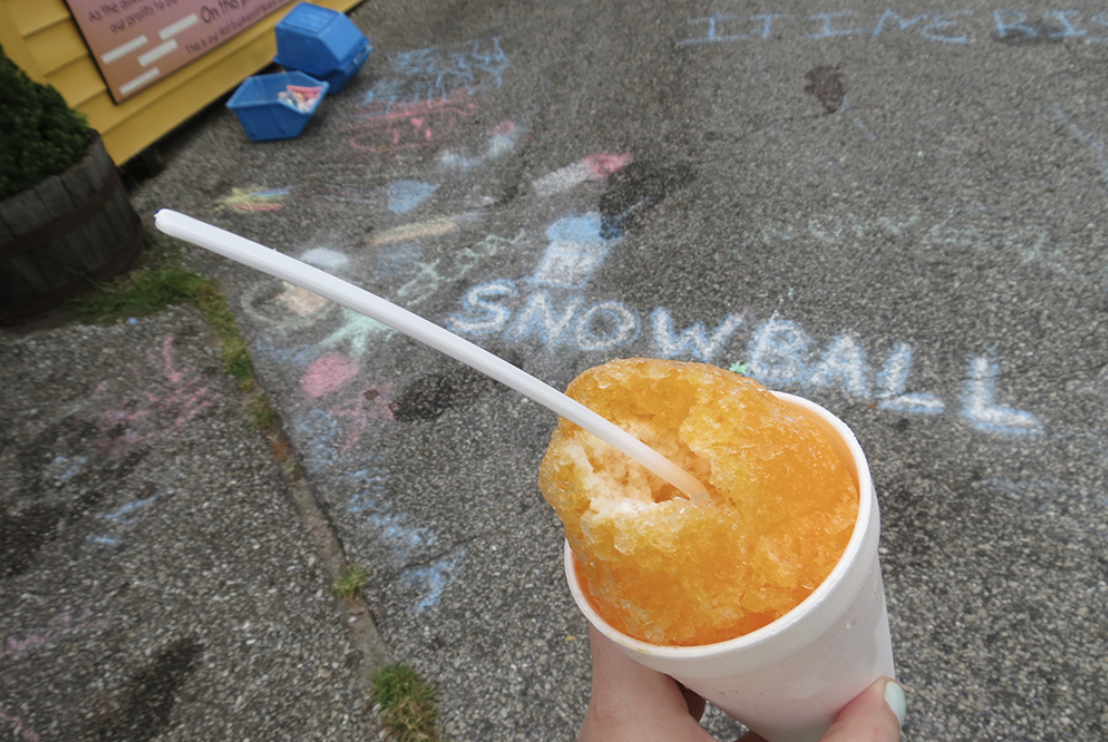 The Snowball Stand
No trip to Woodstock is complete without a stop to this community gem off of Route 99 in Howard County, which has been a favorite since its inaugural summer in 1974. Gather in the stand's gazebo to slurp standouts like blue raspberry, mango, and cola. Be sure to also check out the rotating "flavors of the day" sprawled on a chalkboard sign in front. 1970 Woodstock Road, Woodstock, 410-207-4885
Walther Gardens
With roots dating back to 1933, this stand on a picturesque half-acre parcel of land in Hamilton-Lauraville is arguably the oldest around. But its owners, brother and sister Matthew and Paula Wittek, have kept up with the times with classic flavors, as well as innovative creations like a peppermint patty snowball (spearmint topped with chocolate syrup). Stick around to tour the property, and don't forget to stop into the garden shop for all of your seasonal plant and flower needs. 3501 Southern Ave., 410-426-0546