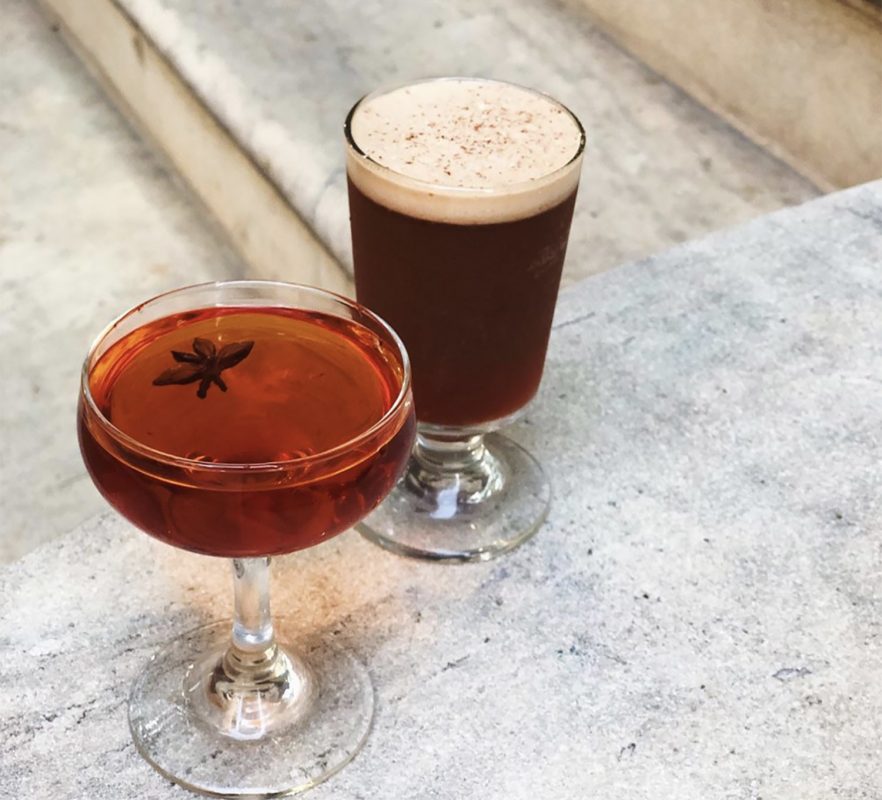 Sugarvale
Now that the temperatures have finally begun to take a (slight) dip, we say it's high time to break out the pumpkin beers—on draft with a sugar and cinnamon rim, if you're really feeling festive—and snuggle up with a warm cider or boozy coffee. Locally, there are plenty of places to get your fix of fall beverages, whether you're a pumpkin-spice fiend, a fan of porters and stouts, or a spicy cocktail enthusiast. From beer and wine to coffee and booze-free options, here are a few drinks to try at local bars, cafes, and breweries to get you in the mood for the season. One sip and you'll be apple picking and leaf peeping before you know it.
BEER
Monument City Brewing Company: Lamp Lighter
This Highlandtown hangout is welcoming the chilly temperatures (whenever they arrive) with a new Imperial Porter. Featuring robust notes of chocolate, roasted coffee, and a hint of vanilla, the 9.2-percent ABV release is a dark brown in color and ideal for sweater weather. If porters aren't your thing, Monument City's golden copper Battle IPA with floral and piney hop notes is a great alternative.
Full Tilt Brewing: Patterson Pumpkin
If you haven't had a chance to visit Full Tilt's new taproom in Govans, stop by this month to sip the famous Patterson Pumpkin Imperial Ale—brewed for the first time since 2015—while playing all of the old-school arcade games. Not only is Full Tilt bringing the beloved brew back this year, but come Thanksgiving, the team plans to also release a special version aged in Baltimore Spirits Company Epoch rye barrels.
DuClaw Brewing: Mad Bishop Oktoberfest
We'd be remiss without mentioning this fall favorite. First brewed in 1996, the German-style Oktoberfest is almost as old as DuClaw Brewing itself. Still, it remains a classic with its copper color and toasted malt aroma. Clocking in at a 6-percent ABV, the beer combines Vienna and Munich malts creating the perfect blend of fall flavors.
CIDER

Old Westminster Winery: Happy Camper
After releasing a few experimental varieties throughout the years, the team at Old Westminster Winery decided that this season was officially the time to go all out with its first wild cider. At 6.3-percent ABV, Happy Camper is made from heirloom apples, fermented with wild yeast, aged in American oak casks, and canned for easy outdoor sipping. Pick up a four pack at select retailers beginning October 1, or plan a trip to the beautiful Carroll County winery to sample the cider while taking in all of the woodsy vibes.
Great Shoals Winery: Spiced Hard Apple Cider
The name hypes up the wine, but Great Shoals is also a mecca for award-winning hard ciders made from fruit grown on local farms like Walnut Springs in Elkton and Baugher's Orchard in Westminster. Among the many enticing blends (think everything from cherry to crabapple) is the Spiced Hard Apple Cider—a dessert-style varietal mulled with cinnamon, allspice, cloves, and orange peel.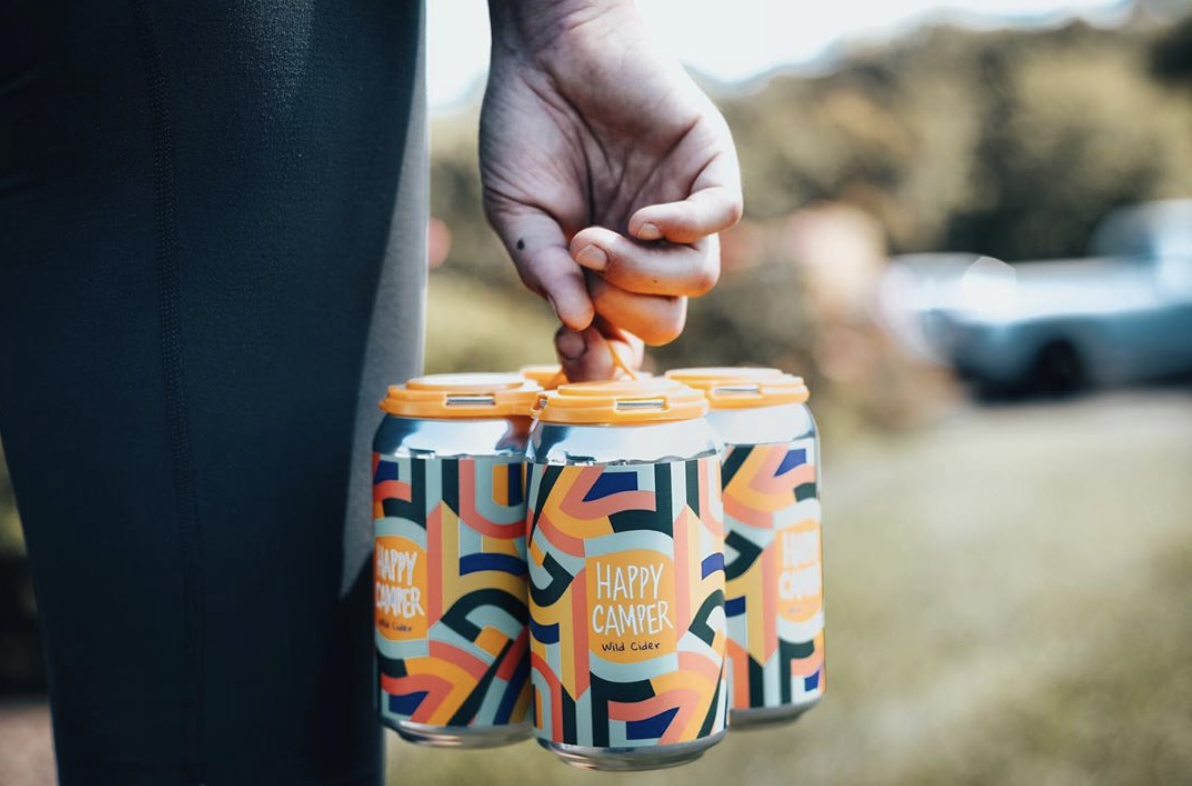 COCKTAILS
Annabel Lee Tavern: The Gold Bug
There's truly no better way to welcome the spooky season than by pulling up a barstool at Canton's own corner-bar tribute to Edgar Allan Poe. Named after one of Poe's most beloved short stories, this warm concoction fuses Captain Morgan, Myers rum, butter, cinnamon, brown sugar, and cloved lemon. While you're at it, be sure to also try the seasonal "Phantasmagria," a signature apple sangria served in a stemless skeleton glass.
Nepenthe Brewing Co: The Bourbon Cleanse

Sure, Hampden's Nepenthe Brewing Co. is a full-service brewery and taproom, but it also serves up some killer cocktails. This season's lineup includes "The Bourbon Cleanse," which mixes bourbon with cider, lemon, cayenne, and maple. That pretty much sounds like fall in a glass to us.
Sugarvale: Siete Besos

You can always count on this subterranean spot in Mt. Vernon to change its cocktail menu with the seasons. Retreat from the cold with the "Siete Besos," which combines Hamilton 86, Kirk & Sweeney, and Pampero Aniversario rums with spicy benedictine and coffee liqueur.
Wet City: Birch Better Have My Money
It should come as no surprise that the creative team behind the bar at Wet City has an entire lineup ready to roll out as the temperatures drop. Among the offerings is this cleverly named cocktail that mixes birch sap-infused vodka with Wild Turkey rye, Contratto Fernet, and a Laphroaig and vanilla rinse. Patrons should also be on the lookout for new beer releases like the red wine barrel-aged Cab—a dark sour with cherries and black currants.
COFFEE

Order and Chaos Coffee: Salted Caramel Mocha
Baristas at this South Baltimore java joint are spotlighting caramel in this sweet-and-savory mocha that combines espresso, caramel syrup, steamed milk, and a salt garnish. Don't miss other indulgent sips including a ginger spiced coffee and cinnamon bun cappuccino.
Higher Grounds Coffee Roasters: Pumpkin Chai Latte
Move over PSL. This Highlandtown go-to is creating its own iteration of the infamous drink with chai. The secret ingredient? The shop uses a flavored powder (rather than a syrup) to give off the spicy taste. Add a shot of espresso to make it a "dirty" version.
One-Do Coffee Roasters: Housemade Golden Milk
Curl up with a good book at this Canton shop known for its strong brews and picture-perfect latte art. There are plenty of cold-weather coffees to choose from, but the Golden Milk—made with a turmeric-forward spice blend—is a surefire bet to warm your soul on a dreary day.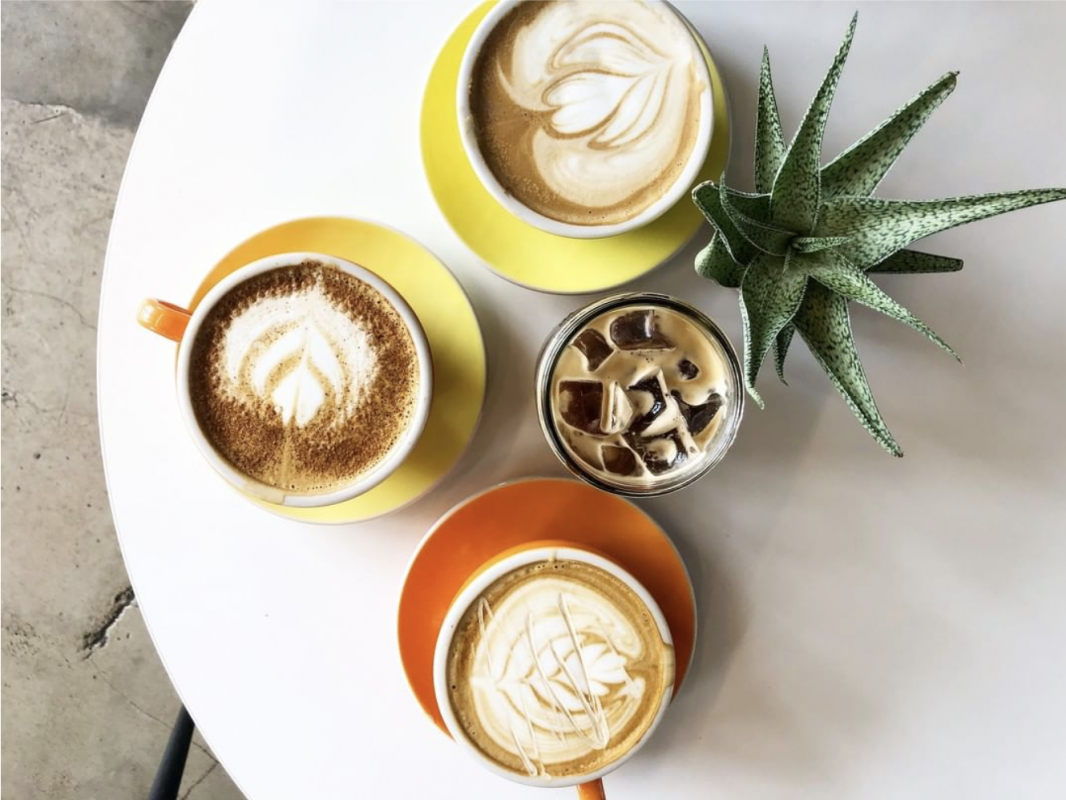 MOCKTAILS
True Chesapeake Oyster Co: The Ark and Dove

At this oyster-centric restaurant in Hampden's Whitehall Mill (opening October 8), lead bartender Ashley Mac is looking forward to offering booze-free options that go beyond the typical ginger beer or Shirley Temple. The "Ark and Dove," named after the two ships that the Calverts came to the Eastern Shore on from England, will be one of the featured drinks on the opening menu. It combines bitter Giffard aperitif syrup with a vegan eggwhite substitute, rhubarb, and a housemade Asian pear and cardamom shrub.
Wild Kombucha: Blood Orange CBD
It only makes sense that the experimental brains behind Wild Kombucha would explore CBD next. This month, the forward-thinking brewery—which recently unveiled new digs in Northwest Baltimore—launches its new Blood Orange CBD variety combining the flavorless compound (known to ease anxiety and stress) with citrus and floral notes. Catch it in retail stores like Giant and Whole Foods starting October 1.
WINE & MEAD

Boordy Vineyards: South Mountain Red
While we love a good white or rosé any time of year, the colder temperatures make way for robust reds like this affordable bottle from Boordy's Landmark series. Fruit-forward and medium-bodied, the South Mountain Red features notes of tart cherries, cedar, and rose petals.
Charm City Meadworks: Retire by the Fire
As you start to pencil in backyard bonfires this season, be sure to pick up a few cans of this rich blend from Charm City Meadworks in Mt. Vernon. Notes of cacao, vanilla bean, and warm clove make this the perfect drink for gathering around a warm flame.