Three Libations to Enjoy With Your Thanksgiving Feast
Whether it's beer or a fruity wine you're craving, these recommendations will do the trick.
Recommending libations for Thanksgiving every year is a lot like the meal itself. While there are opportunities to riff on a side dish or a dessert, it's tough to deviate from tradition. Whether it's beer or a fruity wine you're craving, enjoy these classics along with your holiday feast.
Seghesio Zinfandel "Sonoma" 2018
($25, Winebow)
Zinfandel checks a lot of the right boxes for Thanksgiving, and this offering from California stalwart Seghesio proves why. Fruity? You bet. Think black raspberry and dark cherry tones, and a juicy finish that stares down cranberry sauce. Structure? Just enough to support the beautiful fruit and stand up to richer meat sauces, but it won't swamp the turkey. And what better way to toast Thanksgiving than with a grape that was an immigrant, but is now uniquely American?
Distilerias Atxa Pacharan
($35, Free Run)
Spaniards are not known for dinners that are quick, or light. A culture that values a long, slow meal filled with diverse flavors seems the right place to source a digestif for the biggest meal of the year. Pacharan is a centuries-old Basque traditional liqueur made from sloe berries, anise, and other flavoring agents. Berry flavors, anise, and bitter orange tones abound with a hint of dark cocoa on the finish.
Fun fact: The Basque culture is an ancient one that straddles the border between Spain and France at the western end of the Pyrenees. Basques identify as neither Spanish nor French and are protective of their culture. It's a region with a fascinating history and some fascinating things to drink, too. Txakoli, the white wine of the region, and a dry cider called sidra are popular exports.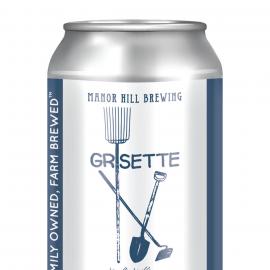 Manor Hill "Grisette" Farmhouse Ale
($13 six-pack cans, Legends)
Maryland's largest family-owned brewery, Manor Hill, models its Grisette after a French-style saison wheat beer, but with German hops. This ale is slightly frothy and brimming with citrus and tropical notes. The finish cleans up nicely as the hops step in with just enough bitterness to cleanse the palette and prepare your taste buds for another helping of stuffing.