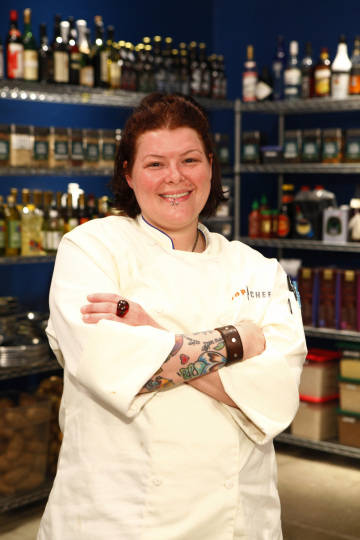 Courtesy of bravotv.com
Last night I attended the grand opening of new Harbor East wine bar Vino Rosina—an offshoot of the popular sandwich shop Rosina Gourmet. The space is gorgeous, which is no surprise, considering the architect behind it also designed Woodberry Kitchen. In that same vein, the restaurant (housed in the old Bagby Furniture Building) has a very industrial feel, with exposed brick, visible ceiling ducts, and an open kitchen. The front third of the space houses a large squared-shaped bar and the back has various dining tables and a private dining area. The front and back are separated by tall, wooden wine racks.
Attendees got to sample some appetizers and sparkling white wine as they took in the feel of the new wine bar. The wait staff, each donning a pair of black chucks, was very attentive in handing out starters like bacon-wrapped asparagus, basil-covered strawberries, and tuna tartare salads. They were also charcuterie platters on each of the dining tables in the back. Rosina Gourmet style mini-sandwiches (like roast beef and roasted red pepper) were also being served.
I got to peek at the beer and wine lists, which were very impressive. There were four beers on tap (including Mama's Little Yella Pils for $5.95) and two-dozen bottles to choose from (everything from White Hitachino Ale to Abita Light). The two-page long wine list was even more impressive, offering wine in 3 ounces, 6 ounces, or bottles. The bottles ranged from $16-55 and were organized by region. There was also a list of six $12 martinis on the menu, with curious names like "Strawberry Basil Rhubarb" and "The Dirtiest."
Last night, executive chef Jesse Sandlin, pictured, (of Abacrombie and Top Chef fame) was running in and out of the kitchen serving food, always with a smile on her face. Part of that could have been that fellow Top Chef contestant Mike Isabella (executive chef at Zaytinya in D.C.) was in attendance giving his support. Isabella and his friends were sitting at one of the back tables, as Sandlin brought them plate after plate of food. They seemed happy to get the chance to catch up.
I see no reason why a wine bar in Harbor East (in a great Bagby Building location) with a remarkably talented chef won't do well. The staff was overly attentive, the food was excellent, and the drink selections were anything but run-of-the-mill.