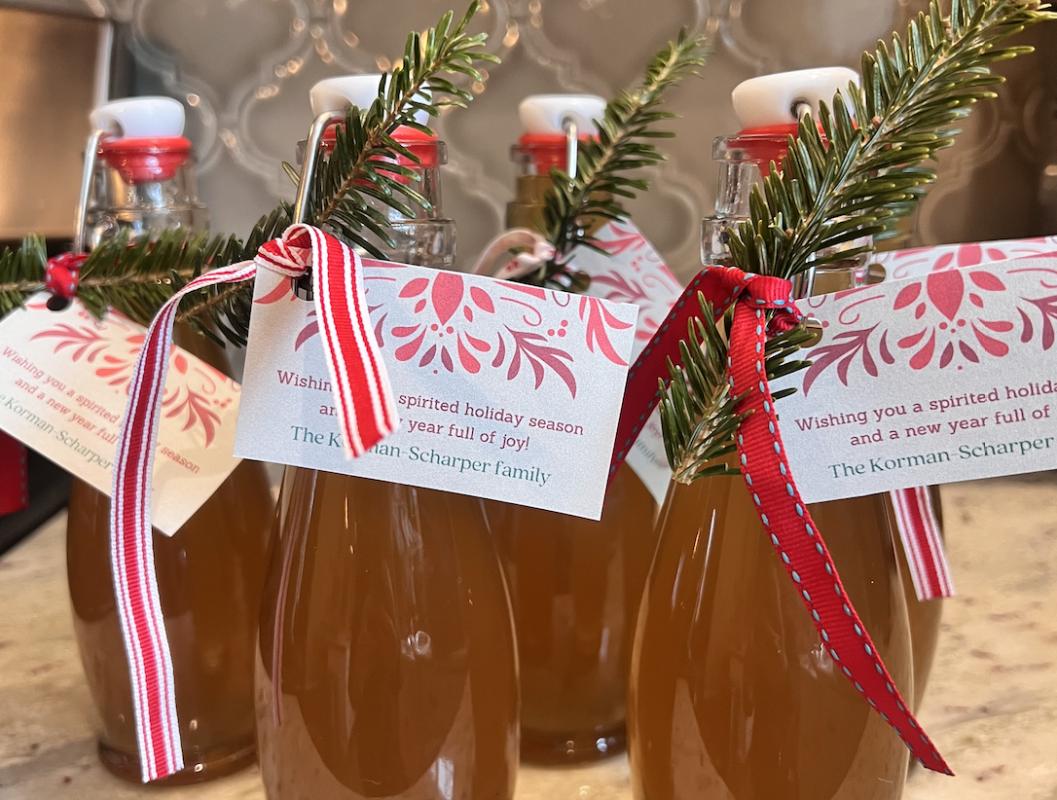 Contributor Julie Scharper shares family memories of celebrating with viryta, as well as a recipe to make your own. —Courtesy of Julie Scharper
From her perch near Uncle Bernie's Christmas tree, my grandmother beckoned me over. "Hey kiddo," she whispered, her ice blue eyes flashing. "Get me a little glass of that viryta over there and I'll split it with you."
This was a surprising proposition for a number of reasons. Viryta (pronounced "vititis")—a traditional holiday drink made by my Lithuanian-American relatives—is mostly made of honey and grain alcohol, two things I knew my diabetic grandmother should not have been ingesting. Secondly, I was 14 and my very strict parents would have never approved of me drinking alcohol. 
But that didn't stop me from sliding over to Uncle Bernie's bar cart in my teal taffeta dress on that day in December 1992. I looked around to make sure no one was watching, pried off the stopper of a crystal decanter, and poured a swig of the golden liquid into a shot glass.
Grandmom smiled when I handed her the glass. She was in her early 80s, her mobility limited by a couple small strokes, but she was impeccably dressed, with a rhinestone pin glinting on her wool blazer. She drank half of the shot, then handed the rest to me. I took a small sip—detecting cinnamon, licorice, honey, and very strong booze. It tasted like the holidays boiled down into a sweet syrup. I finished the glass, feeling a wave of warmth roll through my body. 
It would be another decade or so before I drank viryta again. Around that time, Lithuanian Hall—the Pigtown social club that had been a community hub for my grandparents, aunts, and uncles—began hosting dance parties, which continue to this day. I bought rounds of viryta for friends and told them about my grandmother, who grew up nearby when the neighborhood was full of Lithuanian immigrants. Her family owned a tailor shop and she was forced to leave school after fifth grade to work there. (Her first job was punching buttons out of oyster shells.) Despite her lack of formal education, Grandmom loved to read and crushed everyone else in the family at Scrabble.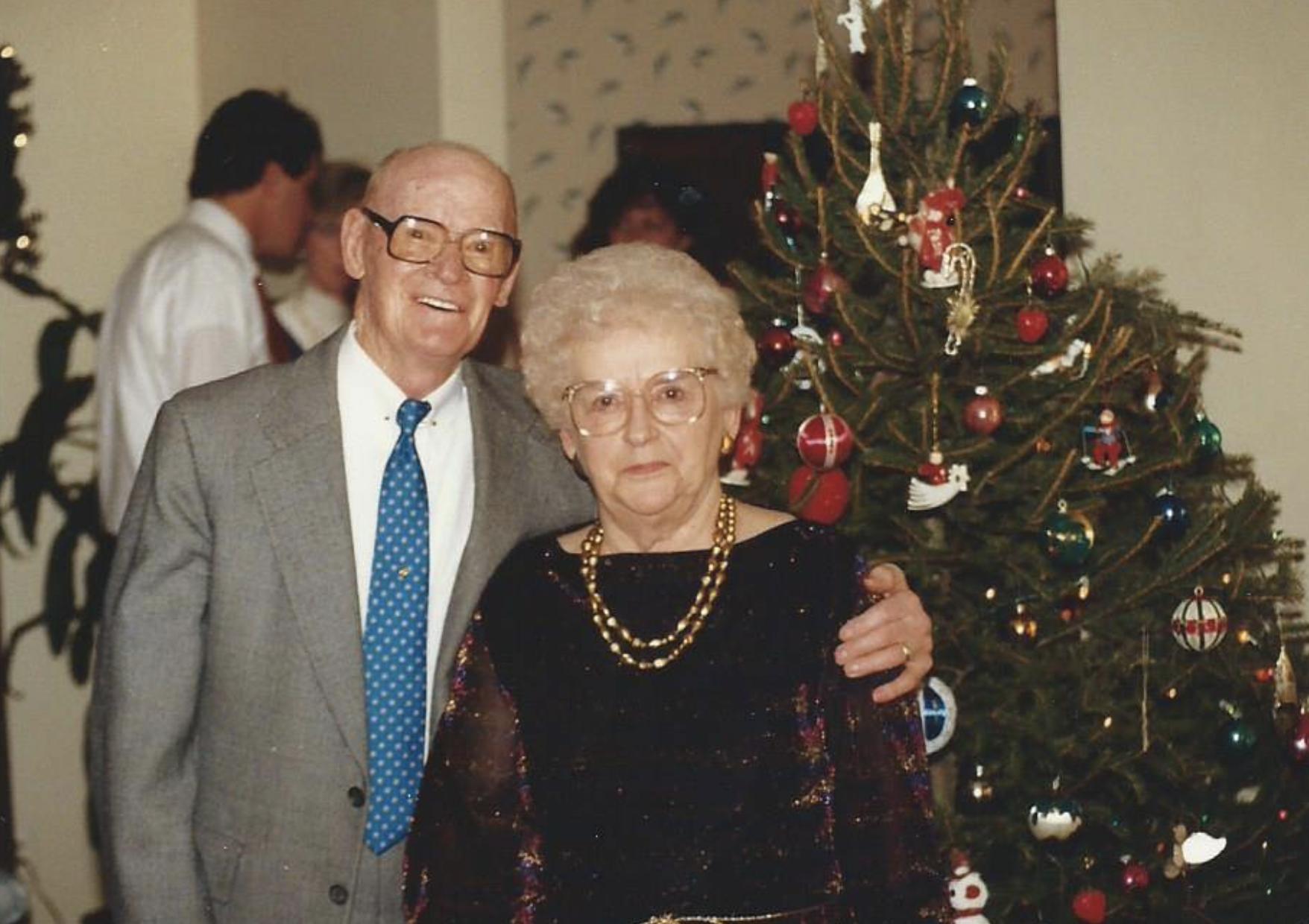 This year, I decided it would be fun to make viryta as a holiday gift for friends and neighbors. My Uncle Bernie, now in his 80s himself, emailed me his recipe along with a few notes. The drink is called "krupnikas" in Lithuania, he explained, and a version of it is made in the coal region of Pennsylvania (also home to many Lithuanian immigrants), where it is called "boilo."
Lithuanian Hall manager Egle Noeth, who is originally from Lithuania, confirmed that the drink is called "krupnikas" there and it seems to be referred to as "viryta" (which derives from the Lithuanian word "to boil") only in the Baltimore area. Viryta remains popular with guests at Lithuanian Hall, which celebrated its hundredth anniversary last month. 
"It's our signature drink," Noeth says. "When people come in, they want to try it and they like it. It reminds them of the holidays." 
It seems that everyone makes viryta a little differently. Noeth says that the person who previously brewed it for the hall included small quantities of rue, the national herb of Lithuania. I found several recipes online, none of which mentioned rue, but each calling for a different blend of spices. Some include vanilla, cloves, cardamom, anise, and black pepper. One calls for Pikesville Rye instead of grain alcohol or vodka. That recipe, from Annapolis entrepreneur Natalie Franke, is a favorite of mine since she notes that "Lithuanians do not use recipes." (Now I can blame my habit of not following recipes on my DNA.)
Uncle Bernie's recipe calls for boiling orange and grapefruit peels with cinnamon sticks, allspice, lemon juice, and crystalized ginger before straining the mixture and then stirring it into boiled honey. A retired physician, Uncle Bernie suggested using vodka instead of the traditional grain alcohol, "for a more temperate approach." 
In the spirit of sharing some holiday cheer, here is the recipe that I followed (more or less) to produce viryta this season. My husband and I have brewed two batches of it in the evenings after putting our kids to bed. It takes about a week for the flavors to meld together, but then it is sweet, strong, and spicy—much like my memories of long-ago family parties.  
Ingredients:
The peel of one orange and one lemon (use a peeler to get the flavorful zest and avoid the white pithy parts)

Three cinnamon sticks

One vanilla pod, split open

Three-inch ginger root, peeled and cut

One tablespoon caraway seed

Three cloves

Five balls of allspice

Two tablespoons of cardamom seeds

One half of a nutmeg seed

One tablespoon anise seed

Two quarts of water

Two pounds of honey

One handle of vodka (doesn't need to be the fancy kind)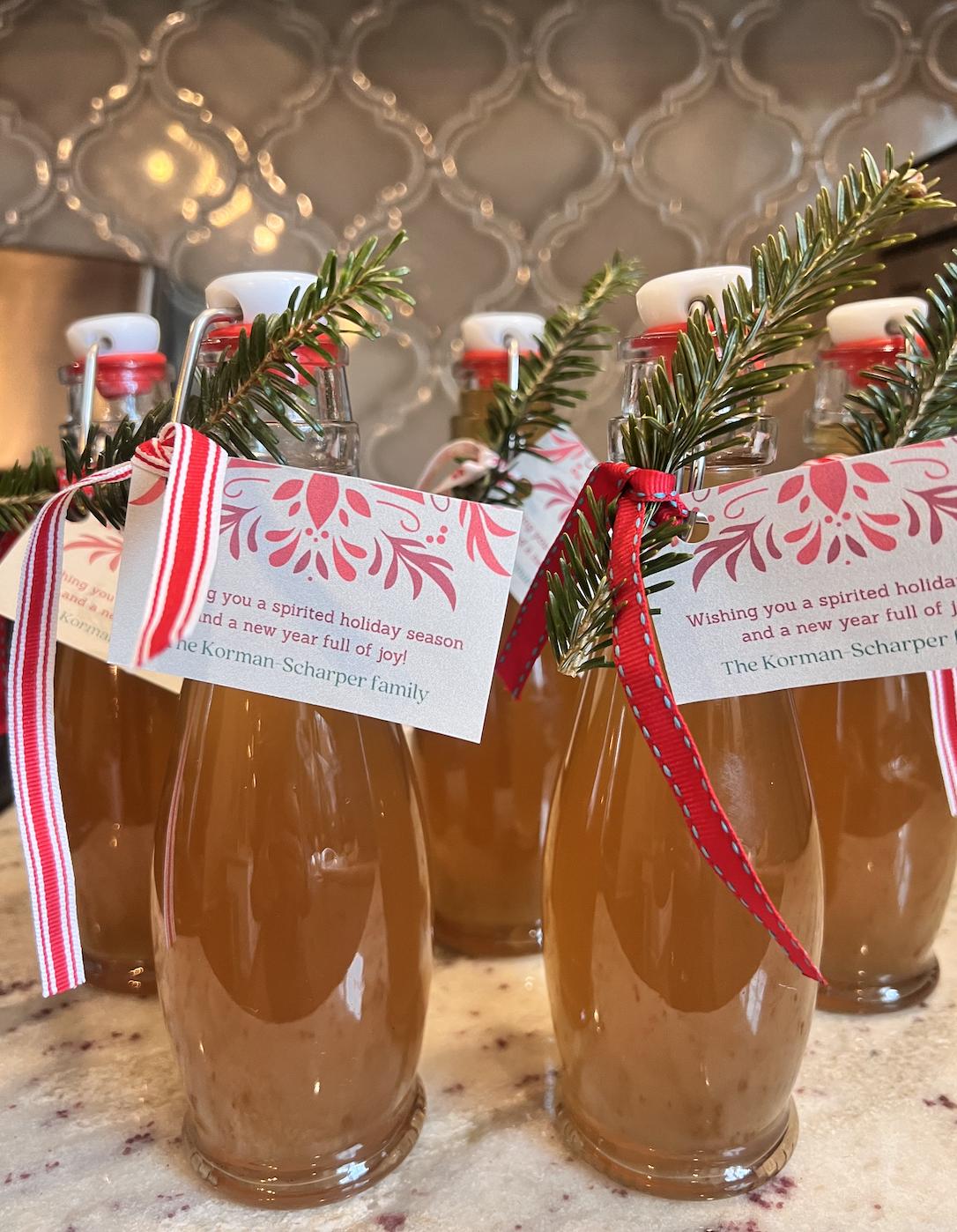 Directions:
Lightly crush all spices, add to water with citrus peels, bring to a boil and simmer for 45 minutes. 

Separately in a double boiler, heat honey to boiling. Use a wooden spoon to remove foam and impurities that arise from the honey. 

Pour the spice and water mixture through cheesecloth and collect the clear liquid. Slowly stir into the honey. 

Turn off the heat and slowly stir the vodka into the spiced honey mixture. Filter through cheesecloth again to remove traces of spices. 

Pour viryta into bottles and allow to mellow for at least a week. The flavor will only improve with time and it will keep indefinitely. 
Sveikata!