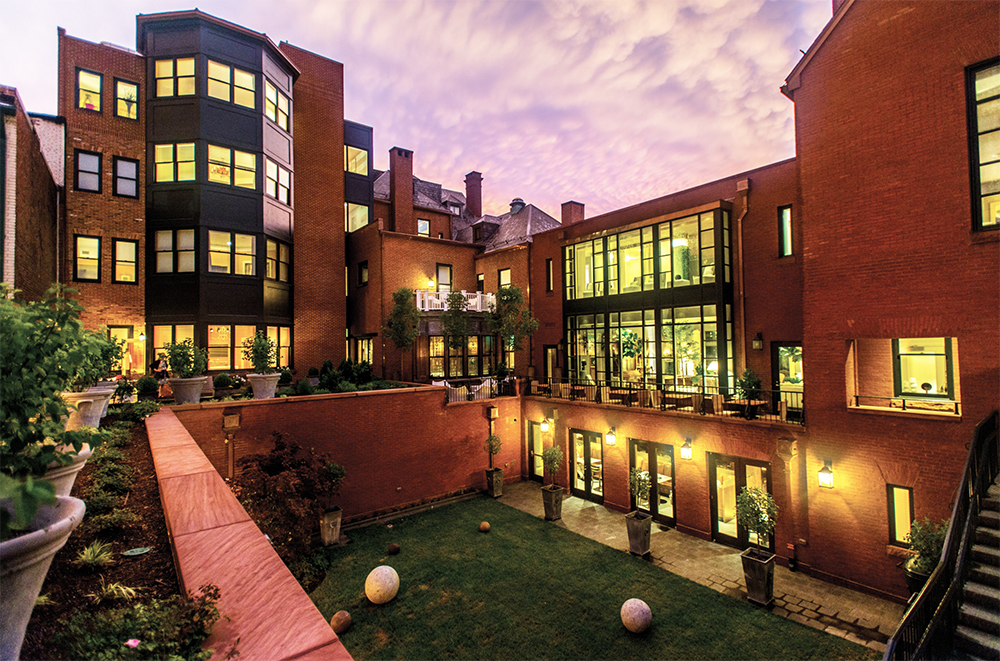 Courtesy of The Ivy Hotel
We've grown accustomed to seeing Baltimore touted on outlets like Food Network and Travel Channel. But last week, the oh-so-chic publication of Vogue published a travel piece lauding some of our best off-the-beaten-path sights, restaurants, and accommodations.
Penned by lifestyle editor Virginia Van Zanten, the article praises the city as an ideal weekend destination, mentioning that Penn Station is only a quick Amtrak ride away from most major boroughs along the northern East Coast.
"One of the great things about Baltimore is that there isn't an overwhelming amount to do and see," the piece reads. "There is more than enough to keep you busy, to be sure, but there isn't the 'must see and do it all' pressure that comes with, say, a weekend in New York City."
Van Zanten suggests booking a room at Mt. Vernon's luxe Ivy Hotel, and goes on to list standout sights in neighborhoods like Hampden, Fells Point, and Federal Hill.
While a few of our time-honored treasures were thrown in (any Baltimore travel article would be remiss without mentioning the National Aquarium, the Walters Art Museum, and Camden Yards), the writer also gave shout-outs to not-so-touristy destinations including local businesses Bottle of Bread in Mt. Vernon and The Wine Source in Hampden.
A spotlight was also placed on the city's thriving culinary scene, with nods to trendy food hall Mt. Vernon Marketplace, cozy coffee corner The Bun Shop, French fine-dining destination Arômes, and Korean-inspired eateries Dooby's and Ekiben—whose "Tofu Brah" steamed buns and baskets of tempura broccoli were described as "unreal." Van Zanten even gives kudos to the local kombucha stocked in the mini-fridge at the Ivy.
Noticeably absent was any mention of crab houses or the burgeoning oyster bar scene in Baltimore. In classic Vogue style, Van Zanten stuck with the more bourgeois side of the city and avoided getting her hands dirty. In fact, one Reddit user pointed out something similar, writing "I know it's Vogue, but that's literally the most expensive weekend one could spend in Baltimore."
Still, local businesses were understandably thrilled with the national attention. The owners of Ekiben wrote on Instagram: "What do Beyoncé , the new Gilmore Girls series, Obama's mom jeans, and Ekiben all have in common? They were all featured in this month's Vogue."
Regardless of the magazine's choices, we're excited that the local scene is getting some well-deserved recognition. Vogue sums it up best by saying that Charm City "may not be the first place that comes to mind when pondering a relaxing weekend getaway; but it should be."