The boozy hot chocolate lineup at The Bluebird Cocktail Room & Pub.—Photography by Justin Tsucalas
If you're anything like us, the first sign of snow means curling up near a window to watch the flakes fall with a hot beverage in hand. Luckily, local bars, restaurants, breweries, and coffee shops have rolled out some creative takes on classic winter flavors just in time for the frigid temperatures. No matter what your favorite winter warmer is (eggnog, anyone?), the local scene has you covered with everything from hot chocolate bombs to gingerbread Crushes and stouts. Brave the cold and grab one to-go from these area spots:

HOT CHOCOLATE
Avenue Kitchen and Bar: Stroll over to this aptly named hangout on the Avenue in Hampden to indulge in a comforting cup of hot cocoa topped with white chocolate whipped cream and the requisite mini marshmallows. 
The Bluebird Cocktail Room & Pub: In addition to its bottled cocktails, beer, and burgers, this Hampden hotspot is offering three boozy hot chocolate varieties for online ordering and curbside pickup. Take your pick from the bourbon-infused "Chocolate-Covered Cherry," peppermint schnapps-forward "Candy Cane," or the "Amaretto Truffle" topped with whipped cream and almonds.  
Café Dear Leon: The hot chocolate recipe at this Canton newbie calls for Valrhona white chocolate and lots of cocoa powder. Pair it with a French cruller or sweet almond croissant for the perfect winter treat. 
The Charmery: While The Charmery is better known for its cold treats, the ice cream shop whips up some addictive hot chocolate this time of year. Swing by to sample the house-made sip accompanied by Tahitian vanilla marshmallows. 
Sacré Sucré: TikTok fans have likely seen the of-the-moment hot chocolate bombs popping up on their feeds lately. And the chefs at this gem of a pastry shop in Fells Point are putting their own spin on the trend with custom-made holiday trees that turn into a hot cocoa beverage when warm milk is poured over them. Pre-order online or stop into the store to grab one to take home. 
Stone Mill Bakery: In Baltimore County, this Green Spring Station staple is also getting in on the fun with Valrhona dark chocolate bombs. Add one to your breakfast or lunch order and stop by for contactless curbside pickup.
CARAMEL
Lost Ark Distilling Caramel Creams Liqueur: Just in time for the holidays, Columbia's Lost Ark Distilling Company has created a hyper-local liqueur perfect for spiking your coffee or hot chocolate at home. Crafted with Baltimore's own Domino sugar and Goetze's caramel creams,  the aptly named Caramel Creams Liqueur—available at the distillery and regional bottle shops—is 30 proof with notes of rum and vanilla from the centers of the classic candies.
PEPPERMINT
Checkerspot Brewing Company: Aside from a cranberry-infused New England IPA and a spicy Belgian dark strong ale, the winter lineup at this South Baltimore brewery includes a Chocomint porter brewed with candy canes, mint, and cacao nibs. Grab a growler by swinging by the taproom or pre-ordering for pickup online.
DuClaw Brewing Co.: The team at DuClaw Brewing Company has used the iconic red-and-white suckers as its inspiration for this festive holiday beer. At an 8.5 percent ABV, the full-bodied imperial Irish stout combines mint and maltiness with subtle hints of Tahitian vanilla bean and chocolate. "We first deconstructed the flavors from the classic candy cane, and then built a recipe that is not too sweet, but rich with depth of flavor," DuClaw's director of brewery operations Chris Wood summed up in a statement. Try it for yourself by grabbing a four-pack from your local liquor store.
EGGNOG
Atwater's: It should come as no surprise that this locally sourced cafe chain is going all out for the season. When it comes to the beverage menu, regulars can choose from classic hot chocolates, peppermint mochas, cranberry sangria, and even an eggnog cappuccino. Pair the drinks with fresh-baked cookies, chocolate brittle, and, of course, Atwater's famous fruitcake. 
Dooby's/Sugarvale: For the time being, you can order Sugarvale cocktails from its Mt. Vernon sister spot, Dooby's. The bottled booze menu includes a signature Coquito ($28 for four servings)—a Puerto Rican cousin to eggnog. Sugarvale's version is spiced up with Plantation white rum, Hamilton Pimento Dram, clove, nutmeg, and cinnamon. 
Dutch Courage: Bartender Tyler DiMarco debuted a secret off-menu version of his classic 'nog at Dutch Courage a few weeks back. And now, he's bottling the recipe to make it easier for regulars to stock up for the holidays. Swing by to grab yours ($25 for three servings), crafted with Catoctin Creek rye, Jamaican rum, Amontillado sherry, eggs, sugar, milk, and cream. 
Old Line Spirits: Get your hands on a bottle of Old Line's small-batch eggnog while supplies last. The Highlandtown distillery's housemade spirit combines Old Line's American Single Malt whiskey, Aged Caribbean Rum, eggs, cream, and milk.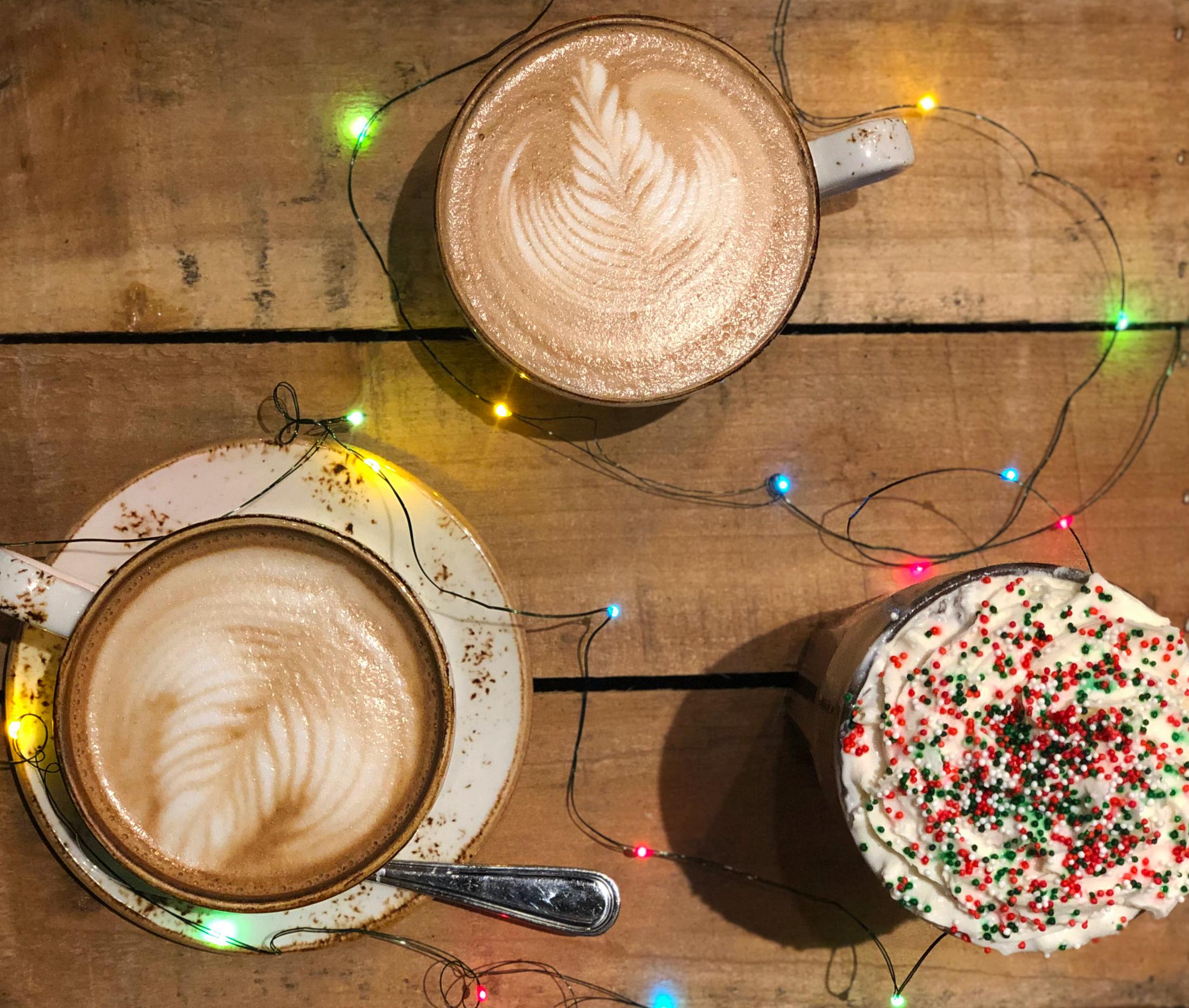 GINGERBREAD
Guinness Open Gate Brewery: The Halethorpe facility recently rolled out its new Imperial Gingerbread Spiced Stout—a holiday sipper that was brewed with allspice, ginger, cinnamon, and nutmeg before aging in Kentucky bourbon barrels. Stop by the taproom for a socially distanced pint or grab a four-pack as a gift for your favorite beer lover this season. 
Huck's American Craft: The takeout window at this Canton corner bar is stocked with holiday beverages including cranberry mimosas, candy cane martinis, and a not-to-miss Gingerbread Man Crush—which combines vanilla vodka, cream, and gingerbread syrup over crushed ice.  
COMFORTING COCKTAILS
Bird in Hand: Charles Village neighbors and JHU students have made a habit of stopping into this bookstore cafe to grab seasonal eats and drinks throughout the year. And this winter, Bird in Hand has rolled out three warm cocktails including a boozy vegan eggnog, spiked apple cider, and Maple Bourbon Latte that highlights espresso, maple, cinnamon, steamed milk, and Rough Rider bourbon. 
Wild Kombucha x DuClaw Brewing Cocktails at La Food Marketa: In what can only be described as an epic holiday collaboration, the teams from DuClaw Brewing Company and Wild Kombucha have put their heads together to create festive cocktails that will be available at La Food Marketa in Pikesville throughout the month of December. Bartender Vince Castro, who also collaborated on the final products, will be shaking up drinks including the "Berry Christmas" (DuClaw's Funk blueberry citrus wheat with Elderberry Wild Kombucha and cranberry juice) and the "Cerveza Regular," which combines the brewery's Regular Beer with lime juice, tequila, and Wild Kombucha's Icara Yerba Mate.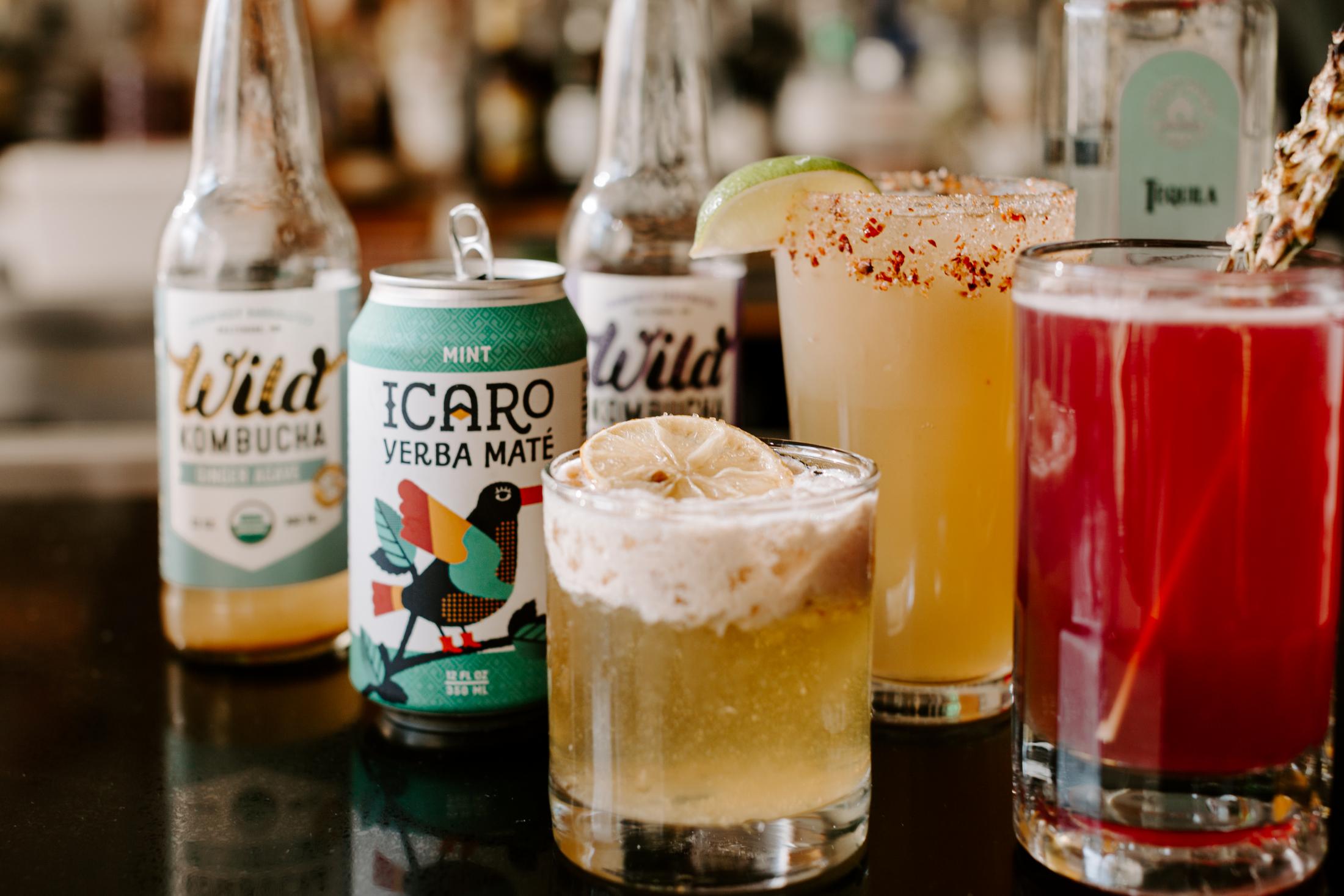 LATTE LOVE
Aveley Farms Coffee: Biscoff lovers are going crazy for the new Cookie Butter latte at this Harbor East coffee shop. Not a fan of the spicy shortbread treats? Opt for the wintry peppermint mocha topped with candy cane pieces instead. 
Order & Chaos: The Fireside Latte at this South Baltimore hub is the remedy for all of our winter woes. Cozy up with the steamy drink that features notes of orange, clove, vanilla, and cinnamon.