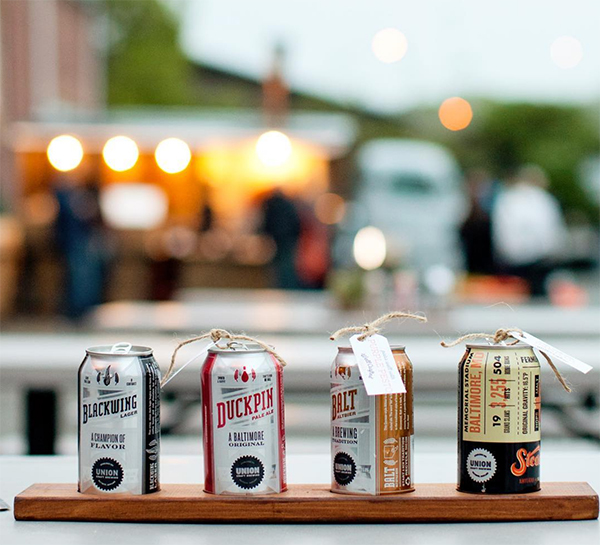 Well-Crafted Pizza
Anyone who has driven on 83 these past several months has seen a giant black-and-white sign sprawled across the former Sears Roebuck warehouse that reads "Future Home of Union Craft Brewing and the Union Collective." Now that future is looking much more present.
 
With beer tanks in, climbing walls erected, and nearly all eight vendors confirmed, the 138,000-square-foot makerspace and brewery home of Union Craft is becoming a reality.  
"It's been amazing to see the level of hard work, passion, and creativity it has taken from all involved to get to this point," says Union co-owner Adam Benesch. "We are excited to see the impact the project is going to make on our community and businesses that make up the collective."
The collective is made up of Union Craft Brewing and eight other local vendors, some using the space as their main headquarters, others as a manufacturing location, and almost all as a storefront. There are still two open slots left and owners are excited to complete the roster. 
"We continue to search for the best and brightest growing Baltimore-based businesses," Benesch says. "We look forward to finding the perfect fit for the last of the available space."
 
Until then, though, these confirmed vendors have plenty in store for tenants as they gradually begin to open throughout the spring and summer.
 
Well-Crafted Pizza: The mobile pizza business, which was started by two couples, is known for its kitchen built on the back of a 1949 Dodge truck. Coinciding with the brewery's opening this summer, Well Crafted will have a new 920-square-foot kitchen in the taproom itself serving its signature wood-fired pizzas, as well as kabobs, sausages, stuffed potatoes, and soft pretzels.  
Earth Treks: Most likely the first to open in the space, this rock-climbing mecca will be the first of its kind in the city include an exclusive space for bouldering, and also have a yoga studio for patrons.
 
The Charmery: This beloved Hampden corner ice cream spot (with a location in Anneslie on the way) will have its 5,500-square-foot factory headquartered inside Union Collective. The additional room will allow for more production, as well as themed events and famous "guest scoopers."
 
Baltimore Whiskey Company: On the heels of releasing its 100-proof Epoch rye whiskey, which has been aging in oak barrels for three years, the BWC will be moving into Union Collective this spring. The facility will use a sustainable, geothermal system to cool its pipes using ground water, the first of its kind in the region.  
Huckle's: Also opening this spring will be a test kitchen and storefront for beloved local hot sauce company Huckle's. Besides making its signature spicy sauces like Fire-Roasted Habanero and Original Honion, the company will be co-packaging with other small-batch businesses in town.  
Vent Coffee Roasters: With her first brick and mortar location opening at Union Collective in early spring, longtime barista Sarah Walker is eager to have a permanent home. Vent will feature a small-batch roaster and espresso bar with seating for up to 45 people to enjoy espresso drinks, nitro cold brew on tap, coffee mocktails, and options for Aeropress and Chemax. Look out for homemade pastries and other drinks from local Wight Tea Co.  
 
Union Craft Brewing: Of course, the pièce de résistance of the collective will be Union Craft Brewing, which is looking to triple the capacity of its current Woodberry home. There will also be a 7,500-square-foot taproom with a stage for live music, a private event space, and a glass wall that looks through to the brewing equipment. There will also be an outdoor beer garden with a living wall, modular walls to reconfigure the space, and games like bocce.