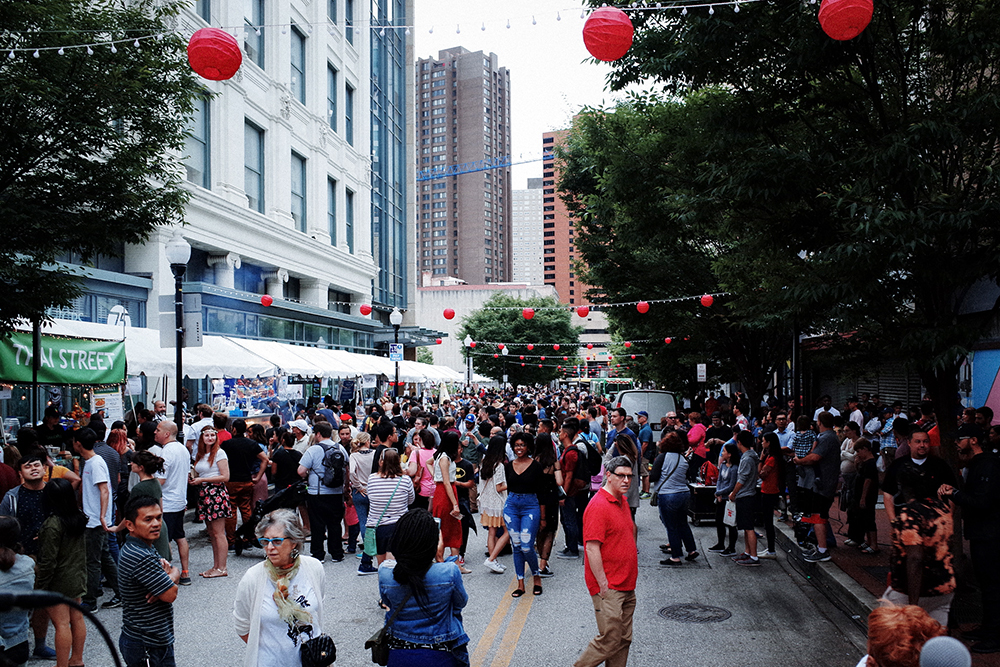 Photography by Joe Portugal
At the inaugural Charm City Night Market last fall, 12,000 people flocked to the heart of Baltimore's historic Chinatown to sip soju, snack on steamed buns, dance with Korean drumming troupes, and browse works by Asian American and Pacific Islander (AAPI) artists beneath glowing red lanterns strung overhead.
It was an energy similar to the lauded Chinatowns of San Francisco and New York City but, unfortunately, one that locals hadn't felt on the 200 block of Park Avenue since Baltimore's hub for Asian immigrants faded away decades ago.
What many didn't know was that the festival was only the first step in a full revitalization of the once-bustling community.
"Our ultimate goal was to always to resurrect an AAPI presence in Chinatown," says Leandro Lagera of the Chinatown Collective, which organized the festival. "The Night Market proved that there could be something there that is more permanent."
Park Avenue Plans
Though the overall transformation is still in its early phases, community leaders have already expressed a keen interest in resurrecting the historic district. It's all expected to begin with a project spearheaded by local developer Christopher Janian of Vitruvius Co., who is planning a reconstruction of the vacant lot at 400 Park Avenue.
Janian plans to transform the lot into an 80,000-square-foot apartment building featuring efficient living spaces (10 percent of the units will be less than $1,000 per month) and street-level shops and restaurants that pay homage to historic Chinatown. He has partnered with the Chinatown Collective to consult on what the design of the retail and dining spaces will eventually look like.
---
---
Park Avenue Partners, an LLC comprised of Janian and three other firms, has also purchased the neighboring building at 409 Tyson Street, as well as a block of five dilapidated rowhomes at 406-414 Park Avenue. The plan is to renovate the former homes into one large space that will eventually house a modern Asian restaurant.
"We chose this neighborhood based on the impact we believe we can deliver," Janian said at a hearing before the Commission for Historic and Architectural Preservation (CHAP) Tuesday. "It's culturally and historically rich. It has great theaters and art galleries, and a central location in the city, but it needs more thoughtful investment and less vacant buildings."
The development around 400 Park Avenue is expected to be a catalyst for a number of other future projects (including entertainment, retail, nightlife, and dining) that help to build up the neighborhood as a whole.
"While Chris' project is the start, it's not the end all of what Chinatown will end up being," Lagera says. "They're taking a stab at the northern tip of where Chinatown was, and there's a whole other Southern area that we have concerns about getting developed also."
The Fate of Martick's
Many community organizations, including Downtown Partnership and the Baltimore Development Corporation, have expressed their support for Janian's proposed apartment complex, but a particular point of contention surrounding the project is the fate of the old Martick's Restaurant Francais at 214 West Mulberry Street.
The former restaurant—a pre-Civil War building best known as an inclusive haven for the arts and jazz communities throughout the '40s and '50s—is stationed at the corner of the proposed mixed-use building site. It was one of the first integrated bars in Baltimore, which attracted the likes of Billie Holiday and John Waters throughout its lifespan.
Though they have explored options to preserve it, Park Avenue Partners claims that it isn't financially viable to save the structure due to a decade of deterioration that has produced mold, crumbling masonry, and significant water damage.
"The only financially viable option we have is to demolish a long vacant building," Janian stated at the demolition hearing before CHAP, "and to keep the spirit of Martick's alive by celebrating diversity, inclusivity, and progressiveness throughout our development."
A number of residents spoke out against the proposed demolition at the CHAP hearing earlier this week including Henry Johnson, a local architect and longtime patron of the restaurant.
"I have a vested interest in something that is difficult to explain," Johnson said. "And that's the essence of a place that lingers. As a designer, every time that you take something that's so authentic, it will always be a scar. It's just a fact. Everytime it goes away, it's missing."
Ultimately, CHAP moved to table the request to raze the building for another month so that the commissioners, and the community, could further review the proposal and engineering plans.
Preserving the Past
In keeping with the theme of preserving the past, the Chinatown Collective has done extensive research about the early AAPI immigrant community in Baltimore. In fact, the idea for the Night Market was partially inspired by a 1958 Baltimore Sun article that explained how older AAPI immigrants clung to traditions that the young strived to Americanize.
"In previous generations, there was this idea that you were either traditional or you were 'American,'" says Stephanie Hsu of the Chinatown Collective. "And what we're finding now is that you can very much be both. We're trying to create a more nuanced understanding of what it means to be both Asian and Asian-American in a city like Baltimore."
When starting to think about the resurgence of the area, collective members connected with other Chinatown organizations across the country to facilitate conversations about identity in today's society.
"Even though a lot of this project is rooted in the past, the interpretation of it is meant to be very forward-looking," Hsu says. "There's this simultaneous remembrance of those who paved the way before us and the continued evolution of AAPI creativity."
Chinatown for All
The collective also plans to meet with other AAPI associations in the area, such as the Baltimore Asian Pasifika Arts Collective, to gather feedback on the proposed development. Says Lagera: "We're not going to assume we know what a new Chinatown is going to look like based solely on our vision."
While planning for the larger revitalization down the line, the Chinatown Collective will also continue to host its own signature events. The group is partnering with the Towson Asian Arts & Culture Center to host a sake and soju dance party in Graffiti Alley on March 30, and plans are already underway for the second-annual Night Market next fall.
In response to the massive turnout last year, the collective is hoping to expand the festival's footprint to Charles Center, while also adding experiences like a kid's area and DIY art installations.
When reflecting on the event, one of the aspects that Lagera and Hsu say they're most proud of is that it not only brought together AAPI residents, but people of all backgrounds. This convergence is something they hope will continue as Chinatown develops.
"There's an interesting opportunity here to really champion a new generation that is striving to be much more socially conscious," Hsu says. "For many of us who are second- and third-generation, we think about what it really means to fully represent multiple communities of color coming together and celebrating each other."