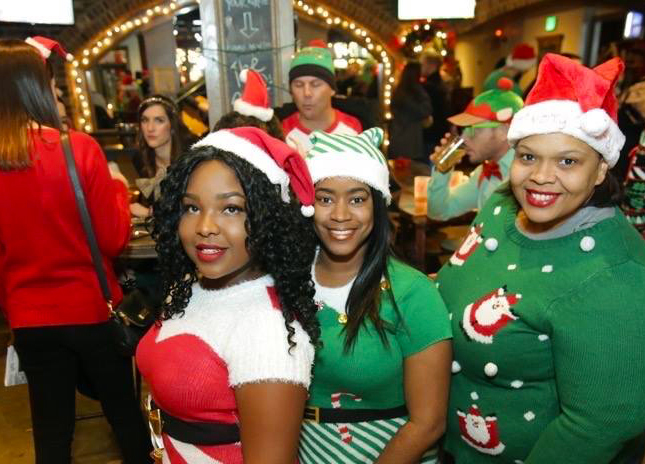 Courtesy of Project DC Events
Between cooking, planning, and gift-giving, the holidays can be stressful. But if you're vowing to let loose this season, the local nightlife scene is offering plenty of adults-only activities to pencil into your advent calendar throughout December.
Whether you're looking for a spot to show off an ugly sweater, spin dreidels with friends, or channel your inner Mariah Carey during Christmas karaoke, here are the best boozy events to make your spirits bright.
Ugly Sweater Shenanigans

12/6-20: Ugly Sweater Thursdays at CVP Towson
Why limit yourself to only wearing one unsightly sweater this season? Every Thursday nights in December, Charles Village Pub in Towson is offering 30-percent off all happy hour checks to anyone decked out in hideous holiday garb (the uglier the better). 19 W. Pennsylvania Ave., Towson. 3-7 p.m.
12/12: Nacho Mama's Ugly Sweater Party
Some might switch to eggnog and mulled wine during the holidays, but Nacho Mama's drink of choice stays the same year round. The Canton staple is hosting a holiday hangout featuring 50-cent wings, half-price burgers, and, of course, its signature $5 margaritas in fun flavors like "Spicy Santa," "The Grinch," "Cindy Lou Who," and "White Christmas." 2907 O'Donnell St. 5-9 p.m.
12/14: Ugly Sweater Holiday Party at Diamondback Brewing
Kick back and say "hoppy" holidays with dark beers, BrickNFire pizzas, and great company at this South Baltimore brewery. Diamondback's spirited soiree will feature new beer releases, a Secret Santa bottle exchange (bring a bottle, get a bottle), and $1-off pints for those who show up in an ugly sweater or donate an unwrapped toy. 1215 E. Fort Ave. 4-11 p.m. Free
12/15: Ugly Sweater Weather at The Chasseur
Regulars at this Canton corner bar are probably familiar with its annual holiday gathering, which features drink deals, giveaways, photobooth fun, and cash prizes for those sporting the ugliest knits. Now in its sixth year, the party will also offer one free raffle ticket for every unwrapped toy, gift card, or monetary donation made to the St. Francis Neighborhood Center in Reservoir Hill. 3328 Foster Ave. 10 p.m. Free
12/18: Ugly Sweater Benefit at Hysteria Brewing Company
Look silly for a good cause at this benefit for the The Arc of Howard County hosted by Hysteria Brewing Company. Aside from craft beer, the get-together will highlight live music, food truck fare from Fired Up Grill, and prizes for attendees with the most interesting sweaters. Twenty percent of all beer sales will be donated to The Arc, which provides support for those living with intellectual and developmental disabilities. 9570 Berger Rd., Columbia. 5-9 p.m. Free

12/27: Ugly Sweater Party at Ristorante Firenze
Don your most unattractive pullover and gather around the fireplace for this all-night celebration at Ristorante Firenze in Reisterstown. There will be live acoustic tunes starting at 6 p.m., and $4 Peroni drafts for all attendees who come dressed in holiday attire. 2 Hanover Rd, Reisterstown. 6 p.m. Free
Chanukah Happenings
12/4: Chanukah Brew Ha Ha
On the second night of Chanukah, throw on that "Get Lit" sweater you've been waiting to wear and gather at Union Collective to celebrate the Festival of Lights with a cold beer in hand. In addition to dreidel-spinning and mezuzah-making, the annual Charm City Tribe event offers pizza, ice cream, sufganiyot (jelly doughnuts), and a full-fledged latke bar with plenty of the requisite applesauce and sour cream. 1700 W. 41st St. 7-10 p.m. $18-23
12/4: Chanukah at Gunther & Co.
Put on your yarmulke and enjoy dinner and drinks at this Brewer's Hill restaurant. Start the holiday meal off with a He'Brew Bittersweet IPA from Schmaltz Brewing or the "You Spin Me Right" dirty martini washed with roasted olive oil fat. As always, co-owner Nancy Hart Trice will be frying up her famous potato pancakes, while chef Jerry Trice will highlight specials including beet-cured smoked salmon, braised beef brisket, red wine-braised lamb shank, matzo ball soup, jelly doughnuts, and chocolate babka. 3650 Toone St. 5-10 p.m.
12/22: Charm City Klezmer Holiday Dance Party
Though the eight-night celebration will technically be over by the time this annual dance party happens at the Creative Alliance, it's still a great opportunity burn off all of those doughnuts and latkes. Join local klezmer (aka Jewish-inspired folk) performers Judith Geller and Michael Raitzyk to dance the horah and brush up on your Yiddish moves during the fan-favorite performance. 3134 Eastern Ave., 410-276-1651. 8 p.m. $15-18
Pajamas and Presents

12/2: Mother's PJ Brunch Benefiting the Ulman Foundation
This holiday-themed iteration of Mother's annual Pajama Brunch will benefit the Ulman Foundation's Body of Young Adult Advisors (BOYAA), which works to support young adults impacted by cancer. Come dressed in your favorite PJs to down bottomless mimosas and Bloody Marys, feast on brunch fare, enter into raffles to win prizes, and watch Sunday football—all for a great cause. A portion of the proceeds will be donated to BOYAA to purchase gifts for families in need this season. 1113 S. Charles St. 10 a.m.- 1 p.m.
12/8: Bmore Babes Winter Informal
Get comfy in your favorite pair of winter PJs and put on your dancing slippers for this girls-only holiday party hosted by the Bmore Babes. The party at Seya Wellness' Habitat event space in Highlandtown will have all of the essentials—pizza, live DJ entertainment, interactive games, a hair-braiding station, and an array of treats for dessert. 3301 Eastern Ave. 5-10 p.m. $60-65
12/15: Christmas Pajama Brunch at Don't Know Tavern
Roll out of the house in your pajamas for this Saturday-morning brunch at Don't Know Tavern in Federal Hill. The bar is getting into the spirit with a $15 all-you-can-drink deal on mimosas, Bloody Marys, Blue Moons, Miller Lites, and Coors Light drafts. Anyone who indulges in the bottomless drinks will be invited to grab a wrapped gift from beneath the bar's Christmas tree while supplies last. Plus, in the spirit of giving, Don't Know will be collecting presents to donate to Toys for Tots this season. 1453 Light St. 10 a.m.- 2 p.m.
Merry-oke Nights

12/12: Holiday Karaoke at Mount Vernon Marketplace
Mount Vernon Marketplace is decking the halls and celebrating in style with its annual holiday karaoke party and ugly sweater contest. Chow down on your favorite eats from the market's vendors while watching friends and neighbors sing their favorite Christmas tunes. There will also be fun prizes for the ugliest, zaniest, and quirkiest get-ups. 520 Park Ave. 6-9 p.m.
12/15: Christmas Karaoke at Mahaffey's
Down some liquid courage and belt your best rendition of "Feliz Navidad" at this monthly karaoke night. Not only will the Mahaffey's staff be slinging beers all night long, but they will also be giving away prizes for the ugliest, and most festive, holiday attire. 2706 Dillon St. 9 p.m.
Rockin' Around
12/15: DDm Presents The Holiday Slay
Our own "Secretary of Shade" is settling in at Metro Gallery to bless the masses with live readings of A Charlie Brown Christmas and Dr. Seuss' The Grinch Who Stole Christmas, as well as his own original story The Holiday Slay. There will also be one-of-a-kind renditions of holiday classics performed by Outcalls, Rovo Monty, and Randi & Infinity Knives. DJ Trillnatured and DJ Sean J will be on hand to spin between sets. 1700 N. Charles St. 8 p.m. $10
12/21-22: Very Jerry Christmas
Hometown hero Cris Jacobs is taking the 8×10 stage with a bunch of his buddies for this special, two-night holiday performance. Inside the intimate venue, warm up with cocktails from the bar and sway to the bluesy rock anthems. 8 p.m. $25
Blitzin' Bar Bashes

12/6: Monument Lighting Party at Wet City
Whether you need a pregame spot for the Monument Lighting, or somewhere to hang out after, this Mt. Vernon beer bar is the place to be on December 6. Throw on a Santa hat and head to the bar to warm up with mulled hot cider and chartreuse hot chocolates. Of course, there will also be plenty of beer and seasonal food specials to go around. 223 W. Chase St. 5 p.m.- 12 a.m.
12/8: 4th Annual South Baltimore Ugly Sweater Bar Crawl
This guided crawl around Federal Hill starts at Delia Foley's on South Charles Street and continues throughout the afternoon with stops at Hair of the Dog, Das Bier Haus, and Don't Know Tavern. Along the way, take advantage of drink deals at each bar and boozy raffle prizes from the likes of Jameson and Miller Lite. 1439 S. Charles St. 11-5 p.m. $10
12/15: Baltimore Santa Crawl
With a souvenir mug in hand, stroll around the Fells Point cobblestones to enjoy $3 beers, $3 rail drinks, and $4 holiday shots at more than 10 neighborhood watering holes. Dress head-to-toe in tinsel and pop around to participating bars including Sir Duke, The Point in Fells, The Admiral's Cup, Todd Connor's and Dogwatch Tavern. Multiple locations, $15.
12/15: Baltimore SantaCon
The folks at Bmore Around Town and Federal Hill Main Street are coming together to throw this charity event to benefit the Kamryn Lambert Foundation, which provides recreational opportunities to children and young adults facing adversity. For the second-annual SantaCon, East Cross Street in Federal Hill is being transformed into a winter wonderland with pop-up bars, wintery decor, and a bunch of St. Nick look-a-likes who are flying in from the North Pole for the occasion. East Cross St. 12-10 p.m. $8-15