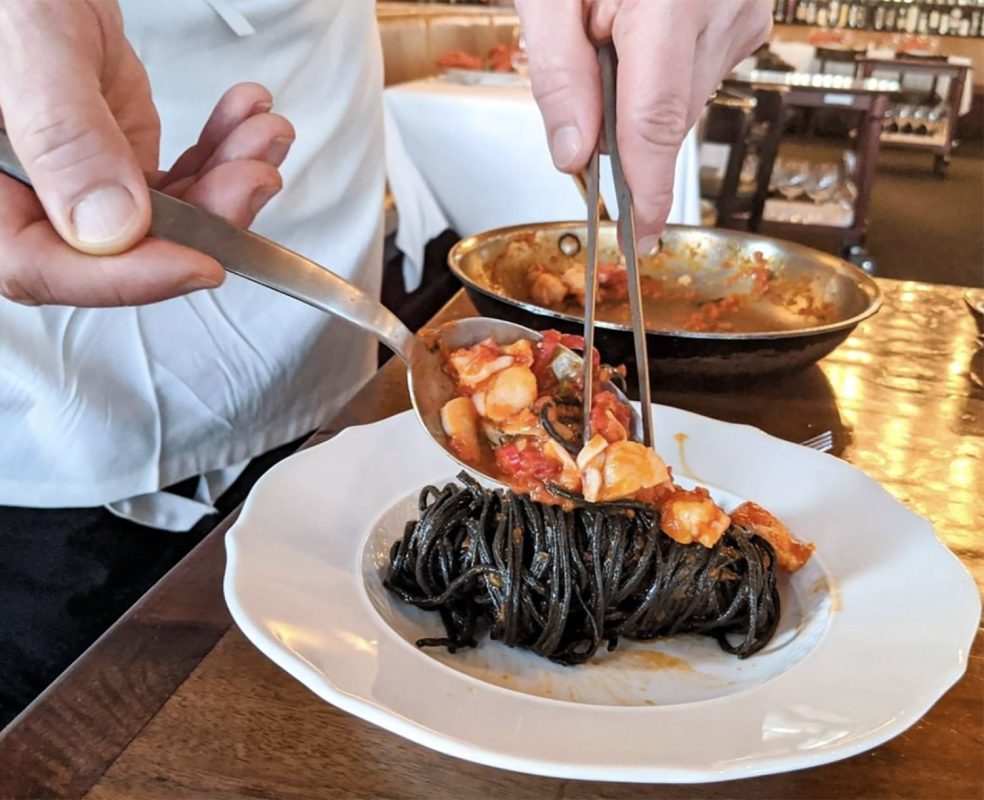 So you've decided that you're going to take advantage of Baltimore Restaurant Week—the city's annual dining-out event that offers prix-fixe menus ranging from $25-45 from January 10-19. But soon after comes the inevitable question: "Where should we go?"
With so many options to choose from, we've found it's easiest to start your search based on what you're in the mood to eat. Whether you've been craving a colossal crab cake, oven-fired pizza, or a winter vegetable dish, the restaurant scene has plenty to offer. Here, we break down eats to consider based on what sounds good to you.
Ahi tuna: Bookmakers Cocktail Club
Federal Hill's cozy cocktail club is offering a three-course menu that highlights a dish of seared Yuzu Kosho tuna accompanied by rice, Szechuan green beans, and wasabi cream. Round out the meal with a requisite drink, like the gin-based "Sweater Weather" or the "Over-Under" made with Bookmakers' single-barrel Elijah Craig bourbon.
Bibimbap: Jazz + Soju
Restaurant Week is a great excuse to get to this Korean restaurant and live music venue in Locust Point if you haven't already. In addition to spicy edamame and a Bulgogi burger, the special menu includes Bibimbap—the Korean delicacy that tops rice with fried egg, mixed veggies, and spicy gochujang sauce. Diners can customize the bowl with beef, chicken, or tofu.
Blondie: The Food Market
Known for its upscale spins on classic comfort foods, this hotspot on the Avenue in Hampden always goes all out for Restaurant Week. After savoring cornmeal-crusted pork schnitzel and "unstuffed" shells with lobster and shrimp, end on a sweet note with the restaurant's "Half-Baked Blondie"—which arrives topped with torched marshmallow and vanilla ice cream.
Bread pudding: Wicked Sisters
Sweet tooth fiends should look no further than this Hampden hangout, which will be serving a bread pudding with almond clusters, caramelized bananas, and bourbon crème anglaise as one of its dessert choices. After the polenta fries and sous vide country short ribs, be sure to save room.
Burger: Blue Hill Tavern
Sometimes it's best to go back to basics with a classic burger. Blue Hill's version stacks a Wagyu beef patty between a brioche bun with cheddar cheese, fried onions, bacon, and spiced ketchup. The Canton mainstay will also highlight tavern favorites including loaded baked potato soup and wild mushroom pasta.
Ceviche: Alma Cocina Latina
Start your Venezuelan dining adventure off with the Asian-Latin ceviche at this Canton favorite. The appetizer combines octopus, shrimp, yellow corn, sweet potato puree, and spicy lychee-miso leche de tigre (tiger's milk) that's meant to be savored atop spicy tortilla chips. Alma's special spread also features roasted duck and crispy polenta with confit beets and grilled fennel.
Chicken parmesan: GDL Italian by Giada
Leave it to Giada de Laurentiis to warm our souls with Boot Country classics. The celebrity chef's local outpost inside Horseshoe Casino will offer a chicken parm over spaghetti with mozzarella, arugula, shaved fennel, and crispy bread crumbs. For a more localized version of her family recipes, try the crab arancini with Old Bay aioli.
Coq au vin: Le Bistro du Village
Take your tastebuds on a trip to Paris at this Mt. Washington haunt. The restaurant's coq au vin is the perfect winter warmer, flavored with red wine sauce and served alongside a helping of mashed potatoes. For even more French flair, save room for the mousse au chocolat.
Crab cakes: Annabel Lee Tavern
The crab cakes at this Edgar Allan Poe-themed corner bar in Canton are a must-try—along with the duck-fat fries and honey-drizzled Brussels sprouts, of course. Order a platter of two served alongside sautéed kale and mashed potatoes.
Cream of crab soup: Charmed Kitchen
Speaking of crab, if you like your lump meat to come in the form of soup, enjoy this creamy iteration at Charmed Kitchen in Butcher's Hill. Customize your second course with dishes including linguini and clams, lasagna, and Norwegian salmon with roasted potatoes.
Filet mignon: The Prime Rib
What would a meal at this decades-old Mt. Vernon steakhouse be without a fresh cut of meat? Follow the leopard-printed carpet to your table and dig into filet mignon or a special cut of prime rib served with all the fixins', including creamed spinach and mashed potatoes.
French toast: Gunther & Co.

Don't forget that, in addition to lunch and dinner, many restaurants are offering two-course brunch menus as part of Restaurant Week. At Gunther & Co., enjoy the lemon ricotta doughnuts and cheesy grits before getting into the house-made brioche French toast. The thick hunks of grilled bread are topped with sautéed bananas, spiced rum-maple syrup, brown sugar, and orange butter.
Maryland Rockfish: Gertrude's Chesapeake Kitchen
Experience chef/owner John Shields' dedication to Chesapeake cuisine at this 20-year-old gem inside the Baltimore Museum of Art. The rockfish filet wrapped housemade bacon is served alongside rainbow chard and celery root and potato puree—made with produce that Shields gathers himself weekly at the 32nd Street Farmers' Market.
Mac and cheese: Sobo Cafe
As far as nostalgic meals go, mac and cheese is about as comforting as it gets. Embrace your inner child with the version at this Federal Hill standby, which tops its noodles with cheddar, chopped tomatoes, and toasted bread crumbs. Other fare to look out for includes veggie burgers, chicken pot pie, and spinach pie with crispy phyllo.
Oyster stew: True Chesapeake Oyster Co.

Retreat from the winter winds at this newbie inside Hampden's Whitehall Mill. Chef Zack Mills presents his soul-satisfying oyster stew with bacon, potatoes, and tarragon. Course two highlights seared rockfish or roasted squash with chive cream.
Pizza: Verde
Settle in with a glass of wine and a plate of burrata before digging into the wood-fired pies at this Canton pizzeria. From pistachio pesto and truffle cream to caramelized onions and zucchini, there are tons of options to choose from. Order a few for the table to mix and match.
Salad: Noona's
This Bolton Hill restaurant might be known for its pizza and pastas, but it also offers some enticing greens to pair with all of the carbs. The first-course menu offers a fall salad mixed with walnuts, plum jam, sage, and a caramelized apple vinaigrette. If you're more of a purist, go for the caesar with pecorino and herbed bread crumbs.
Salmon: The Tilted Row
One of the hottest openings of the year, this Bolton Hill restaurant offers global dishes and a sizable bourbon collection. Among chef Andy Thomas' creations on the special menu is a fig-glazed salmon with wild mushrooms, tomatoes, and a crispy polenta cake.
Spaghetti: Cinghiale
Treat yourself to a trip to Italy by way of Harbor East at this veteran osteria. The squid ink spaghetti with calamari, shrimp, mussels, lemon, fresno chili, and oregano is a surefire bet to quell seafood cravings. Other featured entrees will include a ricotta cavatelli, pan-roasted Icelandic cod, and braised veal with broccoli rabe.
Tacos: The Urban Oyster
If you're really looking to get more bang for your buck, this Locust Point seafood spot is offering a two-course lunch deal for $20. Among the choices are oyster or shrimp tacos with honey-cilantro slaw in warm flour tortillas. On the $35 dinner menu, chef Jasmine Norton is highlighting surf and turf tacos filled with grilled shrimp, steak, pico de gallo, and chipotle aioli.