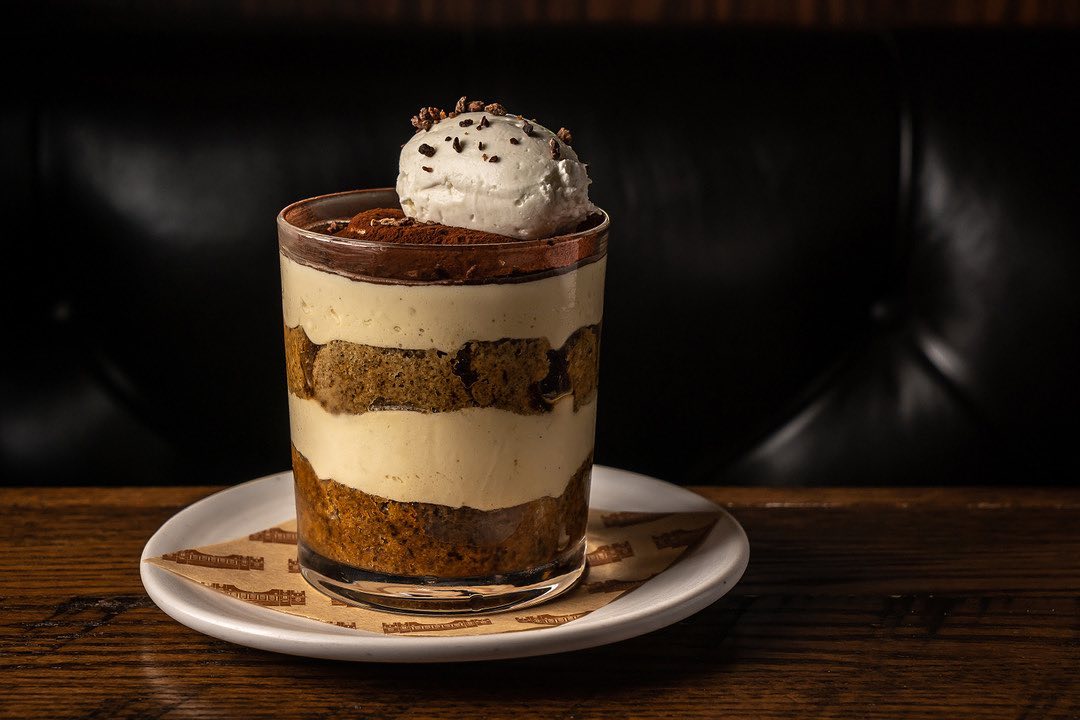 The tiramisu at Rec Pier Chop House. —Rec Pier Chop House
Despite the fact that this year has been anything but jolly for the restaurant scene, local chefs are still pulling out all of the stops for Christmas. From Feast of the Seven Fishes favorites to decadent desserts like Buche du Noel and tiramisu, there's plenty to choose from if you're in search of a dish to round out your celebration at home. Here are a few of the many spots offering takeout specials for Christmas Eve and Christmas Day: 
The Brewer's Art: Fans of this Mt. Vernon brewpub will be happy to hear that The Brewer's Art is offering a special holiday meal featuring dishes that make use of some of its most popular beers. Choose from porchetta in a Birdhouse American pale ale reduction, stuffing made with the flagship Resurrection ale, green bean casserole, and a house-made rum cake. 
Bertha's: If you're feeding a small crew, this Fells Point seafood spot is bundling meals for groups of 2-4 or 5-6. Pair orders of the namesake mussels (garlic, white wine, or spicy Thai) with hearty entrees such as butternut squash ravioli, shepherd's pie, crab cakes, or chicken and broccoli casserole. 
Charleston: Have you always wanted to treat yourself to a five-star meal by chef Cindy Wolf? Here's your chance. The James Beard Award nominee has crafted an elegant Christmas Eve menu that includes roasted chestnut soup with cinnamon poached pear, an escarole and goat cheese salad, roasted goose breast with saffron basmati rice, and Buche du Noel for dessert. 
Elkridge Furnace Inn: This historic Howard County haunt is offering a seven-course prix-fixe with wine pairings in celebration of the traditional Italian Feast of the Seven Fishes. Diners will indulge in dishes including shrimp and scallops marinated in lime and olive oil, lemon chive pasta with baby clams, sautéed flounder in a brown butter caper sauce, and lemon-almond biscotti in a cup of espresso mousse. 
Four Seasons Baltimore: Executive chef Norma Whitt is adding some holiday cheer to the kitchen at this Harbor East hotel with a special "Festive Feast" menu. Pull up to the front drive on Christmas Day to pick up dishes such as prime rib with red wine rosemary demi, crab cakes with saffron aioli, spiced carrots with pomegranate, creamed kale with parmesan crumble, and green beans almandine. 
La Scala: Visit this Little Italy staple's online mercado (market) to fill your holiday table with fresh fish, cheeses, olive oil, salad dressing, homemade pasta, and desserts like profiteroles and classic Christmas cookies. 
Limoncello: It should come as no surprise that this South Baltimore spot has curated a special Feast of the Seven Fishes menu. Look out for dishes such as lobster bisque, flash-fried salted cod, sea scallops in a moscato cream sauce, and pan-seared branzino with lemon and garlic.
Magdalena: After the last of the gifts have been unwrapped, make your Christmas morning one to remember with this swanky spread from Magdalena inside Mt. Vernon's Ivy Hotel. The all-inclusive package includes a bottle of bubbly, Ossetra caviar, hand-sliced smoked salmon, Cunningham's brioche, fresh-squeezed orange juice, a bag of local Thread coffee, and all of the ingredients for chef Mark Levy's signature scrambled eggs. 
Sabatino's: Holiday party trays at this Little Italy haunt include the fan-favorite Bookmaker salad, baked gnocchi, Chicken Francese, eggplant parmigiana, assorted mini cheesecakes, and mini cannolis. 
Rec Pier Chop House:  A classic Christmas dinner with an elevated twist is on the menu at this hotspot inside the Sagamore Pendry Hotel. Enjoy twice-baked potato soup, roasted turkey with white wine gravy, porchetta with pear syrup, cornbread stuffing, cranberry compote, tiramisu, and a chocolate-peppermint yule log. 
Tagliata: Speaking of Italian chophouses, this one in Harbor East is offering to-go meals and prime steaks for Christmas Eve carryout. A four-course prix-fixe menu includes burrata with pears and arugula, lobster stuffed shells, braised short rib, chicken parmesan, duck breast with maple balsamic gastrique, and a chocolate budino with salted caramel.