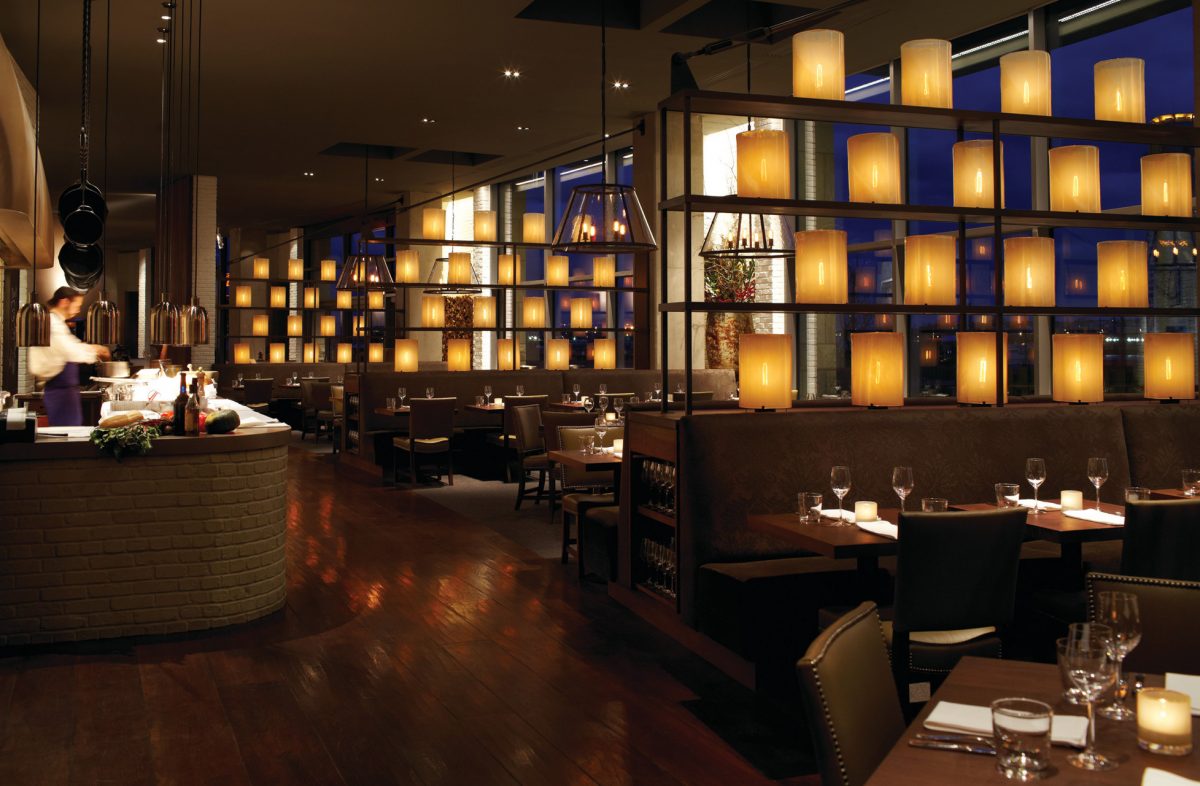 Courtesy of Wit & Wisdom
It's going to be a bittersweet New Year's Eve at Wit & Wisdom in Harbor East. As the fireworks fall over the Inner Harbor on December 31, Michael Mina's waterfront tavern inside the Four Seasons Baltimore will serve its final Chesapeake fare.
Beginning January 1, Atlas Restaurant Group will transform the space into a new dining destination that is expected to open mid-2019. The yet-to-be-announced concept will be Atlas' fourth inside the hotel, which also houses Azumi, Loch Bar, and the scenic Bygone on the top floor.
"We are honored to operate a fourth concept in the hotel," said Alex Smith, founder and president of Atlas Restaurant Group in a statement. "The addition of another unique restaurant will make the hotel a dining and entertainment destination unlike any other in the region."
Former executive chef Zack Mills joined the Wit & Wisdom team six months after it opened in 2011, and quickly stepped into the role as executive chef months later. Though he left the restaurant in June to open True Chesapeake Oyster House, Mills is quick to point out that his years at Wit & Wisdom were essential to his growth, especially as he prepares to open his own spot.
"I owe my career to that restaurant," he tells us. "It's hard to put into words how much it's meant to me over the years and what it will continue to mean to me in the future."
Aside from its stellar wine program, the tavern was best known for its dishes that showcased Eastern Shore seafood—a philosophy that Mills, an Anne Arundel County native, was happy to continue.
"It was always our goal to showcase the Chesapeake to the best of our ability and simply do Maryland cuisine justice," Mills says. "And if our story resonated with just a couple of people, then I think we did our job properly."
Throughout his five-year stint in the kitchen, Mills recalls the special wine dinners, charity events benefitting No Kid Hungry, and cooking alongside Mina himself—whom Mills describes as being one of his greatest mentors.
Above all, he says he will miss the tight-knit team of cooks, sous chefs, and managers—many of whom he still keeps in contact with.
"I see restaurants as living beings," he says. "And the lifeblood, bones, and the heart of the restaurants are the people in them. Those people will definitely be in my heart for the rest of my life."