Advocates Emphasize the Importance of Including People with Disabilities in the Workplace
Local organizations have led the way in disability work for many years. Meet a few of the people pushing for positive change: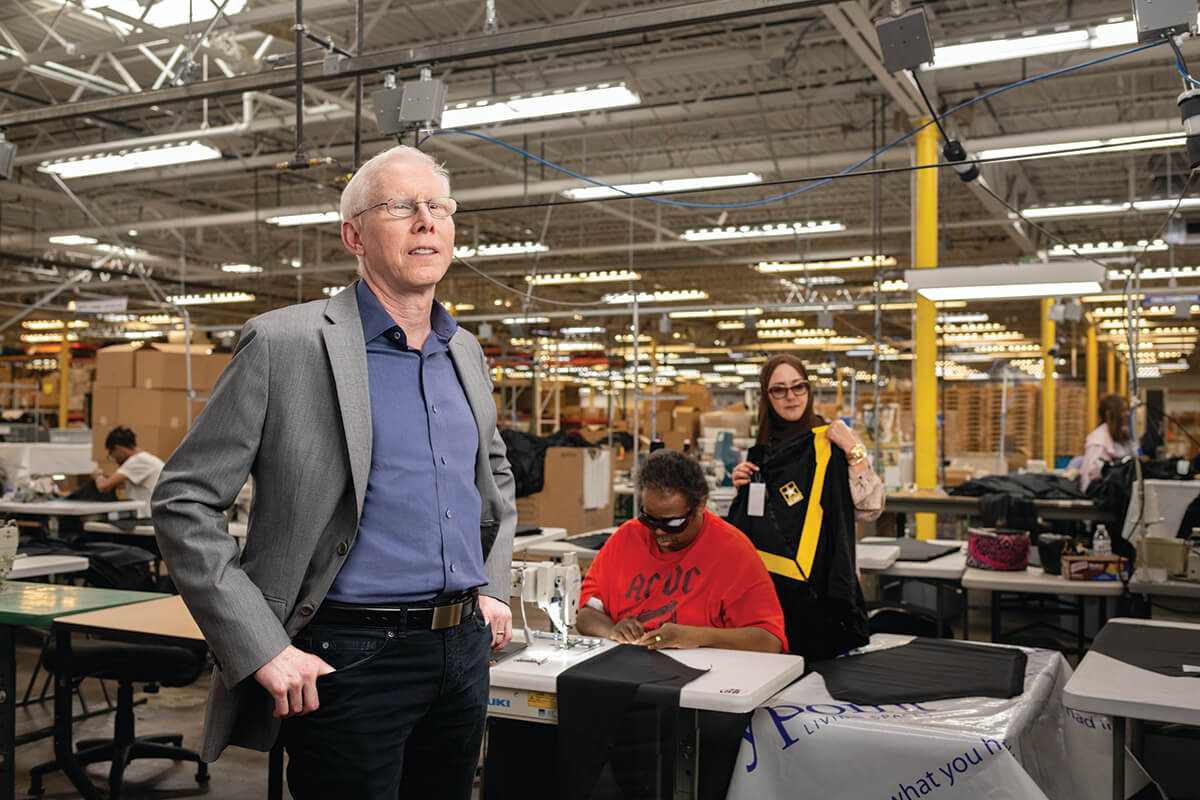 Michael Gosse was told pursuing a career in electrical engineering was not for blind people. Luckily, he didn't listen.
Despite graduating from Lehigh University with a Ph.D. in electrical engineering, finding his first job took a long time. Employers told Gosse they "didn't want to take the risk" of hiring a blind electrician. But disability doesn't define a person, Gosse says. It doesn't negate an individual's drive, interests, experience, and skills.
Now the president and CEO of Blind Industries & Services of Maryland (BISM), a nonprofit providing career and training resources, he focuses on sharing that message and ensuring Marylanders who are blind have fair employment opportunities.
BISM's task is a large one. The unemployment rate for blind people is about 70 percent, Gosse says. Much of that has to do with perception about the capabilities of blind people, but employable skills can also be a factor.
"Blindness comes about in various stages of life. Some people are born blind, some go blind later in life, gradually or suddenly," Gosse says. "A lot of people just don't get the training they need to live life as a blind person. So BISM attacks all aspects of employment for blind people."
The organization hires people in manufacturing, management, and executive leadership. It has its own manufacturing plant in Baltimore that produces paper pads, copy paper, sanitation supplies, trash bags, and the Army's physical fitness jackets. It also has a Baltimore-based training program to teach blind people the daily skills of life, from living independently to job readiness. Participants live in area apartments, use city transportation, and shop locally.
Area employers also can turn to BISM for skilled workers as well as resources about integrating a blind person into their workforce. Gosse is committed to uplifting any person seeking a path forward in their career within BISM; an internal training department ensures every job within the organization is accessible, which is challenging but vital.
Accessibility is not the only issue facing would-be workers with a disability. Another challenge is that some businesses think of hiring superficially—to fulfill a corporate mission or "be a good soul"—not because the person is capable and willing to work. So says Ami Taubenfeld, co-founder and executive director of Itineris, which provides job training and supports employment opportunities for adults on the autism spectrum.
According to Taubenfeld, employers need to expand their hiring to bring an array of people with a variety of gifts and talents into the workplace. Itineris not only helps with such matchmaking, as it were, it also is expanding into residential services under Taubenfeld's leadership.
Another challenge is that some businesses think of hiring superficially—to fulfill a corporate mission or "be a good soul"—not because the person is capable and willing to work.
The transition to adulthood can be particularly difficult. A young person with autism has a tremendous support system when they're in school, Taubenfeld explains. They have social workers, guidance counselors, speech and language pathologists, occupational therapists, social skills classes, one-to-one support, and more. When a person exits school, those services disappear and are much harder to access as they are not covered by insurance or general funding.
"They have to apply into the adult world to see if they qualify for Developmental Disabilities Administration services or vocational rehab services," Taubenfeld says. "Many people with autism do not qualify."
This is where Itineris comes in. The organization places workers at businesses across Baltimore, from small locally owned companies to larger operations like Texas Roadhouse and Johns Hopkins University. Yet community building remains one of the group's greatest challenges.
"We know what we have in front of us," Taubenfeld says. "We know we have individuals with tremendous talents, and then we have to match that person to an employer, and that takes training and education on the employer's part."
Many potential employers might think hiring an adult with autism will require more work for them, and that's not true, Taubenfeld says. Everyone has accommodations in the office; some people like whiteboards, or a standing desk, or an extra monitor, for example. For adults on the autism spectrum, changes may include bringing in a lamp or adjusting a desk so the person isn't sitting with their back to the door, or providing a visual schedule. The key to "getting the elephant out of the room," as Taubenfeld puts it, is workplace education.
Taubenfeld's own education began in 1995 when her third child, Annie, was diagnosed with autism.  "It was a day that changed my life forever," she says. "Annie's two older brothers are neurotypical, and I didn't know what autism was at the time."
Taubenfeld worked hard to make sure Annie was always in the right school, with the right environment and support. There's not a "perfect" anything, she says, but they went through several schools to locate the best possible match.
When Annie turned 18, Taubenfeld joined a group of parents and professionals who were part of an Autism Society chapter researching best practices for adults on the spectrum. They spent three years researching disability agencies across the country, asking questions such as: What is your client to staff ratio? What are your activities like? What percentage of your people are employed? What does the day look like? How experienced are your staff with autism and what training do you provide? They found that the programs with the most success were those that were dedicated strictly to supporting the entire spectrum of people with autism, as opposed to a multidisability agency.
In 2010, Taubenfeld co-launched Itineris, her own dedicated organization, under the mentorship and support of the successful ones identified. She's been empowering adults with autism to achieve their career and independent living goals ever since. New organizations like Itineris join a rich history of local organizations that have led the way in disability work for many years.
The Hearing and Speech Agency of Baltimore, or HASA, has existed since 1926. It was founded to support the deaf and hard of hearing, but has expanded to include many other types of communication differences used by people with autism and other neurodiversity.
It's an expansion CEO Erin Lamb is proud of. "I have a curiosity about people, and connections, and what makes them tick," Lamb says. "My personal mission is to develop the listening skills of different communities so we can create a world where everybody can understand and be understood."
Lamb prefers the word ally over advocate. To her, advocate implies helping elevate someone else's voice, but many of the communities HASA works with don't need their voices amplified. They just need the world to listen and react, she says.
In the world of invisible disabilities, the burden is placed on the individual to advocate and ask for what they need, she explains. For example, a deaf consumer must connect with a venue to request an interpreter at a show.
"Imagine if every time someone in a wheelchair wanted to go someplace, they had to ask for a ramp to be put out," she says.
Lamb's daughter is autistic, and her education plan dictates she must tell her educators when she would benefit from a break. But sometimes she communicates her needs nonverbally through behaviors or facial expressions and Lamb wants teachers to recognize that fact. Indeed, she urges all people to pay attention and think differently about access, not just in the classroom, but in the workplace, the community, and in their homes to create a truly inclusive environment for individuals with hearing loss, who are autistic, who use sign language, and more.
"Let's dismantle some of the burden we place on the individual to advocate for themselves," she says. Breaking stigma is important, but HASA also faces operational obstacles. Obtaining public and private funding and removing barriers to care are constant challenges, Lamb says. Take hearing aids, for example. They are expensive but, "They're not a sexy thing to donate money to," she notes, adding that despite humans having two ears, Medicaid will only cover one device for an adult in Maryland.
The social and emotional benefits of having access to your hearing are astounding, Lamb continues, explaining that hearing loss is the number one modifiable risk factor for dementia. HASA partnered with the Alzheimer's Association to ensure both community groups know the importance of audiological exams and treatment. But
initiatives like this and others cost money. Lamb says there is an extreme demand for the organization's programs focused on prevention,treatment, and advocacy.
"We're busting at the seams," she says. "We have limited staff. There are pipeline issues related to all of the disciplines that we employ at HASA. We're balancing those issues with the increasing demand for our services. We need to figure out creative ways to serve, grow, and have another 97 years in front of us."
Ronza Othman, president of the National Federation of the Blind of Maryland, can empathize with organizational challenges.
While navigating systems during the pandemic was a strain for everyone, there were challenges unique to the blind community and, as the leader of the oldest and largest nationwide organization of blind Americans, Othman and the Federation needed to find ways to step up.
When vaccines for the coronavirus first came out, for example, appointment websites were not compatible with the computer technology blind people use. A phone call rarely made it to a person. Even if one could secure an appointment, many clinics were not reachable by public transportation. So the federation opened their own vaccine clinic in partnership with the Maryland Department of Disabilities.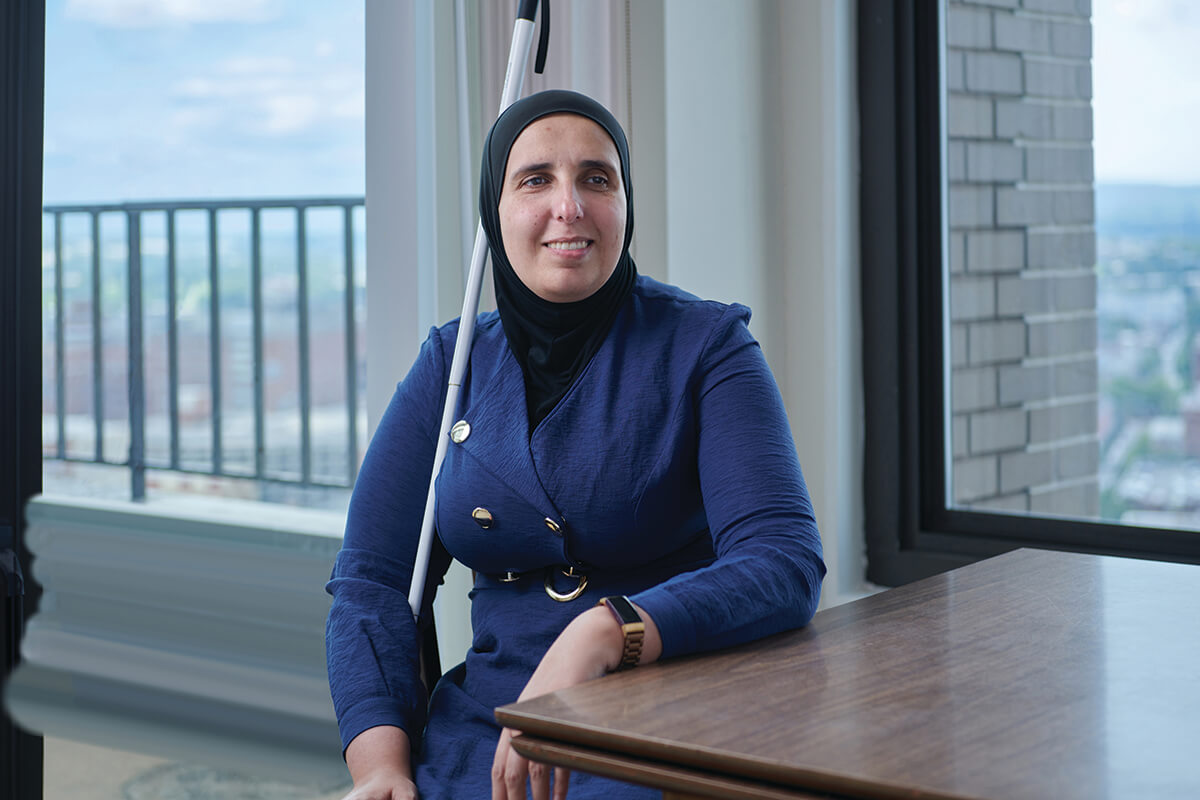 A lot of federation members were let go or furloughed from their jobs during the pandemic, too. Applying for unemployment was a mess for everybody, but even more difficult for people using assistive technology, as the government's system was not compatible with it.
"Not only did you have to apply for unemployment, you had to re-certify every week, but our folks couldn't get in once," Othman remembers. "So we did a lot of case work directly with the Department of Labor to find alternative ways for people to submit applications and recertifications."
During the pandemic, doctors offices and hospitals forbade patients from bringing another person, which meant blind people couldn't bring someone to assist them in filling out medical forms. The federation had to do a lot of advocacy to get facilities to understand that an interpreter is a reasonable accommodation to which an individual is entitled when they are disabled.
The federation works with local organizations and businesses as well as government entities to ensure accessibility and opportunity. The goal is that the blind are speaking for themselves, Othman says, adding the majority of staff and volunteers within the organization are blind.
"Our lived experience informs what we do," she says. "It's very difficult as a person who is blind or low-vision to be interacting with the world, because the sighted world creates, establishes, and perpetuates stereotypes and barriers to our full participation in society."
"Let's dismantle some of the burden we place on the individual to advocate for themselves."
And it's not just a matter of educating corporations, government entities, and the public about including and engaging the blind community, the federation also aims to educate the blind community about what's possible and available—and to encourage them to speak up when there are barriers in their way.
These Baltimore-area advocates push for positive change every day. Have they seen any progress?
Gosse says progress is slow because the blind population is not large, so the number of people interacting with a blind person is small. Thus, perspective change is happening slowly. Still, getting the word out about BISM will result in progress, Gosse says. The group aims to partner with area organizations and companies to create new job opportunities for people who are blind.
Taubenfeld also is optimistic about future inclusion and equity in the workplace. She says Gen Z, Millennials, and Gen X expect to be in a workplace that provides opportunities for diversity, and neurodiversity is part of that advocacy.
Othman is a civil rights lawyer, and her skills and approach are useful in her work with the Federation for the Blind. She says her job has challenges, but the victories—be they helping a blind person become a more productive member of the workforce, helping to resolve a public misunderstanding about the blind, or educating people about discriminatory and harmful behavior—make it all worthwhile.
"It's about restorative justice," she says. "And seeing the world improve one case at a time."