Cherie Brooks is Building Tomorrow's Clean Energy Workforce
With a combination of industry know-how, determination, and deep faith, the co-founder of the Ray Lewis-backed Power52 Foundation trains at-risk individuals for careers in the energy industry.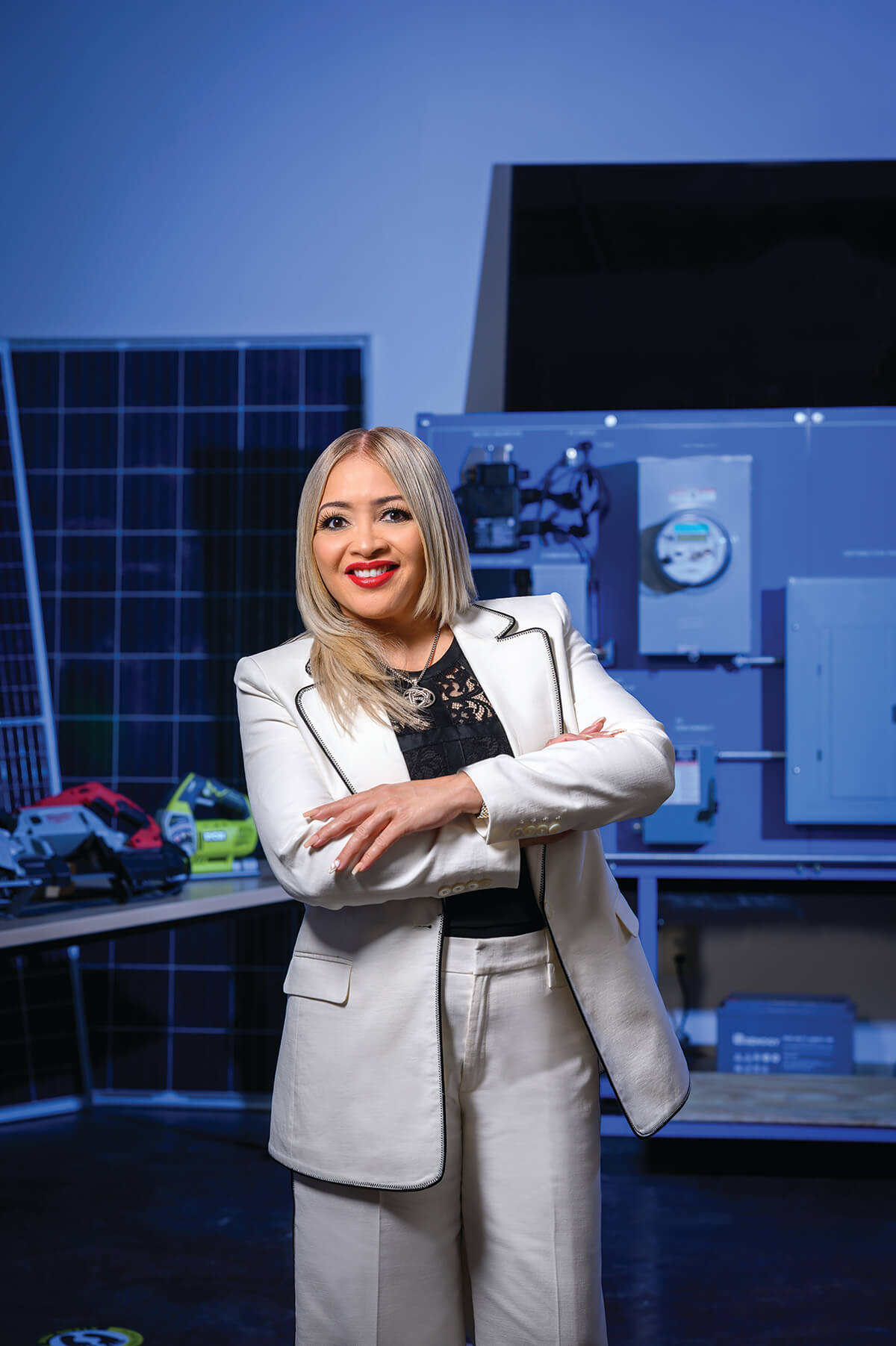 On an early spring visit to Power52 headquarters in Howard County, Cherie Brooks offers me a tour of the nonprofit organization she co-founded in 2015, which is dedicated to training at-risk individuals for careers in the clean energy industry.
We pass framed articles and photos on the walls of Power52 graduates, of Brooks and co-founder Ray Lewis in business suits, of staff and students out in the community. We peek into a classroom where a few students are working on computers. With wraparound services that include résumé building, headshots, career coaching, and financial literacy, students leave Power52 empowered to succeed.
"It's a quiet day today," says Brooks, dressed in jeans, Uggs, and a bright pink cardigan. We step into a studio where the "Testimonial Tuesdays" and "Solar Sidebar" episodes, which can be viewed on Power52Official's YouTube channel, are recorded by students and staff. Then we settle into her office to talk about solar.
Chatting with Brooks in her office, where stacks of paper mix with photos of her children—three, plus a nephew who lives with the family and works at Power52—and one of her dog, feels like catching up with an old friend. She is lively in conversation, all bright eyes, warm smile, and infectious enthusiasm. We're interrupted by a call from her daughter's pediatrician. "Excuse me for just a second," she says, then gets a call from her son's school. With family business quickly tended to, we get back to the matter at hand. No one multi-tasks like a working mom. But she gets right down to business.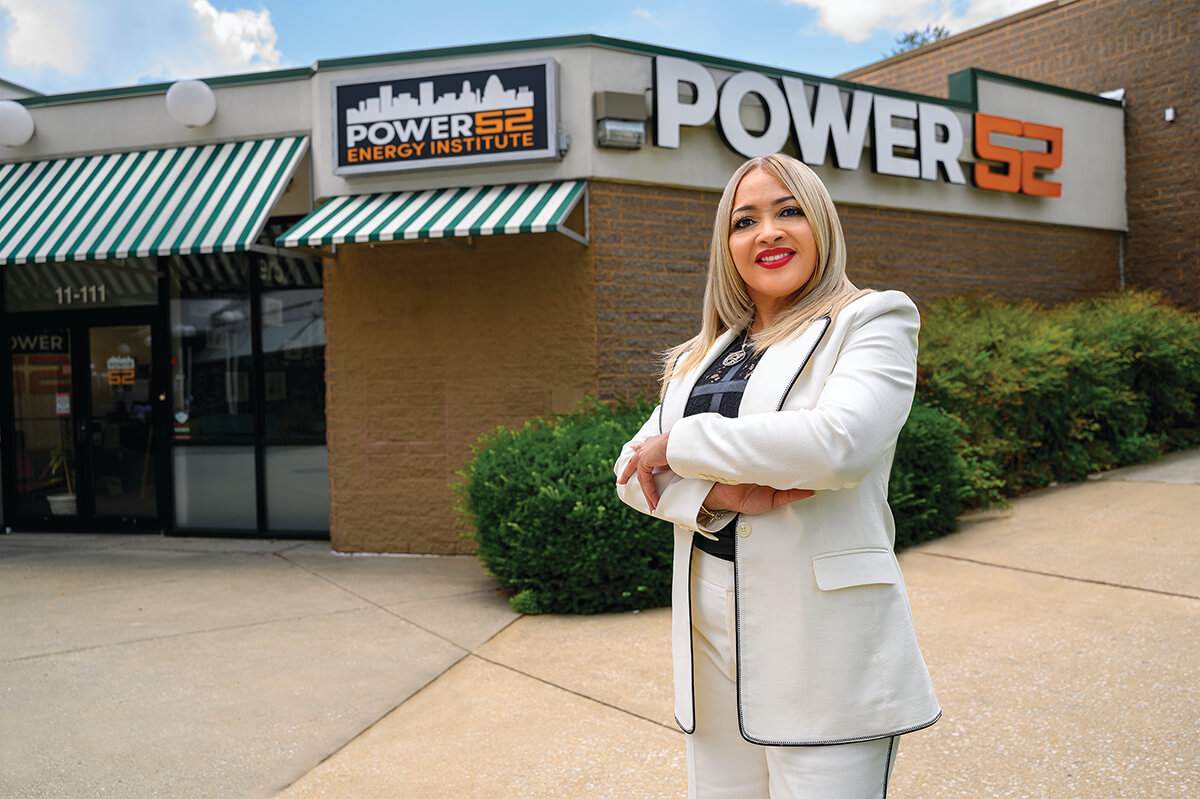 "The core of our curriculum is entry level construction, but our sweet spot is solar PV installation," says Brooks, referring to the process of setting up a solar photovoltaic (PV) system to generate electricity from sunlight. She says that PV installation "offers numerous benefits, including reduced electricity bills, decreased reliance on fossil fuels, and environmental sustainability."
It's also a great career path. Power52 Energy Institute's 16-week training program totals 320 hours taught in cohorts—groups of roughly 20 students, mostly male. Upon graduation, attendees are career ready. Power52 boasts an employment rate of 81 percent with an average starting wage of $18.50 per hour. And the training translates to college credits through newly established partnerships with Pittsburgh Technical College, Howard County Community College, and Tougaloo College in Jackson, Mississippi. Once a student graduates from the Energy Institute, they are qualified for the Power Pathways program, which offers additional training and stackable credentials.
Power52's graduates are much needed in today's workforce. The solar industry is one of the fastest-growing employment sectors in the United States. In Maryland alone, the Clean Energy Jobs Act of 2019 (HB1158), which aims for a 50-percent renewable energy goal by 2030, will bring 20,000 jobs to the state. That number will grow with a goal of 100 percent renewable energy statewide by 2040.
Further, the Justice40 Initiative, established by President Joe Biden in January 2021, will send 40 percent of all federal climate funding to disadvantaged communities—those overburdened by environmental pollution and outdated infrastructure—to focus on everything from investments in clean energy and efficiency to training and workforce development. Power52 is perfectly positioned to ride this surging wave of interest in renewable energy.
But Brooks had the vision for community transformation through clean energy development long before these federal and state programs were formed. It was in 2015, after the uprising resulting from the death of Freddie Gray, that Power52's foundation was laid. Raised in West Baltimore, Brooks felt the impact of Gray's death, and the riots, deeply.
"Growing up in the trenches, inserted in the mayhem, life can go either way," she explains. As a teenager, Brooks experienced that mayhem, with the loss of three girlfriends, all to gun violence, and others who became addicted to drugs. "You go to a party and end up ducking and dodging bullets. That's just how it was."
Brooks was determined her own journey would be different. "I held onto a steadfast belief I was meant to serve the people, to make a difference in their lives through some sort of ministry," she says. "To make it out, unscathed, that's a really big deal. The Lord saw fit to bless me in that way, so I need to pull someone else up, by any means necessary."
At the time of the uprising, Brooks, who had a background in radio, real estate, and the telecom industry, was working in the solar industry with her then-husband, Rob Wallace (the couple divorced in 2020). She hosted "Solar Summits," bringing awareness of renewable energy innovations to nonprofits. "Clean and renewable energy was still in its infancy," she says. "There was a significant demand for skilled workers in the burgeoning field." And she knew a workforce could be developed in Baltimore communities.
"There was an untapped pool of talented individuals who had the potential to thrive," she says, "if only they were given the right training and opportunity to showcase their abilities."
To her it was clear: Creating jobs in the clean energy sector could provide needed relief for the city. "I needed to get the opportunity to individuals from these marginalized communities," she says. "They're looking for careers that can be fast-tracked. How do we do this?"
Knowing she and Wallace needed a strong advocacy partner, Brooks reached out to NFL Hall of Famer Lewis, who had recently retired from the Ravens. "I knew he was passionate about creating opportunities in the city," she says. "The timing was perfect."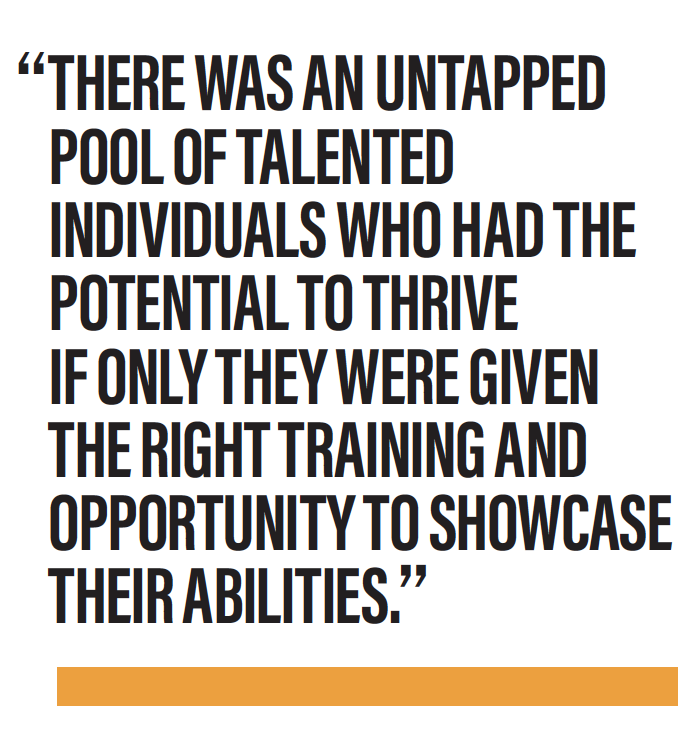 By September 2015, Power52 Foundation—named for Lewis' number and 52 weeks of the year because, says Brooks, "People need jobs every day, every week, all year"—was approved with nonprofit status, and Brooks named CEO.
Lewis and Wallace developed a for-profit solar venture, the profits of which would support the foundation. With Lewis' support, Brooks' vision quickly gained attention. "We positioned ourselves well and brought the right players onboard," Brooks says.
A 2017 partnership with Living Classrooms Foundation's POWER House created immediate impact. With funding from the Ravens and Under Armour, POWER House (formerly the Carmelo Anthony Center), included an indoor training field and adult education center. The solar-powered community center, or Resiliency Hub, the first of its kind in the country, would serve as a safe space for the public housing community during power outages and weather-related emergencies.
"We started our first training sessions at POWER House," Brooks says of the program that became the Power52 Energy Institute. "With Living Classrooms taking the lead, we found our footing and received two grants"—the first, from the Institute for Sustainable Communities; the second from the State of Maryland's Higher Education Commission, which invited Power52 Energy Institute to apply for designation as the first private career school in the state.
The process was daunting. "Imagine an application this thick," Brooks says, holding her thumb and index finger a couple of inches apart. "I stared at it with a tear rolling down my cheek, feeling defeated—how can I get this done? But it was our chance to be the first. It set a fire in me. I thought, 'I can do this; I'm built for this.'"
The application was approved. "With grant funding and a new designation, we were off to the races," Brooks recalls.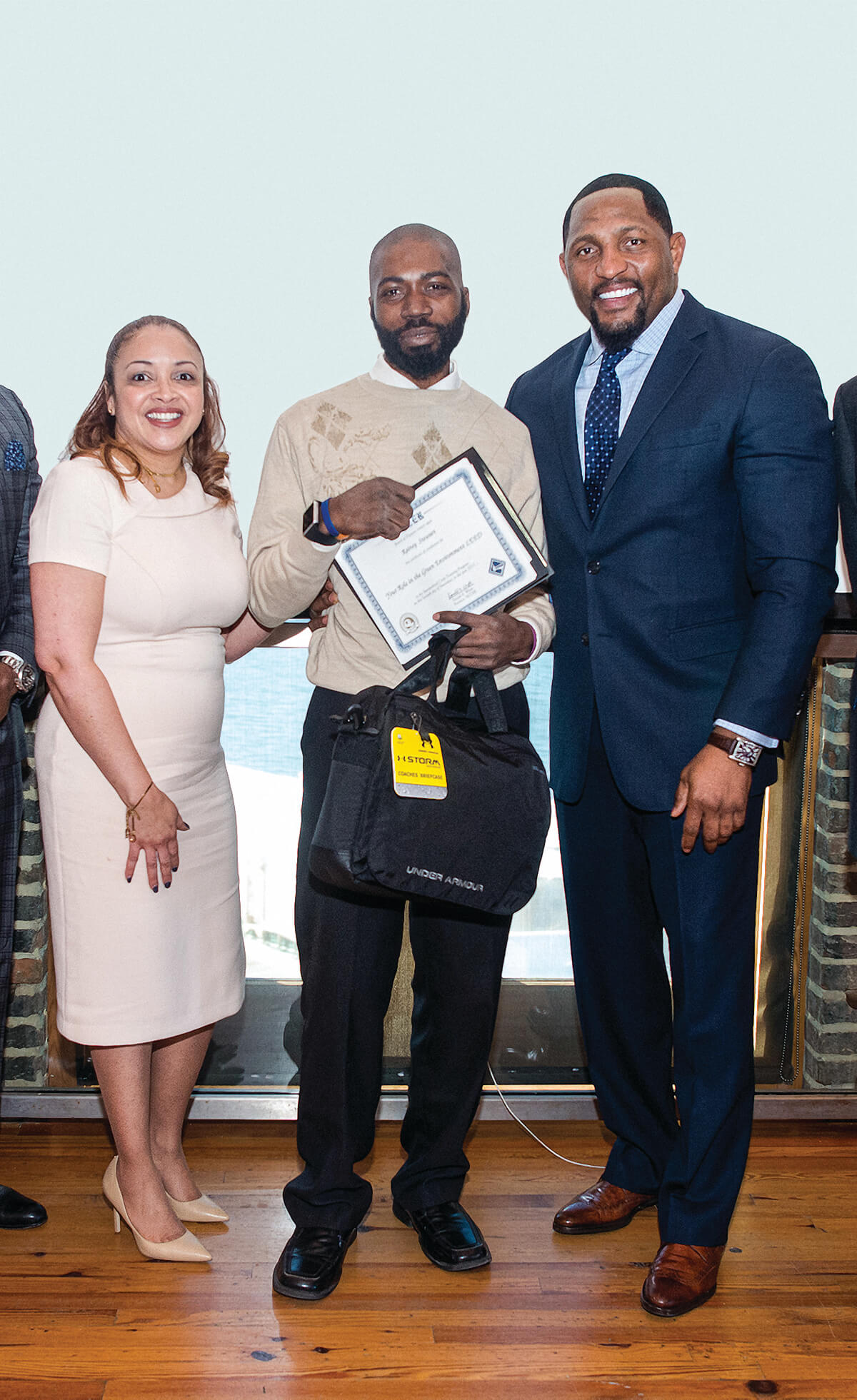 After the POWER House grant was complete, Power52's structure evolved. The foundation became independent of Lewis and Wallace's for-profit venture. Though neither man is engaged in operations, Lewis continues to support Power52 through public advocacy and its annual golf outing, LIVE! On the Green, which he co-chairs. More changes were necessitated by the COVID-19 pandemic, which saw POWER House close and the foundation move to remote instruction.
Today, 80 percent of training takes place online, with the remaining 20 percent—hands-on building instruction—in person at Power52 headquarters. To date, more than 200 participants have graduated from Power52 Energy Institute, benefiting not only from learning a new trade, but soft skills to carry them forward.
"We have Professional Tuesdays, where we hold 30-minute career-building workshops," says Power52's junior operations manager, Lorielle Moore. "How to prepare a résumé, how to answer difficult questions, nonverbal cues and gestures, how to deal with a difficult co-worker. We leave it open to discussion as well. Our students come from different backgrounds and have different perspectives, and we don't want them to lose their uniqueness."
Some students, looking to learn a new trade, find Power52 on their own. Others are led there for a second chance through relationships with parole officers and judges, while others discover the opportunity through community engagement. Whatever the route, Brooks is ready to meet them.
"Ms. Brooks is very hands on. If we are out in the community doing outreach, she will go around finding people and bring them to me for information," says Moore. "She's kind, she trusts her staff, and she's here at Power52 every day, ready to give 1,000 percent," she continues. "She fights for Power52, and fights for the individuals we serve."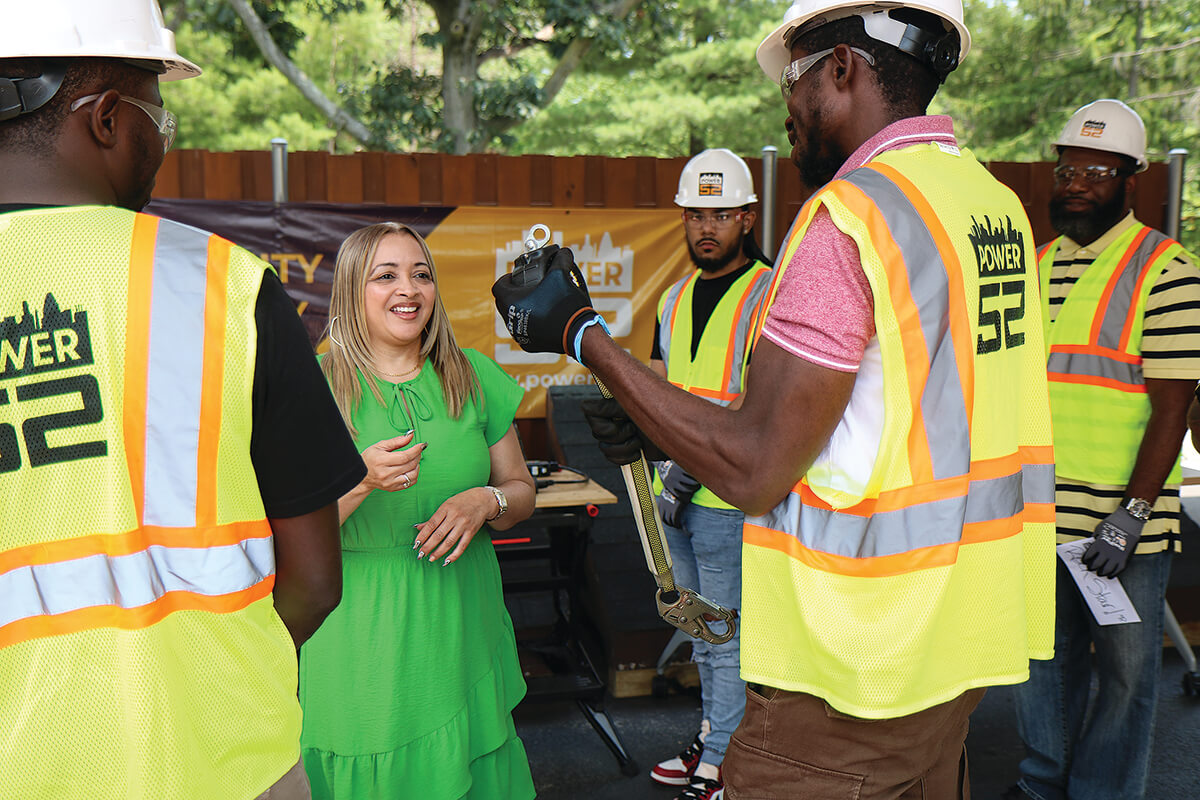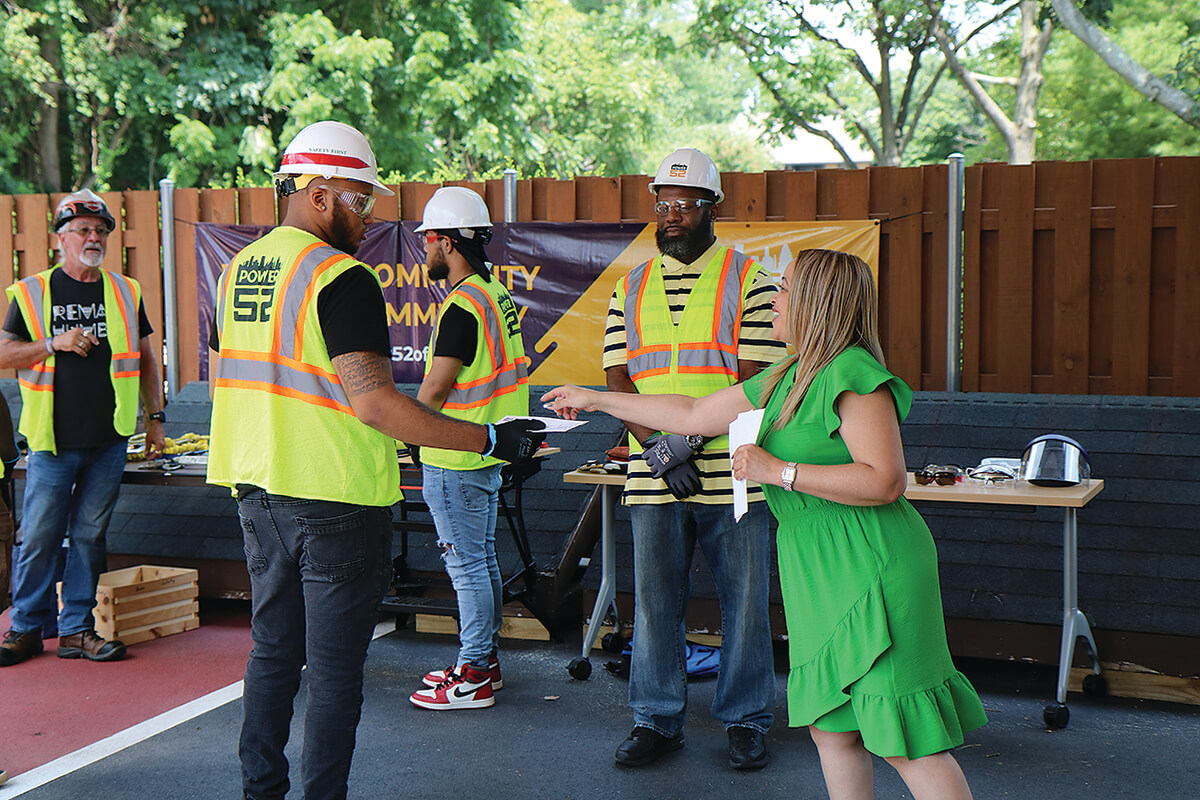 Brooks not only fights for the program's participants, she also holds them—and her staff and herself—to high standards. "The culture here at Power52 is based on authenticity," Brooks says. "Being resilient. Being true." Her goal? To deliver on every promise made to the institute's students. "We put everything in place for you to get there; now the onus is on you, the student…you do your part. We are not going to fall short on our part, period."
She continues, "What drives us is the results, the impact. The change we see."
Power52 alumnus Rainey Stewart, 43, confirms that Brooks' word is her bond. After a 15-year career in the biotech industry, Stewart, father of three young children, was unemployed and homeless in the summer of 2018. Working part-time in construction, he discovered Power52 doing promotion in a Baltimore park while playing basketball with his brother. He decided to give it a try and signed up and took the test the next day.
A graduate of Baltimore Polytechnic Institute, Stewart was confident he had the skills to succeed, but nervous. "It was my last hope," he says. "They called and welcomed me to the program and I just thought, 'This is awesome.'"
Stewart found that Brooks, and the program, delivered on every promise, and then some. "While in the program I was offered an internship with Pivot Energy. Power52 has a policy of providing a stipend to students with internships lasting up to four weeks," he explains, "but mine was a three-month internship. I couldn't afford to leave my construction job, stay in the program, and keep the internship. So I went to Cherie…and was offered a paid position at Power52 until Pivot hired me. Without their resources, I wouldn't be in the position I'm in today," he says. "I'm eternally grateful."
Since completing Power52's training in 2019, Stewart has been with Pivot Energy for four years. He helped bring solar power to Nationals Park in Washington, D.C., and is now an analyst in project development. He's working to make his department more efficient and has helped create a pipeline between Power52 and Pivot Energy. "I'm an example of how it works," he says.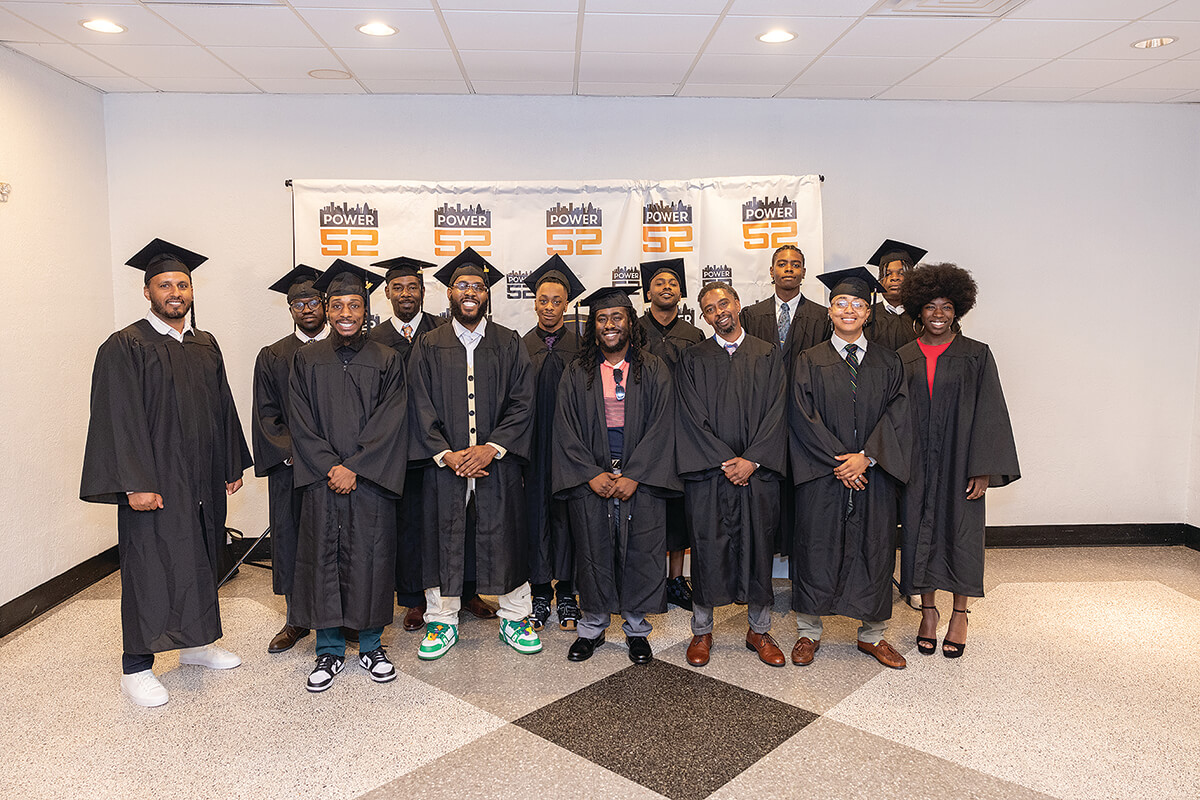 While not a religious organization, the power behind Power52's mission is all about faith. The granddaughter of a bishop, Brooks says, "I'm a church girl, I like to say 'GPK'—GrandPreacher's Kid," she says. Her family church, McKinney's Memorial Holiness Church in Sandtown, was built by her grandfather. It stands just a few paces from the site of Freddie Gray's passing. That GPK upbringing guides Brooks' purpose.
"There's not a thing I can't do," she says, "but it's not me, it's the Lord. Being in prayer and having faith in what you can't see, that's everything for me," she continues. "Every day when I wake up, I ask the Lord to order my steps, to give me wisdom. And that's what I give all of my success to."
Whether steered by divine guidance or her own momentum, Brooks' steps have steadily increased Power52's reach. "It's all about bringing people from disinvested communities an opportunity for livelihood, for a better quality of life," says Pradnya Haldipur, vice president of development and communications for the Institute for Sustainable Communities (ISC). "Cherie is always homing in on what's the best way to get this done, to get the results we want."
Haldipur first met Brooks in 2022, when Brooks was a guest speaker at an ISC board meeting. "Cherie has amazing energy, she's thoughtful and ambitious, and lacks ego," Haldipur continues. "It's like she has that thought in her head at all times: 'What opportunity can we create?'"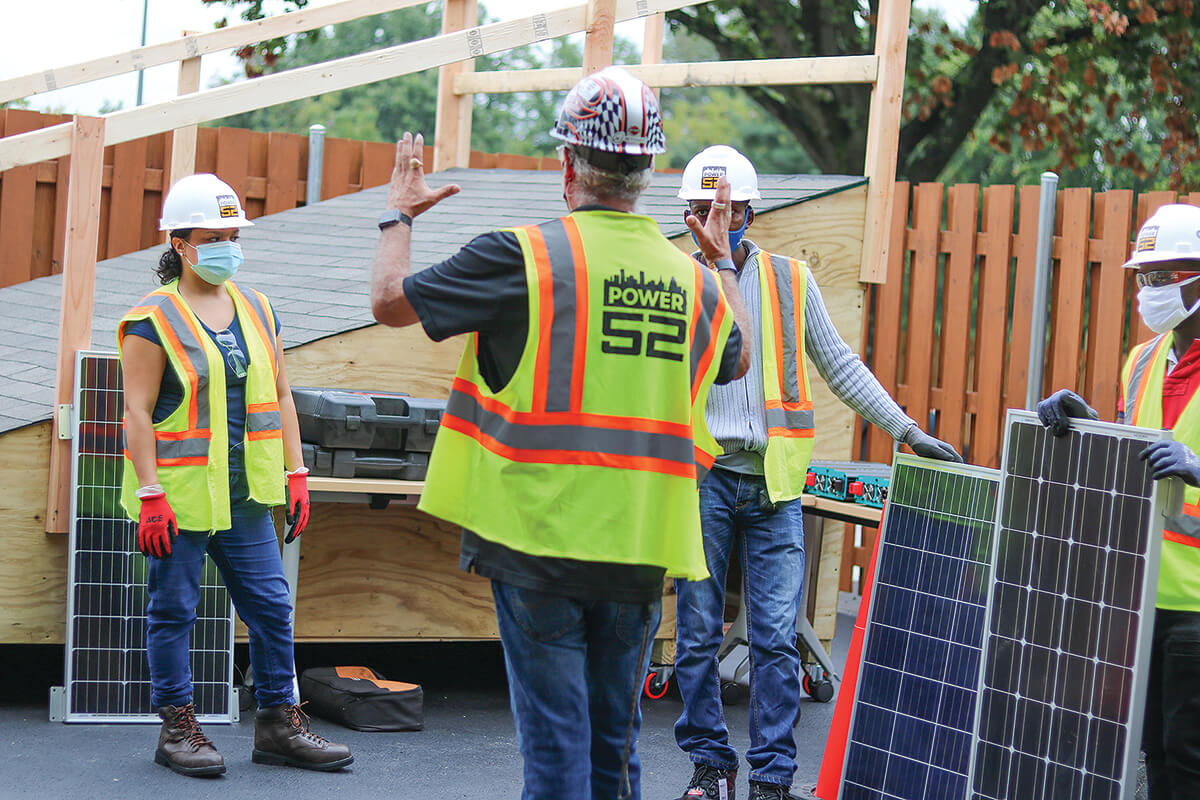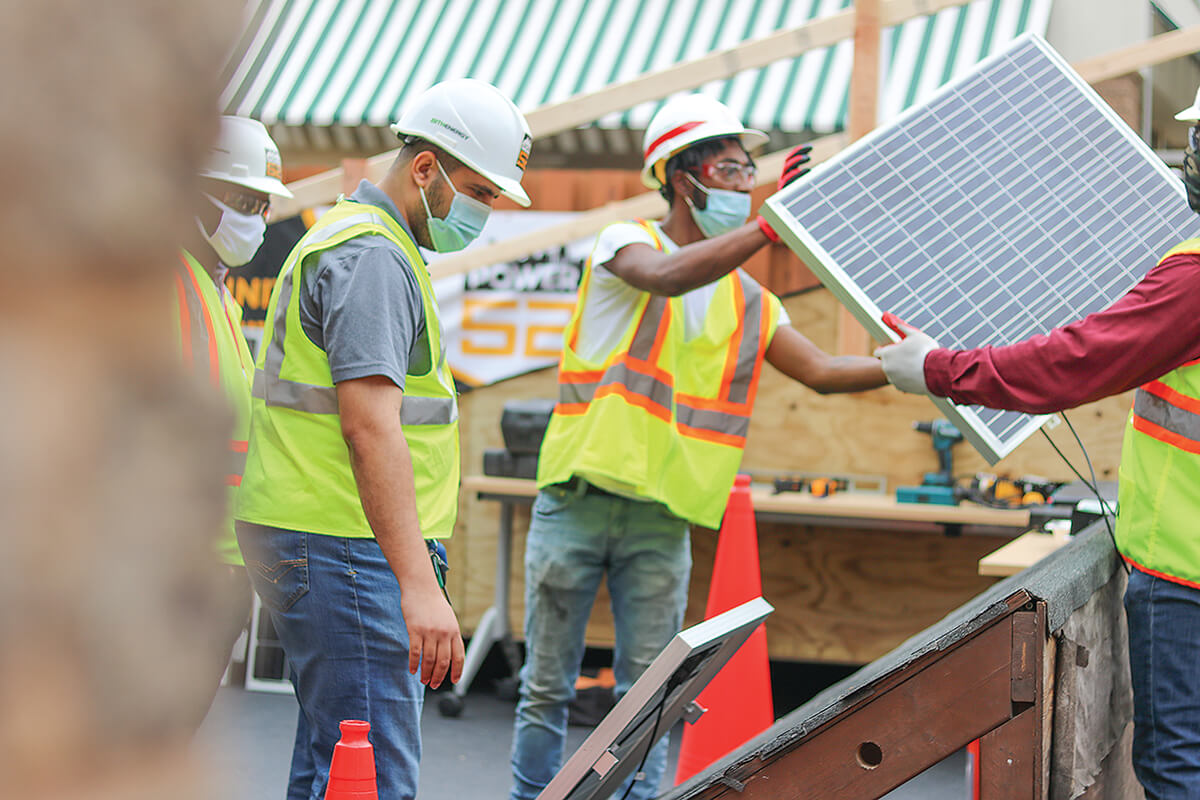 "If I had one word to describe Cherie, it would be 'Powerhouse,'" says Stacey Grant, a program navigator with Justice40 Accelerator (or J40 Accelerator), an organization that was founded in response to President Biden's Justice40 executive order. J40 Accelerator partners with workforce and community development concerns like Power52, guiding them through complex federal grants and other philanthropic funding opportunities.
Generous with both community and technical expertise, "Cherie is an amazing leader," Grant continues. "She raises questions, frames solutions…she's willing to democratize what she knows with her peers."
What's unique about Brooks, ISC's Haldipur says, is her humility. "I have rarely come across someone like her who works at making it not about her." She continues, "This is what we need. More powerful women, more women of color like Cherie, who are going to push forward, and do it because they're looking to make their corner of the universe better. And her corner of the universe has gotten better through her effort."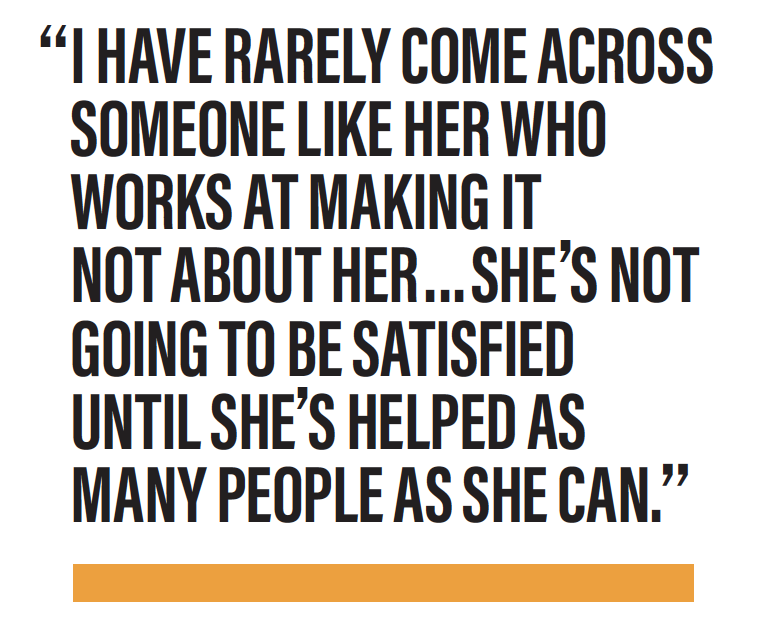 For Brooks, the beauty in the work is bearing witness to human transformation.
"Many individuals come to us with a skewed or jaded perception, not ready to trust, especially our students who are returning citizens [from the adjudication system]. We have hard conversations. It's our job to remove the barriers," she says. "We reside on the front lines of environmental justice, diversity, equity, and inclusion—we're right there. It's just part of our DNA at Power52."
"Ultimately, Cherie has been a boon to the city of Baltimore," says ISC's Haldipur. "She's not going to be satisfied until she's helped as many people as she can."
Providing a platform for human transformation is hard, tiring, emotional work, but Brooks wouldn't have it any other way. "My mother says ever since I could talk, I would say 'I can do it, Mommy, I can do it.' I always wanted more. At a family reunion, I was voted In Charge of Being in Charge,'" she laughs. "But as our staff says, 'If not us, then who?' We love what we do. I really love what I do."