Sean Closkey and Rev. Calvin Keene Are Working to Rebuild Community in East Baltimore
The team behind the fittingly named nonprofit, ReBUILD, has rebuilt not just the Oliver neighborhood, but also its community ties and spirit.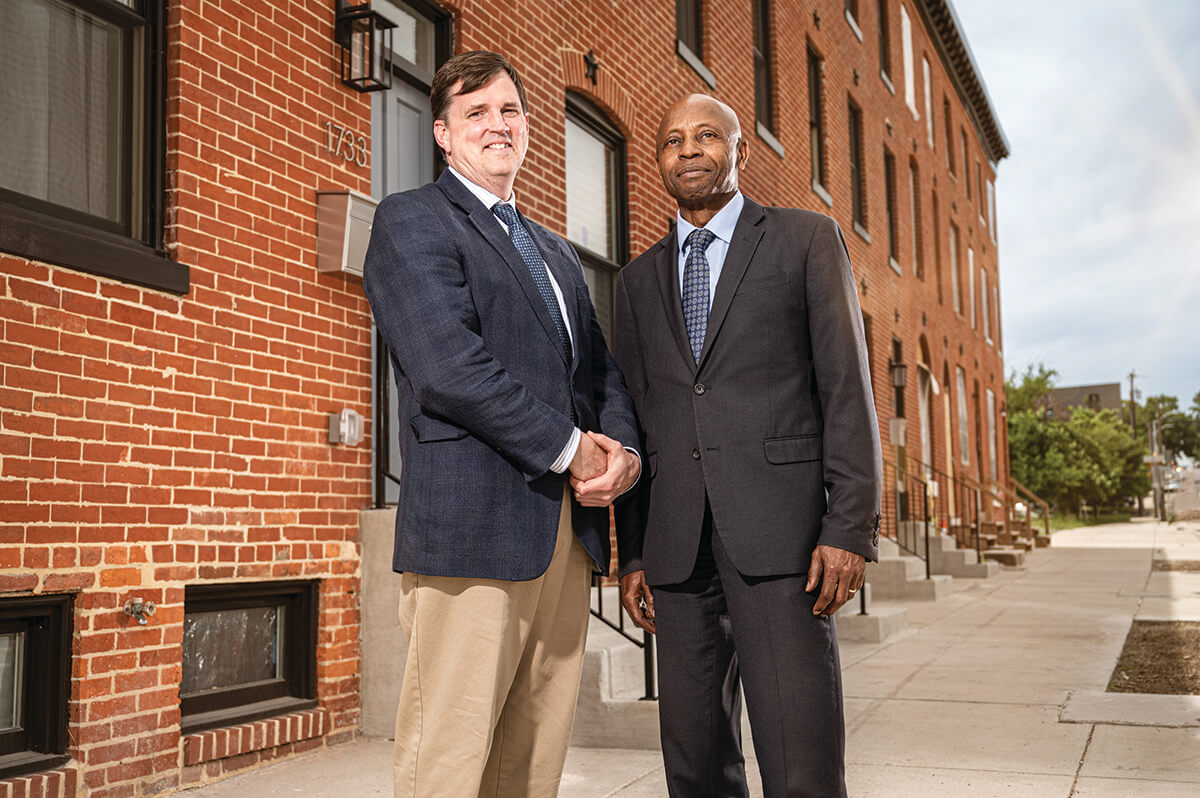 The Rev. Calvin Keene (pictured above, right) would often overhear dealers in the street outside selling crack cocaine when he was at work in his office in the Oliver neighborhood of East Baltimore. He'd lived there his entire life and, despite the drug dealers, hadn't realized how alarmingly unsafe it had become until a 2002 firebombing left community leader Angela Dawson and her five children dead—an act of retribution for Dawson alerting police to drug activity on her street.
Fast forward to today, when the nonprofit ReBUILD, which Keene helped to spearhead, has rebuilt not just the neighborhood but its community ties and spirit, essentially making it a healthier, happier place to call home.
Keene can now say with pride that the neighborhood is not what it used to be, as he's watched it transform before his eyes.
"When I grew up in Oliver, everyone knew my family and my family knew everybody. Councilman [Robert] Stokes lived three blocks away from me—that sort of thing," Keene says. "It's returning to becoming a neighborhood where people know one another again."
ReBUILD grew out of the effort by several groups to reconstruct the Oliver neighborhood after the firebombing incident. They've gone on to redevelop and reduce vacancy in more than 700 East Baltimore properties.
"It starts with going to people in these communities and asking what's working? What's broken? Let's build on what's working," says Sean Closkey, the founding president of ReBUILD. "You have to start by not displacing folks, because then you've actually made the hole you're digging bigger. If you just fix these houses, it really works well."
Closkey says the work they have done has had unbelievable effects. Since ReBUILD initiated its efforts, Oliver's homicide rate has been cut almost in half, vacancies have gone down, and house prices have gone up—without displacing anyone.
When ReBUILD started, Oliver was considered an area of concentrated racial poverty. Now it's a mixed-income neighborhood that has attracted coffee shops and grocery stores, as well as new residents.
ReBUILD transforms some lots into green spaces and playgrounds, which have two benefits: green spaces reduce the supply of homes in an area, thereby upping the desirability and value of homes that remain; and the neighborhood becomes more interest- ing and beautiful, which also attracts buyers. They don't stop there. As they work to rebuild neighborhoods, literally and figuratively, they jump in anywhere they think they can help residents. At the start of the pandemic, Closkey learned of families in East Baltimore who had no food.
"Hunger is not like housing," he says. "If you don't get food after a couple days, there's a real problem."
He immediately called Keene, and they assembled a team of volunteers. At first, they were just making a couple hundred food deliveries. As the operation grew, they began feeding over 1,000 families each week for two years through the pandemic—124,100 meals over 101 weeks—discontinuing the service in May 2022.
"We are a group of people who simply respond to what's in front of us," Closkey says. "We have a motto: There's nothing wrong with Baltimore that can't be fixed by what's right with Baltimore."