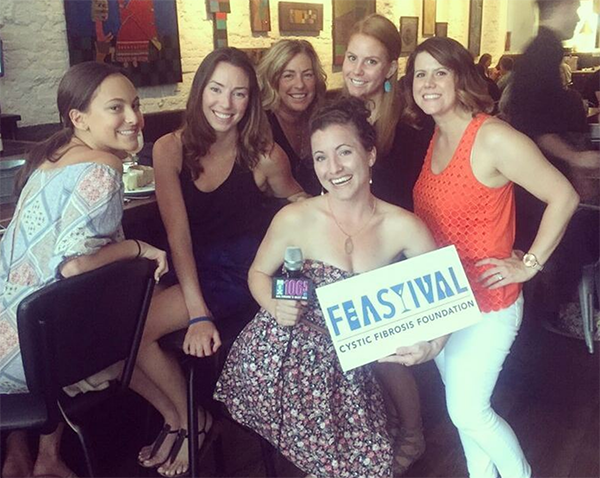 Kaite Rose Broadhurst
At just 3 months old, Kaite Rose Broadhurst was diagnosed with cystic fibrosis, an inherited disease that affects lung function and the digestive system. But, for the first time in her nearly 30 years on this planet, she's feeling like there is light at the end of the tunnel.
"I'm super excited about a cure," Broadhurst says through years. "In the past six months, my doctor has sat me down and said he never thought he'd live to see this day."
In February, the FDA approved a new drug that treats the underlying causes of cystic fibrosis and is applicable to almost half of the 30,000 people living with the disease in the United States. During clinical trials, the Symdeko drug was able to increase lung function, reduce exacerbations, and—most importantly—increase quality of life.
"I live a fuller life because of the treatments that I have," Broadhurst says. "My life is mine now and it's not as bogged down by the disease. Fundraisers have directly funded huge medical milestones in my life and that's the truth for anyone who is treated for CF."
One such fundraiser, Feastival, will be taking place in Baltimore on Saturday, June 9, at the Sandlot at Harbor Point where local restaurants, bars, and breweries will be offering fare and proceeds benefit the Cystic Fibrosis Foundation (CFF) of Maryland.
"Unlike a fancy gala or walk, this event is just you hanging out with your friends on the water," says Broadhurst, who most recently worked at Mix 106.5 and is an ambassador for CFF of Maryland. "You get to relax on the beach, eat good food, and support people around you."
Another great advantage of the event being outdoors is that normally, because of the disease, CF patients can't be in the same room together. But, because it's open air, they'll at least be able to attend the same fundraiser (and will wear ribbons to alert each other).
Though Broadhurst is ecstatic for the recent advances in cystic fibrosis, she's been lucky enough to experience breakthroughs from an early age. She was one of the first patients to get a Monarch vest from the DuPont Hospital for Children, which helps clear her airway.
"There really is no getting over CF—you always have to deal with it," Broadhurst says. "But the vest was able to give more independence at such a young age. Events like these give me a chance to thank people and show them exactly what their dollars are doing."
Feastival will be taking place at the Sandlot for the first time this year (instead of the promenade outside of the Four Seasons Hotel Baltimore). But the food lineup remains just as stellar with participating vendors like Ampersea, Blue Put BBQ, The Charmery, Chez Hugo, Ekiben, Hersh's Pizza and Drinks, Full Circle Doughnuts, Gunther & Co., La Food Marketa, Minnow, Stall 11, and Wit & Wisdom.
Additionally, the Baltimore Bartenders Guild will be mixing up drinks with regional spirits from Sagamore, Belle Isle, Lyon, and Sandy Bottom Rum out of Annapolis. Look out for other beverages from Ceremony Coffee and Hunt Valley-based B.C. Brewery.
"You don't have to know anyone with CF to know you did an amazing job and still got a pretty decent buzz on," says Broadhurst with a laugh. "Personally, I've never been more motivated to fundraise because now a cure actually seems attainable. That's something I never thought would happen."