Tips for Photographing Those Perfect (And Not-So-Perfect) Baby Moments
For starters, outtakes can be the best stuff.
Being a parent in 2016 is incredible in many ways, but perhaps outshining them all is the access to smartphones. If my kid is sick, I can book a doctor's appointment, add it to my calendar, text my husband to update him, and have medicine delivered to my door in an hour all while playing soothing music (which in Lou's case is still, impossibly, "Hotline Bling"). The ability for one device to do all those things is amazing, but it is simply an embarrassment of riches that that same device can also take unlimited, professional-grade photos of my son.
I am in no way a trained photographer. I am simply a lady with a baby, an iPhone, and just enough free time to really dig deep into the vanity of documenting a child made partially in my likeness. Below are a few of my thoughts on the matter of photographing your kid. With the holidays approaching and cards to print and mail to family, frenemies, and coworkers, I thought it might be worth sharing some unsolicited advice.
Perspective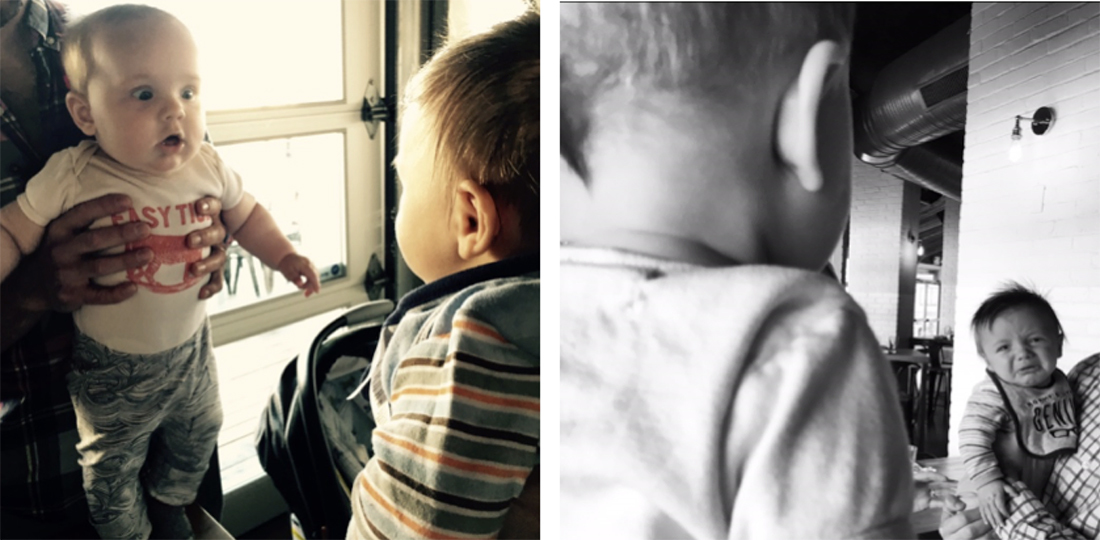 At a happy hour with a buddy of mine, we discovered our sons might not share the friendship we've enjoyed for over 20 years. Through tears of laughter, I got a shot of both their reactions to really seeing each other for the first time, and they're among my favorite from Lou's first year. Until these shots, I hadn't considered capturing what Lou was reacting to, but now I make it a practice to include multiple vantage points—especially since most of the time it just means turning around.
Opportunity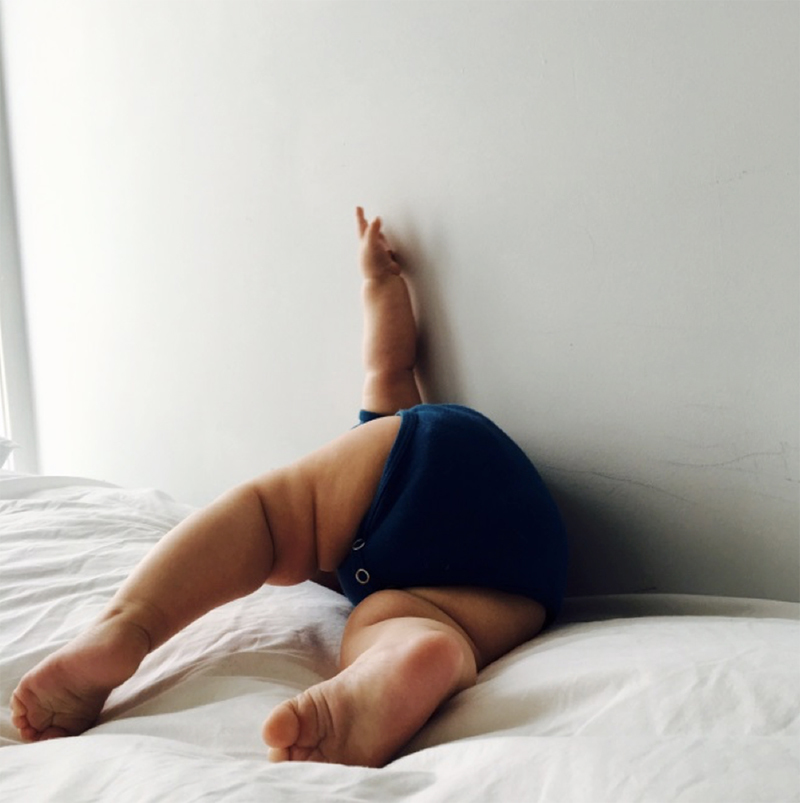 The outtakes can be the best stuff. Each morning that Lou turned a month older, I'd photograph him in the same spot—a common practice, I know, but an effective one. This was taken at six months, when his life was dominated by learning to sit up and pointing his index finger. This picture tells you which skill he still needed to work on. As long as they're safe and happy, snap a few more pictures once your intended shot is a bust. This image feels so incredibly Lou, and it made me step back from my Dina Lohan brand of crazy-mom photography and instead focus on capturing his silliness.
Reflection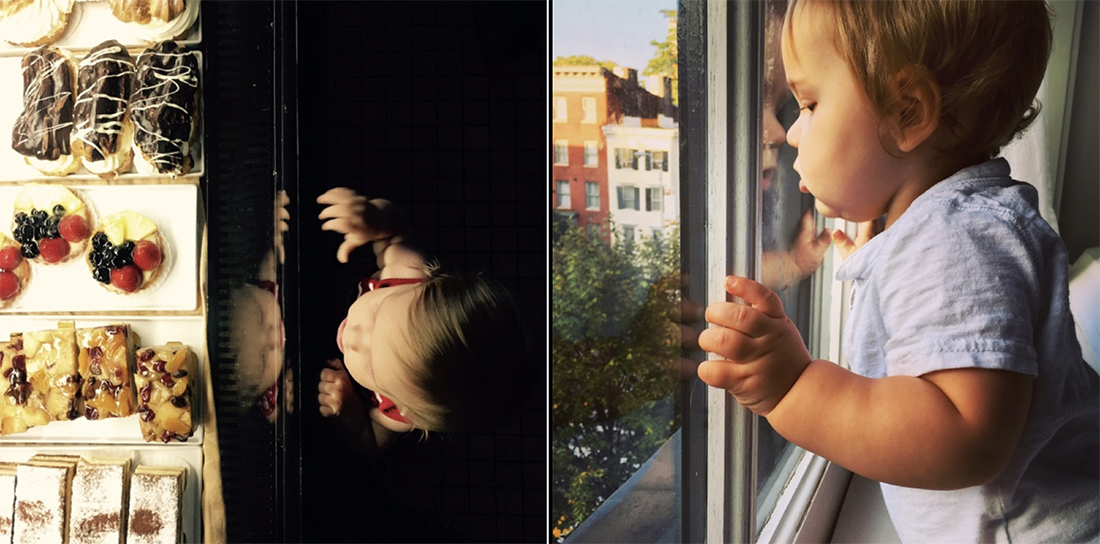 Babies love their reflections. Mirrors are intoxicating to a young mind, but kind of terrible for picture taking, especially since there is a 100-percent chance I'll be captured in the reflection looking crazy and covered in cat hair. Instead, keep an eye out for all the other remarkable places in which they find their reflection. Lou had recently learned to pull himself to standing when he was seduced by the glow of the dessert case at Marie Louise Bistro one night. We let him gaze in, and because it was way past his bedtime, I was able to get a shot flooded with light against a nice pool of darkness. The best shots I've taken of this kid are when he's naturally drawn to something, even (or especially) when it's his own face.
Pets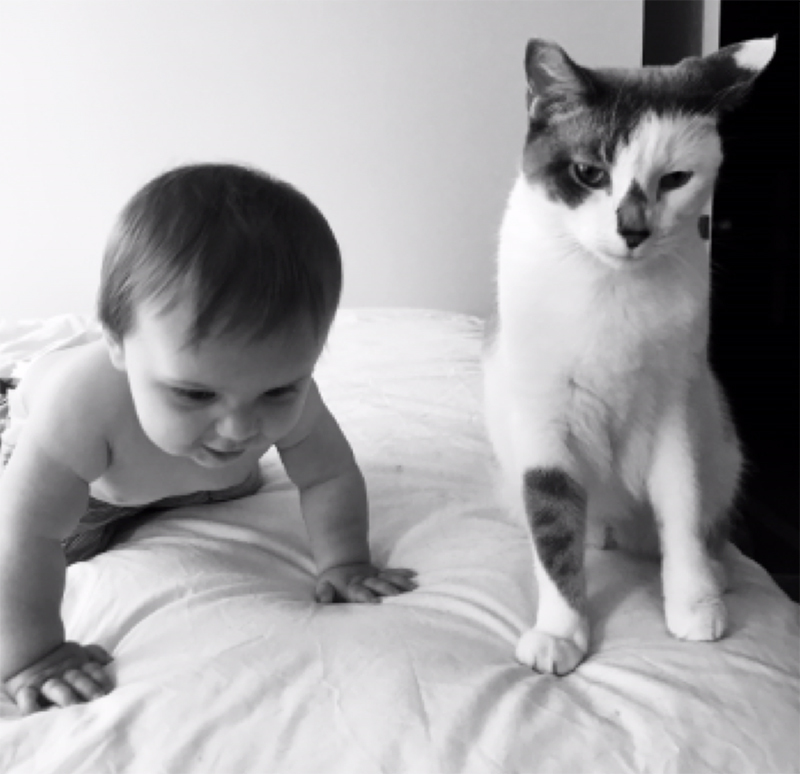 Since he came home from the hospital, Lou has loved and been loved by our cat Richard. They snuggle together, they chase each other around, and they often drink out of the same water bowl because I'm learning to pick my battles. I've probably taken 300 pictures of these buddies and this the only one that's any good because they share a sixth sense that alerts them that I'm reaching for my phone. But, I'm not a quitter and I purchased more space in my Cloud, so after a few months of unusable flashes of white fur and baby rolls, I finally got this shot.
Simplicity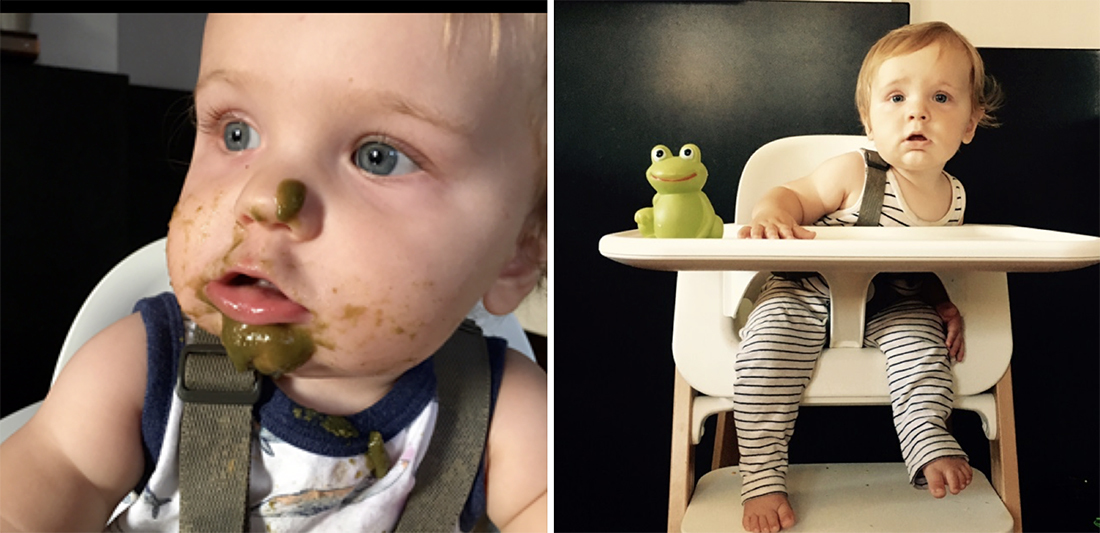 The best spot for Lou's high chair happened to be against a dark wall in our living room, and it's turned out to be a fantastic backdrop for pictures. If there's a spot in your living or dining room that you particularly like—or even just a solid-colored wall—try moving your baby's eating situation there. Babies are like drunk college students when they eat: the goal is to shovel it in quickly and without the irksome realities of polite society. And as parents, it's our job to photograph the hell out of their messes and then pretend to be strict about better manners. Taking these pictures against a solid backdrop highlights your kid and has the added bonus of leaving out the clutter in the space behind you.
Negative Space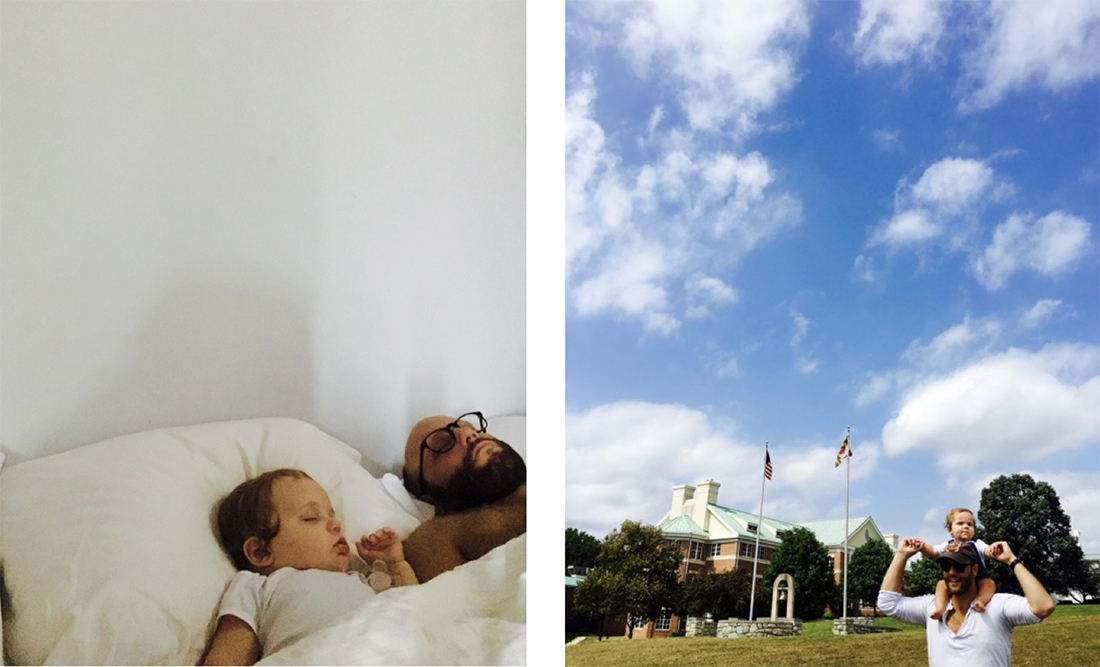 For the purposes of this post, let's assume "negative space" means "any space without babies in it." My initial instinct when photographing Lou was to get in close and document every curve of his sweet little face, but as he's gotten older, I've pulled back the frame. Creating a sense of place gives you more reference points down the line because it's hard to tell where the picture was taken if it's entirely filled with baby face, cute as it might be.
Hey Mama!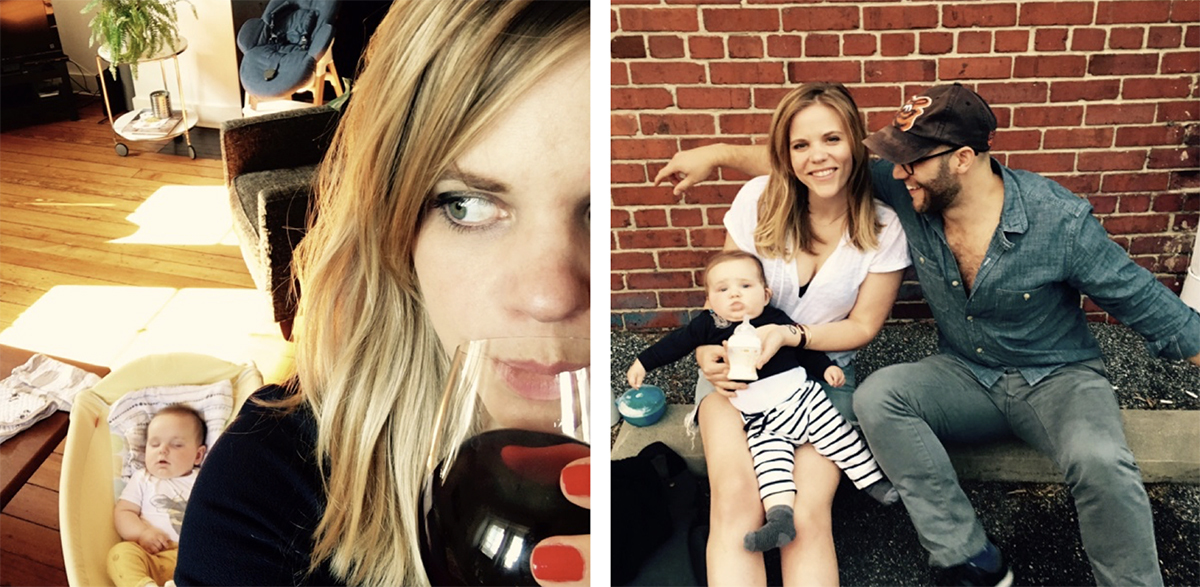 Hello! You're a lovely person who Russian-dolled herself for nine months and lived to tell the tale of human extraction, so get in the damn pictures with that baby. It's really easy to forget to jump in the shot (and being sleep deprived and discovering pureed pear in your hair isn't the most glamorous you've ever been), but your kid will one day look for your face in his arsenal of baby pictures and you should be in them. Sneaking a glass of wine during an unforeseen nap or conducting a feed on the ground of a parking lot won't be the biggest moments in your lives, but there's a sweetness in capturing the little stuff.