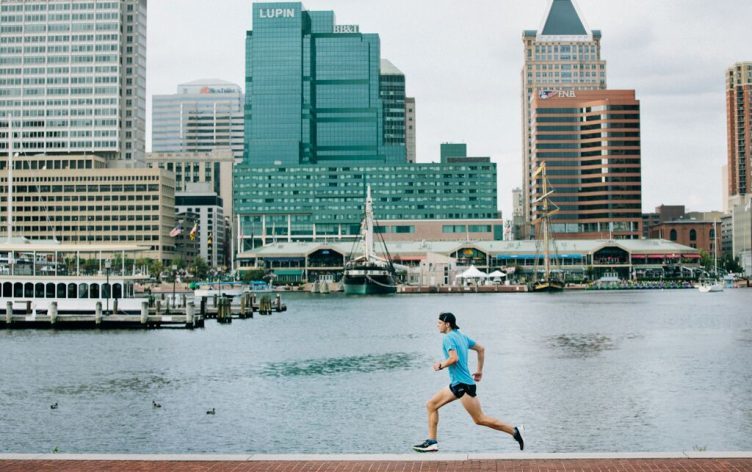 MapMyRun
No matter what time of year, it's always a great feeling to lace up your running kicks and get outside. Between waterfront walkways and treelined parks, Baltimore has its pick of beautiful running routes. We have some incredible routes for seasoned runners, casual joggers, and those just hoping to get a few steps around town. Some of our favorite Baltimore runners helped us compile a list of their go-to routes.
Fort McHenry
Not only is Fort McHenry an important historic site, it's also a beautiful location to run and walk. Once around the Fort's paved track is approximately one mile, so you have the opportunity to make the run as short or as long as you want. Bonus points for the Visitor's Center being open regularly with public restrooms. There is parking at the Fort, outside of the complex in Locust Point and just a mile down the road from McHenry Row.
Herring Run Park
This urban oasis is located in Northeast Baltimore and has a paved four-mile loop trail, including two new bridges that go over Herring Run river. There are opportunities to walk, run or bike along the stream bed and "the trail is almost all shaded for summer runs," says occasional Baltimore contributor Ryan Detter. If you'd also like to visit Lake Montebello, it is approximately 1.35 miles around—so you can add on to your run or use it as a beautiful cool down.
Waterfront Promenade
It's easy to appreciate the stunning views around the Inner Harbor and waterfront neighborhoods. No matter how far you'd like to go, the promenade, running from Canton to Federal Hill, offers an opportunity to be close to the water at (almost) every turn. "My main running route is running along the Inner Harbor," says Lauren Seserko. "If you hug the water, you can run all the way from Canton through Fells Point to Locust Point and even make it to Fort McHenry and run that loop."
Jones Falls Trail
Escape the city (without ever leaving) on the paved Jones Falls Trail. Starting in Mt. Vernon, follow the trail by the Baltimore Streetcar Museum. "You can either take it all the way to Union/Woodberry or go up into Homewood campus," says Detter. You can even take this trail all the way through Druid Hill Park (past the Maryland Zoo). Detter says this is "where you're doing switchbacks in the woods and you won't even feel like you're in the city."
Druid Hill Park
Speaking of, if you've visited our amazing Maryland Zoo, then you've seen the lovely tree-lined streets within Druid Hill Park. There are so many picturesque areas to walk/run through the park (and picnic after) and most are paved, providing an even run surface. The 1.5-mile loop around Druid Lake is a scenic, light track. If you'd like a longer, more challenging run, try out the course for the Dreaded Druid Hill 10K—this 6-mile trek will take you through and around the park with more than a few bumps in elevation. (This route is going to be affected by current park construction.)
Loch Raven Reservoir
While located just north of Towson, this area is a beautiful place to escape the city streets. With a variety of paved and off-road trails, you can easily walk or run for two miles, five miles, or even 10. "Part of it is closed to cars on the weekends," says Seserko, "so it's a great place to get a long training run in on paved and off-road trails." While this area has beautiful nature views all year, early summer is ideal since all the plants are blooming.
Patterson Park
Located downtown in between Fells Point, Canton, and Highlandtown, Patterson Park is a massive, wonderful city park. A full loop is approximately two miles, with the opportunity to add more as you wind through the sidewalks inside the park. Don't miss the beautiful Patterson Park Pagoda and ducks in the boat lake.
Stony Run
Located near Loyola University's campus, this wooded trail is made for a soft walk/jog alongside stream valleys, lovely parks, and beautiful Baltimore neighborhoods. For nearly three miles, you'll travel through approximately 15 residential areas—including Roland Park, Hampden, Remington, and Tuscany-Canterbury. Recently, the trail was updated with a new footbridge, connecting several miles of the trail. It's a lovely escape from the bustle of downtown and, as Detter says, "you don't even feel like you're in the city."
Charles Street
Prepping for the Chuck 12? Start and end on this race's namesake. If you're hoping to enjoy the street's downhill benefits, start at the top closer to Towson University. You'll run approximately six miles if you start at Lake Avenue and end at the Inner Harbor. Of, if you'd like an uphill challenge, you can also run up Charles Street to the JHU campus and back down St. Paul/Light Streets for approximately six miles.
Goucher College
Like many of our local universities and colleges, Goucher generously allows the public to use their grounds for running and fitness. Runners can park in their main Dorsey parking lot and use the trails around campus. BONUS: Baltimore Road Runners club meets on Tuesday and Thursday evenings here throughout the year!
Looking for run buddies? Join one of these run crews to build up your endurance and support system.
Monday Charm City Run Rise & Run: Every Monday morning, CCR Fells Point hits the promenade early for a sunrise four-mile run.
Faster Bastards: Every Saturday at 8 a.m., the Faster Bastards team runs about 10 miles from Canton Waterfront Park, through the trail by Sandlot, around to Rusty Scupper and back. On Wednesdays, they also run through Druid Hill Park at 6:30 p.m.
Monthly Tuesday Shake Shack Run: Every month, the CCR crews from Locust Point and Fells Poin get together to hit the bricks then end at Shake Shack. First round of beers is on the team once you arrive.