Top Docs 2014: Media Matters
For cancer patients, social media outlets have relegated suffering in silence to a thing of the past.
Jennifer Aparicio and Maria Dennis in front of The Johns Hopkins Sidney Kimmel Comprehensive Cancer Center.
At 5 p.m. on Thursday, March 20, Jennifer Aparicio was told she had leukemia. Between 5 and 6 p.m., she and her husband, sports-talk-radio host and WNST founder "Nasty" Nestor Aparicio, focused on telling their family and some close friends and business associates. Then, in individual Facebook posts announcing the diagnosis, they told everyone.
Nestor published his first, a little after 6 p.m.
"My wife, the most beautiful girl in the world, was diagnosed with leukemia tonight. She'll be in Johns Hopkins for the next month battling. She's the strongest person I've ever met. Please keep her in your thoughts and spirit. #JennStrong," he wrote above a picture of his smiling wife taken on the island of Moorea during their recent vacation.
Jenn's post came a few hours later and was even more specific:
"Tonight I was diagnosed with Acute Lymphoblastic Leukemia [Ed note: Her diagnosis was later changed to acute bilineal leukemia, or ABL]. I actually feel and look fine, but had some pain under my arm. Bloodwork [sic] done last Friday showed cells are low and the doctors wanted me to check myself into Johns Hopkins ER last night. So, here I now sit for 3-4 weeks. I will begin chemo tomorrow or the next day, I have a great chance for remission and I'm in the best hospital possible. If anyone wants to reach out to me, I'll be here— feeling optimistic."
Combined, the two posts were read by thousands and generated 540 comments, 739 likes, and 17 shares. Additionally, each interaction—message, "like", share, what have you—was noted on the timeline of each respondent, which, in turn, reached the respondent's friends, and then, potentially, their friends' friends, and on and on until, if you were a Baltimorean with an Internet connection, you were likely no more than one or two degrees removed from the news.
"Within an hour, it was completely batshit electric," says Nestor, a Dundalk native who made his name as a sports writer and music critic at The Evening Sun before switching to radio in the early '90s.
Amazingly, Jenn and Nestor were not the only high-profile Baltimore media personalities to announce such grave news that day. That same morning, Mix 106.5 FM DJ Maria Dennis had called into her own radio show to explain her recent absence.
"We gotta come clean. We gotta let everybody know what's going on. It's important," she said, speaking to her co-hosts Reagan Warfield and Jon Boesche from her hospital bed at The Johns Hopkins Sidney Kimmel Comprehensive Cancer Center, where both she and Jenn were to receive treatment and forge a new friendship.
"I have been just diagnosed with leukemia. It's a mind-blower," she admitted, sounding subdued and dazed in the wake of her official diagnosis with acute lymphoblastic leukemia, or ALL.
"People were so nice, But it was a lot."
Within minutes, Mix 106.5 had a page up on its website recapping the conversation with an embedded audio clip and a message from Warfield and Boesche directing well-wishers to the show's Facebook page. The very next day, Warfield and Boesche posted a photo on Facebook of 40 printed pages worth of texts, Facebook messages, e-mails, and tweets they had received in support of Maria.
And while you would expect people to be interested in disclosures from high-profile figures, it's not just the famous that command attention. For every Angelina Jolie revealing her preventative double mastectomy in The New York Times, there is a Zachary Lederer, the Ellicott City-raised, University of Maryland College Park men's basketball team student manager whose unflaggingly positive outlook in the face of terminal brain cancer made him an Internet phenomenon and whose death this March at the age of 20 was marked with obituaries in The Washington Post and USA Today.
This is illness in the age of social media. Whereas disease was once a closely held private matter, a reason to draw the curtains and cancel all engagements, it is now, like so many other life events, a public act, documented in sometimes startlingly intimate detail on Twitter, Facebook, Instagram, YouTube, personal blogs, and even good-old-fashioned media like print, television, and radio. And while the benefits of such an approach are real and manifold, so too are the potential complications.
"With the changing of the times, it's definitely something we see a lot of," says Elissa Bantug, a two-time breast cancer survivor and the program manager of breast cancer communication, education, and survivorship at The Sidney Kimmel Comprehensive Cancer Center at Johns Hopkins. "But there's a privacy or anonymity part to that that can be a challenge."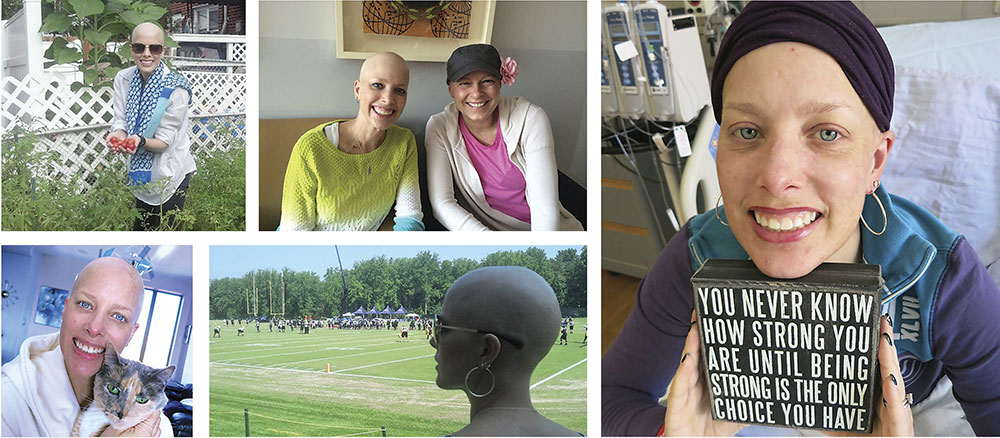 Clockwise from left: Jenn Aparicio with Kitty; picking tomatoes in Dundalk; with Maria Dennis at Hopkins; sending a message to followers; at Ravens training camp in July.
---
To hear the Aparicios and Dennis tell it though, there was no intricate calculus to be done in weighing the pros and cons. The decision to go public was essentially a foregone conclusion, necessitated by their already public lives. (Although Jenn actually works for Verizon, she is heavily involved in Nestor's world and travels with him to most professional events.)
For the Aparicios, the timing demanded especially swift and decisive action. Nestor had retired from daily radio in 2004, but he and Jenn had decided the time was right for him to return with a daily show. He announced his comeback the morning Jenn was diagnosed, a declaration that was sure to garner press coverage. "So I said, 'Look, I'm trying to go back on the radio, I don't know how we're going to do this,'" Nestor recalls. "She said, 'You can tell anyone you want because I'm not going to die.'"
Jenn, admittedly the steadier of the two throughout the ordeal, figured she had bigger concerns than media attention. If being public simplified things, then so be it.
"I was on board from the get-go. It didn't make sense to try and hide it, you know?" she says with a shrug.
Dennis, who has been on the air at Mix 106.5 since 1997, felt similarly. "I was always the person to just lay it all out. I've always done that. So I just laid it all out," she says.
For Dennis, this meant calling into the station periodically for status updates that touched on everything from hair loss to her curiosity about the bone marrow donor who provided the new, healthy tissue for her June 26 transplant. (HRSA mandates that bone marrow donations be kept anonymous for a period of time, though some contact may be permitted.) It also meant occasional missives posted by her or her sister-in-law on CaringBridge.org, a micro-blogging site with approximately 500,000 daily users that allows those experiencing illness to communicate en masse with loved ones. Dennis says the page, which has received over 4,000 views, relieved her of the burden of having to retell her story ad nauseam.
"It didn't make sense to try and hidE it, you know?"
"When people ask you how you're doing, you feel sick," she says, "So it's a great way to have people get information without having to either text or e-mail. I mean, how many times can I tell the same thing?"
At the same time, Dennis says she has been careful not to over-share for her own sake, as well as the sake of her audience.
"If you post that you're doing well and something happens that day, you don't want to disappoint, so you've got to kind of be careful," she says, noting that after her successful transplant, she has battled graft-versus-host disease, a condition in which the newly transplanted cells war with the patient's native cells.
And perhaps unsurprisingly for someone whose job it is to engage listeners, Dennis also worries about alienating
her audience.
"I don't want to be one of those people that comes on every other day and people get sick of it, you know what I mean? Because that happens. 'Okay, she's got cancer, whatever.'"
Though Dennis isn't referencing any specific criticism, it is not an irrational fear. People can and do have unsympathetic reactions to any number of tragic phenomena. And there does seem to be something about cancer that inspires particularly strong opinions and harsh judgments. Witness Melissa Etheridge calling Angelina Jolie's decision to have a preventative double mastectomy "fearful." Or Google The New York Times' January op-ed about Lisa Bonchek Adams, a Connecticut woman who tweets and blogs regularly about her stage IV metastatic breast cancer. The op-ed, written by former Times executive editor Bill Keller, criticized Adams's treatment choices and seemed to deride her social-media presence as undignified. Its condescending tone spurred a torrent of responses both for and against the piece. The only thing the controversy settled was that nobody can expect cancer to inoculate them from criticism. In fact, the shield of anonymity provided by the Internet often breeds intensely virulent strains of it.
"You get people who get really aggressive about how they feel in any type of online program," acknowledges Bantug. "I know it sounds crazy, but you actually see some—for lack of a better term—cyberbullying."
That hasn't been Jenn Aparicio's experience, though. Through her own CaringBridge page, her Facebook profile, and Nestor's frequent, lengthy updates via WNST's website and his own Facebook and Twitter accounts, she has been embraced in a cyberhug.
"The pros [are] all the support we've gotten," she says, "not just from family and friends, but people who are fans of Nestor's, who have now become fans of mine. It has been nice to have that support." Asked if she thinks she would have received the same amount of support without going public, she replies matter-of-factly: "I don't think so. I mean, people would have found out, but it's not like people would have reached out to me directly, whereas, now, I have a following, too."
And that following has been there with her every step of the way. Indeed, in between the many pictures of her beloved calico rescue cat, Kitty, and the requisite funny viral videos, a look back through her Facebook timeline provides a detailed, well-rounded account of her experience. In March, she has a full head of long dirty-blonde hair. She looks healthy and tan from her recent vacation, and the statuses are often lighthearted and funny such as one from March 27 in which she chides, "I got to stop eating in bed, darned crumbs are everywhere! #JennStrong #BmorePositive"
By April 29, her hair is gone and she is gaunt, but the couple celebrates her release from the hospital after 41 days with a picture of Jenn reuniting with Kitty. On May 30, the day before her birthday, she receives word that a bone marrow donor match has been found. And then, on June 26—the same day as Maria Dennis—she celebrates her "re-birthday" by posting a picture of her in-progress bone marrow transplant, the caption noting that she listened to Elton John's "Someone Saved My Life Tonight" during the procedure.
Accompanying each of those statuses—and the many in between—are thousands of messages of support from family, friends, colleagues, acquaintances, and total strangers. Some even ask how they can send gifts or offer to help in other ways, ranging from fundraising to shaving their heads in solidarity.
Only a few times did the couple feel like their boundaries had been crossed.
"People were so nice, but it was a lot," remembers Nestor. "People started showing up in the hospital unannounced."
Jenn is able to laugh it off now but was rattled at the time. "It was like, 'Oh my God, what's going on?!' Because at that time it was still flu season, so anyone who came in my room had to wear a mask. It didn't help that [Nestor] slipped [on the radio] saying, 'Yeah, she's on the fifth floor at Hopkins!' We won't be doing that part again," she declares.
Maria Dennis experienced similar levels of generosity and awkwardness when her sister set up a fundraising page to help Dennis pay her hefty medical bills.
"She didn't tell me. I was so pissed. I was like, 'What are you doing? You can't do that!'" Dennis recalls.
Though she was initially angry, she now admits that the almost $3,000 the page raised was incredibly helpful.
"It really, really helped," allows Dennis, who lives in Pikesville with her husband, Eddie, and their two sons, Noah, 10, and Ben, 8. "I wasn't even thinking about that, and I was uncomfortable asking for it."
Overall, though, both the Aparicios and Dennis feel going public was the right decision for them, especially when they were able to use the spotlight to raise awareness for blood cancer charities like There Goes My Hero, which was founded by Bel Air's Erik Sauer in the wake of his own battle with acute myelogenous leukemia (AML). The Aparicios have organized several bone marrow drives for the nonprofit, which have attracted the support of several Ravens, including Joe Flacco and Dennis Pitta. Nestor also has provided a weekly platform for Sauer on his show.
"We do it every week at this point, but the fact that we are talking about it, we get tons of exposure. It's hugely important," Sauer says.
More than seven months removed from their diagnoses, both Jenn Aparicio and Maria Dennis are officially in remission. Their hair and appetites are returning and they are starting to think about going back to work. "I just want to not push it," Dennis says. "I get tired real easy. I've got to make sure I'm clear of the graft-versus-host, and I also have one more chemotherapy treatment that I have to go through before I go back."
Ever the even-tempered optimist, Jenn says she appreciates that her illness further strengthened her relationship with her husband and helped her make new friends.
"There's always good that comes out of bad," she says. "You may not see it in the beginning, but everything has a silver lining."
Even cancer?
"It's one hell of a way to make new friends, but it never hurts to have too many friends,"—Facebook or otherwise.