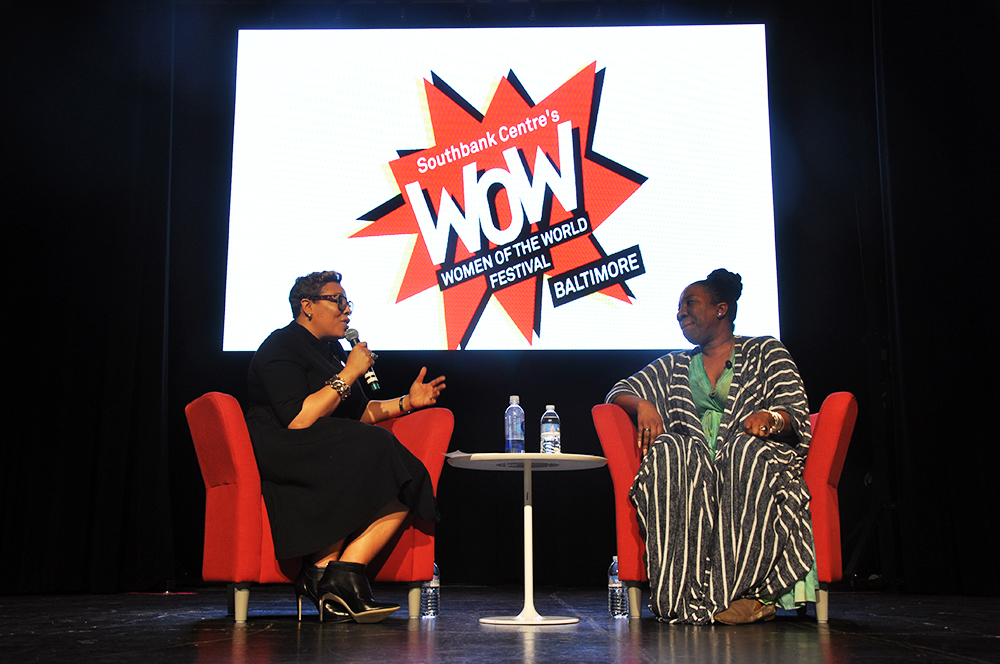 Micah Costelo
Last Saturday, Notre Dame of Maryland University hosted the second iteration of the Women of the World (WOW) Festival, a one-day event that featured a full schedule of panels, performances, workshops, and activities addressing the challenges and accomplishments of women and girls today. As a panelist, I had the opportunity to attend the event, hear from incredible activists, and reflect on the conversations and sessions throughout the day.
Since its launch in 2010 by Southbank Centre artist director Jude Kelly, the WOW Festival has become a visionary movement fighting for gender equality across the globe. It has reached nearly two million people in countries such as the United Kingdom, Australia, India, and Pakistan, to name a few. And while it's only been two years since the festival was first held in Baltimore, it's been a huge success, bringing in famed speakers and attracting large crowds.
Maricka Oglesby, WOW Baltimore curator and producer, explains that Kelly thought the university was the perfect place to host the event, especially as the last standing all-women's college in Maryland. "We have similar missions of transforming the world, and this is how it comes about—through sharing ideas, concepts, and experiences," Oglesby says.
The festival kicked things off on Saturday morning with just that. In the opening keynote speech, Tarana Burke, the founder of the #MeToo movement, touched on topics like the misconceptions surrounding the campaign and the importance of listening to sexual assault survivors' stories. But what was most inspiring—and necessary—is how the movement has created a space for women of color to come forward and share their own stories of abuse. "People from different identities have to take ownership of this movement and stand up," Burke explains. "That's how we grow."
In fact, this theme of inclusivity and intersectionality was evident throughout the entire festival. The program was refreshingly diverse, offering sessions led by or involving minority women.
One such was called "Self-Care for Women of Color," a workshop that focused on the barriers preventing women of color from utilizing self-care practices. In a small mock café space, a large group of minority women of all ages shared their thoughts on what self-care looks like—from getting mani-pedis to taking mental breaks—and what prohibits them from successfully integrating these practices in their daily lives—from generational stress to the exhaustion of navigating through a predominantly white workplace. Across the room, a young woman raised her hand and boldly chimed in the conversation, summing up the experience that many women of color go through. "We assume we're good, but that doesn't always mean we are," she says. "There's a lot of expectation for us to work 10 times harder to prove ourselves to the rest of society."
In another session, the conversation about intersectionality materialized into a board game. Natalie Gillard, assistant vice president of Multicultural Experience at Stevenson University, facilitated a 90-minute crash course about structural inequality through Factuality, a board game she created. Participants played a Monopoly-style game where each person selected a character with intersecting identities such as race, gender, sexual orientation, and class. The players moved across the board with a series of fact-based advantages and limitations based on these intersections.
"The groups were clearly affected by the statistics and directives," Gillard reflects. "I saw people who were playing on the more privileged side—like those who played rich, white, male, heterosexual characters—act more jovial, while those on the opposite side felt increasingly frustrated."
Structural inequalities were not only discussed on a domestic level, but also an international one. In the panel "Activism Beyond Borders," I joined three women activists who used their privilege and knowledge to assist women oppressed in their societies through the lack of education and proper healthcare.
Several sessions also offered safe spaces to talk about topics like sex and transgender identities. In the Sex Café, attendees debunked myths about sex, love, and relationships with Vanessa Geffrard, founder of VagEsteem. Meanwhile, in "Transgender Activism: On Our Own Terms," Monica Stevens, founding member of the Baltimore Transgender Alliance, explored how transgender and non-binary people interact with societal definitions of womanhood.
"The festival was engaging," describes Chinwendu Nwokeabia, a junior Notre Dame student. "I had the chance to talk about aspects of womanhood that I don't get talk about often. I appreciate the inclusivity and diversity, and some of these individuals have left a lasting impression on me."
At the end of the day, attendees shuffled back to the main auditorium to hear Roxane Gay, acclaimed writer and cultural critic, discuss timely topics with Dr. Tressie McMillan Cottom. The relaxed conversation covered matters including the pressures on black and brown creators, Bill Cosby's conviction, and even Kanye West's tweets. The two brought everything full circle, reiterating the power of women's voices, the existence of oppression, and the importance of supporting and mentoring other marginalized people.
As a young woman of color, I left the event empowered and inspired to continue the conversation about gender equality. I realized that representation does matter. Seeing and hearing from courageous minority activists made me believe that I, too, can make a difference in this fight for solidarity.