Ammar Moussa is very particular about his haircuts. He's had the same barber for the past two- and-a-half years in Washington, D.C., working at the Democratic Governors Association and, prior to that, for Congressman John Conyers Jr.
But the Kamala Harris campaign for president is headquartered in downtown Baltimore, and Moussa's new job as a press aide for the campaign meant a move to Charm City and, yes, a new barber. He's tried a couple different shops since moving two months ago, and, exasperated, he turned to Keenen Geter for help. Geter, the resident Baltimore local working on the campaign's national advance desk—he grew up in Park Heights and has lived in the city his whole life—turned Moussa on to a Dominican barbershop in West Baltimore. He can now finally rest easy. "I'm very pleased with my experience," he says.
This type of minutiae is universal for anyone adjusting to a new place. But the transient nature of politics, where a staffer's new home is picked for them, presents a unique set of circumstances. There is no easing into the high stakes world of a presidential campaign; every move and decision is vital, especially in a race as contested as the Democratic nomination for president in 2020. Politics so often is focused on winners and losers and punditry that it's sometimes easy to forget that those on the ground working every day are people who need places to live and eat and grocery shop.
By all accounts, Baltimore has provided the people working to elect Senator Kamala Harris the president of the United States just that, giving those with little exposure to the city a new appreciation for all it has to offer. "It shines a bright light on Baltimore," Geter says.
Mike Nellis, 31, works for the Harris campaign as the digital campaign director. He lives in Fells Point with his wife and newborn son, Theodore, who can now call Baltimore his hometown, since he was born in April. As Nellis heads up a team, he makes a point to make sure others who come aboard feel welcome, taking them out to happy hours and exploring Baltimore. "I always want to find local places because, to me, that's what's most interesting about living in a new city," Nellis says.
That's a common sentiment among staffers, who are eager to get to know the city they hope will be their home for the next year and a half. Missayr Boker, a national political director for the campaign, loves going to Nalley Fresh for a quick salad lunch, and counts Rye Street Tavern among her favorite Baltimore restaurants. Before the campaign moved into its new downtown office, Mother's in Federal Hill was a staff favorite, too.
Boker, who moved to the city in May, says that the staggered nature of exactly when staffers started their posts in Baltimore has been an advantage, as newcomers can turn to those who have been around a bit longer for advice on getting settled and places to go. "We've all sequenced our arrivals in Baltimore, and so I think the good thing about having people get here before you is that there are a lot of recommendations for where to live," Boker says. "Each area or building provides something a little bit different from people you trust on what might work best for you. I really leaned on my colleagues who have gotten to Baltimore ahead of me to help me find a place that made sense for me and my lifestyle."
Seeing as a vast majority of staffers are not from the area, establishing a sense of comfort is a top priority. Many have turned to Geter for advice on places to live—he says one colleague peppered him with questions about Mt. Vernon, where he lived as a student at the University of Baltimore. Nellis was able to find a house that had an extra room for a nursery, and has been to several Orioles games as a way of getting to know the city.
Boker lived in D.C. prior to joining the campaign, and appreciates that she can now walk to work in lieu of her previous 35-minute commute to Capitol Hill. Staffers also cited Baltimore's relative affordability as a perk, compared to their previous homes of D.C. and Los Angeles. "These campaigns are really taxing," Boker says. "It's a slog. I think being able to spend your time doing the things outside of work that make you happy, whether it's working out or make yourself dinner, is something that I have internalized and really adds to me feeling good about things."
Those who work the long hours day in and day out on the Harris campaign have elected to do so in service of a person and a movement they believe in wholeheartedly. These are people who see their colleagues as much, if not more than, their own families. That kind of community is something not a lot of workplaces have, and as they've discovered, Baltimore is an ideal place for fostering this sense of community and, if all goes as planned, moving their operations a short drive down 95.
"[Baltimore] was definitely chosen for us," Boker says. "But I think one of the things that's really cool about being in Baltimore is that it feels consistent with the spirit of this campaign, which is For the People. Now that we're all here, we really get a sense of the culture and the ethos of our campaign really being represented by the city that we chose to have our headquarters in."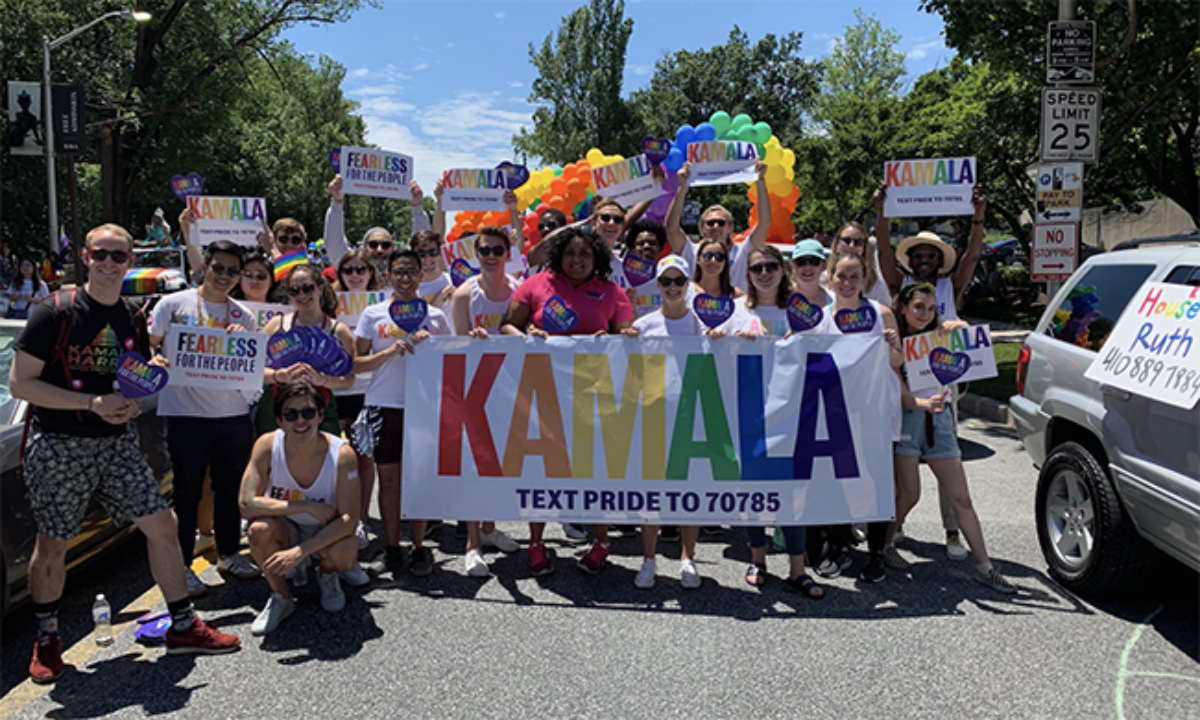 -Keenen Geter/Twitter
---
---